Alcohol and Vinyl: A Deadly Mix!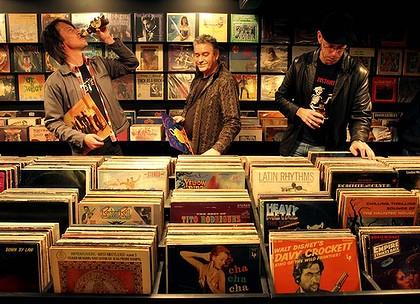 An Australian record store owner recently had an idea: why not mix vinyl and alcohol? Thanks to changes in the liquor laws in Sydney, MOJO Music's Neville Sergent opened MOJO Record Bar.
I don't know about you, but the last thing I need is to get tipsy and then be confronted by a huge selection of vinyl. My resistance is low enough sober!
You can read the story here: http://www.smh.com.au/entertainment/about-town/shops-vinyl-solution-a-shot-of-rhythm-and-booze-20120610-204h6.html (Sorry there's no image associated with this story. We're awaiting reprint permission from the newspaper).
Site Map / Direct Links
| | | | | | | | | | | |
| --- | --- | --- | --- | --- | --- | --- | --- | --- | --- | --- |
| MusicAngle | | Equipment Reviews | | Equipment Reviews | | Analog Tips | | News | | Columns |