Legendary Mastering Engineer George Marino Dies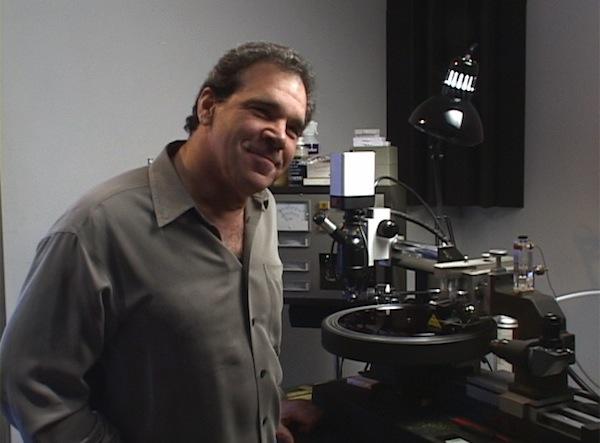 Mastering engineer George Marino, who worked for nearly 40 years at Sterling Sound cutting some of the greatest records of the LP era and helped usher in the vinyl renaissance, passed away on Monday after a year long bout with lung cancer.
"Sterling Sound and the music industry as a whole has suffered a tremendous loss," the mastering house said in a statement released shortly after his passing.
Marino mastered so many great albums through the years, listing them would take pages but they include everything from AC/DC's Highway to Hell to Stevie Wonder's Innervisions.
More recently, Marino had been busy mastering many double 45rpm issues for Chad Kassem's Analogue Productions as well as the superb sounding AAA Experience Hendrix catalog reissues.
Marino began his career as a librarian at Capitol Studios in New York back in 1967 and then apprenticed in the mastering department, cutting all genres of music but the former guitarist was best known for cutting rock records that did just that.
When Capitol closed, he moved on to The Record Plant and then to Sterling Sound. I was privileged to meet and spend an afternoon interviewing George for the DVD "21st Century Vinyl, Michael Fremer's Practical Guide to Turntable Set-up."
If you have the DVD, today would be a good day to watch the interview. He was such a solid guy and cut so many great records, many of which you surely have in your collection. Typical of George's modesty, if you look at the lead-out groove area and see a STERLING stamp, it might also show a GC for Greg Calbi, or TJ for Ted Jensen or LH for Sterling founder Lee Hulko, but if you see just a plain STERLING stamp, chances are the record was cut by George. For all of his great talent, he was a modest guy who will be tremendously missed.
George taught his craft to Ryan Smith, Sterling's newest and youngest LP mastering engineer. Based on his cut of the new Graceland reissue, George taught him well.
Rest in peace, George Marino. The vinyl community will miss you.
Site Map / Direct Links
| | | | | | | | | | | |
| --- | --- | --- | --- | --- | --- | --- | --- | --- | --- | --- |
| MusicAngle | | Equipment Reviews | | Equipment Reviews | | Analog Tips | | News | | Columns |