Mr. Natural: Recording Engineer Bill Porter Part 2 (of Part 1)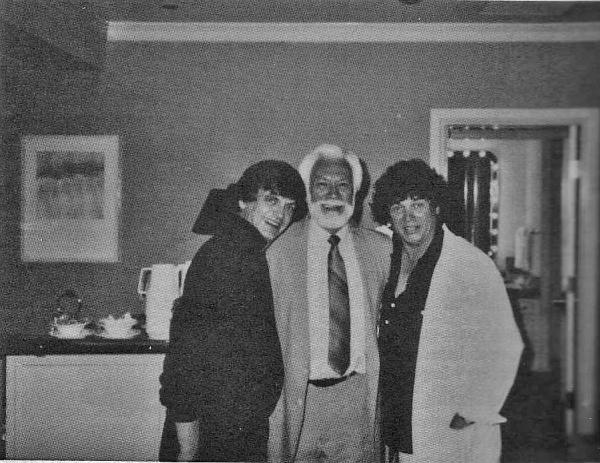 Few people know this, but Orbison's voice initially was very thin-sounding. It didn't have much body to it. And in a mix you couldn't make it stand out. I had to figure out a way to fatten it up. Equalizers weren't available. Of course, you can broaden the image electronically very easily today.
Well, what I did was, I used a tape loop on his voice—a slap-back echo. If you listen closely, you can hear it on a break at the end of a word, you can hear him going "k,k,k,k,k,k,k,k,k." That fattened up his voice. As his voice got stronger through the ears, I used less and less of that. By the end , I wasn't using it at all. But the key to it is you're not aware it's there. You could take it away and you'd miss it, but you really didn't hear it—unless you listened for it. To me, that's the quality of any good sound. You shouldn't be aware it's there, but yet you should miss it if it's gone.
When I first got into television broadcasting—before there were books about it—the only thing I ever found was a broadcast operator's handbook written by a guy names Innes. He had a chapter that said, "Are mechanical operations apparent?" Can you tell if a switch is thrown, or a knob turned? Sure, if it's in the middle of a word or a musical passage." I've always tried to stick with that beause, to me, if a person is aware of what's being done, it detracts from the musical content. Now, lest anyone misunderstand, I am not against modern technology. I am against its improper use.
MF: There's so much equipment available now, and it's so subject to abuse.
BP: Well, it takes education. I feel this way about it: If you learn to fly an airplane, you learn with a single-engine trainer and you eventually graduate up to a four-engine jet. You don't get there from one day to the next.
MF: How did Archie Bleyer, this Jewish guy from New York, end up producing the Everly Brothers in Nashville?
BP: It's a long story. As I know it, Wesley Rose (of Acuff-Rose management/publishing fame) was very instrumental in that through Chet Atkins, primarily. I wasn't there early on in the Everly's career, but the very first session I had with Archie Bleyer ("'Til I Kissed You") I almost lost my job. I almost got cut out of the business.
The first time I worked with him, we'd just put in a new console at RCA. The engineers came down from New York, and it wasn't even supposed to be around, but they were kind enough to let me hang around and listen and watch and help. So we were working 18, 19 hours a day getting the work done, the three, four days turned into a week, whatever.
Well, the Everly Brothers' date was booked on a Friday night at 7 o'clock, and we had to get everything going, because Archie had never worked with me because Bob Ferris, the other engineer—who'd left—did all the previous sessions. So, I remember when he came in, there was a typical introduction. Well, I was like a Zombie, I'd been working so many hours getting the studio ready. I noticed the engineer from New York, Les Chase—Les was a beautiful guy, but he had certain things he wanted done "the RCA way." I don't want to work that way, because because I don't want to be handicapped to a standard I didn't agree with.
Unbeknownst to me, [Chase] had adjusted the limiter to a much lower level, and it took me a few weeks of playing with it to get it where I wanted it. Well, the guys came in and we started doing the first recording session. There's the word "never" in the first line of the song—and ther was the most awful distortion I'd ever heard when they sang that one note together.
Archie says, "What was that?" I said, "I didn't hear anything." I was trying to play it cool because I didn't have any idea what the problem was. He says, "Well I heard something." So he pushed the talkback button and told the boys to start again, so we did, and the same place again Archie says, "There! You hear that!" I couldn't say no now. "Yes, I hear that." "Well, what is it?" I said, "I don't know!" "Well, fix it!" I said, "Yes sir!"
So, totally lost as to what I should be doing, I can't think at all. I'm so tired, and I'd only been engineering a few months, on a brand new system, and the guy who installed it had walked out the door and caught an airplane and left me with it. So I put some patch cords around my neck and started patching things in, trying to stall for time, to think what the problem might be.
So then I said, "O.K., let's try again." And again the same thing. Archie by this time is getting livid. He starts freaking out, hollering and jumping up and down, and how I can't even turn the equipment on. Of course, I was already intimidated by his New York attitude.
MF: Was he pushy?
BP: Pushy!? Man, you don't know the half of it! Very demanding, very belligerent. The session meantime had stopped and a coupe of the musicians came in saying, "What's going on?" Because they could look through the glass and see Archie freaking out, jumping up and down, waving his hands. And meantime, I'd hiding behind the console, because I can't think what the problem is.
All I could think was, "Hey, get off my neck! You're bugging me to death!" I mean, I couldn't take all the pressure. So finally I said, "Well, Mr. Bleyer that's all I can do." Of course, that was a mistake. Then he really went crazy! I mean off the deep end!
MF: Because he'd been in the studio before.
BP: Yeah! But not with me.
MF: Right! So the only difference he could tell was that you were there as opposed to Bob Ferris.
BP: So of course everybody came in, even the Everly Brothers, and they called the session off.
MF: That must have been very expensive.
BP: It was Friday night. Everybody kind of walked around looking at me like, "Who is this guy that's supposed to be the engineer?" A few musicians made comments like, "Well Bill, this is just not like you."
MF: So everybody left but one guy who hung around, the bass singer with the Jordanaires, Ray Walker. Ray Walker started talking to me because I was shaking, literally shaking. And I said, "I'm getting out of the business, I can't take the pressure, I can do something else." And Ray said, "Bill, that's not true, you're a good engineer, you know you are." And he talks to me like that for nearly three hours and he wouldn't let me go home till he calmed me down.
In the meantime, Archie had gone across the street to what later became Columbia. So he walks in [there] and says, "Can I try something?" Now Archie had no technical knowledge, so he thought maybe there' something wrong with the music. So he goes in and the boys sing that part a cappella into the mike—and there's no problem at all. So he comes back in around 8:15 and tells me that, just to rub it in.
Well, I went home about 11:30. I had promised Ray that I wouldn't quit the business. So I came back in Saturday morning when I could think, and I found the problem. The limiter had been mis-adjusted. I used to set the threshold at about +3dB and at a 2:1 ratio. He had it down to 㬐dB and about 20:1 ratio.
That's like hitting a stone wall! Well, that particular limiter, I found out later on, was a single input and output stage tube, and if you push it real hard, certain uneven harmonics come through in a distortion factor. And that's what I heard.
MF: Why was it se to compress like that?
BP: That was the RCA way…Limiters were stone-wall devices to be used, you know? You don't let transient peaks go by and get on the tape, no way!
Also, Nashville got a lot of handoff stuff. This limiter was designed for film use in the late 1930s and early forties. Anyway, I got this phone call from my boss Monday morning, really chewing me out. So I tried to explain, and he said, "Bill, I don't give a damn. If you ever do it again, you're fired."
MF: Well what were you supposed to do?
BP: He said to make an excuse. Something's wrong with the equipment. Obviously, they don't expect you to fix it instantaneously. Just don't ever say, "That's all I can do."
He said, "We're going to contact Mr. Bleyer, we're going to pay his studio costs and his airfare back and forth…Now he's a big client, you better pray we can straighten this out."
He called me back in a few days to tell me that everything had been straightened out, Archie had calmed down, all the costs had been paid, and "he plans to come back down there, I think." And I said to myself, "Oh no, I don't want him back." Anyway, [Bleyer] did show up about two weeks later with the Everly Brothers; same song, same session.
MF: So he didn't go and record it any place else all this time?
BP: No, he didn't.
MF: Well that tells you something.
BP: Now get this. He comes in and typical greeting, you know. Then he says, "Well, did you fix it, Bill?" I said, "Yes sir." "Well, we'll see." Intimidation. So we start doing the session and that note came and sailed right on through. And Archie says, "You did fix it."
It's kind of an irony, because the Everlys hardly ever booked a background group, but they did on that original session. You know, if it wasn't for that, I might not be here talking to you today!
MF: As bad as that experience was, when you finally got Elvis in there with all these people behind your back, you were prepared.
BP: Well, you go through a few of those baptisms by fire and then nothing shakes you any more.
MF: What is that accounts for that "punch" on all of your recordings?
BP: It's natural dynamics. I wasn't a limiter freak. If you mike things fairly close, close enough to get the presence, but not so tight you've got use limiters on everything, you'll get the normal dynamics. And with the right musicians playing, which you've got to have, they will enhance that feel. The only time I used limiters was basically on the featured artists, and it was used sparingly, just in case a peak got by. Don't forget, I missed these songs as they went. I wasn't a gain-setter who then just left it. I was constantly mixing all the time.
MF: That's like being an electronic short-order cook.
BP: If you get into the music and know what's happening, it's easy. Then you can enhance that sound you're talking about, that punch, because you're changing the gain.
MF: But again, in such a way that we don't hear what you're doing.
BP: That's right.
MF: Is that a skill that's being lost?
BP: I think so.
Site Map / Direct Links
| | | | | | | | | | | |
| --- | --- | --- | --- | --- | --- | --- | --- | --- | --- | --- |
| MusicAngle | | Equipment Reviews | | Equipment Reviews | | Analog Tips | | News | | Columns |