Reader Says "You're Nuts" (or an approximation thereof)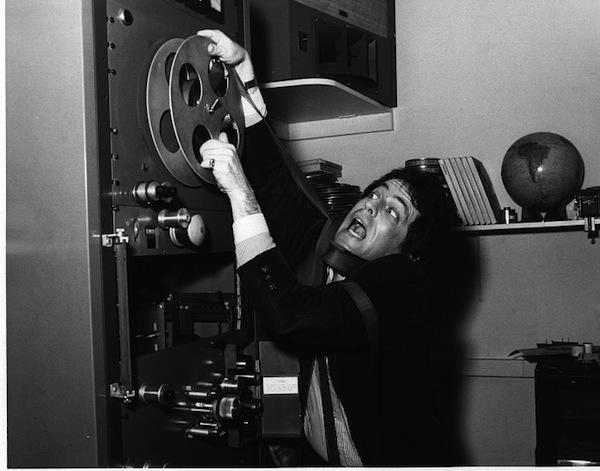 Dear Michael:
You wrote the following on your website:
"I've never gotten an email or letter along the lines of 'Dear Mikey: I took the plunge and bought a turntable. What a waste of money. Records sound terrible. You're nuts.'"
Well, here's your first. Or a close approximation.
About a year ago, I pulled out a pile of audiophile LPs -- mostly direct disks -- and listened critically. (If it's of any interest -- my pickup is an Ikeda direct-coupled moving coil, the 'table is a Well-Tempered Classic, and the preamp is a Vendetta. Not exactly chopped liver.)
My reaction was that the sound wasn't up to that of the best digital recordings -- multi-ch SACDs, in particular. It didn't sound as natural or realistic. Yes, it was sometimes very pleasing -- but not (to my ability to judge) an accurate rendition of live sound. This is the only valid point on which reproduction can be evaluated, because any criterion other than accuracy is taste -- and you know the Latin expression.
I boxed up most of my audiophile recordings and sold them to Silver Platters (a local chain), which gave me a surprisingly large store credit.
Yes, digital recording can sound "sterile". That's because it's missing the euphonic colorations of electromechanical recording. Heck, open-reel analog tape has a significantly lower level of coloration than LP.
I don't have figures, but it appears classical LPs represent, percentage-wise, a smaller part of the LP market than they do the CD/SACD market. The people who like LPs are overwhelmingly people who have no experience with live sound, and are seduced by the "pleasing" sound of LPs.
I am neither pro- nor anti-analog, pro- nor anti-digital. I only against inaccurate reproduction. And digital is almost always less-inaccurate than analog. The one exception is FM. Live FM broadcasts (such as local concerts or the Met) can have superb sound.
"We already know the answers -- we just haven't asked the right questions." -- Edwin Land
-William Sommerwerck
Mikey answers:
Well of course it's not sufficient to express a differing opinion on this subject, it's important to be condescending and insulting too—as if we are all inexperienced listeners, unfamiliar with live music.
I told Mr. Sommerwerck that there are many recording engineers who prefer listening to vinyl, including some very well known and respected ones but that apparently matters not to him.
Mr. Sommerwerck asked if I could also give you some of his experiences with live recording to further his case, but I won't because again, I could cite many "live" recording engineers who prefer tape to digits and vinyl to digital, but what does that prove? Nothing.
Mr. Sommerwerck's Ikeda cartridge is how old and last used when? Was set up using what digital microscope for an SRA of 92 degrees? His Well-Tempered arm was set up how? We don't know.
Mr. Sommerwerck is "against inaccurate reproduction." Fine. Then he should be against recordings of all types because none of them are "accurate" to the live event. The idea that one can stuff a symphony orchestra down a couple of microphones, or worse, down a couple of dozen, is absurd on its face.
There are very few "accurate" microphones. They are all colored. The entire recording chain is "inaccurate." The final "inaccurate" product, be it on analog tape or digital tape or a hard drive is inaccurate to the source: "live music" (when we're talking about the rare occasions these days when live music is actually performed).
The idea that either tape or digital, particularly CD resolution digital, is accurate to the live event, or even to the mic feed is also ridiculous but even more ridiculous is the idea that remaining "true" to the sonic drivel that exits a microphone compared to what entered it, is somehow the "holy grail." If it were, we wouldn't need mastering engineers, and clearly we do.
I once read a story (I wish I could recall where and if anyone knows, please remind me) where experienced engineers with access to the live music, were given a live mic feed to compare to a DSD recording, to PCM at a resolution I can't recall, and to 30 IPS analog tape. The engineers all picked DSD as more transparent to the live mic feed, but all preferred the analog tape version because to them it sounded more like the live music. Live music. That is my reference. All of the rest is signal processing. All of it. So if the signal processing that takes a tape or even a digital file and turns it into an LP makes it sound more like live music, then that's what I prefer because for me, live music is the reference, though I try to avoid playback gear that is noticeably colored and/or euphonic (but find me a speaker that isn't colored because you can't).
Now, leaving aside multi-channel audio, which is a different subject (and it's difficult enough to afford a good two channel rig, never mind 5—and the idea of listening five mediocre channels rather than two great ones to get some space or worse hear musicians behind me, doesn't appeal), if Mr. Sommerwerck thinks the digits sound more like the live music, fine. I will not argue with him.
That's his perception and I respect it. But when he condescends to me, and to you by telling me and telling you that your differing opinion is because "oh, you are just unfamiliar with live music and you 'prefer' euphonic colorations," then he tells me, he's bitter for some reason, or not really enjoying his listening because otherwise he'd say as most of us do: "to each his own."
Site Map / Direct Links
| | | | | | | | | | | |
| --- | --- | --- | --- | --- | --- | --- | --- | --- | --- | --- |
| MusicAngle | | Equipment Reviews | | Equipment Reviews | | Analog Tips | | News | | Columns |