Round and Round: The Sound of The Rolling Stones Part 3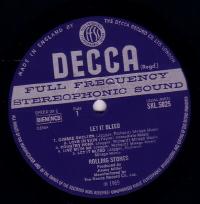 With the world experiencing political upheaval bordering on anarchy, the Stones entered the studio with a new American producer, the late Jimmy Miller, whose collaborations with Traffic are audiophile staples. With Glyn Johns at the Olympic boards aided by "Eddie" (Kramer?) and Gene (Paul?), and some of the Jagger/Richards team's finest songs,
Beggar's Banquet
(Decca SKL 4955, LK 4955/London PS 539, LL 3539) was issued November of 1968.
The best pop music both reflects and shapes the time in which it is created but with "Sympathy For The Devil", The Rolling Stones reached a resonance with the time which had to have taken even them by surprise. With Martin Luther King's and Bobby Kennedy's assassinations and the 1968 Democratic convention's street fighting fresh in the minds of fans, the song and the entire album was an invitation to join the Stones as they entered the darkness that was to overtake the music world, and society in general.
The cover- an invitation- wasn't planned: it was the result of a compromise with Decca Records which refused to issue the album with the graffiti covered bathroom wall the Stones had wanted. In retrospect, the juxtaposition of the formal, white, gold gilded cover, with what was in the grooves made a much stronger statement than the sensational original ever could have.
Sadness ("No expectations"), resignation ("Jigsaw Puzzle"), exultation ("Salt Of The Earth"), helplessness ("Street Fighting Man"), the unleashing of evil ("Sympathy For the Devil"), dark humor ("Dear Doctor"), the flaunting of "family values" ("Stray Cat Blues"); could a pop album better define the times in which it was created? No.
With help from the late Nicky Hopkins on piano and inspired slide work from Brian Jones Ry Cooder would have been hard pressed to equal (listen to "No Expectations"),
Beggar's Banquet
is arguably the group's finest effort, though what came next is for many Stones fans, the one .
Beggar's Banquet
is a close miked, mostly dry recording in which every note is meant to be heard in strict relief, as producer Miller was obviously determined to earn his keep. The overall sound is slightly thick and lacking in transparency, but the "meatiness" of Watt's drum kit, focused center stage, and the ultra clarity of Wyman's bass lines more than makes up for the slight hardness and glare to the proceedings. "Streetfighting Man", which has an even harder, gauzier sound than the rest, was recorded on a cassette deck. Jagger's voice, a model of three dimensional clarity, stares you down dead center and firmly fixed in front of the instrumental action.
While the original British pressing has the music jumping from the grooves with intense energy, Mo-Fi's refinement, ultra high resolution and superb retrieval of inner detail make it the one to beat for many listeners (check out the tablas on "Factory Girl" if you're lucky enough to own the set).
The contrast between the psychedelic slop of
Their Satanic Majesties Request
and the tight discipline of
Beggar's Banquet
points up just how fast the times were changing (and the value of a good producer!).
Early in 1969, Brian was asked to leave The Rolling Stones. His drinking and drugging had made him unfit to tour. He died shortly thereafter, having accidentally drowned in his swimming pool after consuming large quantities of alcohol and downers.
"Honky Tonk Women" with "You Can't Always Get What You Want" on the flipside was released in Britain shortly thereafter in July of that year, but not before new guitarist Mick Taylor was introduced to the world at the now famous free Hyde Park concert shortly after Jones' death (the concert had been planned beforehand).
Through The Past Darkly (Big Hits Vol. 2)
(Decca SKL 5019, LK 5019/London NP-3/NPS-3) with its famous octagonal cover followed in September of 1969- another mop up operation containing singles, EP tracks and LP tracks including "Jumping Jack Flash", "Let's Spend The Night Together", "We Love You", "Ruby Tuesday", "Dandelion", "Sitting On The Fence" and "Honky Tonk Women". The American version was again, weaker, and since many of the singles had been spliced into the LPs (ie: "Ruby Tuesday", and "Let's Spend The Night Together" on the American
Between The Buttons
), almost superflous. The album bore a dedication to Brian Jones: "BRIAN JONES (1943-1969)
When this you see, remember me/and bear me in your mind/Let all the world say what they may/speak of me as you find "
.
The Stones toured the world in support of the next album released December of 1969,
Let It Bleed
(Decca SKL 5025, LK 5025/ London NP-4, NPS-4) arguably the group's best record. Trying to write about this slab of wax brings to mind Miles Davis' admonition that the music should not be written about, it should speak for itself. But that would be a cop out so here goes: "Gimme Shelter" speaks for The Stones and a weary generation at the end of a tumultuous decade. Singer Merry Clayton (credited as "Mary" on the inner sleeve) almost steals the show. Of course a few years later the only shelter on Mick's and Keith's minds was a tax shelter: they'd grown so rich from royalties they had to leave Britain to avoid being taxed out of all of their income.
But in 1969 the song played literally and it seemed as if everyone was walking the streets singing "it's just a shot away....." . With Ry Cooder on mandolin, the Stones tackled the darkness of Robert Johnson's "Love In Vain", Keith handling all of the guitar parts. His ongoing obsession with American country music yielded "Country Honk", a shitkicker version of "Honky Tonk Women" with Byron Berline on fiddle and Mick Taylor, the newest Stone, on slide guitar. The low key Taylor, a meticulous, almost academic player, never really fit into the band's gestalt, or probably Mick and Keiths decadent lifestyle.
"I got nasty habits, I take tea at three", Mick snarls on "Live With Me". Not being familiar with English customs, many Americans thought Mick was singing "I take THC"- the active ingredient in marijuana. With Leon Russell and Nicky Hopkins on keyboards and Bobby Keys' over the top tenor sax, plus a horn section arranged by Russell, the song punctuated an adventurous, even memorable album side with a hard rocking energy absent from the other tunes; decadence dripping from the grooves. Another honky tonker, "Let It Bleed" ends the side with a message of comfort and refuge amidst the images of a "filthy basement" and a "junkie nurse". Seven years into being at the top of the rock heap left Mick telling his audience "We all need someone to dream on, and if you need it, you can dream on me". "Take my arms, take my legs, aw honey don't ya take my head", he drawls.
Side two is the harder, more sinister side of
Let It Bleed
, with the creepy, violent "Midnight Rambler", and the gutteral "Monkey Man" ("I'm a cold Italian pizza", Mick sings). Sandwiched in between is Keith's second country excursion "You Got The Silver" constructed from some of his finest recorded guitar work.
Capping this classic album is the druggie's national anthem "You Can't Always Get What You Want (but if you try sometimes you just might find you get what you need)", an epic production which included the London Bach Choir (whose credit was mysteriously blacked out on the British inner sleeve, but readable backlit), Al Kooper on piano, french horn and organ, producer Jimmy Miller on drums (sounding an awful lot like Ringo Starr) and the backing trio of Doris Troy, Madelaine Bell and Nanette Newman. The song builds to a powerful crescendo with the choir soaring into overdrive. A slow fadeout to black and the exhausted listener is left in a bath of his own sweat with the message of conciliation and compromise reverberating in the brain. Sorry, but no on makes records like this anymore. The Mo-Fi mastering is outstanding: adding clarity and focus to what the British original offers, without being too analytical or cold.
Is
Get Yer Ya-Ya's Out
(Decca SKL 5065/ London NPS-5) the greatest live rock and roll album ever recorded? Yer call, but this set culled from two nights at Madison Square Garden (November 27th and 28th, 1969) recorded by Glyn Johns in Wally Heider's Mobile facility and released mid year1970 ,is clearly one of the best, with the Stones taking things slowly and deliberately- unlike the sped up, glossed over live concert recording norm. And who can ever forget Mick's "I busted a button on me trousers. Ya don't want my trousers to fall down now do ya"? Could these guys play live? Bet yer ass they could! A close miked affair, your listening perspective is front row. The cover, showing binoculars (but no jewels that I can see) hanging from the head of a mule is said by some to be a reference to the Dylan line from "Visions of Johanna". This is Mo-Fi's finest mastering job by the way, removing layers of veils and clouds compared to the original British pressing, and brightening and lightening the thick, somewhat dull original while capturing the gut socking bass Johns had recorded but which was rolled in the Decca mastering process.
The Rolling Stones' Decca/London era came to an end with
Hot Rocks
(London 2PS 606/7) a compilation of tracks from 1964-1971 released in 1971 and
More Hot Rocks (big hits and fazed cookies)
(London 2PS 626/7) released a year later. For owners of the American catalogue
Hot Rocks
was a waste of money, mostly containing tracks already tacked onto other albums. For owners of British catalogue, most, if not all of these tracks (with the exception of the newer "Brown Sugar" and "Wild Horses") were on the two British greatest hits packages.
Since Mo-Fi opted to not reissue those,
Hot Rocks
was a necessary addition to the box set in order for listeners to get the essential singles. Mo-Fi went back to the original tapes and spliced together a new version of
Hot Rocks
for its set, including a newly discovered stereo mixes of "Heart Of Stone". The sound on Mo-Fi's
Hot Rocks
is clearer, cleaner and far more open than the London version mastered by Lee Hulko at Sterling Sound.
The second
Hot Rocks
compilation reprises some tracks already released stateside, but adds many which slipped through the cracks like "We Love You", "Dandelion", "Child Of the Moon" and others. Certainly worth picking up if you see it in the used bins or at a garage sale. The eleven LP Mo-Fi box is listed in the Goldmine guide at $300.00 for a mint set, and given the difficulty of finding original Deccas, if one comes your way, it's worth considering.
Also released by Decca in 1971 was
Gimme Shelter
(Decca SKL 5101) an attempt to cash in on the Maysles Brothers' film documenting the Stones' tour which climaxed with the disastrous Altamount California concert where rampaging Hells Angels "security" people stabbed an audience member to death. The time between Woodstock and Altamount was but a few months, but the two events were worlds apart in spirit. For some, after Altamount, rock and roll and The Stones would never be the same.
The album is a lame pastiche of already released studio tracks: "Jumpin' Jack Flash", "Love In Vain", "Honky Tonk Women", "Street Fighting Man", "Sympathy For The Devil", and "Gimme Shelter", plus an embarrassing and awful sounding live set (supposedly a mid-sixties Royal Albert Hall recording) Mick's version of "I've Been Loving You Too Long" is one I'm sure he'd rather have erased. It is said to have been a studio recording with live augmentation. The only reason to own this record is the fine sound on side one.
Also issued by Decca after the fact:
Milestones
, (SKL 5098 Feb. '72),
Rock 'N' Rolling Stones (SKL 5149 December '72), No Stone Unturned (SKL 5173), Metamorphosis(SKL 5212 June '75), Rolled Gold (ROST 1-2 November '75), Solid Rock (TAB 1 October 1980) and Slow Rollers (TAB 30 November 1981). Another album, Stone Age: The Rolling Stones, was issued during this time but I have no information as to its catalogue number and when. All but Metamorphosis - which contains mostly rarities plus "Memo From Turner" from the Performance soundtrack (Warner Brothers BS 2554) are compilations of already released tracks.

The Japanese and French Connections

French Decca mono pressings of The Rolling Stones (LK 4.605), Around and Around (158.012) and Out of Our Heads (158.015) offer outstanding sound on par with British pressings, and there is an untitled album listed on the back of ....Heads whose track listing resembles the American Now! which might just be Rolling Stones 2 .

While the Stones Decca catalogue was obviously released in Japan throughout the sixties, I've never seen an original Japanese pressing, but I've spotted copies of three different series of King Records reissues from the seventies on a fairly regular basis at used record stores and record conventions. I own parts of each set all of which are, as you might expect impeccably pressed and packaged, with sonics rivaling the originals in many ways. Most are sort of a tonal cross between the British Deccas and the Mo-Fis.

The full priced reissue series (2500 Yen) is numbered GP 1051-GP 1064. A second series also pressed by King (1600 Yen) is numbered GXD 1001- GXD1020. A third series (1500 Yen) is numbered LAX 1001-LAX 1016. All of each series, which I have auditioned are comparable- in fact matrix numbers are all from the first series, only the label numbers have been changed. And all replicate London not Decca labels, though not the London labels used for the original American pressings. Instead, they are blue versions of the London "FFSS" red label classical issues. Are we having fun yet?

Within the last few years yet another all analogue Japanese vinyl set was issued, this time by Japanese Polydor, catalogue numbers POJD 1501-1511. These well packaged (right down to the unheard of in the 1990s paper glued over cardboard jackets), well pressed 2800 Yen records were issued with "London Records" labels used at the end of the LP era. Unfortunately, the sound on the ones I heard was rather hissy and somewhat distant, indicating that second or third generation tapes were used in the mastering process. While better than original American pressings, and better than nothing, these should be considered (if you can find them) only as a last resort.

One last record before we leave the Decca era: in 1980 German Decca/Teldec released Collectors Only (6.24321 AO) an excellent sounding LP (given the source tapes) which includes "As Tears Go By" in Italian, "Memo From Turner", "a studio version of "I've Been Loving You Too Long" (not much better than the live one), a 1965 studio demo of "Everybody Needs Somebody To Love", and a side of old live stuff, some of which appeared on various American issues.

Not Sucking In the Seventies

In 1971, flush with cash the British government wanted to tax away, Mick and Keith joined thousands of his fellow wealthy countrymen and they exiled themselves, not to main street, but to the south of France. If Altamount gave fans a creepy feeling about the Stones, Mick's marriage to Bianca Perez Moreno de Macias- a daughter of the Nicaraguan ruling elite and Michael Caine's former wife -had them apoplectic. Beyond looking like Mick, "salt of the earth" fans found the move totally out of character- not comprehending that the character was a stage creation and not a real person.

Around the same time, desiring complete artistic and financial control over their records, the Stones formed Rolling Stones Records in conjunction with Atlantic Records. This was a major coup for Atlantic, which at that time was a relatively small independent label, though an influential one. It's easy to understand why Mick and Keith would gravitate to Atlantic- a label created to grow the careers of rhythm and blues artists like LaVern Baker, The Clovers, Ray Charles, Ruth Brown, Joe Turner, The Drifters, and The Coasters.

To go along with the new label the Stones introduced the famous lips and tongue logo which appeared on Sticky Fingers (COC 59100), the first Rolling Stones Records Release. With its Andy Warhol designed bulging crotch shot, workable zipper and inner underwear shot, it was as outrageous in its day as Calvin Klein's kiddie porn advertising is today. In fact, given the current up-tight atmosphere in America, the cover might be too much if it appeared now for the first time.

Equally outrageous was the album's first single, "Brown Sugar" which, with its lines about whipping slave women bound for cotton fields down in New Orleans and a chorus of "Brown sugar how come you taste so good"? had something to offend everybody, but by this time the Stones had done so much to offend so many, the cartoon quality of the lyrics carried the day and few were offended.

Sex, and drugs, and rock and roll were the Stones stock in trade by this time, both on and off the playing field. With lines like "Y'all got cocaine eyes, Yeah you got speed freak jive" ("Can't You Hear Me Knockin' "), "Please Cousin Cocaine, lay your cool hands on my head" ("Sister Morphine"), "I'll be in my basement room, with a needle and a spoon ("Dead Flowers"), and "With a head full of snow, with a head full of snow" ("Moonlight Mile"), sprinkled throughout Sticky Fingers, The Rolling Stones were flaunting the substances which had gotten them into trouble in England throughout the sixties. But by the early seventies drugs were everywhere, and no big deal. This album talked about the stuff, what the Stones recorded next exuded it.

With its long, latin flavored, aimless jam on "Can't You Hear My Knockin' ", the Stax/Volt knock-off on "I Got The Blues," and two somewhat out of character country and western tunes ("Dead Flowers and "Wild Horses), Sticky Fingers was a good album, but not a great one. Then again, how do you follow up
Let It Bleed? Nonetheless, after a two year hiatus, critics and fans wanted and expected more.
Sonically,
Sticky Fingers
is a good, but not outstanding sounding record, somewhat hissy and lacking in immediacy. The bass extension on "Can't You Hear Me Knockin' " though, is subterranean and there are some fine audiophile moments to be had in the recording of acoustic guitars, the drum kit and some of the vocals. Studio detritus is at a minimum, while focus and three dimensionality of images are outstanding. With production by Jimmy Miller and engineering by Glyn and Andy Johns plus Chris Kimsey, how could it be otherwise? Please read the small print under the inner sleeve's credits. The original American pressing of Sticky Fingers was mastered at Atlantic Studios, probably by George Piros.
Keep in mind that at this time, while the Stones were a British group (actually an international conglomerate by this time), with Atlantic doing the distribution, the American pressing was the original pressing, probably generated from the master tape.
The EMI-Toshiba Japanese reissue (ESS 63001), with packaging accurate down to the workable zipper, is clearly made from a copy of the master tape, but that is offset by superb mastering, plating and pressing. It beats the American copy I've got. Mo-Fi's half-speed mastered edition (MFSL 1-060) was controversial when issued in 1980, with its jacked up lower bass, icy top end, sucked out midrange and low overall level. I'll tell you though, as my system has improved, the more I've come to appreciate it. It offers outstanding focus and clarity and its portrayal of inner detail and transient snap is unsurpassed. Admittedly the sound is not for everybody.
Speaking of the sound not being for everybody, look what happened when the Stones released their next record, the two LP masterpiece
Exile On Main Street
(Rolling Stones Records COC -2-2900). Critics complained about the muddy, impenetrable sound. They couldn't hear Mick's voice, or the lyrics. What a mess! The band was covering for its lack of musical focus and blah blah blah!
Yes, compared to
Sticky Fingers
or
Let It Bleed, Exile on Main Street
was tightly wrapped and the musical action seemed to be coming from a compressed range of frequencies in space. But most of that was due to the complexity of the arrangements. In fact, as a good listen on a high quality phonograph demonstrates, rather than being "muddy", "murky", and "impenetrable" the recording of the individual instruments and voices (on the Rolling Stones Mobile Unit at Keith's home studio in Nellcote France) and the mix (Sunset Sound, Hollywood) are both superb. The problem is, no piece of shit plastic turntable owned by a rock critic who wouldn't know overhang from overbite is going to make sense of the dense mix.
When you listen to "Rocks Off", Mick's voice should be focused center stage and clearly in front of the band. If you can't make out the words its because he's purposefully slurring them. Yes, some narrow band high frequency EQ has been tacked on top to allow the voice to cut through, but it should not sound hard and strident, just "peaky".
Keith's vocal on top of Mick's should be easy to follow (if not the words) throughout. Nicky Hopkins' piano is placed in the midbass-an area where most cheap stuff-amps, speakers, turntables can't resolve too well, but if you've got the goods, you can follow Hopkins' lines from start to finish. Same with Jim Price's trombone part. The blaring trumpet is easy, but it shouldn't sound harsh and strident.
In retrospect, this is one of the great Stones albums, filler and all- and there is filler among the four high energy sides, but not that much. Not when there are songs like "Rocks Off", "Tumbling Dice", "Torn and Frayed", "Stop Breaking Down" and "Happy". All of side four qualifies as classic Stones material.
Exile
is a high energy, hard hitting rock and roll tour de-force
Site Map / Direct Links
| | | | | | | | | | | |
| --- | --- | --- | --- | --- | --- | --- | --- | --- | --- | --- |
| MusicAngle | | Equipment Reviews | | Equipment Reviews | | Analog Tips | | News | | Columns |