Nine Cartridges Reviewed, Compared and File Identities Revealed!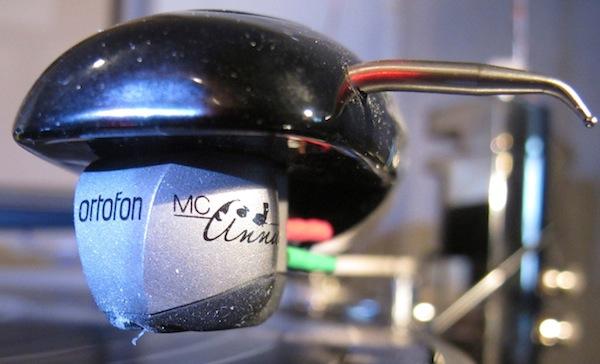 First of all thanks to everyone who participated. More did than we initially expected. This is a learning experience for sure. Future such surveys will feature "normalized" files so levels will be equal. I'll be far more careful about clipped files too.
It's possible that a statistical expert and/or veteran tester could tell me how file order might affect results. In other words, does file #1 out of 10 produce a certain bias? Does file #10? Does a file placed in the middle score statistically different? Had I put the same file in all 10 positions, how would they rank based upon positioning? All interesting questions! But more important than the rankings were the sonic differences you heard and how helpful this was to actually auditioning and choosing a cartridge. Only you can answer that one.
Overall I think this one was a useful, exercise flaws and all. When I played back the files, the differences I heard "live" were there to hear.
All of the Traveler files played at the same speed (fast). The Continuum file with the Ortofon Anna was at the correct speed. At least one reader discovered which was the Anna by identifying the one slower file.
As for the results, please go through them and draw your own conclusions. My listening was done using Wilson XLFs, darTZeel NHB-18NS preamp, darTZeel NHB-458 amplifiers and the DCS Vivaldi DAC, upsampler and clock currently under review. So that's hardly representative, but I think I heard everything each file had to offer!
As for the results, it was gratifying to see that what I thought were the two best cartridges (and the two most expensive), the Audio-Technica 150ANV and Ortofon 2M Black came in first and second. I was disappointed that the two inexpensive Audio-Technicas tied. I thought the 95SA was strikingly superior sounding to the 95E. I also thought that Blue Point Special would do better and especially the Nagoaka MP-300, which I think is a superb sounding cartridge.
As for the relatively poor showing for the Ortofon Anna, Continuum Caliburn, Ypsilon VPS-100/MC-16 combo, read on!

The Audio Technica AT95E (file #3—5%, 22 votes)
Specs:
Output: 3.5mV (1kHz, 5cm/sec.
Separation (@1kHz): >20dB
Balance: (@1kHz): within 2.0dB
Tracking force: 1.5-2.5
Load resistance:47kOhms
Cantilever: aluminum
Stylus: .4 x .7 mil
Weight: 5.7g
Price: $49.95
Long a budget favorite, the AT95E sells for around $50 and is often discounted. With its elliptical stylus it combines reasonably good tracing and detail retrieval while not being too fussy about stylus rake angle, though if you can adjust that parameter, do so. A replacement stylus costs around $35.00.
The sound is "lively" and vivid but with a bit of transient leading edge iciness and brittleness compared to more expensive and sophisticated cartridges. The midrange also projects somewhat forward—just the opposite of the $90 Shure M97xE not covered in this survey. That's another excellent value but it is somewhat reserved in the mid band.
On the test track, that you're probably sick of at this point (as am I believe me!), the cymbals were accentuated and a bit crunchy while the vocals were a bit brittle and 'cardboardy'. The sax lacked "reediness", the trumpet was timbrally "dumbed down" and the piano shadowy. Reverb elements were tamped down, helping to lead to a somewhat flat soundstage.
Still, while the AT95E produces a shadow of what the recording has to offer, overall, the sound was surprisingly pleasing and I'd say in a modest system with an inexpensive 'table and two-way stand mount speakers, the cartridge's overall "musicality" would be complementary. A steal at $50 in my opinion.

The Audio Technica AT95SA (file #8—5%, 20 votes)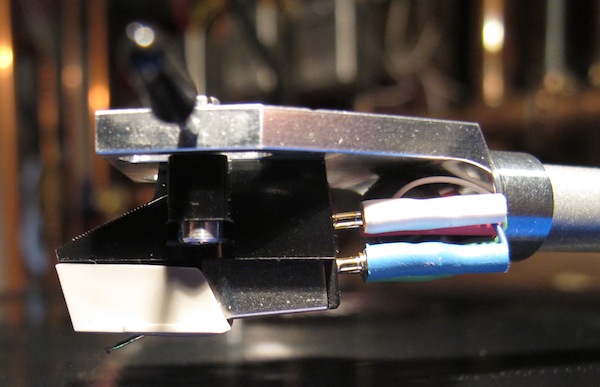 Specs:
Output: 3.5mV (1kHz, 5cm/sec.
Separation (@1kHz): >20dB
Balance: (@1kHz): within 2.0dB
Tracking force: 1.5-2.5
Load resistance:47kOhms
Stylus: Shibata
Cantilever: "Zualum"
Weight: 5.7g
Price: $149.95
LP Gear rather than Audio Technica, USA markets this $149.00 AT95 variant. It appears to be the same body as the AT95E but fitted with a far superior Shibata stylus mounted on a lightweight cantilever of "Zualum," which I figure is an aluminum alloy of some kind. The Shibata is a "severe profile" originally developed for quadraphonic LPs that feature an ultra-high frequency tone approaching 45,000Hz, making imbecilic the arguments of CDs fans who claim their favorite format produces superior high frequencies compared to vinyl's "soft, rolled off, frequency limited top end".
The Shibata stylus features a very small horizontal contact area and a wider vertical one. It can better trace the grooves, particularly the inner ones where the wavelengths get "scrunched" due to smaller groove radii. The Shibata produces less record wear too.
But the stylus profile requires careful SRA setting to get good sonic results and low Intermodulation Distortion (IM), so it should only be used on tone arms that allow you to adjust VTA/SRA and only if you are willing to go the "extra mile" during set-up.
The sonic differences between the AT95E and SA are nothing short of enormous. The SA's high frequency performance is vastly improved, with silky, smooth transients, better extension (unless you confuse "crunch" with genuine extension) and "gobs" more resolution.
The improvements don't stop there: the midrange is far more supple as is the upper bass. This results in far superior bass: no more cardboardy string plucks. Voices take on greater weight and warmth and instrumental timbres are remarkably improved. Ms. Taylor's voice now sounds rich, warm and three-dimensional. The saxophone now has a "reedy" quality missing from the AT95E rendering. A major transformation for the better.
Though it costs 3X as much as the AT95E, the AT95SA is probably 10X better. It's difficult to quantify that way but I'm doing it anyway. Listening to this track had I not known what I was listening to I'd have a difficult time believing it was recorded using a $149 cartridge, an under $1000 phono preamp and a $1500 turntable. It sounds that well-resolved, rhythmically superb, tonally sophisticated and just plain right! The Audio-Technica AT95SA is among the "best buys" in reasonably priced MM cartridges, if not the best buy, but only if you carefully set SRA.

The Audio-Technica AT7V (file # 10—7%, 32 votes)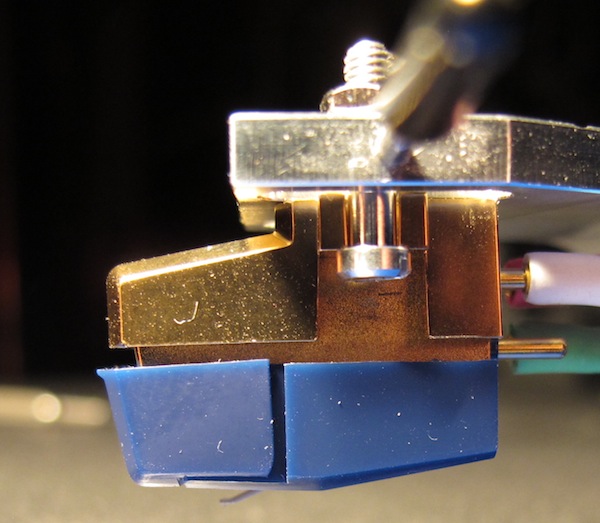 Specs:
Output: 5mV@1kHz, 5cm/sec
Separation: 27dB@1kHz
Balance: >1dB@1kHz
Tracking force: 1.75-2.25 (2 recommended)
Load resistance:47k Ohms
Stylus: nude elliptical (0.2 x 0.7mil)
Cantilever: tapered aluminum alloy
Weight: 6.2g
Price: $159
This is another LP Gear exclusive import not distributed by Audio Technica USA. The build quality appears high along with its static compliance rated at 35x10-6 cm/dyne but these measurements can be very confusing and tricky especially since dynamic compliance rating is 7.0 x 10-6 cm/dyne and how these measurements are made puts most of these numbers into question. I'm comfortable rating this and most MM cartridges as mid-to-highly compliant. All of the cartridges surveyed worked well in the medium mass Traveler arm.
As with the other budget cartridges, you have to use those tiny nuts, which can be maddening if you're inexperienced. Fortunately you can remove the stylus to avoid danger and you should!
This, like some other A-Ts I've heard through the years, is a sweet-sounding cartridge with a slightly depressed midrange, slightly soft transients and an overall warm sound that's easy to listen to and live with. The piano almost disappears other than during the break where it's featured and even there it's on the soft side.
The cymbals have a soft "air brake" kind of quality and Ms. Taylor sounds somewhat veiled but if your system needs some taming, this one will do it without turning it into mush. Images are on the large, not particularly well defined side and soundstage depth is on the flat side. I'd go for the AT 95SA's somewhat brighter, more lively "transient-snappy" performance and greater detail retrieval.

The Grado Prestige Gold 1 (file #6—4%, 19 votes)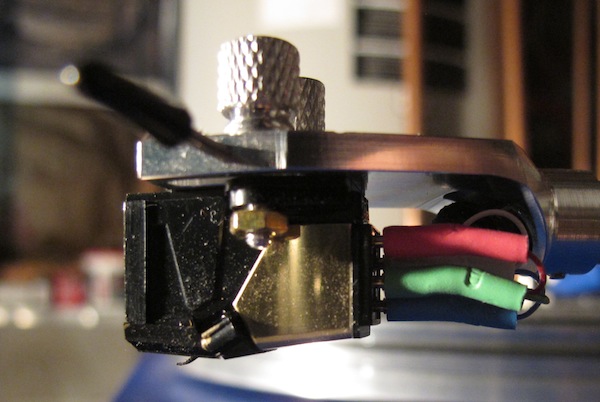 Specs:
Output: 4mV (1kHz, 3.54CMV)
Separation: average 25dB, 10-30kHz
Balance: N/A
Tracking force: 1.5
Load resistance:47kOhms
Stylus: elliptical
Cantilever: "multiple alloy"
Weight: 6g
Price: $220
Grado's moving iron designs have been around for seemingly forever at this point, and they continue to enchant their supporters up and down the line's price points. This $220 Grado is both reasonably priced and sonically high performance in the Grado world of rich, full and big but with a series of important caveats.
The unit's light weight and relatively high compliance mean it should not be used in high mass tone arms, but I found it worked well in the Traveler tonearm as well as in a Rega RB8 I just finished reviewing for Stereophile.
Still, the famous "Grado bounce" was somewhat in evidence and those of you who own or have owned Grados know what that is. Still I wouldn't worry about it in the proper mass arm. More problematic is the Grado's susceptibility to motor-induced hum, particularly on Rega 'tables or others with motors mounted directly under the platters.
Those issues aside, the Grado Prestige Gold 1 produces a rich, warm sound many find addicting particularly in systems that are overly bright or etched, which is often the case with budget electronics.
The drums on the test track were notably softer, richer and warmer. Ms. Taylor's voice was also warmer, rounder and fuller, as were the backup singers voices. Overall transient performance was notably softer than that of the AT95SA.
The cartridge's ability to tamp down groove noise was excellent so if you play a lot of noisy records it would be a great choice, though on pristine records it sounds equally warm, sweet and ultra-quiet. If you like big soundstages, the warmth and perhaps other aspects of the design help produce big stages! Note: you can convert this to a P-mount cartridge by removing a set screw.
Overall, the Grado Prestige Gold 1 is the "Dockers" cartridge of this survey: a 'generous' fit that will sound pleasing in a variety of systems, particularly the brighter ones, though the sound is more "easy listening" than exciting. If you listen to a great deal of classical or vocal music and your system needs tonal and textural taming, this might be a good choice but if you prefer musical excitement, maybe not so much!

The Ortofon 2m Bronze (file #2—13%, 59 votes)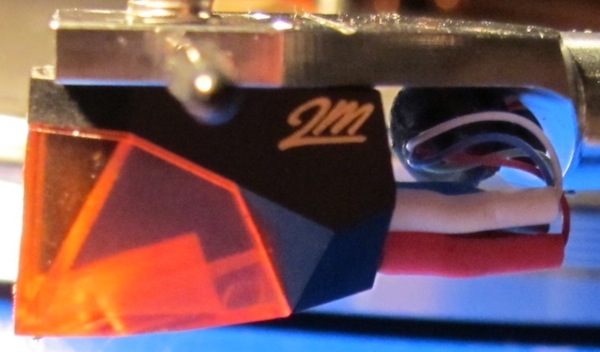 Specs:
Output: 5mV
Separation: 15dB@15 kHz
Balance: 1dB@1kHz
Tracking force: 1.4-1.7
Load resistance:47k Ohms
Stylus: nude Fine Line (r/R 8/40 µm)
Cantilever: N/A
Weight: 7.2g
Price: $419
Ortofon's 2m Bronze is second from the top of the 2M line. It is housed in a body fabricated from a highly rigid, low resonance Noryl plastic/glass composite also used on the 2M Black. It is fitted with a Fine Line diamond stylus that like the Shibata demands careful SRA set-up. Both the 2M Bronze and Black feature an upgraded motor featuring silver plated copper wound coils.
With its tapped and threaded body, mounting was easy compared to the Audio Technicas and Grado. Those will be an absolute nightmare for first-timers. (Set-up tip for those: put a sticky substance in you index finger tip, press the nut into it and proceed).
The 2M Bronze is all about detail and more detail. It's overall tonal balance is neutral, far more so than the Grado, but no doubt many will prefer the Grado, giving up all of that inner detail resolution to get romance and warmth.
Here the textural balance is somewhat dry, but transients are well-devoloped and natural-sounding. Cymbals and drums have just about the right balance of transient snap and suppleness and what's that on the right channel? Oh! It's a guitar the lesser cartridges buried almost completely under the bass line. The saxophone is both reedy and appropriately hard when the player expels more air. The trumpet also goes from indistinct to genuinely brassy and Ms. Taylor's voice is not bathed in texture and tonal-obscuring warmth but instead sounds natural and more convincing—at least to my ears. As for the piano, now there's a piano that's both tonally and percussively believable, though a bit dry.
Imaging and staging take the 2M Bronze to another level, commensurate with its price. Images have excellent three-dimensionality and solidity and the stage now holds far greater interest, with more separate instruments to "see" upon the stage. Dynamics surpassed those of the less pricey cartridges as you might expect.
Priced at $419 the 2M Bronze won't find its way into budget systems, which is a good thing since its high resolution and precise transient performance probably will make it sound less than stellar (another way of saying "pretty awful") on lesser systems.
I haven't looked at the voting but I wouldn't be surprised if the 2M Bronze scored poorly. That is not a reflection on its performance in my opinion: it is superb in every way, especially it's tracking and tracing abilities. Still if you prefer the warmth of tubes to the resolution of solid state, you will not like the 2M Bronze. I admired the 2M Bronze's resolution of detail and it's imaging and transient precision. It's a sonically sophisticated cartridge for highly resolving systems, but even there, those who prefer tube-warmth will not be smitten, though if you pair it with a tubed phono preamp you might be smited!

The Sumiko Blue Point Special EVO III (file #4—8%, 33 votes)
Specs:
Output: 2.5mV
Separation: 35dB
Balance: .5dB
Tracking force: 1.7g-2.1g (2g recommended)
Load resistance: 47k Ohms
Stylus: elliptical (0.3mil x 0.7mil)
Cantilever: N/A
Weight: 9g
Price: $499
The only MC in the group (moving coil), the Sumiko BPS's output is on the low side for a MM and on the high side for a MC. Nonetheless its 2.5mV should be sufficient for most MM phono preamps and it is classified as a "high output moving coil" cartridge.
Back in 2005 I wrote about this "bodyless" cartridge: "A reasonable amount of punch and an overall clean, bracing demeanor." In comparisons with more expensive cartridges, I noted stilted harmonic development, restricted dynamic range, and diminished soundstaging. In 2004 I wrote "The elliptical stylus helped make the BPS a good tracker, and transients were clean and tight, if a bit lacking in nuance. You'll get a richer midrange and greater liquidity from, say, Grado's wooden bodied Sonata, but not this level of excitement. The Sonata might make a better overall choice for classical and acoustic music, especially female voices, but for rock and pop at an affordable price - especially if your budget system needs a shot of adrenaline - the Blue Point Special Evo III will fit the bill."
I'll stick with that! The BPS is a great all around cartridge. Not as warm as the Grado here either, but not as dry and not nearly as detailed as the Ortofon 2M Bronze. Images are larger and less distinctively drawn and the stage is narrower and not as deeply drawn.
Its transients are somewhat softer and less distinct than the ones drawn by the 2M Bronze's Fine Line stylus but overall it threads the needle between the Grado's warmth and the 2M Bronze's detail. That's why it works so well in so many settings. It's also priced attractively for what it offers. In a direct comparison with the Bronze, I'd take the Bronze for less money but I can easily hear why others might prefer the BPS's warmer, more relaxed presentation.

The Nagoaka MP-300 (file #1—6%, 25 votes)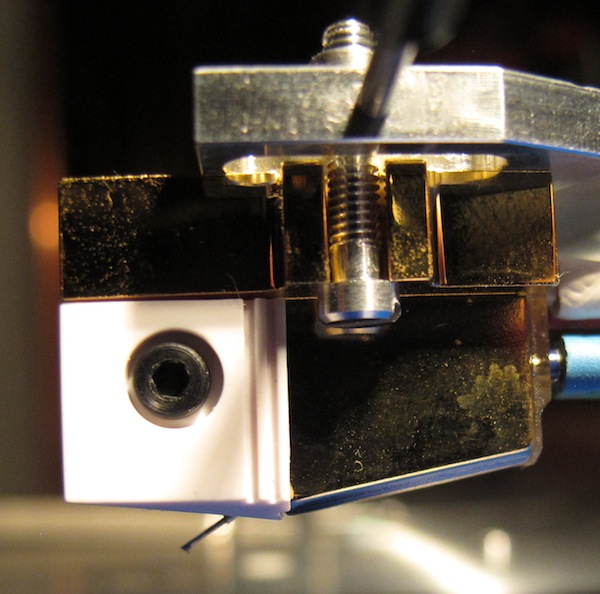 Specs:
Output: 5mV @ 1kHz,5cm/sec
Separation: 35dB
Balance: >1dB@1kHz
Tracking force: 1.3g-1.8g
Load resistance: 47k Ohms
Stylus: Superfine polished elliptical
Cantilever: Boron
Weight: 8g
Price: $669
I don't know what you heard here but I thought this cartridge combines elements of the Ortofon 2M Bronze's detail retrieval and excellent transient response with the BPS's warmth and overall relaxed presentation.
It produced greater detail resolution and finer images on a wider, deeper better-defined soundstage than did the Blue Point but was less dry and analytical than the 2M Bronze. Its overall balance was among the most pleasing of any of these cartridges, regardless of price.
It especially well defined the slight ambience around the saxophone and I thought its presentation of Ms. Taylor's voice was especially convincing and pleasing.
The guitar on the right channel was buried and not distinctly presented as it was through the two Ortofons and the piano's transients were slightly blunted but the instrument's woody warmth shone through and I like the way it presented the saxophone's reedy tone.
The soundstage was noticeably wider than the one produced by the BPS and the images were more finally rendered as well. I also liked the cymbals and drum kit overall. Dynamics were also improved compared to the BPS.
The Nagoaka's "price/performance" ratio struck me as being especially high. A boron cantilever for $669? That's impressive and no doubt contributed to the cartridge's fast, well defined but not etchy high frequency transient response.

The Ortofon 2m Black (file #9—18%, 78 votes)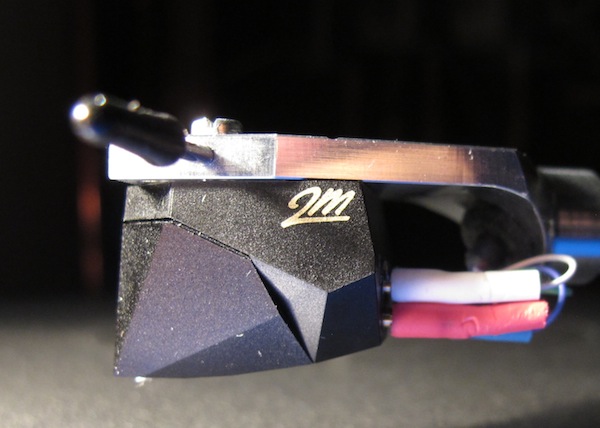 Specs:
Output: 5mV
Separation: 15dB@15 kHz
Balance: 1dB@1kHz
Tracking force: 1.4-1.7
Load resistance:47k Ohms
Stylus: nude Shibata (r/R 6/50 μm)
Cantilever: N/A
Weight: 7.2g
Price: $799
In the full review in Stereophile I wrote that the 2M Black is "ridiculously good." I stand by that! The 2M Black and Bronze differ from one another much as the Audio Technica AT95E differs from the AT95SA, though not to the same degree. The Black is certainly much better than the Bronze but the ratio of "better" is not as great as between the two Audio Technicas.
The 2M Black produces a less dry, less analytical overall picture, with rounder, more solid images and less dry but more pristine high frequency transients. The Black better floats images on a wider and especially deeper stage.
The background singers are far easier to delineate and after you've become used to hearing this track on the other cartridges hearing it for the first time via the 2M Black is startling. You'll hear heretofore buried parts and "see" the singers with an ease most of the other cartridges can't come close to reproducing.
Dynamics are far superior and better nuanced. You can follow all of the instruments with far greater ease yet there's no sense of unnatural "hyper-detail".
There's much more tonal and textural detail and especially macro-dynamic expression to the piano. Plus the Black's rhythmic drive takes the track to another level of sonic and musical intensity.
But the Black's most salient quality is its utter transparency. It sounds less like a recording and more like "live." On my system at least, Ms. Taylor sounds more convincing here than through any of the other surveyed cartridges And that's what it's all about!

The Audio-Technica 150ANV (file #7—23%, 100 votes)
Specs:
Output: 5mV
Separation: 30dB@1kHz
Balance: .8dB@1kHz
Tracking force: 1.2-1.8 (1.5 recommended)
Load resistance:47k Ohms
Stylus: "micro-linear" (ML)
Cantilever: 0.4mm sapphire pipe
Weight: 9.5g
Price: $995

Yes, some folks are going to blast me for concluding that the sonic performance of all of these cartridges is commensurate with the prices, but that's what I found. This limited edition Audio-Technica 150ANV, also available only through LP Gear, was a small but significant step above the 2M Black, particularly in terms of large dynamic swings, but its slightly less refined top end made it sound more like a recording and less like "live," which is where the 2M Black exceled.
The 2M Black may have been slightly smoother and more detailed thanks to the Shibata stylus profile, but the 150ANV produced greater dynamics and overall "punch" especially in the bass. This cartridge had the best bass extension and definition. In fact, it was superior at both ends of the sonic spectrum.
Its transient performance was also fast and very clean. The cymbals sparkled realistically and were sized just right. You could easily hear the guitar comping on the right channel and the piano's body, transient definition and physicality were also notably good.
The AT150ANV also produced the most airy soundstage. Add it all up and you have a dynamic, punchy, macro and micro-dynamically impressive cartridge that takes MM cartridge design to new heights in my listening experience.
It's possible that the standard production $299 440MLa shares many similar sonic characteristics though it doesn't use a sapphire cantilever and so probably isn't as fast and extended as this one.
All things considered, the most expensive cartridge was also my favorite and easily the best sounding, though the Ortofon 2M Black's smoother, more refined presentation also had plenty of appeal and some may prefer it, especially in terms of transparency and freedom from mechanical artifacts, but I think the 150ANV's dynamics make this the overall best of the bunch. It's certainly the most exciting and vital sounding. The music just jumps from the grooves.

Ortofon Anna: (file #5—12%, 51 votes)

This $8900 cartridge on the Continuum turntable ($150,000) and amplified by the Ypsilon VPS-100 phono preamp and MC-16 transformer ($32,000) got 12% and 51 votes, or about half the votes and percentage received by the Audio Technica 150ANV ($999) using the VPI Traveler ($1500) and Graham Slee Era Gold V MM phono preamp (under $1000). How to account for that? Is it "embarrassing"? No!
First of all, all of the files were "fast" compared to this one because the Traveler runs fast and the Continuum runs precisely at 33 1/3. That may have something to do with it as would the level variations among the files, which will never again happen, but I suspect more to the point is the expensive rig's more subtle, far more refined presentation combined with the HRT Streamer being a very good $300 A/D converter but hardly 'state of the art'. That plus the 150ANV sounds damn good! Perhaps I'll again post the Ortofon/Continuum/Yplsilon file but using a considerably higher resolution Lynx 122 converter.
<!- ------------------------------------>