A Sign of the Times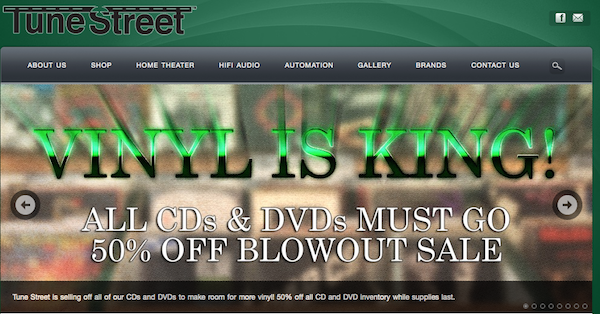 A Massachussetts-based reader was alarmed by a sign in the window of
Tune Street
his local audio store:
"All CDs & DVDs MUST GO 50% OFF BLOWOUT SALE".
It seemed to suggest that the store was liquidating and closing its doors. So in he went, bracing himself for the bad news. Instead, he got good news: the store was clearing the shelves of the CDs and DVDs to make room for vinyl! The store's website is a bit more explicit.
<!- ------------------------------------>
| | | | | | | | | | | |
| --- | --- | --- | --- | --- | --- | --- | --- | --- | --- | --- |
| | Equipment Reviews | | The Gruvy Awards | | Blogs | Columns | | Show Reports | | News |