The Roxy Music Box Set: The Rest of the Box ("Avalon" Info Corrected)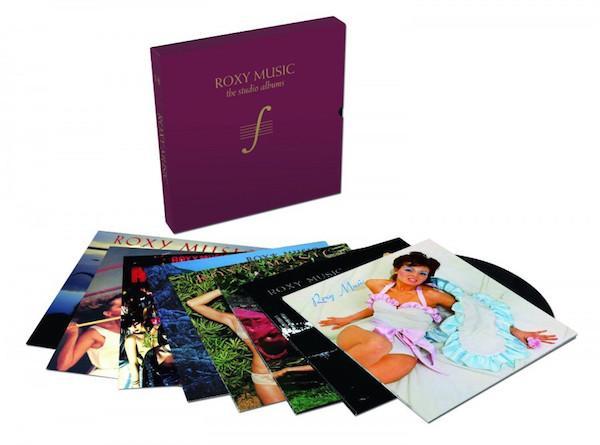 Finally, here's the second part of the Roxy Music box set review. Read Part One
here
.
With showstoppers like "Out of the Blue" "The Thrill of It All and "Prairie Rose", Roxy Music's fourth album Country Life was an album around which a tour could be built.
In support of the album, the band toured America in the winter of 1974, stopping in Boston, MA on February 20th 1975 to play the Orpheum Theater. I was there taping on a Sony 158SD Dolby "B" equipped stereo cassette deck. Not in a great seat either. The band opened with "Prairie Rose" the album's closer. You can listen here to the cassette transfer
Here's the full set list for that concert:
Prairie Rose
Mother Of Pearl
Out Of The Blue
A Song For Europe
Three And Nine
If It Takes All Night
Bitter Sweet
If There Is Something
A Really Good Time
Casanova
All I want Is You
Virginia Plain
Editions Of You
The Thrill Of It All
Do The Strand
Country Life is rightly considered the band's most consistently strong album, opening with "The Thrill of It All", Bryan Ferry's high energy and highly produced life-affirming declaration. He celebrates a loss rather than wallowing in self-pity. His vocalizing on the tune reveals a singer feeling fully comfortable in the skin the suave, rock/crooner persona he'd been cultivating.
Here's something you may not have notice: this is the second Roxy Music album to include a Yiddish expression in the opening tune's lyric. Here he exclaims a gratuitous "Oy veh". On "Do the Strand", For Your Pleasure's opener, Ferry asks if you're weary of The Waltz, And mashed potato schmaltz". That's probably two more of those than Robert Zimmerman or Paul Simon ever used. What do you suppose?
"Three and Nine" again demonstrates that Ferry's superior word play is greatly underappreciated. It's a numbers game puzzle that's fun to untangle.
All I Want Is You is positioned number three where the single often goes and it was issued as a single but it probably didn't go anywhere. It's another loss celebration that solidifies Ferry's turn towards the positive.
The song of newfound love, "Out of the Blue" featuring Eddie Jobson's soaring, heavily flanged blue illuminated transparent electric violin was a show stopping concert highlight that's equally effective as a side-ender with "If It Takes All Night" as the side's door closing (via drums), bluesy drinking song denouement. Even a song that begins on a downer: "Oh here it comes/that old ennui" celebrates a shallow, almost comical search for satisfaction.
Ferry sings "But I'm only searching for the truth/And I'll find it if it takes all night". The final lines can be taken more than one way: "Ah…more champagne/To lose this pain/Would be very nice/So I'll help myself to one more drink/And I'll find myself/If it takes all night".
If side one is surprisingly light, side two heads south as soon as the stylus hits the groove of "Bitter-Sweet"—a Teutonic-themed love tribulation. On "Triptych" Ferry returns to overtly religious fare on a parched medieval musical landscape.
"Casanova", which sounds modeled on Stevie Wonder's "Superstition" is as nasty, snarling and dismissive of a culture he otherwise seems to embrace as Bryan Ferry has ever gotten on record. Ferry pivots from anger to pick-up-the pieces bitterness tinged regret laced with mild sarcasm on "A Really Good Time". The end lines are killer: "You'll appreciate that she's probably late/But I know and you know/We all know/ She'll have a really good time."
The rousing "Prairie Rose" ends the album in, of all places, Texas. A mystery cleared up when Texas-born "mermaid" Jerry Hall adorned the cover of Siren the group's next release.
I compared this 96/24 sourced reissue with three "pink rim" Island originals and a Japanese pressing (Polydor MPF-1122)—hardly work since I love this record and happily play it repeatedly.
The reissue's overall tonal balance beats the original, which is pushed on top and is somewhat bass shy. You will hear more deeply into the complex musical thicket that is "The Thrill of It All". I understand your skepticism, but first play makes it clear, though at the same time there's a slight loss of transparency, but when these transfers were made the tapes were well more than thirty years old and the early '70s was not exactly the apex of recording tape manufacturing.
So I'd rate this record a draw compared to the original. It's slightly opaque, seems to be dynamically less than fully expressed but the new details revealed due to the improved tonal balance (particularly the more robust bottom end) make this a successful reissue. Interestingly, while Japanese pressings have a deserved reputation for brightness and for being bass-shy, the MPF Japanese pressing's tonal balance is closer to the new reissue than it is to the Island original.
By the way if you want to see some cover outtakes and the story behind the cover go here. You'll be glad you did!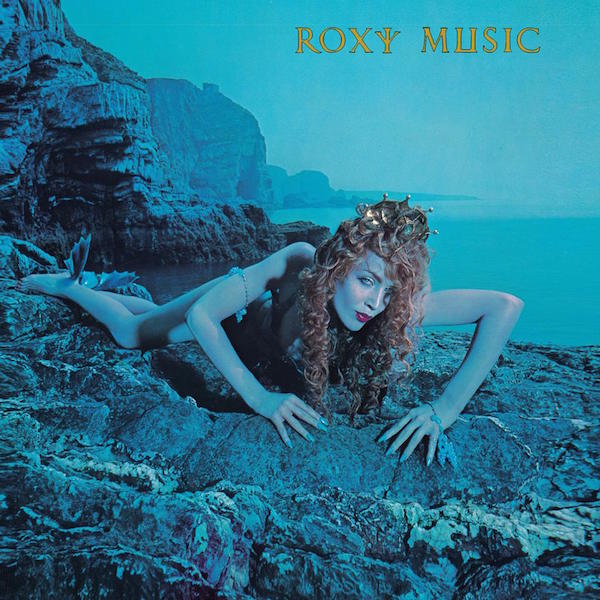 If Country Life didn't prove to be the commercial success in America the band had perhaps hoped it would be, Ferry and company took the full commercial plunge with Siren. "Love is the Drug" gets directly to the heart of Ferry's obsessions, though in a somewhat cartoonish way, but then look at the album cover!
"End of the Line" is patented Ferry self-pity with a surprisingly country and western feel, while "Sentimental Fool" is more "End of the Line" cry in your beer stuff. "Whirlwind" ends the four tune side with deft Ferry wordplay and melody and arrangement matching the song title.
Side two continues the "in your face" production and spare arrangements that at the time were jarring and disappointing to Roxy fans along for the ride from the beginning. It just sounds too eager to please and it certainly did please the Roxy newbies, though "She Sells" has a devious and ingenious twist at its conclusion.
"Could it Happen to Me" repeats and reflects long standing Roxy protocol but in a more direct and for many less interesting path. All of the production and arrangement depth found on previous Roxy albums gives way to simple arrangements in service of moving the song forward to better please the ears of simpler listeners.
"Both Ends Burning" is the album's pinnacle as far as I'm concerned. It re-captures the Roxy essence, has a great anthemic hook and is a great summation of Ferry's romantic/dramatic worldview of a "strange desire that feeds the fire…." and "living only for today". You may be "counting sheep" but Ferry says "who can sleep in this heat tonight"? Outstanding and right in the pocket of raging hormonal twenty somethings!
"Nightingale" is a rhythmically complex, lovely little music box excursion complete with chirping effects that nicely fills in the space between "Both Ends Burning"'s heat and the regret of the album closer "Just Another High" in which Ferry yet again plays the loser while relishing the high.
Chris Thomas's production and Steve Nye's engineering combined to create the most direct, hard-rocking Roxy album and one that was a commercial success and a crowd pleasure for sure but it left long time fans somewhat let down even as they eventually came around to the album's strong hooks, rocking rhythms and especially to drummer Paul Thompson's starring role. In retrospect he's never gotten the credit he deserved for providing the glue that held this band together. At least that's my opinion.
I compared this reissue to an original UK pressing (ILPS 9344), a Polydor Deluxe UK pressing (2302 052), and a Japanese pressing (MPF-1103). This is a dry, unforgiving production, short of atmospherics and long on direct impact.
I preferred to Polydor Deluxe to the way in your face Island original and to the Japanese pressing, which was darker and drier though with more edgy sibilants. That said, these pressings were all more similar than different and which you'd like best would be system dependent. One thing I learned: my original take that this was a very dark, bass-heavy production was wrong….my stereo back then couldn't deal with the robust bottom end and I've not played this record in a very long time. Glad I did for this review because I like it way more now than then as a jaded original Roxy aficionado!
As for this reissue, I would have figured with less to lose in terms of atmospherics and given its dry nature to begin with, this one would be among the set's best but instead the spatial flatness and loss of high frequency extension (probably the tape) produced a dark, opaque picture, though with occasionally smeary sibilants. Best was the added power to the kick and snare drums as well as the clarity of John Gustafson's bass lines. I'd call it a sonic draw compared to the best original especially if your system does deep bass.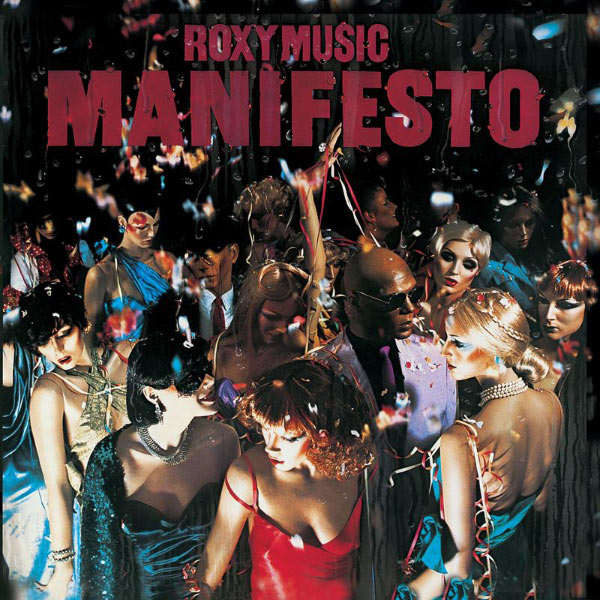 Siren spelled the end of Roxy's "rock era". As the cover indicates Manifesto veers the group towards dance and disco, though the cover also indicates the end of the decade exhaustion felt by many people who'd grew up with The Beatles, lived through (and in) the hippie era and were invigorated (sort of) by Sex Pistols anarchy. That wouldn't include Bryan Ferry who went in the opposite direction after exhausting his rocker energy on Siren. Manifesto was the first Roxy album that didn't feature pin-up girl type imagery, trading it in for more anonymous and lifeless mannequins.
The beginning of this album always reminds me of how Bowie's Station to Station album starts: slowly and deliberately and with a burn. Despite the dramatic build-up Ferry's "manifesto" is pretty silly. He's into "friendship and plain sailing"? Say what?
The record divides into an "East Side" and a "West Side". Back east we get "Trash" and "Angel Eyes" two catchy, but light weight "New Wave" tracks plus the more interesting (at least at its beginning) "Still Falls the Rain" and the sides end piece, the most interesting and atmospheric "Stronger Through the Years", in which Ferry revisits and recasts familiar lost love themes. We start hearing the fretless bass sound that anchors Avalon.
The "West Side" is more atmospheric and groove-based with "Ain't That So" sounding most like something from Allen Touissant's pen by way of Little Feat. The lyrics read like it's set in New Orleans but Ferry's gone from being deeply involved to being a casual observer. Still, it's one of the album's highlights.
On "My Little Girl" Ferry confronts one of his dilemmas: pin up girl or "woman of the world"? While Ferry and Roxy have paid attention to current trends they've also moved the music forward on tracks like this that others followed.
"Dance Away" finds the loser in love where we most expect to find him "You're dressed to kill and guess whose dying?" But clearly at age 35 he's got to be thinking his days as the hopeless romantic must be coming to a close. Ferry keeps the emotions close to the vest, more reciting than living the lyrics.
"Cry, Cry, Cry" is more like a Stax/Volt cover than a Roxy original and it makes obvious that the train is running out of steam—or at least inspiration. Still, "Spin Me Round" is a lovely but lonely closer.
Ferry sings:
With the music over
Here am I
A shadow echoing on
And:
I'm wired for sound
Does it matter to me
Who turns the key?
Whatever this album's structural and musical weaknesses one thing's for sure: this could be the best sounding Roxy Music album—even better than Avalon. The engineering line-up includes Rhett Davies, Jimmy Douglass and Phill Brown—the latter the engineer on among others, many of the extraordinary sounding Talk Talk albums.
The U.K. (Polydor Super Deluxe POLH 001) and German originals (Polydor DGG 2344 129) were both mastered at Strawberry, the superb sounding recording and mastering facility that began above a storefront and was originally owned by former Billy J. Kramer and The Dakotas roadie Peter Tattersall. Later 10CC's Eric Stewart and Graham Gouldman (both of course have many other credits) bought in and eventually thanks to money provided by "bubble gum rock" producers Kasenetz-Katz ("Yummy Yummy Yummy" etc.).
The original UK and German Strawberry pressings get a "10" for sound. This reissue gets a "3". It's dark and lousy with cymbals so rolled off they barely exist. It sounds like a cassette only not as good. Can I be more blunt? BTW: some reissues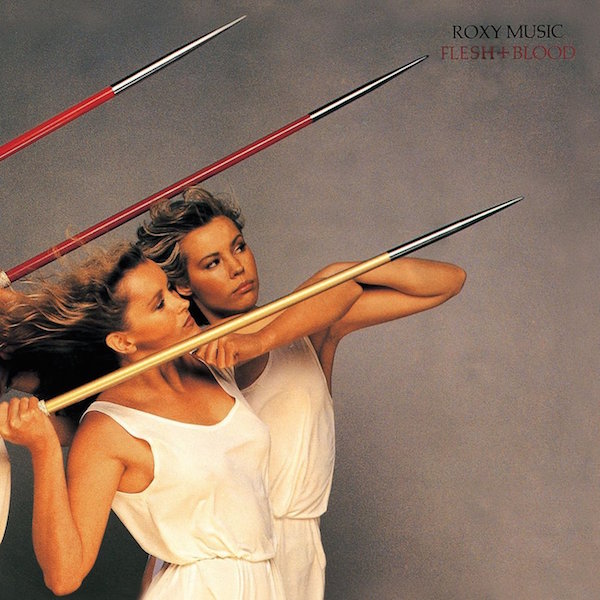 For Roxy stalwarts Flesh + Blood was not the beginning of the end, it was the end of the end— a disco art-rock album of limited substance, hobbled by the departure of drummer Paul Thompson.
Despite the presence of two very strong replacement drummers it wasn't the same sound or feel. Flesh + Blood drifted anonymously though it did include some strong signature Ferry tunes like "Oh Yeah" and "Over You".
In retrospect the album was stronger than it seemed back in 1980, though it's difficult to understand why Ferry chose to open it with the "In the Midnight Hour" cover and side two's opener, "Over You", which was little more than a The Cars "cover" was actually shocking. How could such an innovative group deliver such derivative drivel?
Yes, Ferry was rehashing old and by then stale themes but now we're happy to have some of these tunes and they were well-recorded so make for pleasant listening. It made the list of my summer of 1980 soundtrack but always as background. Naturally, the band's nadir was a big success in the U.K. hitting #1 twice and lasting on the UK charts for more than year.
This time Bob Ludwig gets mastering credit at "Masterdisc" (sic). That's for the American pressing, which I don't have. I have the UK Strawberry original (Polydor Super Deluxe POHL 002) and the Japanese Polydor issue (MPF 1316) both of which are far superior to the dark, flat, lifeless ½ speed mastered from 96/24 files current reissue. All the air, transient delicacy and life has been sucked out of the recording. Drum textures are obliterated, reverb dried up.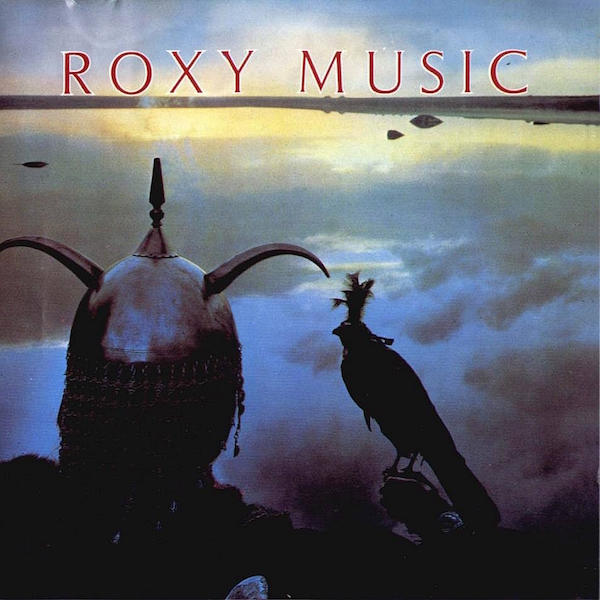 Avalon is the Roxy album audiophiles love to love and the "smooth jazz" album Roxy aficionados would love to hate but just can't, maybe partly because it's the eighth and final Roxy album. It was the band's most successful album overall and though it only reached #53 in America, it's the group's only platinum seller here. It reached #1 in the UK.
As it turned out, the title track was scrapped and re-recorded with a totally different groove as the completed album was being mixed. The ethereal female vocals were not on the original and only made it onto the re-do when Ferry and Manzanera heard a voice wafting through the doors of the studio next door. The voice belonged to a non-English speaking Haitian gal Yanick Etienne—and there you have accidental greatness.
At this point "Roxy Music" was creating in the studio though Ferry had written a series of poems that form the basis of the album's tunes. The helmet-wearer on the cover is Ferry's soon to be wife Lucy Helmore.
Released in late May of 1982, Avalon was recorded to analog multitrack and mixed to ½" 30IPS analog tape. It is not, as original stated here a digital multitrack recording. That information came from Bob Ludwig, who made a rare mistake. In fact, the original album was AAA all the way. In 1993 the multitrack tape had to be baked to be playable and that is when it was transferred to a Sony DASH digital multitrack recorder. That transfer was used to produce the surround sound SACD but the original LP was AAA. Sorry for the confusion.
Now I'm going to get personal and weepy. This album came out shortly after my long-time girlfriend (who might end up reading this [feh!]) dumped me in a scenario found in many Bryan Ferry songs. With lines like "It was fun for a while/There was no way of knowing/Like a dream in the night/Who can say where we're going", every play left me bawling, though "The Space Between" provided a quick recovery! Then comes the dream-inducing title song. Of course side two's "To Turn You On" again brought out the weepy. This album was the soundtrack to my 1982 and beyond misery and I appreciated every corroborating moment, especially given the spectacular sound in which it was easy to get lost and getting lost is what I most wanted to do.
This is Bob Clearmountain's masterpiece—something I'm sure he'll readily admit. I've got the 2003 5.1 channel SACD, the two channel original mix said to be mastered to DSD from the original analog tape but that's best left for another discussion.
Why that tape so deteriorated since 2003 that it couldn't again be used at least to master this vinyl reissue, is something only the money-people who controlled the purse strings here can answer. They certainly didn't skimp on the packaging and pressing.
So what we have here is a an analog recording, mixed to 30ips ½" analog tape, transferred to 96/24 PCM and cut at ½ speed.
This reissue got me thinking about the original U.S. vinyl release cut by Bob Ludwig from that original master tape (he confirmed that a few weeks ago) (Warner Brother 9-23686-1). I chucked that years ago for a Japanese original and later added the UK original (EG Polydor EGHP 50) that at the time I thought was definitive.
Was the master tape used for that? Probably not. At best it was a tape copy or at worst a CD resolution U-Matic video tape. The CD version was issued in the fall of 1982—one of the first CDs ever and a sonic abomination that got me started with "saving vinyl" in the first place when I heard a re-release CD demo at an AES meeting in Los Angeles after having spent months with the American and Japanese vinyl pressings.
So recently I found a mint American original complete with the green "AVALON" sticker on it and I've been comparing that to the UK original and to this reissue.
I've often written that I would never bet against a Bob Ludwig mastering. So let's start with one obvious fact: this is an amazing recording that's difficult to damage, though the original CD did just that. I have it and it still sucks. Comparing the Bob Ludwig original with the British original: the RL is smoother and tonally flatter (that's a good thing). The British original is more spacious and somewhat brighter. It does produce a vaster soundstage in terms of both width and depth as does the Japanese, which is still a good bet.
This latest 96/24 reissue is tonally closer to the RL than to the original UK but the attack is somewhat softer with blunted transients and less depth. The stage is flatter. In addition to softer attack, the sustain is less generous and the decay, which produces the atmosphere is foreshortened to the point of being almost nonexistent.
But that's only by comparison because taken on its own, this is a more than acceptable reissue that some might prefer to the brighter British original. I suspect Bob Clearmountain might, but I don't and my ears count more for me than do Bob Clearmountain's, as yours do for you, as Bob Clearmountain's do for him! My advice: even if you invest in this box, try to find an original MASTERDISK American pressing and use that to compare to everything else.
Conclusion Starting with the physical package: this is certainly a deluxe presentation. No expense or attention to detail was spared in the reproduction of the artwork and jacket production. I got this comment on the YouTube video in which I unboxed the set:
"I was involved in the reproduction of the sleeves and labels. They couldn't use the original labels for the first 5 albums as they were generic Island labels and this box was issued by Universal. The original labels for the last 3 albums had bespoke labels using elements of the sleeve artwork/typography. This theme was then used to make bespoke labels for each of the first 5 albums connecting the label to the sleeve artwork and not just use a generic Universal label. The artwork was re-layered digitally by using the original photos where possible and re-typing the text with the same font etc to make the sleeves as close to being fresh as possible."
Clearly great care went into that aspect of the set. The jackets are beautifully done, laminated and on thick stock.
Also, the records are extremely well-pressed. My set was pretty much perfect with but a few minor pops and clicks.
Regarding the choice to cut from 96/24 files instead of analog tapes, I contacted mastering engineer Miles Showell who wrote this in response to my question asking why the digital cut:
"I feel your question will be better directed at Johnny Chandler who co-ordinated this project for Universal. What I can say is that there is a growing tendency across the industry to play archive analogue tapes as few times as possible going forward. The tapes are obviously of a certain age and in many cases literally wearing out.
"I fully understand that your readers may well not see this as an ideal situation. However to continually play old masters every time something needs running is not a good long term prospect. In an ideal world the entire archive of all the major labels would be in pristine condition and filed immaculately.
"Sadly, you and I both know that this ideal is not very often the case. The files I worked from for the Roxy Music box set were high resolution flat transfers from the original analogue tapes which were lovingly made here at Abbey Road a few years ago. These were also the source for the Japanese SACDs which I am told are well regarded.
"I am serious when it comes to cutting vinyl parts in the best possible way (my hero is Stan Ricker). Whenever someone approaches me to cut a half-speed master from a 16 bit 44.1kHz copy I always refuse (unless the original recording is from the late 1980s early 1990's and this is all that exists) as I do not want to damage the reputation I have worked hard to achieve. Please believe me when I say that working from digital copies in this case was not a decision taken lightly.
There's a bit of audio dynamite in that response regarding the 'well-regarded" Japanese SACDs. Cut from 96/24 files and upconverted to DSD?
I pressed Mr. Showell on this and he responded:
"I can only repeat to you what I have been told. I was not working here at that time so I have no hands on knowledge. I guess there is a chance I could have been given incorrect information. Also it is not beyond the realms of possibility that two workstations were running at the same time during the transfers. One workstation running DSD, the other PCM. So, in essence, we could both be right!"
So there you have it! We all wish the original analog tapes could have been used and we all wish those tapes were in good enough condition to have been used.
Was this set cut from 96/24 to save money? Or because the tapes were not useable? Perhaps we'll never know though we do know that after Rhino issued it's Doors box set from 192/24 bit files because the tapes were not useable, with enough prodding and $$$$$ from Chad Kassem, the tapes appeared and were in fact useable (except for the 1st album, where only a copy could be used and it still sounds better than the vinyl sourced from 192/24 IMO).
Perhaps in the year 2022, there will be a 40th anniversary all-analog Avalon.

<!- ------------------------------------>