TRON Soundtrack Released on Double 180g Vinyl
Yes, it's a horrendous conflict of interest, I suppose, for me to be reviewing this double LP
TRON
soundtrack reissue since I originally supervised it, back in 1982, but I was there, so who better qualified to do it?
I watched for the first time the other day "TRON Legacy" the sequel issued in 2010. I watched it at home in 3D and of course the visuals were astonishing. They were, I'm sure, what director Steve Lisberger saw in his head that back then simply could not be brought to the screen.
All of "TRON" was originally shot in 65MM, 2, 2:1 aspect ratio. It was not "blown up" from 35mm. The process used to produce the original movie required all of the live action within the computer world to be shot in black and white. The black and white footage was composited to VistaVision and blown up frame by frame and then backlit on an animation stand to produce the glowing characters. No wonder the frame by frame registration was not perfect. The trailblazing computer animation took forever to render and required buildings' worth of computers. Today it would take minutes on a PC.
In any case, compared to the original, "TRON Legacy" looked great, but it sounded awful—as if they ran out of money before post-production began. I was shocked by how badly even the dialog sounded on the DTS HD Master audio track. It was muffled and lacking in intelligibility.
But beyond that, the sound effects were skimpy, mundane and lacking in imagination. The "de-rezzing" sound that sound designer Frank Serafine and I created had dramatic consequence. For "TRON Legacy" the sound and visual was shattering glass. The original "TRON" had huge, spacious scene specific ambiences. The giant aircraft carrier like ship that the evil Sark (David Warner) commanded had its own ominous, bass-heavy sound that would signal its appearance even before it arrived on screen. All of these events were painstakingly created at a time when synthesizers were primitive. We had access to a Fairlight synthesizer, which was the first that could sample and play back "organic sounds". Back then it cost around $25,000 (which in today's dollars is far higher). Today a kid's toy can do it better.
The Light Cycles in the original began sonic life as my Saab Sonett's V-4 Ford engine. We put a pair of microphones in the engine compartment and recorded to a Stellavox portable reel to reel recorder (similar to a Nagra) and I drove way too fast on Mulholland Drive down and upshifting. Serafine then processed it. The Light Cycles in the new movie were sonically far more laid back. In fact everything was laid back and I think purposefully so—but that doesn't excuse the poor sound quality.
The original "TRON" had a love story between computer programs. It wasn't a hot one, nor could it have been and in retrospect it probably wasn't a good idea to try. The creators of the sequel didn't. In fact the only interpersonal relationship explored was between Kevin Flynn and his son Sam. Not until Sam escapes the grid back into the real world with one of his father's creations does some heat get suggested as they cycle off into the proverbial sunset.
While this TRON soundtrack packs cinematic musical heat and strong emotion, Daft Punk's score is purposefully cool. It percolates softly in the background as an electronic undercurrent. It all works as planned but a memorable or revolutionary soundtrack it is not! This one is. Interestingly, though for continuity's sake a Journey song provides the backdrop for Flynn's video parlor in the remake, it is not "Only Solutions" but rather "Separate Ways". Not sure why the substitution.
As I explain in the liner notes written for this reissue (which I won't spoil with too many of the details contained therein) few people back then owned computers or even knew what they were. That may be hard for some now to believe, but of course it's true. During pre-production around 1981 or so, director Steve Lisberger flew a few of the artists up to Cupertino, CA to visit pre-McIntosh Apple Computer so they could look at circuit boards and other computer hardware. I went along for the ride.
Apple was a small company then. We took the informal tour of some office space basically, during which our host confided "within a few years, everyone will have a computer in their home."
After we left the building I turned to anyone who would listen and said "Everyone will have a computer in his home? In a bank, yes, in a library, yes, but in my home???? Why the "eff" would I want a computer in my home? These people are living in a dream world if they think that!" Oh well.
So in considering the music for a film set inside a cold, electronic environment that most people watching wouldn't easily grasp, the last thing we needed for a musical score was the obvious Kraftwerk-like electronic chill, especially given the script's suggestion of an electronic flame between TRON and Yori, whose real world analogs were ex-lovers.
We needed an orchestral score and an electronic one too—one for scenes inside the computer and one for scenes in the real world. Both needed to have strong emotional components. Who better for the electronic score than Wendy Carlos whose score for "A Clockwork Orange" included dramatic synthesizer realizations of orchestral scores along with imaginative original compositions.
While contemplating whom to hire for the orchestral score, producer Donald Kushner met with Carlos in New York to discuss the electronic one. She convinced Kushner that she was more than capable of doing both.
As it turned out, because of scheduling and technical issues that you can read about in her notes and in mine in the jacket gatefold as well as in an in-depth story and interview written by Bob Moog that you can access here, I don't think anyone other than Wendy Carlos could have produced and delivered this revolutionary soundtrack that stands up so well after all of these years.
We originally planned a synthesizer-based soundtrack with orchestral overdubs but because of time constraints, that had to be turned on its head. The soundtrack became orchestral with synthesizer overdubs.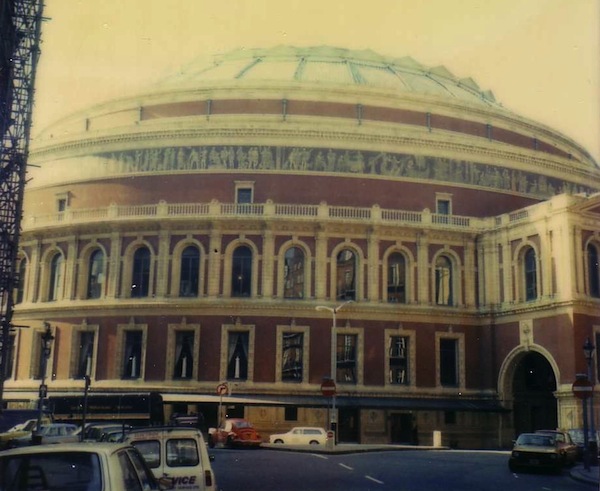 London's Royal Albert Hall, 1982
In March of 1982 The London Philharmonic Orchestra performed the large-scale orchestral tracks in London's Royal Albert Hall while a smaller group performed in famed Walthamstow Town Hall—the venue where Decca Records' engineers including the legendary Kenneth Wilkinson engineered many sessions that are still regarded as the epitome of classical music recorded sound. A BBC remote crew recorded both sessions of course to analog tape.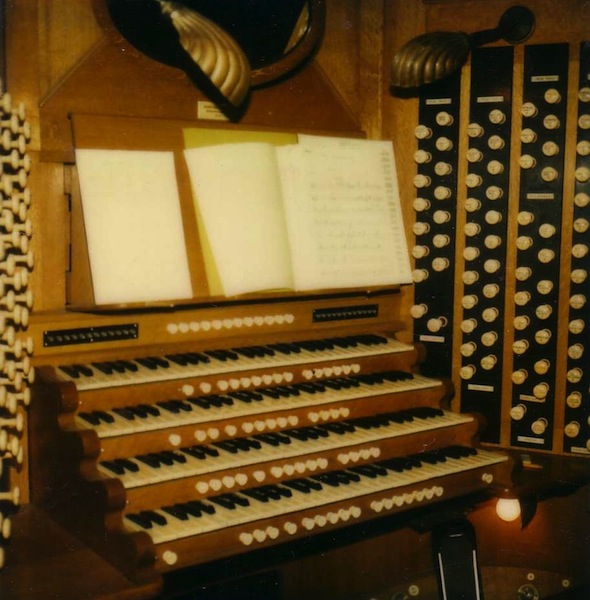 The Royal Albert Hall organ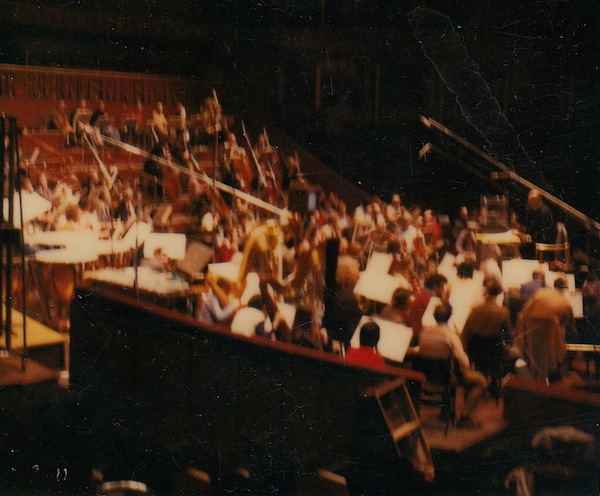 The London Philharmonic Recording at RAH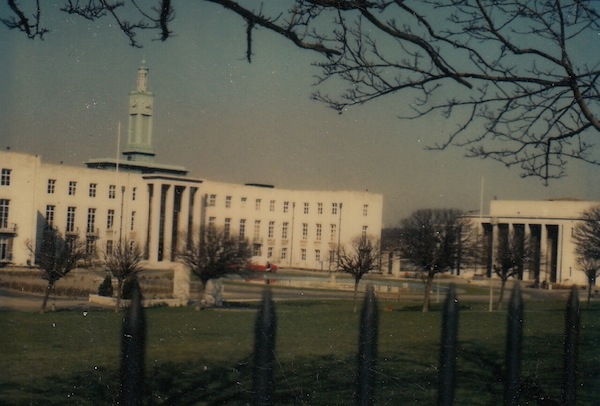 Walthamstow Town Hall
Carlos's score called for a chorus. Those sessions were recorded earlier at U.C.L.A.'s Royce Hall—another legendary recording venue.
Left to right: Assistant to the composer Annemarie Franklin, Wendy Carlos, orchestrator Jorge Calandrelli, producer John Mosely
Analogplanet editor Michael Fremer in London, 1982
With not much time to spare, Carlos then began the seemingly impossible task of merging the three recording sessions, performing the complex and time consuming synthesizer overdubs and then mixing it all down and fitting it to picture. Accomplishing all of that required the use of more new, and at the time untested in a film-post production environment SMPTE time coding equipment.
"TRON" became the first feature film to synch a multi-track master tape to film as part of the final mix, thus saving a generation by not having to dub it all onto 35MM magnetic tape stock. It saved money too.
As Wendy Carlos describes in her annotation, the score is based upon two themes, one with a quasi-military feel that augments the video game battle and chase scenes (it includes a quote from Stravinsky's "Rite of Spring") and the other a melodic, romantic one that has grand, sweeping gestures that in the context of the cold computer world and the spark-free relationship between the two computer programs, has an almost campy, over the top quality that I can only imagine left the Daft Punk guys shaking their heads—assuming they watched the original for background.
Though I was initially thrilled by Wendy's completed soundtrack, over time I've grown to appreciate it even more especially freed from picture. To this day I'm left thinking "how did she do that?" Listen to the almost violent compressions and orchestral eruptions that accompany the scene where the spinning MCP (Master Control Program) grinds to a halt after TRON's disc interferes.
If Daft Punk's synth score is forgettable, though usefully cool background gurgling for an ultra-low key script and production (complete with visual allusions to the unforgettable conclusion of Kubrick's "2001: A Space Odyssey), Carlos's original is emotionally hot, perhaps almost too hot for what ended up on the screen. If you know the movie you'll "see" it as you listen but if you don't, it doesn't matter. There are cues that will make your skin crawl and others that will evoke great beauty but none will let you down. The "Ending Titles" has the dread and drive of an old Universal black and white horror movie and concludes with a classic, cinematic orchestral frenzy that may have been heard before in movies but not since!
Because of Carlos's affiliation with Columbia Records, the soundtrack was slated for issue on the label's classical Masterworks division. The label insisted the pop song be provided by Journey, which was then red hot. How and why the Journey song "Only Solutions" sounds so much like the Police is explained in the album notes.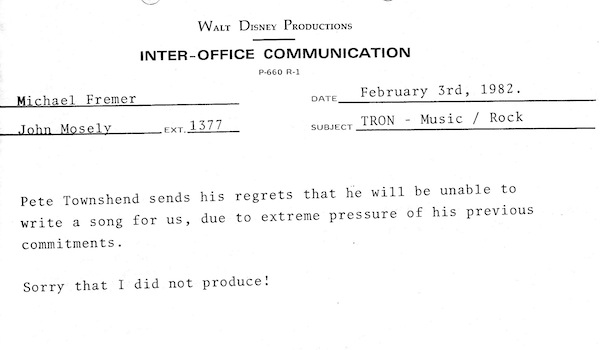 Mr. Mosely tried to get Pete Townshend to write a song for "TRON"
While we were mixing the film, Columbia Records president Walter Yetnikoff called to say that unless the Journey song was used at the beginning of the closing credits, the label would not release the soundtrack. We had no choice but to cut Wendy's slam bang orchestral finale, though of course it was on the soundtrack album and the laserdisc, DVD and Blu-ray editions restore it as an alternative ending track.
Unfortunately, the original album crammed fifty plus minutes onto a single LP and it sounded awful. After spending weeks on Lion's Gate's brand new state of the art dubbing stage hearing the original master tape, playing the album was a major let down. I don't think I played it more than a few times in all of the intervening years.
This new double LP version mastered by Kevin Gray and pressed at QRP on translucent vinyl is by far the best sounding TRON you will hear. Like Audio Fidelity's QRP-pressed Bladerunner reissue, Tron is a sonic spectacular. If you are a TRON soundtrack fan, I guaranty you, you will hear further into the mix than ever before. The bottom end on this production is stupendous and Kevin gets it all. Carlos's crystalline high frequency synth 'stings' attain a clarity and precision that sound as if the recording was produced last week, never mind in 1982. This reissue also re-creates the three-dimensional spaces both real and artificial that I've not heard since I heard the final mix on the dubbing stage. And if you know the Journey songs, I promise you've never heard them sound this good.
Though Wendy's notes describe some bonus tracks, due to contractual issues they are not included here. You'll have to buy the CD for those. Please do. And compare the sound. This gatefold edition also includes new cover art.
End of line.

<!- ------------------------------------>