At High End Munich 2018 SME CEO Stuart McNeilis Introduces the New "Synergy" Integrated Turntable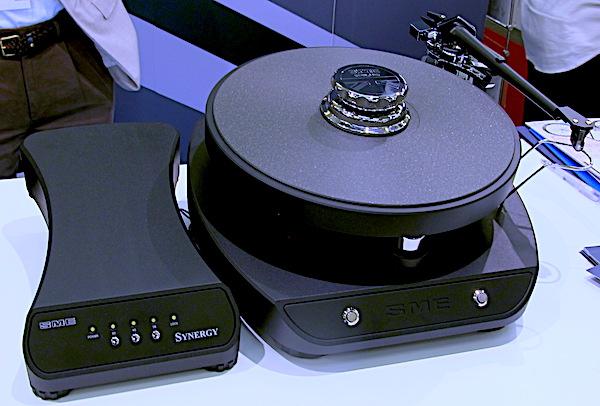 In this short video, SME CEO Stuart McNeilis gives viewers a guided tour of the company's first new 'table since the Model 15. It's the company's first "integrated" "plug'n'play" turntable and the first since McNeilis became CEO following SME's purchase by The Cadence Group.
The Synergy features a built in battery powered Nagara phono preamplifier, and comes fitted with Ortofon's excellent Windfeld Ti MC cartridge. The new 'table uses the Model 10's motor and Model 15's platter. The rest is new including a new power supply, suspension and various other parts.
McNeilis is in a tough position running an iconic company like SME. There's tradition and there's the need to move forward into the future. If he leaves things as they have been, the company risks being left behind by market trends and newer products. If he changes things too quickly, he risks alienating "the base" (not to mention the dustcover!) and trashing tradition.
Perhaps going forward SME will have two lines: the traditional lineup of Models 10, 15, 20 and 30 and a new line of 21st century designs using different materials and concepts. In the meantime for the first new product since the 15 launched five years ago, McNeilis has chosen a new product category—the "integrated" turntable—using familiar SME concepts in a new form factor: the "integrated turntable."
Of course there will be skeptics who dismiss the Synergy but I think they are wrong. I think there's definitely a market for a high quality integrated product that makes use of core SME technology in a new package featuring a built-in Nagra battery powered phono preamplifier and a premium Ortofon Windfeld Ti cartridge. "Plug'n'play" has never had it so good! For people who have the money and the interest but not the skills required to st up and cartridge, this is a great way to get into vinyl and experience and hear what it's all about.
The suspension system in this model is all new and features a newly developed elastomer. The power supply is newly developed as well. The familiar SME IV arm can be had in "standard" and extra cost snazzy chrome. I can see this 'table in the executive suite partnered with a pair of the Wilson TuneTots.
When I ran into McNeilis on Sunday afternoon at the show he told me that they'd sold "quite a few" between Thursday and Sunday, which didn't surprise me. One will be coming here for review as soon as production is finalized. Projected pricing in America will be between $15,000 and $17,000 complete.
<!- ------------------------------------>