This $19 Pyle Phono Preamp Is Anything But Crap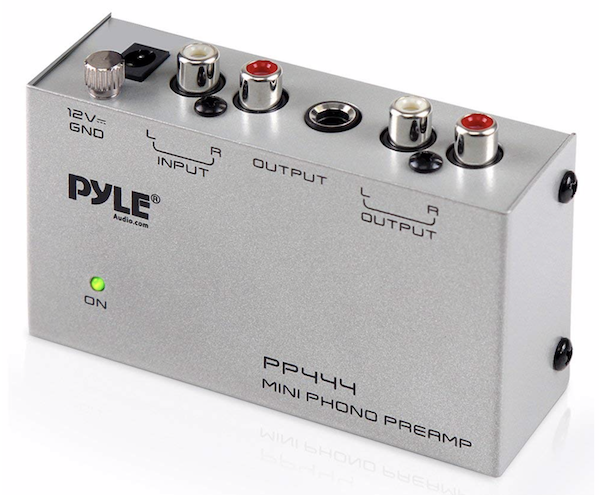 An Amazon search for "phono preamp for turntable" (the last two words theirs) will yield approximately 395 results, and above most affordable Pro-Ject, Cambridge Audio, U-Turn, and Music Hall phono preamps are those of Pyle, a company that makes most every kind of easily affordable product; hifi and A/V components, pro audio products, fitness trackers, subwoofers for boats, kitchen appliances, pest controlling devices, and even security systems! Pyle makes several budget phono preamps with the same specifications, including the $18.99 (MSRP) PP444. Two of Pyle's preamps have well over 1,000 reviews on Amazon (mostly from real humans as far as I can tell), so quite a few people are buying these for their audio setups. Pyle's audio products haven't gotten much coverage, so I gave the PP444 a try.
Features
The PP444 is an MM-only phono preamp built around a Texas Instruments NE5532P op-amp chip. It comes with a DC 12-volt power adapter and has an input sensitivity of 3mV at 50k ohms. A green LED indicates that the extremely small and lightweight unit is plugged in and ready.
In addition to the standard RCA output, there is also a ¼" phone jack line level output . It's not a headphone jack to so don't plug in your headphones because what comes out is loud! Pyle's claim that the PP444 features "state of the art circuitry" is obviously false, but that doesn't mean it's bad. The build quality is as expected for the price - it holds up well but it's nowhere close to indestructible. My only gripe about the PP444's construction is that it lacks rubber feet that could prevent scratching up whatever surface you place it on, but again, it's $19.
Setup
Once spoiled by the smoother sound of the far more costly Ortofon Quintet S MC, returning to the Elys2's exaggerated bass and treble proved difficult so I installed the $49 Audio-Technica AT95E cartridge on my Rega P3 (with the Stein Music "Perfect Interface" carbon mat), which to me sounds much better and is a fraction of the Elys2's price. I used a pair of Spiral Groove GrooveLine interconnects from the Pyle PP444's output to my Onkyo TX-8260 integrated amp/stereo receiver.
Listening
The first thing I played with the Pyle/AT combo was Supertramp's "The Logical Song" from MoFi's recent reissue of Breakfast In America (MFSL 1-471). This album is known for having many elements spread across the soundstage, but also for its awful, overhyped cymbal sound especially on "Gone Hollywood." The Pyle delivered a satisfying sound, without greatly over-emphasizing the cymbals and overall produced a rocking performance. When I returned to the MoFi UltraPhono (loading at 47k ohms), however, image stability, soundstage width, and definition greatly improved. I felt that I heard more of what was on the record, and the beginning of the saxophone solo specifically had more urgency. In addition, drum reverb was reproduced much better and the soundstage was deeper, too. But again, this is the difference between $19 and $250 (the $499 UltraPhono's headphone amp doubles the price of the otherwise identical $249 StudioPhono) phono preamps. The UltraPhono's superior performance is definitely worth the price difference, but the Pyle sounds extremely good for its price point and it can perfectly suit those just beginning to explore the analog world.
To test the Pyle's bass, I played "TAPE" from BROCKHAMPTON's excellent iridescence (2LP clear vinyl, RCA/Question Everything, Inc. 19075-90439-1), my favorite rap album of 2018. iridescence was mostly recorded at Abbey Road Studios and sounds excellent, especially for a modern rap album. "TAPE" features real string arrangements, deep bass, a dense beat, and verses from four BROCKHAMPTON members. For this test, I also threw in for comparison the MM phono input of the Onkyo amp, and the results were interesting. The UltraPhono's bass was tighter, but the Pyle was no slouch and performed extremely well. Of the three, the Onkyo's phono input was the worst, producing a strange haze over JOBA's verse that once noticed couldn't be un-heard!
Even though for $19 the Pyle PP444 sounds great, extreme disappointment crept in when I played the Raconteurs' excellent "Now That You're Gone"/"Sunday Driver" single (colored vinyl 7", Third Man Records TMR-586) released by the Third Man Vault in December. An overly soft snare drum sound marred "Now That You're Gone" and "Sunday Driver" didn't rock nearly as much as it should have, but those in the market for a $19 phono preamp probably won't know the difference.
Conclusion
Despite being a bit soft and not having the crystal-clear top end of more expensive phono preamps, considering its miniscule price tag, the Pyle PP444 over-performed. The subpar build quality was as expected, and the lack of rubber feet irritated, but the electronics inside did enough justice to even a $1600 turntable setup. Because of that, for those entering the wonderful world of vinyl and audiophilia on a tight budget, I highly recommend the PP444
<!- ------------------------------------>