From Teen Icon To Heart of Darkness, Scott Walker RIP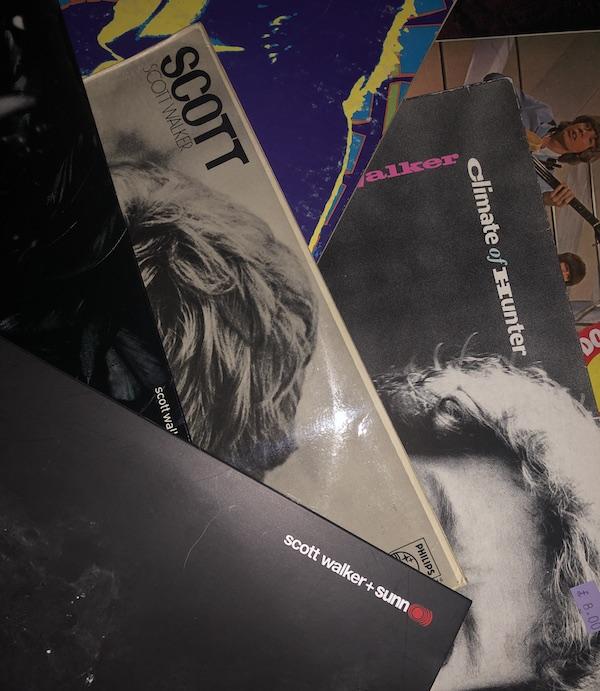 Scott Walker, founding member of '60s era pop group The Walker Brothers and later creator of some of the darkest, most uncompromising avant-garde music that influenced Thom Yorke, David Bowie and others died last Friday, March 22nd, in London at age 76. The cause was cancer.
Walker, whose real name was Noel Scott Engel, was born in Hamilton, Ohio, moved to England in 1965 with the other "brothers", guitarist John Maus and drummer Gary Leeds, where they achieved a level of pop success that America did not produce. The Bacharach/David tune "Make it Easy On Yourself", sung by baritone Walker in a performance reminiscent of Righteous Brother Bill Medley, hit #1 on the British pop charts as did the group's other cover, "The Sun Ain't Gonna Shine Anymore" originally recorded by Frankie Valli and The Four Seasons. Both were memorable Top 20 hits in America.
But it was Walker's solo career that holds the greatest interest. In a series of albums beginning in 1967 with Scott (Philips BL 77816) and followed by Scott 2 (Mercury SRS 67106) and then "3" and "4", he established his deeply experimental side. (What follows is but a partial discography): Walker poured on the darkness with 1983's Climate of Hunter (Virgin V2303) and then went deeper, adding orchestration on 1995's Tilt, released domestically in 1997 by Drag City (DC134). 2006's The Drift (4AD CAD 2603) was a double LP almost too frightening to listen to alone in the dark, though that is the best way to listen. It was dramatic, scary, heavily orchestrated (at AIR Studios) and full of around the corner musical surprises. The songs dealt with subjects as far ranging as psoriasis and Mussolini's execution in which by her choice he was joined by Claretta Petacci ("Clara"). "Jolson and Jones" could be about two singers he admired (one of whom admired back) but with a chant that went "I'll punch a donkey in the streets of Galway!" who knows? Dreams, of which Walker had many reoccurring disturbing ones, loomed heavily in his lyrics.
The Drift includes this in the credits: "This is an analogue recording mastered by Adam Nunn at Abbey Road Studios London and should be played at high volume.". Walker always meticulous in the studio, cared deeply about production and the sound of his creations. 2012's Bisch Bosh (also on 4AD but MIA both in my record collection and on AnalogPlanet though it was reviewed on musicangle.com) includes the memorable line: ""If shit were music you'd be a brass band". In 2014 Walker released Soused (4AD CAD 3428) a collaborative effort with the experimental metal band Sun O))), taking Walker into new, pleasingly disturbing territory. For Mr. Engel, "the sun ain't gonna shine anymore", but for those of us still here, his foreboding baritone lives on in the grooves of his records. Back in 1997 on January 8th Scott Walker wished David Bowie a happy birthday. Walker's was the next day.
<!- ------------------------------------>