Abbey Road 50th Anniversary Special Releases Coming September 27th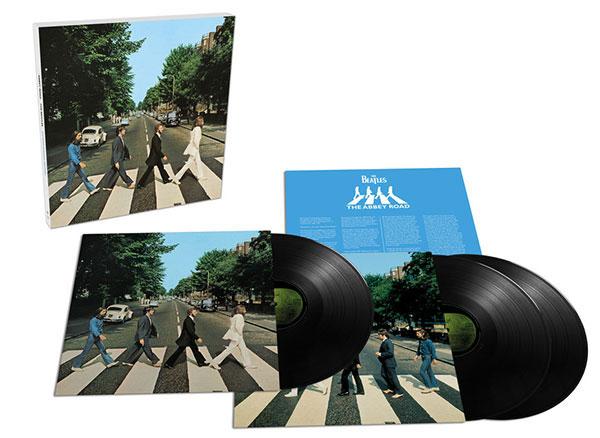 The Beatles
Abbey Road
gets the expected 50th anniversary treatment on September 27th UMe announced today, which coincidentally is the 50th anniversary of the famous walk across the street photo shoot that became the iconic album cover.
There will be new stereo, 5.1 Surround and Dolby Atmos mixes presented on multiple formats including a "Super Deluxe" 4-disc box set, 3LP box set and 1LP picture disc. 17 tracks have been newly mixed by producer Giles Martin and mix engineer Sam Okell, accompanied by 23 session recordings and demos, most of them previously unreleased. These are presented on the Super Deluxe and Deluxe vinyl box sets in chronological order of their first recording dates. The three-track 'Something' EP, featuring the 2019 Stereo Mix, the Studio Demo and Take 39 – Instrumental – Strings Only, can be streamed here now.
From the press release: "The Super Deluxe box set of Abbey Road contains 40 tracks —including "'The Long One' Trial Edit & Mix for the epic medley on side two — on three CDs (stereo) and one Blu-ray disc (Dolby Atmos, 96kHz/24 bit high resolution stereo, and 96 kHz/24 bit DTS-HD Master Audio 5.1). The four discs are housed in a slip-sleeved 12" x 12" 100-page hardbound book. Elements include McCartney's foreword, Martin's introduction and in-depth insights by Beatles historian, author and radio producer Kevin Howlett.
"These cover the months preceding The Beatles' Abbey Road sessions, track-by-track details and session notes, the cover art and photo shoot, and the album's reception upon its release. The hardbound book also has an essay by music journalist and author David Hepworth, examining the album's influence over 50 years. The volume is illustrated with rare and previously unpublished photographs, including many by Linda McCartney; never before published images of handwritten lyrics, sketches, and a score by George Martin; Beatles correspondence, recording sheets, and tape boxes; and reproduced original print ads. The Super Deluxe digital audio collection presents all 40 tracks for download purchase and streaming in standard and MFiT formats, and in high resolution audio (96kHz/24 bit) for download.
"The limited edition Deluxe vinyl box set features all 40 tracks from the Super Deluxe collection on three 180-gram vinyl LPs. The new stereo mix LP is packaged in a faithfully-replicated sleeve, with the two Sessions LPs paired in their own jacket, presented with a four-page insert in a lift-top box. The Deluxe 2CD set pairs the new stereo mix with versions from the session takes and demo recordings of its 17 songs. These are sequenced to match the album's running order. "These two discs are presented in a digipak with a 40-page booklet, abridged from the Super Deluxe book. The new stereo mix of Abbey Road is also available in 1CD and 180-gram 1LP vinyl packages, for digital download in standard and MFiT audio, and on a limited edition picture disc vinyl LP illustrated by the album's front and back cover art images. "Martin and Ozell worked on the new Abbey Road mixes with Abbey Road's expert team of engineers and audio restoration specialists. All of the editions feature the new stereo album mix, sourced from the original eight-track session tapes. Giles Martin used the original stereo mix by his father George Martin as his guide. "Says Giles Martin in his written introduction: "The magic comes from the hands playing the instruments, the blend of The Beatles' voices, the beauty of the arrangements. Our quest is simply to ensure everything sounds as fresh and hits you as hard as it would have on the day it was recorded."
For those who would also like to be able to purchase a cut from the original two-track tape, all-analog edition housed in a glossy, laminated "fold over" jacket, some of us (me) are pushing for that possibility once the excitement here has calmed down a bit. Based upon the previous remixes, we are 100% optimistic about Mr. Martin's newest remix from the 8 track tape but feel that the original document still carries great weight and historic importance and so we'd like to see that reissued as well (and The Beatles done that way too complete with laminated fold-over "top loader" packaging).
<!- ------------------------------------>