PS Audio Launches Stellar Phono Preamp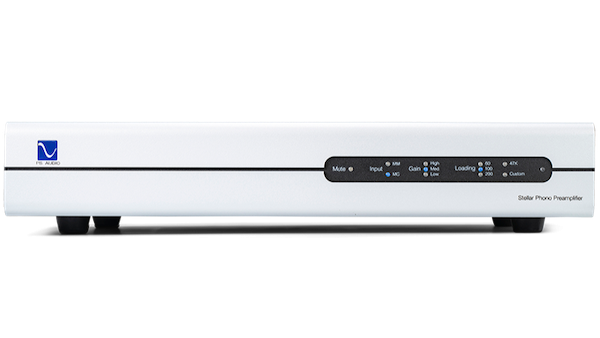 The following is
PS Audio
's press release for the company's new Stellar phono preamplifier:
Boulder, CO: 8/6/2019-----PS Audio's first product way back in 1974 was a phono preamplifier that outperformed and replaced far more expensive units. Since then, we've offered a number of excellent phono preamps--- but the new Stellar Phono Preamplifier is the best we've ever made.
Designer Darren Myers rejected the common, cost-cutting techniques of phono preamp design: the Stellar Phono Preamp uses no ICs in the signal path and instead features all-discrete FETs and hand-selected premium components in a Class A circuit with passive RIAA equalization.
In addition, the Stellar Phono Preamp has both fixed and variable loading for moving coil cartridges, fully adjustable from the remote control. The unit's ultra-low noise allows the use of MC cartridges with output as low as 0.15 mV. Two different tonearms can be selected via the remote, with either single-ended or balanced outputs. A massive, heavily-regulated power supply and full DC coupling allow the unit to provide up to 20V rms output for powerful bass and unrestricted headroom and dynamics.
The Stellar Phono Preamp is a classic example of the PS Audio ethos: superb musical performance at a price far less than your ears would indicate. Darren talks about his design goals and methods in this brief video. Bring on the standard phono pre recommendations---and then try the new Stellar Phono Preamplifier. We think you'll be shocked, and impressed.
Features:
Moving Magnet and Moving Coil preamplifier
Fixed and variable cartridge loading adjustable from remote control
Up to 70dB of ultra low noise gain for MC cartridges as low as 0.15mv
Two inputs for two tonearms selectable from remote control
Single ended and balanced outputs
All discrete FET design
Class A analog circuitry throughout
No ICs in signal path
Up to 20V rms output for unparaleled headroom and dynamics
Passive RIAA curve for seamless performance
Hand selected premium discrete components
DC coupled from input to output for unfettered bass
Ultra low noise discrete pre and post voltage regulation stages
Low internal feedback for increased transparency and openness
No complimentary FET transistors for lifelike performance
High current oversized power transformer
Remote control
Front panel standby button
Available to ship September, 2019.
US MSRP: $2,499
<!- ------------------------------------>