iFi's "Cost Is An Object" Zen Phono MM/MC Phono Preamplifier

iFi's Zen Phono preamplifier replaces the busy, but super-adjustable dip-switch laden operating system found on the company's far more costly ($999), feature-rich
iPhono 3
for a much simpler one, yet the Zen offers an impressive feature set, and high build quality and parts compliment, all for $149.99.
The compact Zen offers a gain range of 36dB to 72dB with a claimed astonishingly low -151dBv noise floor, a useful switchable subsonic filter and a balanced output, something unheard of at this price point. As on the iphono 3 parts quality is high and includes TDK C0G Class 1 ceramic capacitors (claimed to be close to Teflon quality) used in parallel to improve tolerance. iFi claims RIAA tolerance level of ±0.15dB. Panasonic ECPU capacitors, and Texas Instruments low noise ICs are also used along with custom iFi low noise, low distortion op-amps.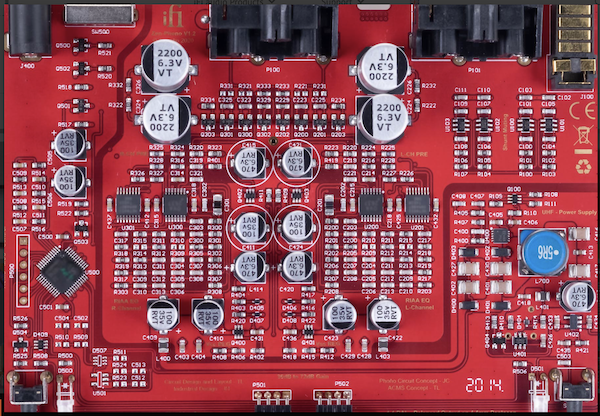 The front panel LEDs labeled "MM", "MC HIGH", "MC LOW" and "MC V LOW" light depending upon the setting of the rear panel four position slide-switch.

The rear panel also features RCA input and output jacks and the single balanced output connector along with a banana plug accepting ground lug (which we like) and the 5V DC power input supplied by a supplied "wall wart".
No Loading Adjustability But Sensible Fixed Settings
Keeping the cost low and adjustability simplified means you cannot adjust loading. Instead the designers made some smart fixed loading choices: MM is the standard 47kOhms (capacitive load is a sensible 110pF) while MC High is also 47kOhms since most if not all all H.O. MC cartridges are designed to be loaded at 47kOhms. MC Low loading is set to 1kOhm, while MC V Low is sensible 110 Ohms.
A Major Overachiever
I just finished reviewing for Stereophile SME's Model 6 turntable ($9000). SME supplied an Ortofon Cadenza Black ($2729) and I have here for review the 2M Black LVB250 ($999), which gave me the opportunity to audition the Zen Phono with both a high quality low output MC cartridge and a very fine MM one, both using the same Boron cantilever/Shibata stylus assembly. That also allowed me to compare the two cartridges, but that's for another review.
Here I can tell you that the Zen Phono is remarkably quiet even paired with the .33mV Cadenza Black. But beyond what was not present (noise), what was delivered musically was remarkably sophisticated. It's often said about an audio system, that it's only as good as the weakest link in the chain. Well, here, the iFi Zen Phono is clearly the least costly link in a chain that includes the M6, darTzeel electronics and a pair of ($139,000) Wilson Audio Specialties XVX loudspeakers also just reviewed (but not yet published) for Stereophile, and you could say also the "weakest" but were you to sit down and listen to the system without knowing the source, there's no way you'd imagine you were listening to a $149.99 phono preamplifier.
For one thing, the blackest of backgrounds hides the cost. For another, the phono preamp's spatial delivery was solid, stable and 3 dimensional as few, if any "cheap" phono preamps deliver. The Zen's timbral balance and especially its low end extension were beyond any expectations at this price point. I don't keep around a "stable" of inexpensive phono preamps to compare to the Zen, but I did compare it to the iPhono 3 and while it doesn't quite have the far more costly unit's airy, open top end or its bottom end punch and weight, the Zen comes surprisingly close through full range speakers not likely to be used by Zen buyers.
Banjo player Tim Weed's highly enjoyable and beautifully recorded "concerto for 5 string banjo and orchestra" (quotes around it because the music isn't labeled as such) (The Plant Studios Records TPSR0009) sounded close enough to how it sounds through the big rigs and phono preamps here to produce pleasant surprises as the music rolled on.
Weed's banjo was well-presented in three dimensions in front of the orchestra, with transients neither soft nor too sharp. The richly recorded orchestra (at SONO Records, Prague, Czech Republic) spread well behind the solo banjo delivered rich, silky massed violins (and full bodied larger strings) and cleanly rendered woodwinds. The presentation lost microdynamic subtlety compared to more costly phono preamps including the iPhono 3, and it shaved extension at the high end low frequency margins, but let's get real: it costs $150!
Some Blue Note "Classic Vinyl Series" releases produced equally satisfying results demonstrating the Zen's quiet backdrops and transient precision. Horace Silver's piano center stage on the title track of Song For My Father (BN ST-84185/0744043) performed against a black backdrop well beyond $150 phono stage expectations, with Joe Henderson's tenor in the right channel sounding satisfyingly full-bodied. Roger Humphries' rimshots floated just behind the sax tactile and "woody" topped by nicely ringing cymbals.
I'll stop now. I don't think anyone sitting here would guess they were listening to a $149.99 phono preamp—until I switched to one that was considerably more costly. It's that good.
No, I do not have a "stable" of other similarly priced phono preamplifiers to compare it to, but I'm fairly certain this one would come out on top if just for its incomparably ultra-low noise floor. Even the subsonic filter works as promised, removing the low frequency woofer pumping produced by warped records, without noticeably affecting bass response.
Conclusion
The iFi Zen Phono is a no-brainer, easy to recommended, timbrally honest, especially quiet MM/MC phono preamp that's priced near the bottom and performs many steps above its pay grade.
Specifications
MC (v lo)@ 72dB (+/- 1dB)
MC (lo) 60dB (+/- 1dB)
MC (hi) 48dB (+/- 1dB)
MM72dB (+/- 1dB) 36dB (+/- 1dB)
AI Sub-sonic filter (Remedies only LP 'warp' —no negative impact to bass response
Max Output Voltage (RMS) 20v RMS bal output into 100k (< 1% THD & N)
13.5V RMS bal output into 600R (< 1% THD & N)
Output Impedance:
BAL 200 ohms
SE 100 Ohms
Input impedance:
MM: 47K Ohms (Load: 110pF)
MC High: 47K Ohms
MC Low: 1K Ohms <.br> MC V Low: 110 Ohms
Signal/Noise Ratio:
94dB (A) MM re 2V BAL/1V UNBAL
80dB(unweighted 80kHz BW) MM re 2V BAL/1V UNBAL
84dB(A) MC Hi re 2V BAL/1V UNBAL
71dB(unweighted 80kHz BW) MM re 2V BAL/1V UNBAL
90dB(A) MC lo re 2V BAL/1V UNBAL
79dB(unweighted 80kHz BW) MC lo re 2V BAL/1V UNBAL
79dB(A) MC vlo re 2V BAL/1V UNBAL
69dB(unweighted 80kHz BW) MC vlo re 2V BAL/1V UNBAL
EIN (equivalent input noise):
0.6nV|/Hz (unweighted) MC lo/vlo:
-151dBV (A weighted)
-141dBV (unweighted)
6.5nV|/Hz (unweighted) MM/MC hi-
-130dBV (A weighted)
-119dBV (unweighted)
Harmonic Distortion: < -110dB / 0.0003% MM re 2V BAL/1V UNBAL
< -80dB / 0.01% MC lo re 2V BAL/1V UNBAL
< -86dB / 0.005% MC vlo re 2V BAL/1V UNBAL
Dimensions160(l) x 113(w) x 35(h) mm
6.3" x 4.4" x 1.4".
Power Supply: DC 5V / 500mANet weight:515g (1.14 Ibs)
Warranty:12 months
<!- ------------------------------------>