Vinyl Review Explosion: The Strokes, Kid Cudi, M.I.A., & Darkside
(Review Explosion is a recurring AnalogPlanet feature covering recent releases for which we either don't have sufficient time to fully explore, or that are not worthy of it. Curated by AnalogPlanet contributing editor Malachi Lui, Review Explosion focuses on the previous few months' new releases. This particular Review Explosion discusses Vinyl Me, Please's Essentials releases from February-May 2021.)
The Strokes - Room On Fire
RCA/VMP Essentials 19439741411 "Meet Me In The Bathroom Tile" colored vinyl 180g LP
Produced by: Gordon Raphael
Engineered by: Toshikazu Yoshioka and William Kelly at TMF Studios
Mixed by: Uncredited (Gordon Raphael?)
Mastered by: Greg Calbi and Steve Fallone (digital), Ryan Smith (vinyl) at Sterling Sound
Music: 7
Sound: 7
Two years after their era-defining debut Is This It, the Strokes' 2003 sophomore effort Room On Fire dropped to high anticipation; whether it lived up to its hype remains debated. Between releases, the NYC rock quintet extensively toured, only allotting three months to record the record. Further, they completely scrapped early sessions with Nigel Godrich and returned to producer Gordon Raphael as rock n' roll excess kicked in. The Strokes' musical strengths remained intact, albeit diminished; there are some great guitar lines ("Reptilia," "Under Control"), and lead singer Julian Casablancas' vivid, personal, and conversational lyrics remained as sharp as ever ("12:51," "Meet Me In The Bathroom"), with hints at that era's post-9/11 anxiety ("The End Has No End"). Still, Room On Fire lacks the melodic immediacy of its predecessor, with more filler and weaker highlights.
This VMP reissue, cut by Ryan Smith at Sterling Sound, plated at QRP, and pressed at GZ, is likely the best the album will sound. The mix is bright and compressed as is, with Casablancas' vocals barely audible; there isn't much detail to bring out for a revelatory listen. The 180g colored vinyl (split into quarters of red, blue, and tan) is generally quiet, and the special VMP jacket (a laminated tip-on with extensive foil-stamping) feels luxurious (despite the lame drink "recipe" of "1 cheap beer [and] 1 shot of Irish whiskey"). If you're a diehard Strokes fan or one who needs the best pressing of every album, this pressing is worth the cash, though a standard EU pressing might serve others just fine.
Kid Cudi - Man On The Moon: The End Of Day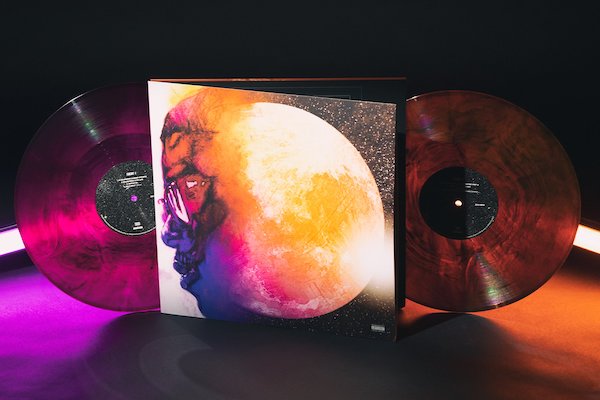 Republic Records/VMP Essentials B0028578-01 "The End of Day/A New Beginning" galaxy colored vinyl 2LP
Produced by: Various
Engineered by: Andrew Dawson, Emile Haynie, Anthony Kilhoffer, Dot Da Genius, et al
Mixed by: Manny Marroquin
Mastered by: Vlado Meller (original digital master), Barry Grint (vinyl remaster)
Music: 8
Sound: 8
Upon his debut mixtape A Kid Named Cudi's 2008 release, rapper Kid Cudi (Scott Mescudi)'s emotionally focused, melodic work attracted Kanye West's attention, leading to the artists' collaboration on West's game-changing 808s & Heartbreak. The following year, Cudi released his proper solo debut, Man On The Moon: The End Of Day, overseen by Kanye. The first in a series (the others being 2010's rock-inspired Man On The Moon II: The Legend Of Mr. Rager and 2020's space trap victory lap Man On The Moon III: The Chosen), MOTM 1 is Cudi's vulnerable, psychedelic coming-of-age story. Divided into five acts over an hour, the album details his struggles with depression ("Day 'N' Nite"), isolation ("Solo Dolo"), and drug use ("Pursuit Of Happiness"), with catchy pop hooks and dreamy soundscapes. While Cudi's lyrics (some of which haven't aged well) may seem shallow and his "me against the world" presence off-putting to some, there's no arguing his monumental influence on pop rap; any well-rounded record archive requires this album.
Once again, VMP continues to establish itself as the best reissue label currently. MOTM was an "iTunes era" casualty, from a time when even the best engineers mixed records to sound less compromised as a 256kbps AAC. While not the worst case of this, Kid Cudi's early albums still sound dry and clinical. Barry Grint's vinyl remaster doesn't completely fix this, but provides a smooth, extended top end that adds necessary presence and space. Mysteriously, though, LP1 has punchy bass clarity, yet LP2's bass lacks that tightness and subtly muddies up the lower midrange. The tip-on gatefold jacket renders Bill Sienkiewicz' illustrations in stunning detail, and the vinyl (LP1 is "The End Of Day" purple/black galaxy vinyl, LP2 is "A New Beginning" orange/black galaxy vinyl) has only mild noise. While twice as expensive, the VMP reissue of Man On The Moon probably obliterates the current standard United pressing.
M.I.A. - Kala
XL Recordings/VMP Essentials XL231LPE neon purple/green colored vinyl half-speed mastered 45rpm 2LP
Produced by: M.I.A., Switch, Morganics, Blaqstarr, Diplo, and Timbaland
Engineered by: See above
Mixed by: Mark "Spike" Stent, Switch, and Demacio "Demo" Castellon
Mastered by: Barry Grint and Cicely Balston at Alchemy Mastering at AIR
Music: 7
Sound: 7
Beyond its iconic single "Paper Planes," M.I.A. (Maya Arulpragasam)'s breakthrough second album Kala is a singularly experimental blend of hip-hop and club music, heavily influenced by travels to Sri Lanka, India, Trinidad, Jamaica, Angola, Liberia, and indigenous Australian territories. Densely layered with hypercompressed percussion, chants, and creative sample choices, Kala is political and confrontational like few other records. Topics of war, immigration, and cultural identity run through the album; born in London, Arulpragasam spent a decade of her childhood living in impoverished, war-torn Sri Lanka, before moving back to London as a refugee. (During Kala's recording, she faced US visa issues supposedly over her family's association with Tamil fighters in Sri Lanka, cancelling her plans to extensively work with Timbaland.) She expresses concern over violence in Liberia ("20 Dollar"), Western stereotypes of immigrants (the intentionally ambiguous "Paper Planes," which brilliantly samples the Clash's similarly-themed "Straight To Hell"), and the financial desperation of the systemically oppressed ("Hussel"). It's equally as important as it is difficult to digest; M.I.A.'s unique vocal performances (frequently described as "childlike") is often obscured by the bombastic, chaotic instrumentals. As much as it's an acquired taste, Kala is a record of historical importance, one that will always remain relevant because of how directly it presents its subjects.
For the company's 100th Essentials release, VMP took particular care with this Kala reissue. Half-speed mastered at 45rpm by Barry Grint and Cicely Balston at Alchemy Mastering (now part of AIR Studios), it's pressed on neon purple (LP1) and green (LP2) vinyl at GZ. It sounds as good as it'll possibly sound, considering the intentionally messy and blown-out mix (I'm sure it bests the standard 33rpm United pressing). The widespine holographic foil jacket illuminates the colorful cover art, the liner notes booklet provides useful context, and printed inner sleeves round up the kaleidoscopic package. It's worth it for those willing to spend the $47, though stream the album first to avoid intense shock.
Darkside - Psychic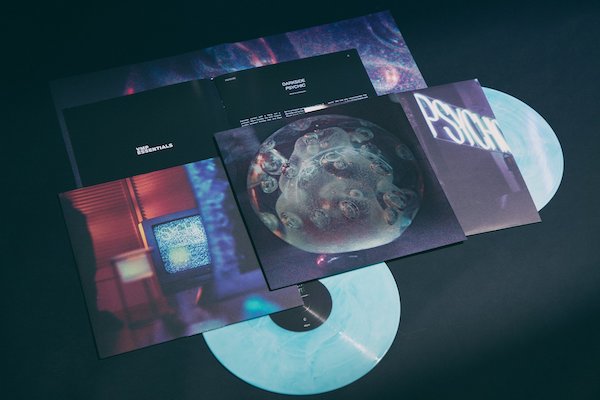 Matador/Other People/VMP Essentials OLE-1035-1/OP003 "crystal ball" colored vinyl 45rpm 2LP
Produced by: Darkside
Engineered by: Darkside, Jérémie Delvallée, Laurent Aurion
Mixed by: Nicolas Jaar at Other People
Mastered by: Brian Gardner at Bernie Grundman Mastering (digital), Barry Grint at Alchemy Mastering at AIR (vinyl)
Music: 7
Sound: 7
While touring 2011's acclaimed Space Is Only Noise, electronic artist Nicolas Jaar and his touring guitarist Dave Harrington formed Darkside, building their sound over two years and countless recording sessions. Classified by Jaar as "rock and roll," Darkside combines his dubstep-inspired electronics with Harrington's live instrumentation, often using samples of the latter's guitar to create spellbinding, layered compositions. The 11-minute opener "Golden Arrow" starts with Jaar's glitchy synths and disembodied vocals, transitioning into winding, looped guitars and slithering synth-bass. "Heart" and "Paper Trails" make use of Harrington's bluesy guitar riffs, while "The Only Shrine I've Seen" builds upon hypnotic claps. Psychic isn't the best nor most immediately gripping of Jaar's diverse catalogue (spanning 10 years and several monikers), though is one of his most technically sophisticated works.
Pressed at GZ on "crystal ball" (light blue/white galaxy) colored vinyl, Barry Grint at Alchemy Mastering cut this new Psychic VMP reissue at 45rpm. The mastering is the best it'll likely sound, but like most opaque "galaxy" colored vinyl LPs, there's an abundance of surface noise. The standard pressing is cut and pressed at Optimal also at 45rpm; that edition is probably on quieter vinyl, even if the mastering is inferior. While VMP's pressing is exquisitely packaged (with a liner notes booklet, a new poster by cover photographer Jed DeMoss, and a mirrorboard widespine jacket), for most listeners it won't be worth the $20 premium.
(Malachi Lui is an AnalogPlanet contributing editor, music lover, and avid record collector. After an arduous 40 minute wait, he scored Ecco2k's limited edition E vinyl. Follow Malachi on Twitter: @MalachiLui and Instagram: @malachi__lui)
<!- ------------------------------------>