First Flight To Tokyo—Recently Discovered 1961 Art Blakey and the Jazz Messengers Live Concert Coming Nov. 5th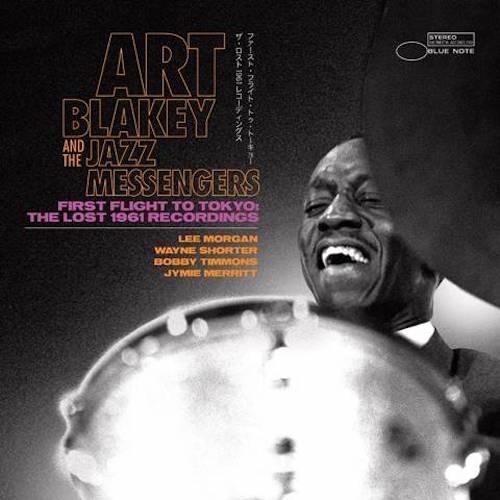 Blue Note releases November 5th
First Flight To Tokyo: The Lost 1961 Recordings
a recently uncovered Art Blakey and the Jazz Messengers 1961 live recording at Tokyo's Hibiya Public Hall featuring the classic lineup of Lee Morgan, Wayne Shorter, Bobby Timmons and Jymie Merritt.
The set includes mostly crowd pleasing staples like Parker's "Now's the Time", Monk's "Round About Midnight" and Timmons' "Moanin'", which you can stream or download at that link.
First Flight to Tokyo, co-produced by Zev Feldman and David Weiss will be released in deluxe 2-LP vinyl and 2-CD editions, both of which come with elaborate booklets featuring rare photos by Japanese photographers Shunji Okura and Hozumi Nakadaira; an historical essay by acclaimed jazz critic Bob Blumenthal; plus new interviews with Wayne Shorter in conversation with Blue Note president Don Was, celebrated saxophonist Lou Donaldson, Japanese jazz star Sadao Watanabe, renowned Japanese music critic Reiko Yukawa, Blakey's son Takashi Blakey, and a trio of drum greats: Louis Hayes, Billy Hart and Cindy Blackman Santana. Audio was newly transferred from the original ¼" tape reels, and the vinyl edition was mastered by Bernie Grundman and pressed on 180g vinyl at Record Technology Inc. (RTI).
That description indicates a digital source for the vinyl, probably necessitated by the tape's condition, but the files were in good hands as was the cut lacquers.
Upon hearing the tapes Feldman said ""My heart leapt from my chest when I heard that these previously unknown tapes of Art Blakey performances from his first Japanese tour existed." Fortunately his jaw also didn't drop, which left the medics time to return his ticker from whence it leapt. Get a further taste at the link below.
<!- ------------------------------------>