The Peaceful Glitch Pop of Sketch Show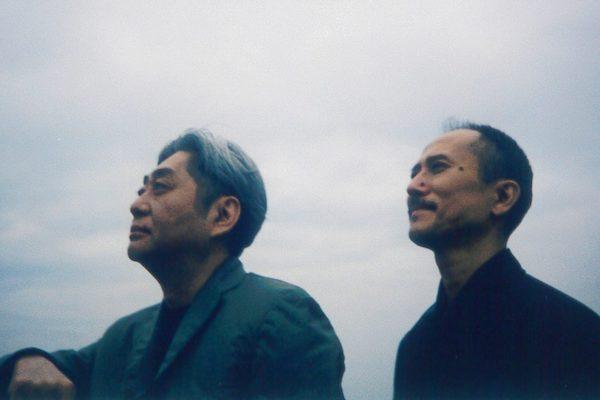 Earlier this year, I wrote a four-part
series
about Yellow Magic Orchestra, the seminal synthpop trio of Haruomi Hosono, Yukihiro Takahashi, and Ryuichi Sakamoto. Of course, that's only the tip of the proverbial iceberg; between solo records, collaborations, other bands, productions for others, and session credits, hundreds of wildly varying releases encompass the YMO-centered extended discography.
In the early 2000s, Hosono and Takahashi formed the glitch pop duo Sketch Show (no comedy involved), which from September 2002 to November 2003 released two albums and one EP. Save for the few songs with Sakamoto, Sketch Show is not YMO. Yet, it remains an important, oft-overlooked culmination of these artists' previous three-decade output.
Audio Sponge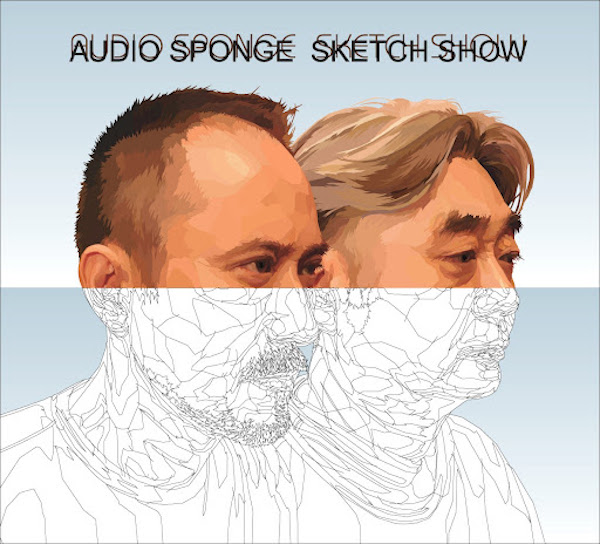 Avex Entertainment/Cutting Edge CTJR-96031~2 pale yellow colored vinyl 2LP
Produced by: Sketch Show
Engineered by: Hiroshi Haruguchi at Yosemite ST and Consipio ST, Tokyo
Mixed by: Sketch Show, Hiroshi Haruguchi, Goh Hotoda, Towa Tei, and Yasuo Kimoto
Mastered by: Tom Coyne at Sterling Sound (digital), Tohru Kotetsu at JVC Kenwood Creative Media Corporation (lacquers)
Music: 7
Sound: 7
Yukihiro Takahashi's solo releases between YMO's 1993 reunion LP Technodon and Sketch Show's 2002 debut album Audio Sponge added current dance and downtempo trends to his typical pop rock, while Haruomi Hosono's work became more ambient, meditative, and sometimes nostalgic. Swing Slow, the latter's 1996 space age lounge collaboration with Miharu Koshi, foreshadows Audio Sponge's relaxing vibe, just as Hosono and Makoto Kubota's Road To Louisiana (released in 1999 as Harry & Mac) signaled Hosono's compositional decline. (Kubota said, "Hosono couldn't come up with many songs, so I ended up writing most of it." Similarly, this Sketch Show material often credits Takahashi before Hosono). Like most of Hosono and Takahashi's collaborative work (with or without Ryuichi Sakamoto), the satisfying Audio Sponge exists in its own stylistic bubble. It's a delicate glitch pop record incorporating that era's dance and chill-out styles, though it's too prominently beat-driven for the lounge market and too mellow as a dance record.
Generally, Audio Sponge's original tracks have English and Japanese lyrics as repetitive as Technodon's (though nothing here is as bad as "Hi-Tech Hippies"). "Turn Turn," a collaboration with Towa Tei (formerly of Deee-Lite, and later in Takahashi's METAFIVE), features frantic techno synths and somewhat bombastic muted drums behind Takahashi's signature double-tracked vocals (the repeated "We must come full circle to find the truth"). The Ryuichi Sakamoto-assisted "Wonderful To Me" has easygoing synths, space-age lounge atmospheres, and vague lyrics ("You do something wonderful to me/I do something wonderful to you"), while the instrumental "Microtalk" pairs drum and bass inspirations with glitchy acoustic samples. The Hosono-led, Sakamoto-featuring "Supreme Secret," with vocal delivery and structure that would make Corey Feldman jealous (it weirdly reminds me of his abominable Angelic 2 The Core), is delightfully simple and groovy. "Gokigen ikaga 1.2.3" (a parody of Blondie's "Rapture" originally from comedy troupe Snakeman Show's Hosono-produced 1981 debut LP) here acts like "Rap Phenomena Pt 2;" the humor survived the passing decades, and there's even a Mac text-to-speech passage.
While Audio Sponge moved Hosono and Takahashi into the new millennium, they still dabble in nostalgia. Their version of "Do You Want To Marry Me?", originally written by Michel Magne and Corinne Tulipe (and sung by a pre-Pink Floyd David Gilmour) for Two Weeks in September, renders the original obsolete. They retain the original's arrangement but shed the obnoxious 60s French pop maximalism, and Takahashi's heartfelt vocal performance, unlike Gilmour's awkward original, feels natural. There's also an excellent cover of The Cyrkle's "Turn-Down Day," and a pleasant vocal rendition of "Theme from A Summer Place" closes the LP. "Wilson"'s happy-sad vocal harmonies and dreamy lyrics appear as a Beach Boys tribute, and "Flying George" is Takahashi's eloquent homage to George Harrison ("You brought me the truth in Northern Songs/Keep singing to fly high/Now, feel free with strong force"). "Wilson" and "Theme from A Summer Place" particularly refine many of Swing Slow's ideas, but Audio Sponge's sonically diverse presentation prevents it from being a retread.
Earlier this year, Avex Entertainment in Japan reissued Sketch Show's discography (save for the Sketches & Notations remix album) as CD box sets and separate LPs. Tohru Kotetsu at JVC Kenwood Creative Media Corporation cut these new vinyl reissues (these albums' first full vinyl releases) which Toyokasei pressed on standard weight colored vinyl. Like most early 2000s digital recordings, this Audio Sponge 2LP sounds a bit dry and clinical, but the mix is cohesive and appropriately dynamic. The pale yellow vinyl has only very light surface noise, and the tip-on gatefold jacket and double-sided insert's graphics are crisply rendered. It's reasonably priced at ¥4,500, and is likely more engaging than the CD (none of these albums are digitally available outside of Japan; your only option here is buying a physical import or listening to a YouTube stream).
Tronika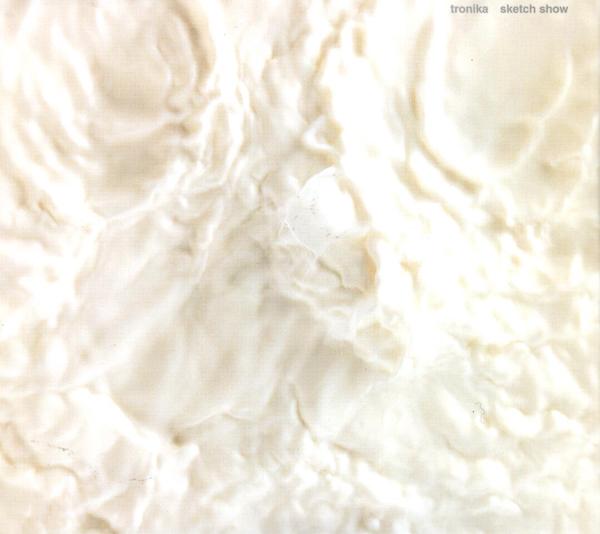 Avex Entertainment/Cutting Edge CTJR-96033 white vinyl LP
Produced by: Audio Sponge
Engineered by: N/A
Mixed by: Hiroshi Haraguchi and Sketch Show
Mastered by: Mitsuo Koike at AST (digital), Tohru Kotetsu at JVC Kenwood Creative Media Corporation (lacquers)
Music: 7
Sound: 7
Six months after Audio Sponge, Sketch Show released the starkly different Tronika (classified as an EP, even though it's longer than YMO's 1979 classic LP Solid State Survivor). While the often fun and sometimes playful former emphasizes acoustically embellished electronics, the moodier Tronika focuses on electronically manipulated acoustic instrumentation. With English, Japanese, and Swedish (the latter courtesy of Chiho Shibaoka) lyrics, Tronika previewed their next album Loophole's calming sound. It features four new original songs, two Cornelius (Keigo Oyamada) remixes, and three "Snow" ambient interludes.
Of Sketch Show's core three releases, Tronika is the least important. "Ekot" is mellow and melodic, though Cornelius's remix is beneficially warmer and more atmospheric. "Chronograph" is a classic Takahashi/Hosono moment; the former's lyrics and vocal delivery often occupy a space between loneliness, confusion, and optimism for the unlikely, perfectly summed up by the "Good time, bad time, every time, and sometime/This time, in no time, anytime" line. The synth-organs, sampled drums, and pleasant synth leads perfectly compliment the vocal performance, resulting in an excellent (and in my opinion, vastly underrated) "late-career" song (Cornelius' "Chronograph" remix has an interestingly eerie intro, but as a full song doesn't flow well). However, "Night Talker"'s glitch-boogie stalls, and despite Cornelius' excellent electronic bagpipes, the instrumental "Ohotzka" appears as filler. The three "Snow" interludes attempt to connect the EP's different moods, though fail. Because its ideas are too work-in-progress to successfully cohere, Tronika as a full work simply lacks strong identity. I wouldn't relegate this EP to "completists only" territory, but Loophole refines and expands on Tronika's best ideas.
This Avex/Cutting Edge reissue is Tronika's first complete vinyl release, though there's also a rare "Ekot"/"Chronograph" 12" featuring the original versions and Cornelius remixes. Like Audio Sponge, this Tronika white vinyl pressing (which has the expected light surface noise) is on par with many early 2000s hard drive recordings. The laminated tip-on jacket's graphics are a bit pixelated (probably a low-res image, not for artistic effect), though Tronika fans or maniacal completists like myself won't be terribly disappointed.
Loophole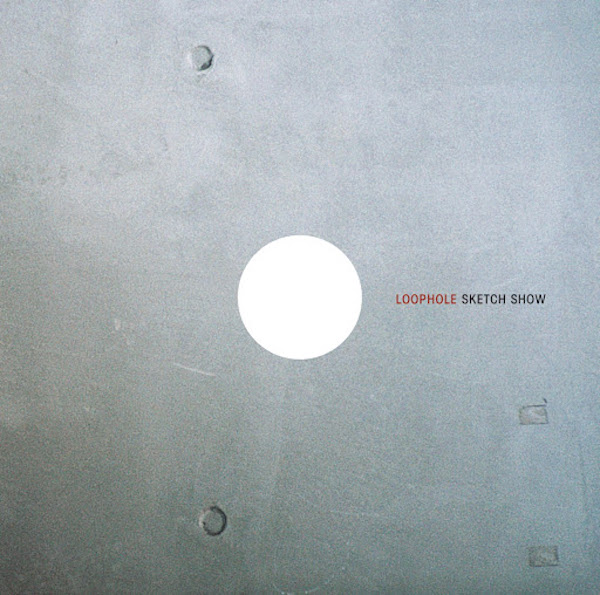 Avex Entertainment/Cutting Edge CTJR-96034~5 grey vinyl 2LP
Produced by: Sketch Show
Engineered by: Hiroshi Haraguchi at Tanu ST
Mixed by: Hiroshi Haraguchi and Sketch Show, et al
Mastered by: Tom Coyne at Sterling Sound (digital), Tohru Kotetsu at JVC Kenwood Creative Media Corporation (lacquers)
Music: 7
Sound: 8
While Tronika introduced Hosono and Takahashi's ambient glitch pop, Sketch Show's November 2003 sophomore LP (and last studio work) Loophole fully realized their new sound. Audio Sponge stylistically jumps around and Tronika is more an ideas test, but Loophole finally makes a fluid, consistent listening experience from that EP's ideas. It's melancholic but not overly depressing, more comforting than flashy; cliched as it sounds, some might find this album comparable to a hot beverage on a cold, dreary day ("Wiper" even features rain and car door sounds). Ryuichi Sakamoto appears on "Mars" and "Attention Tokyo;" the former molds late-period Kraftwerk-esque beeps and boops into recurring melodies and content ambience, while the latter applies early YMO structures (think "Technopolis" or "Rydeen") to the new style. "Chronograph" and Cornelius' "Ekot" mix fit perfectly here, as does Safety Scissors' fittingly funkier "Night Talker" remix that recalls Hosono's 1984 track "Body Snatchers." Vibey synth chords like "Traum 6.6"'s are still commonly used today, "Scotoma" is a surprisingly cohesive ideas board a la Hosono's earlier "Birthday Party," and his space-themed closing track "Stella" is a gentle lullaby of sorts. The sonically well-executed but lyrically confusing "Fly Me To The River" is this record's weak point; you're not sure if "Fly me to the river/Take me to my lover/I lure you into a trap/I'll be an angler" should be seductive or threatening. (It's worth noting that, like Tronika, Loophole's lyrics are in Swedish, English, and Japanese.) Still, Loophole is the peaceful culmination of Yukihiro Takahashi and Haruomi Hosono's post-Technodon ideas, a work that moved the then-middle-aged duo forward without desperate gasps for relevance.
This new reissue is also cut by Tohru Kotetsu at JVC Kenwood and pressed on gray vinyl at Toyokasei. The sound is a bit dry, but on dead quiet vinyl presents the music in an appropriate manner. The laminated tip-on gatefold with slightly reworked cover art plus the double-sided lyrics and photos insert rounds out the easily recommendable ¥4,500 package. (The 2005 12" EP Loopholes featured four of these songs, but even if you have that rarity, the full album is worth the money.)
Further Activities
In 2004, Hosono, Takahashi, and Sakamoto performed live as Human Audio Sponge, which evolved into the 2007-09 HASYMO singles "Rescue"/"Rydeen 79/07," "The City Of Lights"/"Tokyo Town Pages," and "Good Morning, Good Night." They soon switched back to the Yellow Magic Orchestra name, and briefly toured in 2008 and 2012. I enjoy some of Hosono's Great American Songbook-centric recent solo work, but it's mostly for hardcore fans and collectors. Surprisingly, Takahashi has the more interesting recent career; in the mid-2010s, he formed METAFIVE with Cornelius, Towa Tei, Yoshinori Sunahara, Leo Imai, and Tomohiko Gondo. 2016's META is a slick summation of synthpop's four prior decades, though Cornelius' recent controversy led to their new album METAATEM's cancellation (Sunahara asserts that it's too risky to release under current circumstances). Considering the artists' busy schedules (Hosono recently remastered two Miharu Koshi albums, while Takahashi always has several ongoing projects) and Sketch Show's relatively lesser popularity, another album under the name is unlikely; however, all three YMO members still occasionally collaborate. Haruomi Hosono and Yukihiro Takahashi's combined discographies are already so vast that even the most devoted fans still have a lot to catch up on anyway, so more Sketch Show material wouldn't be necessary.
(Malachi Lui is an AnalogPlanet contributing editor, music obsessive, avid record collector, and art enthusiast. Follow him on Twitter: @MalachiLui and Instagram: @malachi__lui)
<!- ------------------------------------>