Mobile Fidelity Announces Ambitious "TBA" "One Step" Series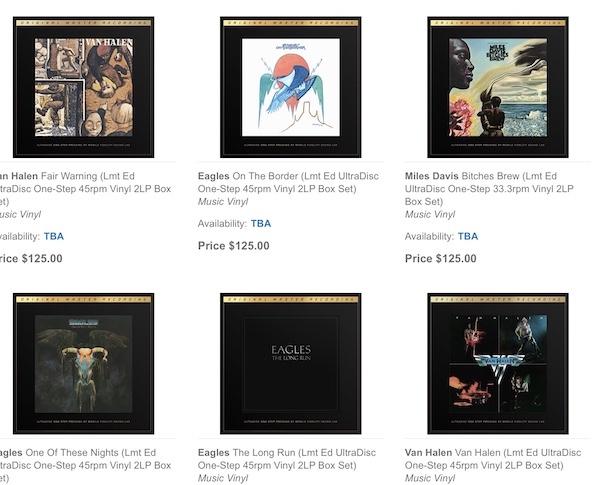 Mobile Fidelity recently announced a new series of "One Step" vinyl box sets that includes titles from Miles Davis, Van Halen, CS&N, Eric Clapton, The Eagles, Carol King, Cannonball Adderley, James Taylor and more mostly aimed at Baby Boomer hearts and wallets. We counted 23 in all on the
Music Direct website
.
Most of the boxed sets are priced at $125, though a few are curiously priced at $124.99. With the exception of Miles Davis's Bitches Brew, which is at 33 1/3 the new One Steps are double 45rpm sets. As you surely know, these are "one-step" productions where the plated lacquer's pulled metal part is used to stamp records rather than being again plated to produce a "mother" that's again plated to produce a stamper. Eliminating the second and third steps produces a stamper that's two generations earlier than usual "three-step" stampers.
These records are pressed on "Mo-Fi SuperVinyl", which was developed by NEOTECH and RTI (Record Technology Incorporated pressing plant) and is for all intents and purposed either identical to or similar to what the Blue Note reissue label Music Matters called "SRX".
"One-Step" record production offers a theoretical advantage over standard record production techniques but is no guaranty of sonic superiority as every step in the chain is critical to the final result. Muddy Waters Folk Singer is among the titles. It would be interesting to compare the "One Step" to the now out of print Analogue Productions version. These records are limited editions, mostly to 10,000 numbered copies, so best to order now.
Since Mo-Fi no longer offers AnalogPlanet One-Step promotional copies (not sure if our site is "singled out" or if that's a new policy) we are contemplating purchasing a few to review. Any suggestions? Of course, when these releases will actually ship is strictly "TBA".
<!- ------------------------------------>