Hampton Hawes' Four! Is Another Spirited 180g Entry in Craft Recordings' Acoustic Sounds Series, Thanks to a QRP-Pressed, All-Analog Master by Bernie Grundman
In some ways, it is curious that Craft Recordings has chosen to reissue Hampton Hawes' 1958 outing Four! (exclamation point very much included) as the first entry in his Acoustics Sounds series, as Hawes' earlier quartet sessions with guitarist Jim Hall were apparently highly regarded back in the day. Personally, I'm glad they have reissued this album — today being its official release date, in fact — as it is a spirited set that, frankly, sounds quite wonderful.
Wait — you say you don't know who Hampton Hawes was? I suppose I can understand that, given that history hasn't focused much on his accomplishments on the keys, especially in the face of brilliant showmen like Oscar Peterson or the troubled legend Bud Powell. Over the years, scores of other players including Bill Evans, Herbie Hancock, Chick Corea, Keith Jarrett, and Ramsey Lewis have each captured much of the limelight for fans of piano-based jazz. Yet, for a moment in time, Hampton Hawes was the shining star many were watching.
Here's a brief overview, before I dive into the full Four! review at hand. Hawes was something of a child prodigy, learning piano by ear from his mother as early as age 3. By age 18, he was playing in a group with no less than Charlie Parker. He played on sessions with Shorty Rogers, Art Pepper, Dexter Gordon, and others. His recordings from the mid-1950s with guitarist Jim Hall were highly acclaimed, winning Hawes a "New Star of the Year" award in Down Beat and "Arrival of the Year" in Metronome. The following year, Hawes recorded a fabulous trio album with Charles Mingus (1957's Mingus Three).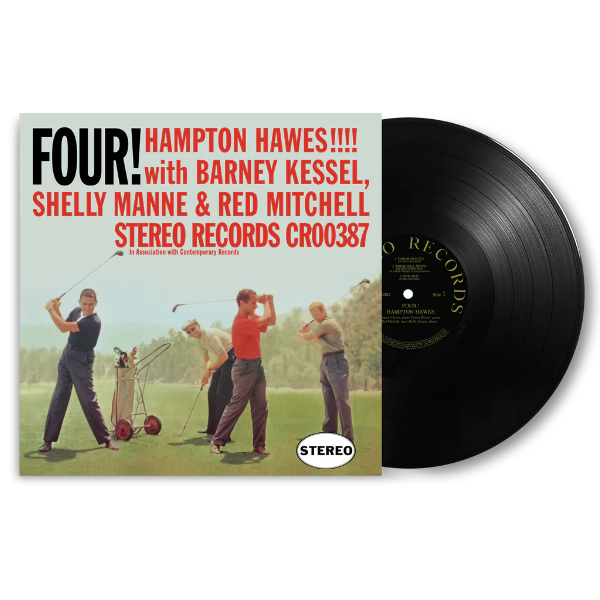 There were many other recordings betwixt and between — Hawes was on fire, it would seem — and then he got arrested for drugs, potentially facing 10 years in prison. Four! was one of the last albums released before that bust and his abbreviated prison stay. Fortunately, he was pardoned by President John F. Kennedy in 1963, so Hawes was able to resume his prolific career, until he died suddenly in 1977 of a brain hemorrhage. A tragic loss, for sure — but thankfully, there are scores of recordings from across this respected artist's career we can explore. For one thing, Hawes was a staple of the West Coast jazz scene, and he recorded for many years with Contemporary Records. I have many of his early albums, in fact, and have enjoyed them all.
As you may remember from my recent review of The Poll Winners, featuring Barney Kessel with Shelly Manne and Ray Brown — another fine, fine entry in the Acoustic Sounds reissue series — Contemporary Records crafted some of the best-sounding recordings of the times (yes, they're as good if not better than Blue Note and Prestige). Audio engineer Roy DuNann was the magic force behind much of the great music the label issued back in the day, as he was their answer to East Coast audio wizard Rudy Van Gelder.
Speaking of Kessel, Four! seems to be the only time he appeared on one of Hampton Hawes' records as a group leader. (As for Hawes, he appeared on a couple of Kessel's albums, including 1956's Kessel Plays Standards and the 1962 release of some late-1957 sessions called Let's Cook!)
The band here on Four! includes aforementioned West Coast drum legend Shelly Manne, as well as Red Mitchell on bass. Personally, I am a bigger fan of Barney Kessel's guitar playing than the above-noted Jim Hall. Hall tends to play with less fire on his fingertips, opting for a more considered and studied approach, which is less appealing to me personally. To my ear, Kessel seems to swing more, flying freely on the frets without a net when it comes time to improvise.
I went back to listen to some of the earlier Hawes sessions with Hall, and there, the guitarist seems to fall into more of a support role. When it's time for a solo, he appears and does his thing — but when he's done, he backs down a lot. Contrast that with the sound on Four!, where, right from the get-go, Kessel is on equal footing with Hawes. And while Kessel does provide support when others are soloing, he is not afraid to punctuate the music when there are openings. His rhythmic punch is more vivacious and aggressive than Hall's (again, that's my personal opinion; yours may vary), peppering the session with bright and tasty chordal stabs akin to the way some drummers drop bombs between the rhythms. (It is a subtle difference worth noting.)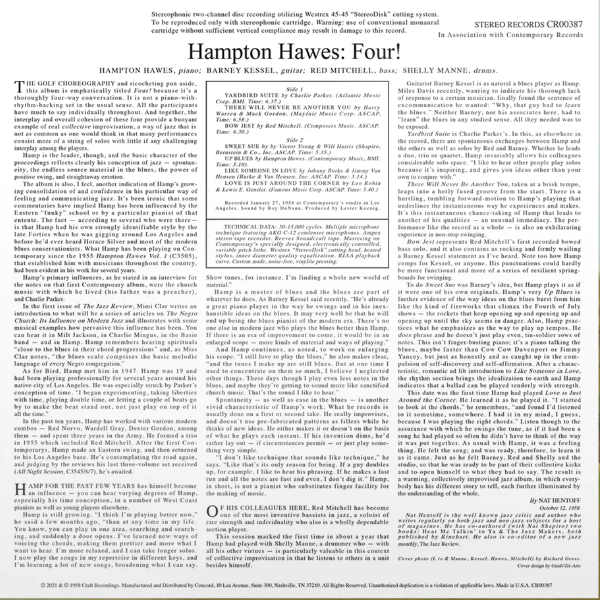 Since this album was recorded in January 1958, Four! was still a relatively early stereo jazz release. Consumer audio gear that could reproduce the new, expansive two-channel sound was still rolling out at that time, and I suspect those early adopters who owned them were looking for new records to show off their spiffy new systems.
Four! was issued on the short-lived Stereo Records subsidiary, an imprint which would eventually be folded into the Contemporary brand. Note: the Stereo Records brand featured a black label, while the monaural records issued on Contemporary sported a bright yellow label. (It was a marketing thing, folks.)
While preparing to listen to the new Acoustic Sounds remaster of Four!, I was only able to compare it to a mono copy of the album I own on vinyl. These are distinctly different mixes, so while it didn't provide me with an apples-to-apples comparison opportunity, it did offer some interesting insights.
Each version has pros and cons. The mono mix is round and warm, but not quite as bright and open-feeling as the stereo reissue version. Manne's drums are crisper and more apparent in the stereo mix. The presence of the studio they were recording in comes through the speakers more directly than on the mono version.
It is not all that surprising I prefer the stereo mix of Four! over the mono. Even though it is an early attempt at the form, ultimately, the instrumentation feels more open and natural here. When I say "early attempt," I'm talking about how they set up the soundstage for this recording. In this instance, the rhythm section — bass, drums, guitar — is mostly in one channel, while the piano is in the other. There may be technical reasons for this, especially if they were recording on a two-channel machine vs. the three-channel recorders that emerged around this time.
If you listen closely, you can hear certain points where the engineer moves instruments around a bit, mixing on the fly. For example, during Kessel's solo on the Side Two opener "Sweet Sue," Manne's drums seem to shift a bit, filling out more into the other channel, and providing a nice floating bed for Hawes' rhythmic piano stabs, as he momentarily takes on a more supportive rhythmic stance under Kessel and bassist Red Mitchell's playing.
The stereo mix of Four! is thus at times an engineering-performance-in-action scenario. In certain recording sessions, the engineer is often as much of a performer as much as the group, striving to make sure everyone is heard. Levels inevitably changed as the Hawes group heated up in this one-day-only session. I suspect with such limited time, they had to roll the tapes to capture any magic as it happened, adjusting things along the way. (Remember, this was decades before automated mixers and computers.)
The interplay between Hawes and Kessel on "There Will Never Be a Spring" is wonderful, feeling like they had been playing together for many years. Kessel and Hawes form such a tight unit on "Up Blues" that it is curious they didn't record more together. Kessel's guitar sounds sweet here, with just enough of that vintage amplifier tone coming through the mix.
I do wish Mitchell's bass was up a little higher in the mix, however. In that sense, the mono is a bit more balanced, as you can more readily hear Mitchell's solo here. It makes me think engineer Roy DuNann was running a separate monaural mix at the same time as the stereo — no doubt, a lot of planning went into the session.
Hawes' piano sounds nice and natural here. Perhaps it was the AKG C-12 microphones he used, or simply the nature of the studio they were in combined with DuNann's expertise. To my ear, the piano sound here is much more natural and realistic than many I've heard as recorded by Rudy Van Gelder, who seemingly put his own sonic stamp on the ultimate sound of a session, something that worked more than it didn't — but is a difference worth pointing out.
Also, listen for those lovely, tasteful cymbal taps during the intro to "Like Someone in Love" — you can almost feel the tang of Manne's drumstick on the brass as the metal platter swings, sways, and resonates on its stand.
I'm very pleased with this reissue of Four!. The 180g dark black vinyl is perfectly quiet and well-centered — another fine QRP pressing. The all-analog mastering by Bernie Grundman feels very sympathetic to the time period and to the recording. And there couldn't be a better person to remaster these reissues, as apparently — according to the official press release on this series — Grundman actually worked for the label back in the day when it was originally active. This new mastering is thus clean and bright, but ultimately feels true to the sound of a Contemporary Records release.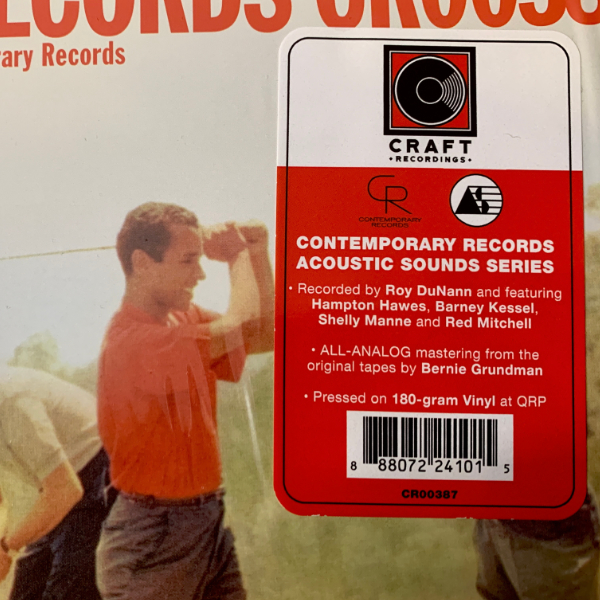 The cover art on Four! faithfully reproduces the look and feel of the original release, manufactured on thick cardboard stock similar to what was issued back in the day. As far as the paste-over cover image goes, Four! was never one of the great album designs to begin with. So, while the color of the sky on my original pressing is a bit bluer than on the new edition, the original photo is quite blurry to begin with — let's call it a "soft focus," to be kind. The differences between the new and old editions are very subtle, indeed.
Regardless, Hampton Hawes' Four! is a great addition to Craft Recordings' Acoustic Sounds reissue series. As you have probably guessed, finding clean originals of albums like this one is not exactly easy. Searching on Discogs, I found one original stereo copy available (for $60), while the mono pressings ranged in price between $20 (for a beater copy) on up to $400!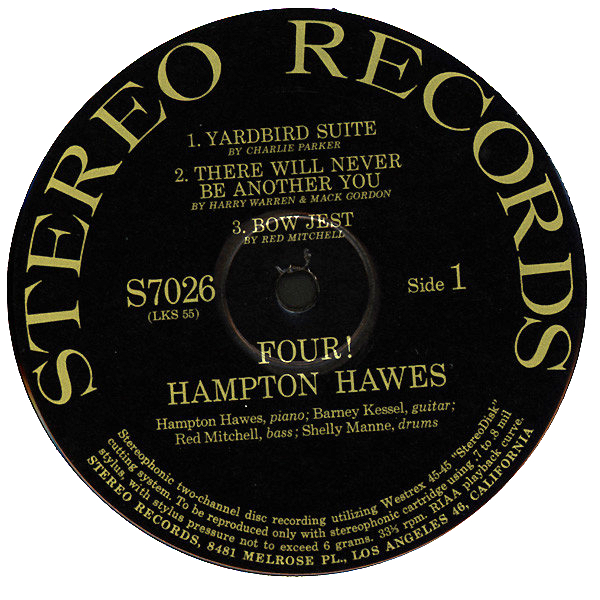 The point is, the stereo pressings weren't all that common back in the day, so finding them in any condition — much less a mint new copy — is a challenge. Even one of the 1980s Original Jazz Classics editions are going for about $75. So, for about $30, this new Acoustic Sounds reissue of Hampton Hawes' Four! is really a no-brainer bargain for any vintage jazz fan to pick up. Grab one while you can.
(Mark Smotroff is an avid vinyl collector who has also worked in marketing communications for decades. He has reviewed music for AudiophileReview.com, among others, and you can see more of his impressive C.V. at LinkedIn.)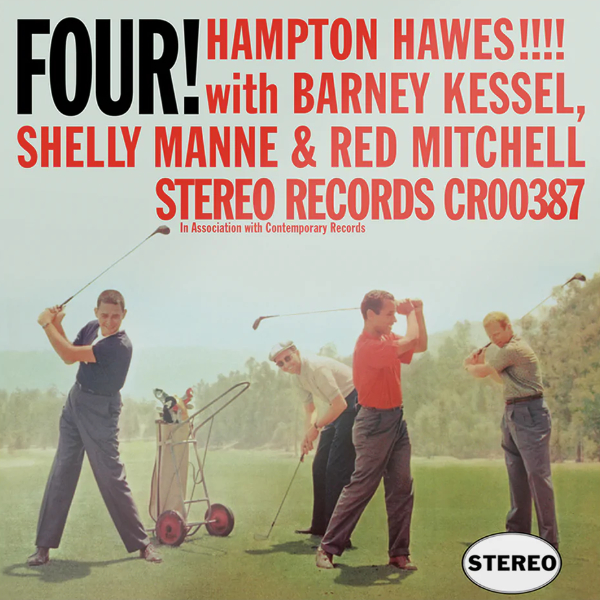 <!- ------------------------------------>