Mobile Fidelity Shares Statement About the Company's Mastering Process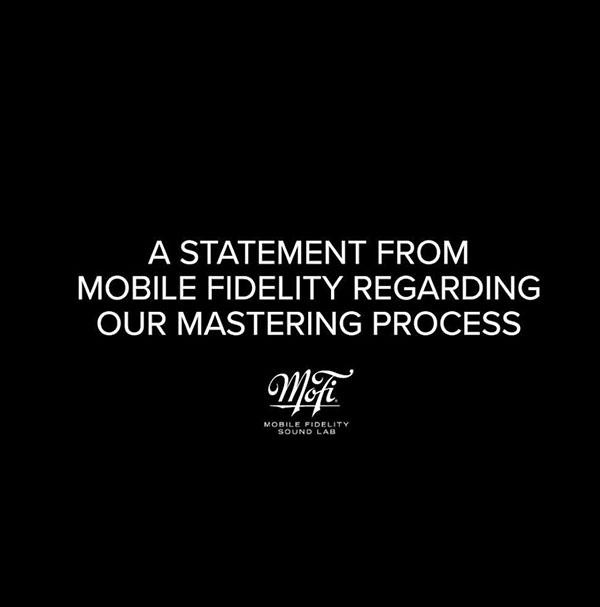 Editor's note: Jim Davis, president of Mobile Fidelity Sound Lab, posted an official statement yesterday about the company's mastering process, following a recent spate of customer concerns about the possibility of digital steps in said mastering process. We are including his statement here verbatim, and invite your Comments below. —MM
We at Mobile Fidelity Sound Lab are aware of customer complaints regarding use of digital technology in our mastering chain. We apologize for using vague language, allowing false narratives to propagate, and for taking for granted the goodwill and trust our customers place in the Mobile Fidelity Sound Lab brand.
We recognize our conduct has resulted in both anger and confusion in the marketplace. Moving forward, we are adopting a policy of 100% transparency regarding the provenance of our audio products. We are immediately working on updating our websites, future printed materials, and packaging — as well as providing our sales and customer service representatives with these details. We will also provide clear, specific definitions when it comes to Mobile Fidelity Sound Lab marketing branding such as Original Master Recording (OMR) and UltraDisc One-Step (UD1S). We will backfill source information on previous releases so Mobile Fidelity Sound Lab customers can feel as confident in owning their products as we are in making them.
We thank you for your past support and hope you allow us to continue to provide you the best-sounding records possible — an aim we've achieved and continue to pursue with pride.
Jim Davis
President, Mobile Fidelity Sound Lab
<!- ------------------------------------>