Afro, Dizzy Gillespie's Classic 1954 Afro-Cuban Jazz Bebop Hybrid Release, Finally Returns Via Clean-Sounding 180g 1LP RTI-Pressed VMP Reissue
In 1954, trumpet legend Dizzy Gillespie collaborated with Cuban percussionist Chico O'Farrill on Afro, a fantastic African-Cuban genre-hybrid jazz album that has long been out of print (though it had been subsequently reissued under a different title a few years following its initial release). Afro is an important album that delivered fresh interpretations of Dizzy's pioneering 1940s work during the burgeoning, early days of true hi-fi's 1950s emergence. And now, Afro has been reissued by the good folks at Vinyl Me Please (VMP), and the results are quite exhilarating overall.
Now, I've been a fan of Dizzy Gillespie's music for most of my life, as he was one of the first trumpet players I admired when I was still taking lessons on the instrument way back in junior high. While I never got very far with my own trumpet playing (I did a lot better learning guitar on my own, ultimately giving up the horn after high school), I still have a great appreciation for the instrument and the people who can do great things with it.
Hands down, Dizzy Gillespie is one of the all-time trumpet masters. He's also one of the driving forces who shaped jazz music as we know it today. Having been on the front lines for the creation of bebop, he was also an early progenitor of what later became known as Cuban, Afro-Cuban, or simply Latin jazz. (And from what I've read, Dizzy himself apparently called it "Cu-Bop" at times.)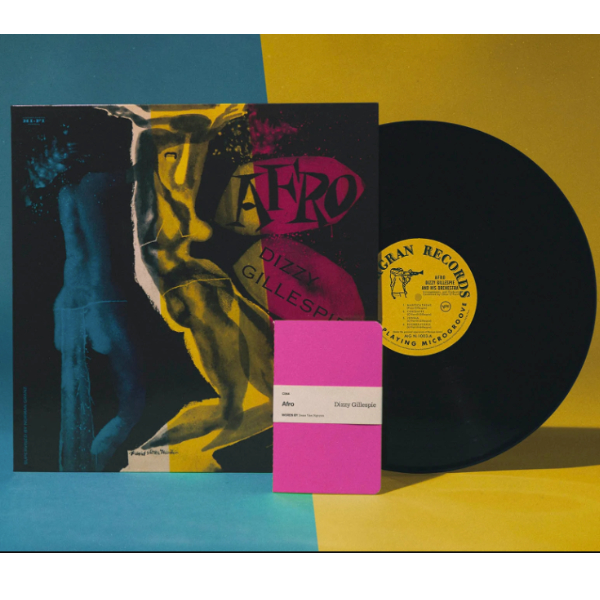 Let me put it this way — if you're a fan of artists like Cal Tjader, Mongo Santamaria, Vince Guaraldi, and Stan Getz's excursions into Brazilian music with Joao Gilberto, then you should be listening to Dizzy Gillespie's Afro. If you enjoy soul jazz from the late 1960s on the Prestige and Blue Note labels, then you should be listening to Dizzy Gillespie's Afro. if you dig the Latin grooves on labels like Tico and Fania Records, you really owe it to yourself to take a step back and listen to Dizzy Gillespie's Afro, which was initially brought into the world in 1954 via producer Norman Granz and his pre-Verve Records label, Norgran Records.
As we learn from the terrific liner notes on the VMP site, the roots of the Afro-Cuban influence on modern American music, including jazz, can be traced back to the likes of W.C. Handy at the turn of the 20th century, and later to the Mambo and cha-cha crazes of the 1930s and 1940s. Dizzy's Afro is in some ways part of a trilogy of albums produced by Norman Granz exploring the then-emerging genre, the first being Machito's Afro-Cuban Suite in 1950, with Charlie Parker, Chino Pozo, and Mario Bauzá. O'Farrill's 2nd Afro-Cuban Jazz Suite, issued in 1954, was the series sequel, soon enough followed by the Dizzy Gillespie-driven Afro.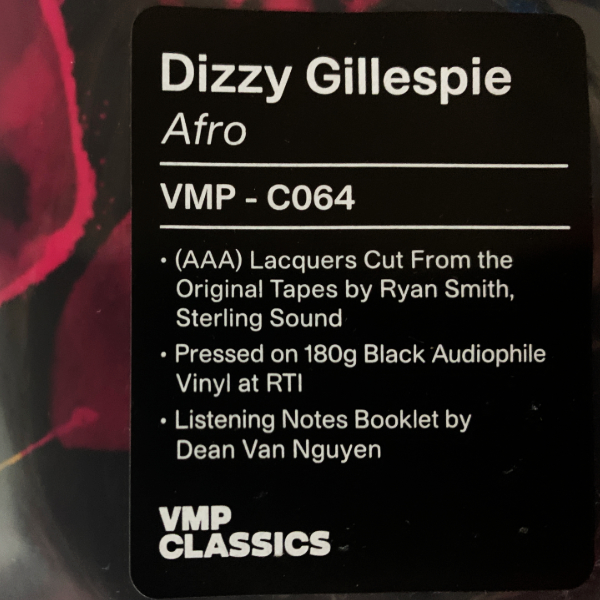 The VMP Afro stats are these — it's a 180g 1LP black vinyl release pressed at RTI, with its AAA lacquers cut from the original analog tapes by Ryan Smith at Sterling Sound. As an end-to-end listen, Afro is a smoker that sounds remarkably good for its age. This isn't an RVG production, mind you, but producer Granz does an amiable job of capturing the sound of this orchestra in a group setting with a minimum of microphones used. (More on that in a moment.)
And what a band Dizzy has assembled here, including — but not limited to — Lucky Thompson on saxophone, Quincy Jones on trumpet (in addition to Dizzy and some others), J.J. Johnson on trombone, and Charlie Persip on drums, plus Ramon "Mongo" Santamaria and Candido Camera on congas. And that is just part of the band on the "Suite" side.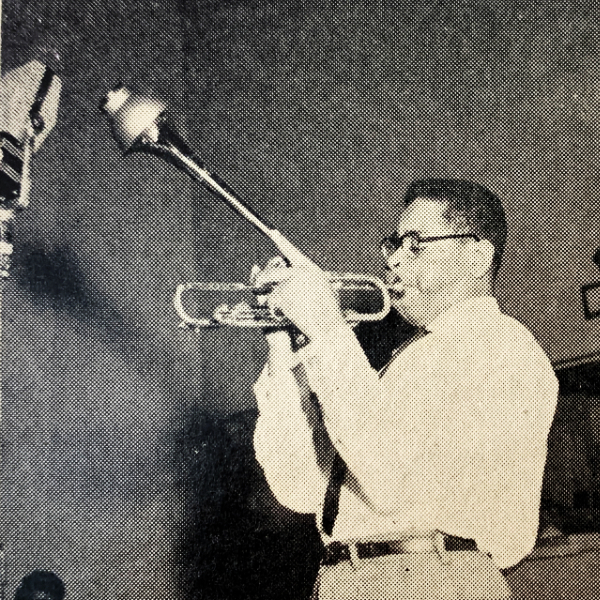 Afro has some bona-fide classics on it too, including excellent Cuban jazz interpretations of Dizzy's own "A Night in Tunisia," as well as Duke Ellington's "Caravan." This album includes the first appearance of Dizzy's signature tune "Con Alma" (which is just a knockout gorgeous melody).
One of the key components of Afro is the opening track, "Manteca," as composed by percussionist Chano Poza along with Dizzy. The tune is considered one of the first Afro-Cuban jazz compositions to become a jazz standard. Actually, that whole first side of Afro is the centerpiece to the album, a variation and theme composed and arranged by O'Farrill, including "Contraste," "Jungla," and "Rhumba-Finale."
These days, it is easy to take hybrid music like this for granted, but it might have never happened had all these elements not come together as they did. From a video interview I found on YouTube with Dizzy explaining the genesis of "Manteca," he states, "It was similar to a nuclear weapon when it burst on the scene. They'd never seen a marriage of Cuban music and American music like that before."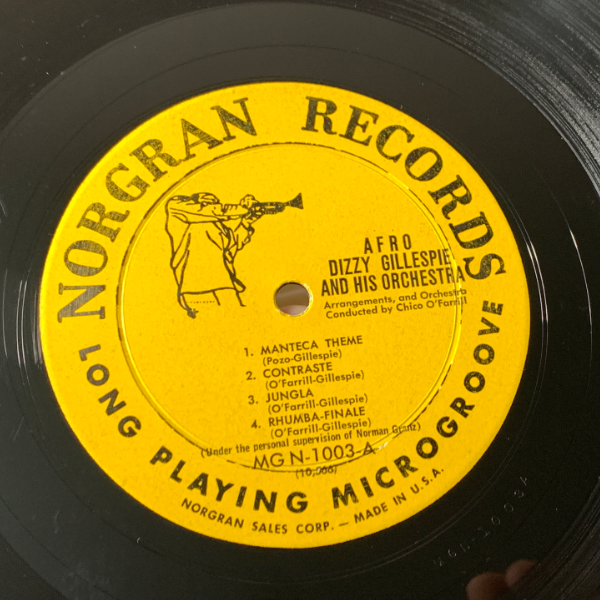 I first became familiar with this album in a roundabout way, finding an original pressing in the new arrivals bin at Amoeba Music about 6 months ago. I was stunned, because as a collector and fan, I had yet to see a copy of it before, anywhere. I was all the more extra-ecstatic about it, because this seemingly exotic album turned out to be in near-perfect condition with an absolutely beautiful cover, featuring artwork designed by the legendary David Stone Martin (DSM).
The new VMP edition of Afro stands up very favorably to my original. Actually, the recording sounds very, very similar — and in some instances, even better. My original reference copy was so clean I could (and did!) easily play it nicely on my Music Hall MMF 7.1 turntable with Goldring cartridge. But there was some inevitable surface noise on it, for good reason — even though the album is very clean, the reality is that pre-1958 monaural microgroove recordings were cut with a wider groove than later "compatible" pressings made with stereo cutting lathes.
When I played my original copy of Afro on my Esoteric Sound Ramses II transcription turntable using a Denon DL 102 mono cartridge with a wider-tipped stylus, the sound was much cleaner still. That sounded comparable to the new VMP edition — perhaps a bit better, though I admit that may also be my subconscious love for original pressings creeping into the equation.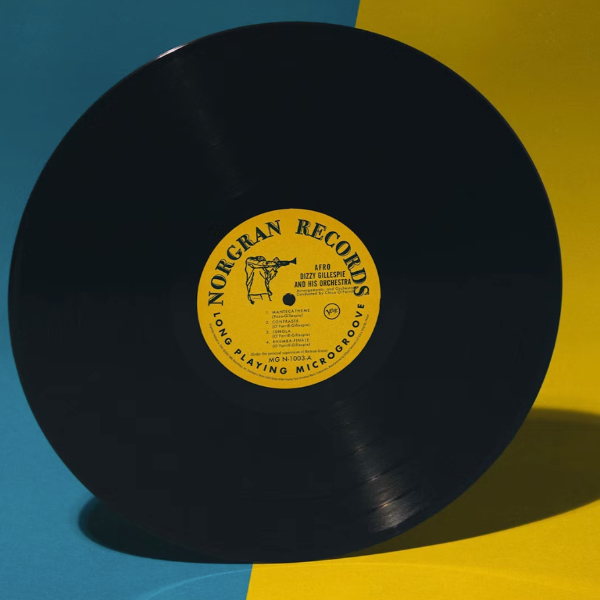 The point is, the new VMP pressing of Afro sounds pretty darn close to my original copy. And because it is a modern microgroove recording, you won't have to worry about groove width, and all that.
Also, finding an original copy in decent condition like mine is not going to be an easy task. At the time of this posting, there were four original copies of Afro available on Discogs maxing out at VG-plus condition, with prices ranging from just over $30 for a fair-condition original — albeit with skips and nearly complete seam splits — to $190 with top and bottom seam splits. Even the 1958 reissue on Verve with different cover art and the alternate Manteca title is going for around $90, so scoring a new VMP copy for its reasonable $39 SRP (which you can do right here) is a relative bargain.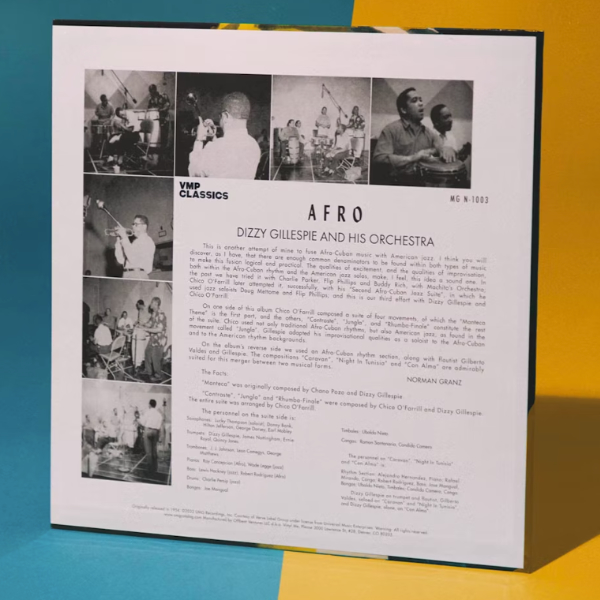 That said, please remember this recording was made on May 24, 1954, during one session in a single, open-studio type setting without much isolation or baffles between instruments. Check the studio photos on the back cover to see what I mean — there was one overhead microphone used for the percussion section, all of whom were sitting together in one area.
Hence, do set your expectations accordingly. Don't be expecting the more-sculpted sonics of later productions like Miles Davis' Kind of Blue from 1959, for example. Afro is more raw, and a bit more ambient at times, yet it's still direct and rollicking. This is a larger-band jazz experience, after all, so the session reminds me at times of that sort of free-flowing, party-on-the-bandstand feel that Charles Mingus captured on some of his landmark albums.
Afro sounds fantastic — especially when you turn it up loud, with a pleasantly surprising amount of low-end bass response. About the only disappointment I had with this new VMP edition of Afro — and, frankly, the only reason I can comment on this is because of my now owning an original pressing — is the cover art looks like it was taken from a copy of an album as opposed to from the original art elements. Don't get me wrong — it still looks really pretty and the artwork is indeed beautiful, but compared to my original, it's a little bit blurry and diffused. You can see in the photo we've included here — how even the DSM signature looks blurrier on the new edition vs. the original.
(A brief aside: as a fan of DSM's artwork, I heard long ago when I first started actively collecting records with his illustrations on them — and I have many of his covers by artists I'm not really into, as I buy them just for the art — I was told some collectors consider original DSM pressing covers in good condition akin to having a first-run lithograph authorized by the artist. In this instance, I can totally appreciate that notion, for what it's worth.)
All that said, this new VMP edition of Afro was manufactured in a nice, glossy, laminated thick cardboard stock cover — so, technically, it is in some ways superior to the original.
My feeling is, you should grab the new VMP edition of Dizzy Gillespie's Afro while they're still in stock, since it's a limited-edition run. At the end of the day, the VMP Afro sounds real nice and quite close to an original pressing. It has period-accurate labels, and offers a good representation of the original cover art (which is much better than the 1958 Verve Records repackaging of this material, imo). And, again, it's not easy finding original, clean, and non-split copies of this album anywhere, at a reasonable price.
On this VMP AfroLP, you are going to hear some beautiful trumpet playing from the legendary Dizzy Gillespie, set in a Cuban jazz setting. Bottom line: This new VMP edition of Afro will be a cool, listening-worthy addition to your collection.
(Mark Smotroff is an avid vinyl collector who has also worked in marketing communications for decades. He has reviewed music for AudiophileReview.com, among others, and you can see more of his impressive C.V. at LinkedIn.)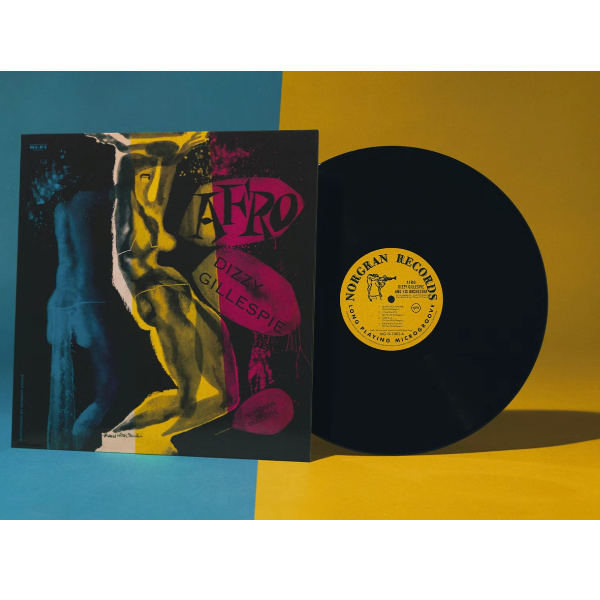 DIZZY GILLESPIE
Afro
180g 1LP (VMP)
Side A
1. Manteca Theme
2. Contraste
3. Jungla
4. Rhumba-Finale
Side B
1. A Night In Tunisia
2. Con Alma
3. Caravan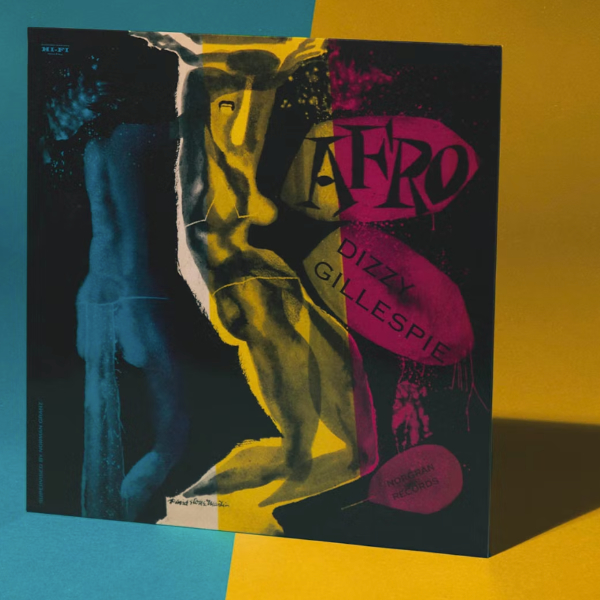 <!- ------------------------------------>