Reel-to-Reel is Real!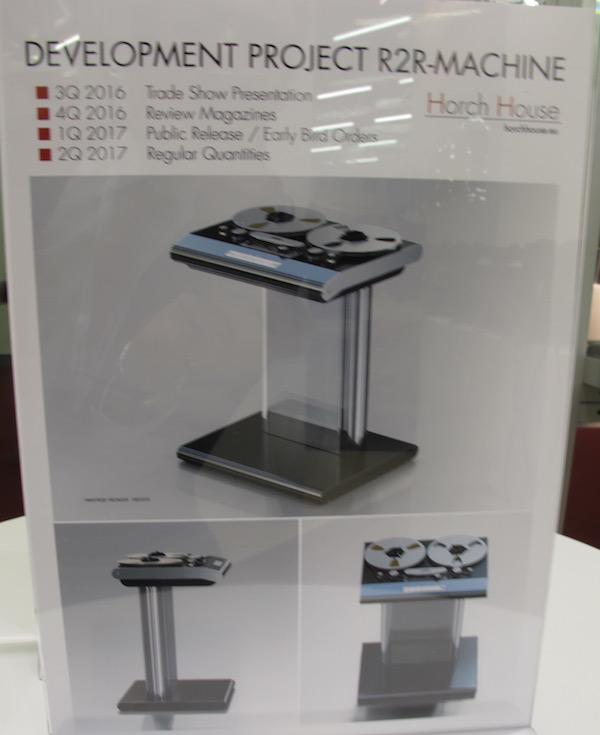 Last year's report here of a rumored new Revox reel-to-reel tape deck proved to be not false but merely premature.
This year one was announced by Horch House, the company that reissued the six LP Oscar Peterson Exclusively For My Friends box set.
The new machine's roll out schedule calls for a trade show presentation in the fall of 2106, magazine reviews (probably in Germany) in the fourth quarter and a public release and sale of "early bird orders" early in 2017 with full distribution and sales commencing second quarter 2017.
However, in my opinion, the major news isn't the machine but rather pre-recorded tape availability for at Munich High End 2016 Horch House had for sale Sony/BMG titles that included the Bernstein Rhapsody in Blue/American in Paris recording just issued by Analog Spark using the three track master tape, and the famous audiophile classic The Reiner Sound, along with some DGG (UMG) titles.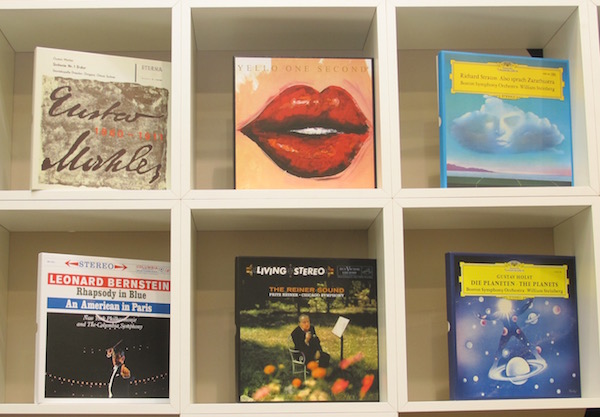 I got into a heated discussion with a woman from Horch House who insisted that "master tapes" were used to produce the new Sony/BMG titles, when I insisted that those tapes do not leave the east cost of New York and so there was no way they were shipped to Germany! Then I realized these are three track originals. The three track was used to produce the vinyl release, with the mix "live" to lacquer. So, i imagine, at the same time, someone, perhaps Ryan K. Smith who cut the lacquers for the LP, produced a two track tape that was sent to Germany. Such a tape could legitimately be called the "master tape". I'll check with Ryan upon my return to America.
It would be interesting to compare the new Analog Spark LP edition cut directly from the three track master and played back on a state of the art vinyl playback system, with the new third generation tape edition that is commercially available, played back on a state of the art tape deck.
The point though is, it appears that the master tape flood gates are about to open with the majors now being willing to license catalog for real time, 15 IPS 1/2 track reel-to-reel tape production! This is big news. And why wouldn't they? They've got their digitized versions, which they consider now to be the "masters". Why not also derive income from the titles with a tape licensing agreement?
The only reason would be the ease with which such a tape could then be copied by an unscrupulous buyer and duped for re-sale. But why bother when you can get an earlier generation for about the same price since the tape and the transfer time are the biggest costs? And consider that once digitized anyone can copy and send such copies to anyone in the world?
So, imagine UMG/Apple licensing or better yet producing 15 IPS 1/2 track editions of Beatles tapes instead of the bullshit purported Beatles "master tape" copy of The Beatles I heard at High End Munich? My 96/24 file from original vinyl killed it.
This is going to get mighty interesting, especially for the well-heeled, though from what I've heard, there's already been plenty of illicit, unlicensed duping going on. It's time to bring it up from the underground into the legal sunlight.
I'm also thinking of the purveyors of copies duped from master tape copies that instead of being thrown in the dumpster at the dawn of the digital age, were salvaged and are being duped and sold "underground". Two things can happen here: the legitimate owners of these tapes (you cannot believe how many studios and/or mastering houses did dump their tapes once they were digitized) can try to license titles for release, paying royalties, and in some cases, with these copies shipped to Europe for instance for lacquer cutting during vinyl's heyday being the best or only surviving copies, these tapes can also emerge from the underground for lacquer cutting use for LPs.
I also heard at the show that a widow of a recording engineer for a major label discovered a "truckload" of tapes after her husband's passing, and sold them to an individual. Who knows what's there and what opportunities there might be for legitimate rather than bootlegged releases?
This is a major development! At least for the wealthy music lover/audiophile.
<!- ------------------------------------>