David Bowie's "....Ziggy Stardust..." Gets Vinyl Reissue From Original Master Tapes
From the apocalyptic opening song to the messianic "Starman" aimed at a generation facing urban and cultural decay in a post-hippie era, Bowie had his finger on the pulse of the new generation and he hit them hard with his rock star creation.
But then, you already know that. After all, you've had forty years to think about it if you were around when the album was first released. And if you're younger? You've still had time to think about it.
Hunky Dory, Bowie's previous album was equally good, if not musically superior in many ways and though it received critical acclaim and the androgynous Kate Hepburn cover was a stunner, it wasn't a commercial success and RCA at the time wasn't really a label that knew how to break a rock star.
With The Rise and Fall of Ziggy Stardust and the Spiders From Mars, RCA knew it had something special and it was determined not to fail and not let down David Bowie. The all-out promotional blitz was a serious effort that accompanied the manufactured band's North American tour.
I should know: I got to go on part of it, traveling on the band's plane from Boston's Music Hall, to Carnegie Hall, NYC, to Philadelphia's Tower Theater, to shows in Chicago and Detroit, where Iggy Pop either sat next to me or in the row in front or behind. I can't remember which. It was my Cameron Crowe "almost famous" moment.
The hotel comings and goings (more "goings" than "comings" with most "comings" being of the hetero variety despite the slick, gay undercurrent of the promo campaign that included an album launch at Boston's "The Other Side" gay bar—and believe me that hadn't been done previously by any record company that I know of, not even for a Judy Garland album) were pretty weird and attracted a crowd of hanger on-ers that to this day has my eyes—and not my pants— popping.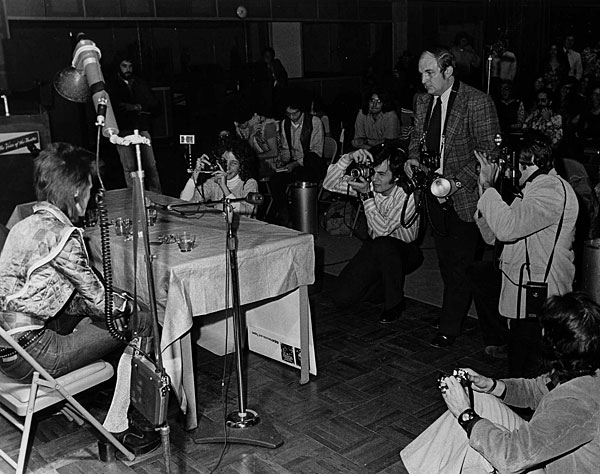 Bowie kept pretty much to himself though he did attend the entourage dinners where despite his skeletal frame, he consumed more vittles than I thought he had room for before slipping into his skin tight Ziggy outfit. The late Mick Ronson was far more accessible and was the nicest guy even after his bleached blonde hair turned green after a dip in an over chlorinated pool.
The show itself was 100 times as exciting as the album and the album was pretty special back when it was released. The Carnegie Hall show was unforgettable and even forty years later the climactic moment is seared in my memory bank when Bowie sings "Oh no love, you're not alone...I've had my share I'll help you with your pain...Cause you're wonderful.....gimme your hands!!!" and the audience rose up in unison and raised its collective hands and the crowd rushed the stage in a revival meeting-like religious frenzy.
That was the moment when Bowie became Ziggy and Ziggy became Bowie and the audience was cleansed and reborn in his image—and I'm not hyping you. That's how it was in every city where I saw the show. It seemed as if Bowie himself wasn't sure what he'd unleashed but he was going for the ride!
At that point Bowie's claim to be a rocker was tenuous. He was more Anthony Newley than Mick Jagger but in his Ziggy persona he re-invented himself as a rocker. Smartly, once the album had peaked, and the tour was over, he "killed" Ziggy and the band (on stage of course) and re-invented himself again...and over the years again and again.
Meanwhile, he left in his wake, androgyny rock, glam rock, gay rock, glitter-rock and on and on. This album lives on and though at the time some of it sounded precious and contrived and it never really was rock as much as it was about rock, much like "Hair" was a commercial contrivance about hippies, The Rise and Fall of Ziggy Stardust and the Spiders From Mars remains great fun to listen to for so many reasons that don't need elucidating.
And let's not ever forget the contributions made by guitarist and co-arranger Mick Ronson, without whom I doubt Bowie could have moved into the rock arena with such ease and grace. With Ronson there, Bowie could have his theatrical pretensions and live his rock'n'roll dreams too.
Even without seeing the show live, a generation could easily envision the reality of Ziggy and the Spiders From Mars and so strong was the enterprise, they could believe it fully and be changed by it as a previous generation had been changed by The Beatles, even if this was a totally contrived cultural event, whereas The Beatles was an organic one with contrived undertones.
Bowie wrote all of the songs except for "It Ain't Easy," which was written by Ron Davies who had a country-ish A&M album out called Silent Song Through the Land containing the song. Bowie was listening to a lot of music at the time and the tune just fit perfectly in the album's narrative thread at the end of side one.
The album's tracking is near-perfect, reflecting Bowie's great sense of theater as it moves from apocalypse to sensuality to a dream to the star savior to tribulation to sympathizing with the outsiders Bowie/Ziggy saw as the audience he wished to gather under his wing and lift up. From "Star" where Ziggy/Bowie sees his rock'n'roll stardom to his rise and adulation and his downfall, the album covers it all in a sweeping, dramatic arc that took "concept album" to fully realized "rock'n'roll theater" that's both literal and imaginative. It was new and innovative.
When first issued on RCA, the American edition was pressed on thin awful sounding, noisy Dynaflex. This was a time of oil shortages, urban decay and record company decay too. Imagine getting rid of Nipper and replacing him with a soulless corporate logo. RCA managed.
The original UK pressing was mastered by Ray Staff who is still at it and doing great, which is something you'd already know if you've bought any of the Pure Pleasure reissues cut by Ray. He now runs Air Mastering, where this reissue was cut from the original analog master tapes.
The 40th Anniversary reissue, marketed by EMI, includes a gatefold jacket with photos from the Ziggy era adorning the inner gatefold as well as a DVD containing a 96/24 DVD-A version as well as original engineer Ken Scott's 2003 5.1 48/24 DTS, Dolby Digital and 48/24 PCM stereo versions along with four bonus tracks: an instrumental version of "Moonage Daydream", "The Supermen" (from the The Man Who Sold The World album, "Velvet Goldmine," and "Sweet Head" both of which were previously available decades ago on 45rpm singles.
Those are nice bonuses but I'm sure what you're interested in is the vinyl: how it sounds and how well it was pressed. So I compared this to the U.K. original (RCA SF8287) that was not pressed on Dynaflex, and to the Mobile Fidelity reissue (MFSL 1-064) from the 1980s.
The original was a fine sounding record, well produced and engineered by Ken Scott, but it lacked bottom end weight that gave "Woody" Woodmansey's kick drum a cardboardy quality and Trevor Bolder's bass lines are equally lacking in muscularity. This clearly was on purpose and not by accident. Perhaps Bowie wasn't interested in a strong anchor for the music. He certainly didn't treat them so well on the tour: of course the star had a suite that he shared with his wife Angie, but Mick Ronson had his own room too. Woody and Trevor? They had to share a room!
The Mobile Fidelity version certainly sounded "better" than the original, with boosted bass, more precise trebles, both of which contributed to greater depth and punch. But is it what was intended or what it a revision?
The new reissue makes clear it was a revision because it sounds remarkably similar to the U.K. original, though there's more detail and clearer and more precise high frequency transients, despite the age of the tape.
So while the jacket reproduction is mediocre at best and not as good as the original or the Mo-Fi reissue, and that's a damn shame, what's inside is worthwhile. Unless you can find a clean original, this one, nicely pressed somewhere in the E.U. on 180g vinyl is the one to have.

Originally released in June of 1972, Bowie's "rock concept album" broke the then still obscure musician and changed the face of rock'n'roll forever—and that ain't hyperbole. If this wasn't the album that gave Freddie Mercury his dream, I can't imagine what was.
Site Map / Direct Links
| | | | | | | | | | | |
| --- | --- | --- | --- | --- | --- | --- | --- | --- | --- | --- |
| MusicAngle | | Equipment Reviews | | Equipment Reviews | | Analog Tips | | News | | Columns |