Rega Announces New RP8!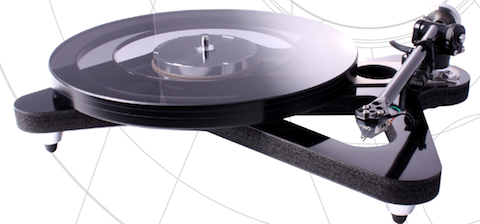 Rega late last week announced a new turntable, the RP8. Available mid-December, the RP8 features an improved plinth, platter and tonearm, the RB808.
The new design features "dual brace" technology that is said to increase rigidity without added mass.
It's made of a new super lightweight foam core polyolefin resin sandwich that's seven times lower in weight than the plinth on Rega's original P3 plinth. It includes a frame for a dustcover.
Rega is sticking with glass for the platter, this one of three precision layers including an outer ring for "super flywheel effect."
The new 'table features improved bearings, tighter tolerances compared to the P7 and RP6 and a machined sub-platter.
The new TTPSU includes a "super accurate" crystal locked, low distortion sine wave generator that outputs a 24V AC balanced signal with less than 0.05% distortion.
The new turntable costs $2995 without cartridge. For a limited time Rega will offer the new 'table with a pre-installed hand-built $1795 Rega Apheta MC cartridge, for a total package price of $3995, which represents a $795 saving.
Clearly more evolutionary than revolutionary, the RP8 represents a unwavering commitment to a design that has long performed extremely well at the various price points at which its been offered.
Can Rega compete with this design at the $3000 price point compared to other similarly priced 'tables?
Stay tuned. One will soon be on the way here for review.
Site Map / Direct Links
| | | | | | | | | | | |
| --- | --- | --- | --- | --- | --- | --- | --- | --- | --- | --- |
| MusicAngle | | Equipment Reviews | | Equipment Reviews | | Analog Tips | | News | | Columns |