Saxophone Colossus Remains a Towering Presence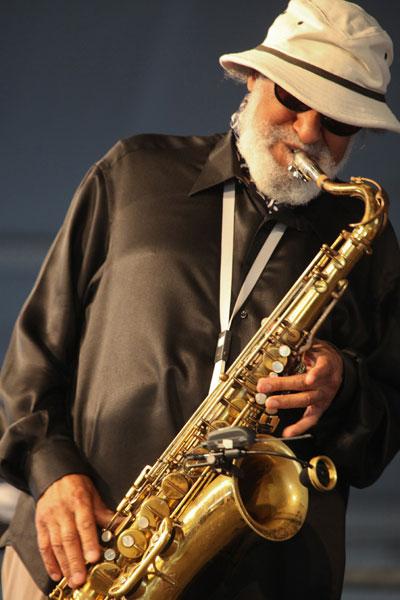 Sonny Rollins in His 82nd Year: New Live Recordings, Lifetime Honors, and an Extended World Tour
Editor's note: Sonny Rollins, the last of the pioneering bebop giants and a seminal figure in modern jazz throughout the second half of the 20th century, has entered his ninth decade still blowing full force.
Most recently, he released on his own Doxy Records label Road Shows, Vol. 2, part of what promises to be an ongoing series of live tracks culled from his personal archives.This month he was selected to receive the Kennedy Center Honors (along with Yo-Yo Ma, Meryl Streep, and others) at a star-studded ceremony and tribute to be held on Sunday, December 4, in Washington, D.C., where he will be seated, along with the other honorees, with President Obama and First Lady Michelle Obama.
Road Shows, Vol. 2 features four selections from Rollins' high-profile 80th-birthday concert in September 2010 at New York's Beacon Theater and includes a 20-minute version of "Sonnymoon for Two" where Rollins is joined by long-time friend Ornette Coleman for a first-time joint public performance. It's a fitting companion piece to Road Shows, Vol 1, which includes material recorded between 1980 and Rollins' 2007 Carnegie Hall show celebrating the 50th anniversary of his first concert at that world-famous venue.
And if that weren't enough, the Saxophone Colossus kicked off an extensive world tour with a closing performance in early May at the 42nd annual New Orleans Jazz & Heritage Festival, where Roger Hahn, Our Man in New Orleans, was inspired to not only reflect on Rollins' previous Jazz Fest performance in 1995, but, based on an extended conversation with the legendary sax man, take a look at what has made him, along with Miles Davis, one of the two most significant forces in 20th-century modern American jazz.
"Old men ought to be explorers
Here and there does not matter
We must still be moving
Into another intensity …"
T.S. Eliot
"The Four Quartets"
Final gestures tend to imprint themselves. Gustave Flaubert was once put on trial for a scene in Madame Bovary that ends with his heroine entering the horse-drawn carriage of the novel's sexy villain, launching one of the most memorable sex scenes in the history of the modern novel. First, the couple's jostling carriage rockets through country and town, the vehicle's frenetic energy a clear metaphor for sexual activity within; then, an arm extended near the end of the scene to discard a flurry of shredded paper, the remnants of a letter that would have insisted on the heroine's resolve to avoid just that sort of physical entanglement. It's that final gesture which serves the double purpose of indicating post-coital surrender and a foreshadowing of the final plot sequence that will seal the heroine's doom.
What's true for scenes in a novel is just as true for nearly all the sequential elements of ordered sound we know as music: melodies, chords, verses, songs, song sequences, albums, individual sets (both live and recorded), and staged concert acts. It's true even for entire music festivals, including one as sprawlingly impressive as the 40-something New Orleans Jazz & Heritage Festival, which pulls in tens of thousands of springtime fans every year and plays out over two weekends (the last in April, first in May). The festival itself comprises seven full days, with a dozen stages active for eight hours a day, each stage averaging somewhere around six acts a day, which amounts to a grand total of roughly 500 performances over the course of the festival's two weekends
There's a ceremonial significance to the final act on the final day at each of Jazz Fest's ten primary stages, and an entire plot line developed post-Katrina regarding the final act on the festival's largest stage, a slot normally reserved for The Neville Brothers, the Crescent City's beloved native sons and reigning cultural heroes. In disarray following the Katrina-year flooding of the city, the Brothers early on let it be known they would not be appearing at the 2006 festival. Instead, festival organizers booked Fats Domino, whose whereabouts during The Great Flood had generated worldwide headlines. At the last minute, though, the famously shy R&B icon, plagued with an unreliable memory as he enters his late 70s, reneged. Lionel Ritchie, originally booked for a slot earlier in the day, graciously stepped up to the task, and performed admirably.
Returning to their honored spot in the line-up in 2007, The Neville Brothers helped reassure New Orleanians both at home and in exile that continuity was, in fact, possible, and the rebuilding of the city had unmistakably begun to gather momentum.
Closing Acts with Close Ties to New Orleans
Since then, the gig has taken on the aura of recovery triumphant -- of course The Nevilles would be closing out this year's Fest on the big stage. And to drive the recovery message home even further, festival organizers scheduled popular New Orleans favorites for final sets at several of the other large stages as well, including a farewell appearance by the much-loved New Orleans-based jam band The Radiators on the second-largest stage; a two-hour set by Maze featuring Frankie Beverly on the African-American-themed stage; traditional jazz icon and bandleader Bob French with The Original Tuxedo Jazz Band in the traditional jazz tent; Rockin' Dopsie & The Zydeco Twisters on the Cajun/zydeco stage; spirited jazz trombonist Glen David Andrews in the gospel tent; and the decidedly eccentric Bobby Lounge on the stage reserved for an eclectic mix of acts.
Appropriate national and international acts filled out the schedule on the remaining stages: Robert Randolph and The Family Band in the blues tent; RAM of Haiti represented that disaster-torn nation and this year's cultural-exchange partner, on the smallish outdoor "roots" stage; and Sonny Rollins, appearing at the festival for the first time since 1995 in the modern jazz tent.
For Rollins, this would be the kick-off concert of a year-long international tour that would take him from Australia and New Zealand to Europe for the summer festival season and back again in the fall for a series of concert appearances in major European cities.
Rollins' extensive touring schedule would follow a true milestone year in the master jazz saxophonist's life, with a high-profile concert in New York City's Beacon Theater in October 2010 celebrating his 80th birthday, and the award of a National Medal of the Arts by President Barack Obama in March celebrating Rollin's extraordinary career, his invaluable contribution to American popular music, and his current standing as the last of The Jazz Giants, that remarkable generation of post-WWII innovators -- like Charlie Parker, Dizzy Gillespie, Miles Davis, and Rollin's acknowledged mentor Thelonious Monk -- who moved American popular music forward from the swing era and transformed it into an artistic achievement of the absolute highest order, creating what many now like to think of as American classical music.






Photo by Ruth David
Standout Sets: Abbey Lincoln in 2002, Sonny Rollins in 1995
One of the most mesmerizing last sets I've ever experienced at Jazz Fest was 2002's final set in the modern jazz tent by the late singer and composer Abbey Lincoln, then in her early 70s and touring with a simple piano-bass-drums trio.
An accomplished actress as well as a major figure in modern jazz, Lincoln took control of the stage through sheer strength of personality and a powerful performance as storyteller, mirroring the drama of her delivery with eloquent physical gestures, all understated, all undeniably compelling. One of the beauties of an event like the New Orleans Jazz and Heritage Festival is the clear presence of a unique setting complete with a rich and unparalleled music heritage, a circumstance that uniformly tends to inform a good number of performances, Abbey Lincoln's being no different, as she closed her set with a deeply felt rendition of the jazz ballad "I'll Be Seeing You (in All the Old, Familiar Places)" dedicated to Louis Armstrong, and followed that with a carefully arranged and sultry take on "Mr. Tambourine Man," the early Bob Dylan anthem to musical celebration, inspired by a visit to New Orleans during Mardi Gras.
The reference was unmistakable and the arrangement and delivery so majestic, it left the audience temporarily suspended in a state of breathless wonder when she finished.
Sonny Rollin's 1995 Jazz Fest set was even more memorable, a milestone gig for both audience and artist. Russ Cole, a veteran sound engineer and long-time production manager for guitarist/songwriter Richard Thompson, remembered it this way: "Easily one of the greatest sets I have ever witnessed. Wildly ecstatic playing and an incredible audience. I thought I might spontaneously combust while I was dancing!" And in a 1996 interview with jazz writer Chip Stern, Rollins recalled it clearly: "There's something that I'm just getting to now, ever since I played at the New Orleans Jazz & Heritage Festival last year. During that performance, this just came to me, an expansion on the normal rhythms that bridge the jazz attitude with the rhythms of Congo Square. And since then, I've been working on it a little bit each time I play. Hopefully, it won't be long before I break through to something new in that area."
(Congo Square -- for the uninitiated -- was a dusty patch of ground on the outskirts of the French Quarter that remained throughout the first century of American history the only place slaves and free blacks could gather weekly, on Sunday afternoons, to trade goods, make music, and dance.)
The Sonny Rollins / New Orleans / Caribbean Connection
The Sonny Rollins set in 1995 set sail on the extended improvisation inspired by the closing number, one of the sax master's best-known compositions, "St. Thomas," a pleasantly melodic jazz piece enlivened by Calypso rhythms that conjure images of Rollins' homeland in the West Indies, a place he knows mainly second-hand, having been the first in his family (as the youngest child) born on American soil. In the midst of that extended solo, it became apparent to both artist and audience that the Caribbean spirit of New Orleans had grabbed hold of Rollins as let the music take over, rolling from one ecstatic chorus straight on to the next, and the next, and the next.
But other factors in his general approach to music may also have helped Rollins tap so effortlessly that day into a readily available and deep reservoir of musical creativity. To begin with, he's often described his exposure to the downhome musical fervor of storefront gospel music associated with small Sanctified churches as occurring at a very young age -- thanks in large part to the worship practices of his maternal Caribbean grandmother. Along the same lines, one of his earliest and most influential musical heroes was Louis Jordan, the jump-jazz pioneer whose classic "Saturday Night Fish Fry" celebrates New Orleans neighborhood culture. Jordan was a musician very much in the classic New Orleans mold: crowd-pleasing, rhythm-driven, and high-spirited.
And there's more. Rollins' first real gig as a young teenager was with a dance band, exactly the kind of "functional" apprenticeship served by untold generations of pioneering New Orleans musicians. Later in life, Rollins' spiritual quests helped him see jazz performance as a kind of secular worship and community exaltation, an attitude also familiar in the annals of New Orleans' musical traditions. And finally, Rollins has never been shy about mixing genres, a longstanding New Orleans trademark, applying brash bebop rhythms to familiar Broadway tunes, funkifying even the most sedate jazz standards, and sitting in with The Rolling Stones on their 1981 release, Tattoo You, where his sax solo heats up a soulful ballad that became one of the album's most memorable hits, "Waiting for a Friend."
Perhaps the most stunning aspect of that experience, of being present at the moment one of the true masters of modern jazz taps into a cultural vibe that seems to have a forceful life and mind of its own, is the realization that place and cultural tradition appear to trump the essentials of what we tend to think of as modern life: individuality, freedom of choice, and the near-religious belief that a better life can only be obtained by superceding the present in the pursuit of an idealized future. Rollins' life-changing final set in 1995 also cemented in my mind the heroic image summoned up by the title of his first masterpiece, Saxophone Colossus: I can still see Rollins on stage, short in stature but stoutly built, feet set firmly apart, anchored as if he was drawing energy straight out of the ground, his music flooding up and through him as it captivated a tentful of fully enraptured listeners, players, and even dancers.
Unimpeachable Street Cred and a Truly Monumental Career
I guess I've always held Sonny Rollins up as a kind of heroic figure, maybe beyond mortal dimension. I mean, he came up in the early 1950s with Charlie "Bird" Parker and Miles Davis, chose Thelonious Monk as his musical mentor, then surpassed them all and spun out into his own sort of freewheeling orbit in last half of the 1950s, laying down a series of unsurpassed jazz classics. Along with Saxophone Colossus, his late 1950s achievements include Sonny Rollins Plus 4 with trumpeter Clifford Brown, whose early death was a truly accidental and major tragedy; Tenor Madness with a young John Coltrane; Way Out West, with Sonny dressed in cowboy duds on the cover and disassembling familiar pop tunes on the vinyl grooves inside; three volumes of A Night at the Village Vanguard, taken from a set of live gigs backed by only bass and drums, the first "pianoless" modern jazz; and, finally, Freedom Suite, one of the earliest jazz-world allusions to the nascent Civil Rights Movement.
All that before turning 30 and before disappearing mysteriously for a couple of years. Only to reappear, lay down some more pioneering classics (including the soundtrack for Michael Caine's first hit, "Alfie," landing in the 1966 Billboard R&B Top-20 R&B charts), and then splitting again … To where this time? Japan? India? Taking up asylum in an ashram? Then, once again, bang, he's back again and working through one stylistic transformation after another, embracing electronic instrumentation, funk rhythms, and collaboration with a wide range of musicians in a wide variety of combos, without even for a second leaving behind his signature, guttural, angular, jackrabbit sound.
Once when I was in New York City in the early 1990s, I thought I saw him down a side street in Tribeca near where I knew he lived, walking close against an old brick wall, his back to me, clad in a plain tan raincoat and listing slightly, walking almost bow-legged with a slightly sloshing rhythm, the posture and manner of locomotion I had come to know by then was his, and his alone. Was it actually Sonny Rollins? Does it really matter? Revisiting New York after a long absence, I was hungry for a taste of the Big Apple's soulful side, and carrying back a mental image of Sonny Rollins walking down a block in Tribeca definitely served that purpose.
On the other hand, during the past decade Rollins' truly monumental career has been lauded by a Who's Who of arts and music organizations, including the National Academy of Recording Arts & Sciences (Grammy for Lifetime Achievement, 2004, in addition to Best Instrumental Jazz Performance, 2001, and Best Jazz Instrumental Solo, 2005); the Washington, D.C.-based Academy of Achievement (2006 honoree); the Royal Swedish Academy of Music's Polar Music Prize (2007 honoree); the Austrian National Council (Austrian Cross of Honor in for Science and Art, First Class, November 2009); The MacDowell Colony (Edward McDowell Medalist, March 2010); The American Academy of Arts & Sciences (membership, April 2010); and the National Medal of Arts in March 2011 (where he was improvisationally name-checked by the Prez: "[T]here are people here whose books or poetry or works of history shaped me," Obama said. "I've got thumb-worn editions of these works of art and these old records -- when they were still vinyl, Sonny...").
Improvising on Changes During a Decade of Transition
But the masterful saxophonist and towering legend of modern jazz composition and improvisation also suffered a series of life-altering experiences that created milestones of an entirely different sort during the past decade.
On September 11, 2001, the terrorist attack on the World Trade Center in New York's financial district, not far from Rollins' Tribes apartment, forced Rollins to seek refuge in the upstate New York country home which he and his late wife and former manager, Lucille, had the foresight to purchase back in the early 1970s. On September 15, Rollins and his band drove to Boston for a scheduled gig at the Berklee College of Music's Performance Center; four years later, Rollins combined his own concert tape with one made by an audience member to produce Without a Song: The 9/11 Concert, which was released to near-universal acclaim, earning a Grammy award, reaching number five on the Billboard jazz charts, and completing his long-term contract with Milestone.
Still, the loss of his New York apartment was a major blow. "I'd been living in that apartment for almost 30 years," Rollins later recalled, "and I had a lot of books, clothes, and musical instruments in there. And 90 percent of it was destroyed. I was really worried about it all, my wonderful books and my stage clothes. I lost all of that, and I was really mad about it. And then I came to realize, 'Wait a minute. Those are material things. That's not what life is about.' That was a big revelation for me."
Rollins suffered a loss of an entirely different nature on November 4, 2004, when Lucille Rollins, his wife of nearly 50 years (they were married in 1957), and manager for nearly 35 years (since 1971), passed away.
Three years later, Rollins released the first studio recording on his own label, Doxy, and titled it in Lucille's honor, Sonny, Please, invoking a bit of marital humor by referring to his late wife's apparently successful ability to motivate her husband where motivation might have otherwise been lacking. The release landed Rollins once again in the Billboard Jazz Top Ten, and a subsequent sampling the following year of live recordings from Rollins' private collection, Road Shows, Volume 1, hit number three on the Billboard chart. Now, in addition to his busy touring schedule for 2011, Rollins is preparing Road Shows, Volume Two, containing material for release this September from his Beacon Theater 80th birthday celebration (where legendary jazz pioneer Ornette Coleman made a "surprise" guest appearance).






Road Show Volume 2
A Conversation with the Man Behind the Legend
When Rollin's long-time publicist Terri Hinte set up a phone interview for me several weeks before his Jazz Fest appearance, I wasn't sure what to expect. My work has been more along the lines of general-interest music journalism and cultural history – I've never been a professional jazz critic, so I've mostly been a Sonny Rollins admirer from afar, not conversant with the incredibly detailed but narrow perspective of jazz specialists or party to any of the insider "controversies" that fuel almost all highly focused areas of specialization, regardless of discipline or subject matter.
To be honest, though, I was more than a little intimidated, in part because Rollins' public profile has tended to emphasize his serious commitment to the artistry of modern jazz improvisation. Great artists, on the whole, tend to be kind and generous, but there are definitely some that will not suffer fools gladly. So, after a blitzkrieg cram course in Sonny Rollins' career, critical reception, and autobiography, I wasn't sure what I could add that might shine some light on the nature of the man and his accomplishments.
I had a couple of ideas, but I thought I'd start with the obvious to get a better sense of the person behind the legend at the other end of the phone connection. So I mentioned the recent spate of awards he'd received, the high-profile nature of his birthday concert, the honor of receiving the National Medal of Arts from our first African-American president, suggesting all that must be quite an experience at this stage in career and life. There was a pause, and not a short pause, either.
Finally, Rollins agreed, but tentatively. "Well," he said, taking his time to consider his words even as he spoke them, "so far it's been okay."
And that's it? So far, it's been okay? To be the last surviving member of the generation that created modern jazz, to be universally lauded and personally singled out by the President of the United States? So far, it's been okay? I'll admit I was baffled, not quite sure where to go from there. But it turned out Sonny Rollins was just getting started. The great tenor man had simply stated his opening theme.
An Innately Gifted Student and Profoundly Dedicated Musician
"You know, I'm learning some things now," he offered, again proceeding with slow deliberation. "I've got a certain outlook on life now that I've just sort of grown into, and it took me 80 years, I guess, but I feel pretty good about where I'm at right now. Things have really fallen into place to a great extent, and I'm really at a happy moment in my life. I feel better about so many things, and I feel much more at peace, personally. I seem to have much more of an understanding of a lot of things I've been trying to understand all my life, but now, just recently having turned 80, it all seems to have come into clear focus. In my personal life, and I'm reluctant to use the word 'spiritual,' because it's overused so often, but I really think I've just recently begun to understand some of the essential things I've been working to understand all my life."
If that's the case, it's likely the result of a quest for understanding that has permeated Rollins' life from early childhood.
"I grew up listening to Fats Waller in my crib," Rollins explains. "Both my brother, who was two years older, and my sister, who was five years older, were very involved with music when we were all kids. My sister was a terrific pianist and played in our local church. My brother was a serious student of the violin even before high school, and I heard him practicing a lot before I ever took up an instrument myself. My mother bought me my first saxophone when I was seven, and from that moment on I knew that this was really for me. Somehow I knew even at that early age I would be a musician, and that I would be successful. And at that time in my neighborhood, all my friends and I wanted to be jazz musicians, because they dressed sharp, and they were just the coolest people around."
Among the professional jazz musicians who lived in Rollins' Sugar Hill neighborhood in Harlem were his early idol, Coleman Hawkins, as well as drummer Art Taylor and pianist Kenny Drew. He has always regarded fellow musicians and especially the legendary musicians he has come into contact with, as great sources of education and inspiration, referring to them in his brief acceptance remarks on being awarded the National Medal of Arts: "I'm very happy that jazz, the greatest American music, is being recognized through this honor," Rollins said, "and I'm grateful to accept this award on behalf of the gods of our music."
"When I took my now-famous 'hiatus' from the world of jazz in the early 1960s," Rollins continues, "it wasn't because I thought I had no more to contribute or because I was dissatisfied with any one thing in particular. I think it came more from the sense that all my peers who welcomed me as a compatriot and looked on me as an equal were all more knowledgeable than I was, better schooled. I grew up not being such a great scholar but more as a gifted child who had more curiosity than discipline. It was the same with my sister and brother -- they were great scholars and I was more the black sheep, a maverick who studied and practiced a lot, but only studied what I wanted to study. So I took some time off to study and learn more, because that's one thing in my life that's never changed -- I've always been, and still am, as serious about music as I can be."
Spiritual Quest Results in a Return to Fundamentals
After returning to the world of jazz in the early 1960s, Rollins once again felt the need for a "hiatus" in the late 1960s, this one considerably longer, and of a substantially different nature than the first.
"I had been reading a lot of books," Rollins recalls, "and I was mostly interested in acquiring some kind of general spiritual knowledge. I had been studying yoga for some time and decided to travel to India and live in an ashram for several months. I wasn't looking to become a Hindu or a Buddhist or any particular kind of religious practitioner. I just wanted a certain kind of knowledge so I could free myself, in a way; what I was seeking was more along the lines of some kind of universal truth. It was a wonderful time in my life, actually, and I learned a very important lesson. I was having trouble with the intense discipline required for serious meditation, so I went to the teacher there, and said, "I can't do it. I've tried and tried, but I just can't seem to master the discipline of meditation." He listened, and thought for a minute. Then he said, 'That's okay, because playing music is your form of meditation.'"
Rollins' "spiritual" hiatus marks a clear turning point in his career. When he returned to the world of jazz both his attitude and his music had changed, the product of spiritual insight combined with a new understanding of jazz fundamentals.
"When I first started playing professionally in the late 1940s and with the great drummer and bandleader Art Blakey, with Miles Davis, and with many others," Rollins says, "we played for dancing, the majority of the audiences we played for came to dance. But there was always a group of serious jazz aficionados who would come up close and stand right in front of the bandstand. Over time, the aficionados grew in number and eventually crowded out the dancers. So, I had been missing that side of the music somewhat. My earliest gigs as a kid were playing for dances, too, and when you're playing for people who are dancing, basically you're making them happy and that has a kind of spiritual dimension to it."
Recently, Rollins had played a benefit for a local upstate New York hospital in a newly remodeled nightclub. "And this one lady got up, and she just started dancing like crazy," Rollins tells me. "And then everybody got up, and started dancing. It just made me feel so good, because that's how I grew up, playing for dances. In fact, whenever somebody comes up to me and says, 'Sonny, I really don't like jazz that much, but I really like you,' well, that just makes me feel great."
A Fully Mature Artist "Completely Involved in the Act of Performance"



The Sonny Rollins who emerged from his final retreat from the world of jazz returned as a different kind of musician, one whose musical performances could now be viewed as part of an ongoing continuum that more fully engaged the audience in live concert appearances and was less concerned with critical approval, personal gratification, or commercial success. His approach ever since has reflected a multiplicity of influences focused on a singular goal.
"I'm not a guy who's coming from any one particular aesthetic," Rollins explains. "I consider myself more of a 'primitive,' or maybe a fundamentalist. When I'm really playing, it's because I've found a way to get 'inside' the music. That's the only way I know how to play. If someone tells me that when they watch me play, they're not noticing the horn or my fingering or my breathing but my whole body, the way it's completely involved in the act of performance, that's when I feel like I'm really doing it right, because then it's just me, there's nothing put on or artificial about it in any way."
In conversation, Rollins comes across as a gentle, considerate, and open-minded soul -- there seems to be nothing about him personally that's put on or artificial either. In fact, after our conversation, my admiration and appreciation for the great artist and thoughtful musician had grown considerably. I now realized he wasn't just a defining artist in the annals of popular American music, he was also an heroic figure determined to infuse his music with a concern for all humanity.
But when he walked out to greet his Jazz Fest audience for that final set in May, I was taken aback by how his physical presence had been dramatically altered by age. Shoulders stooped and his torso bent halfway at the waist, his characteristically syncopated gait now more closely resembled a small boat in rough seas that threatened to tip over at any moment. Crossing the backstage area with the assistance of a solicitous stagehand, one hand steadied the sax that swung around his neck, practically parallel to the ground, while the other clutched a sheaf of hastily assembled sheets .
New Orleans Set Opens with a Brand New Composition
While the members of his full-force rhythm section -- electric bass, conventional drum kit, conga drums, and electrified acoustic guitar -- took their places behind him, the wooly-haired, white-bearded saxophonist crossed briskly to stage right, placed the sheet music on a waiting stand, and began shuffling through the pages. Later I would learn this was a brand new composition, "D. Cherry," designed as a platform for groove-laden, funk improvisation and dedicated to Rollins' former colleague, the free jazz and world-music pioneer Don Cherry.
While a clutch of professional photographers aggressively swarmed center stage from ground-level, looking for a "money shot," Rollins played mostly to his associates on stage, pacing back and forth in what appeared to be an effort to unite the band within the saxophonist's concept of a precise rhythmic interplay. Several verses later, as the rhythm section finally began to jell and the tune's densely woven tempo came into crystal clear focus, Rollins finally turned to address the audience, building long, sinuous phrases one on top of the other, all the while maintaining his characteristically concise sound, interweaving gruff and sweetly melodic phrases while carefully and deliberately expanding on the harmonic possibilities of the tune's essential form.
With the legendary saxophonist and his accomplished backing band now perfectly in synch, Rollins leaned into his cascading series of angular, inventive choruses building toward an improvisational crescendo, stepped aside to feature each of the band members in exploratory improvisations of their own, then returned to restate the original theme, and give it one last improvisational flourish before bringing the opening number to a close. By the time he finished, Rollins had completely won over the filled-to-overflowing crowd in the festival's airy, voluminous modern-jazz tent.
He wisely followed with a relatively brief exposition on a ballad-tempo composition, written several years ago but never recorded, titled "J.J." in tribute to an early Rollins collaborator, the trombonist J.J. Johnson. This relatively brief interlude then gave way to a rhythmically charged marathon of sorts: a fifteen-minute take on "Global Warming," Rollins' calypso-driven anthem from the late 1990s supporting greater environmental consciousness, followed by a ten-minute, bebop version of Irving Berlin's lovely standard, "They Say It's Wonderful," which cleared the way for "Don't Stop the Carnival," a folk-based calypso composition that first appeared on Rollins' 1962 release What's New?
"Truly Remarkable," in "the Golden Palace of His Muse"
Midway through this final celebration of rich, indigenous cultural sources, the audience rushed the stage while Sonny kept blowing choruses, playing directly stage-front to the assembled throng now, and repeatedly pumping his fist in the air. Had there just been a week-and-a-half's worth of nonstop music in every corner of one of the most musically rich cities in the world leading up to this particular moment? I couldn't remember, and it didn't really seem to matter. Now I was living for however few moments in the very heart of the actual musical experience itself, not thinking, not reporting, not sitting -- just dancing. Others, with cooler heads and a greater sense of professional responsibility, returned with somewhat-more-coherent accounts.
USA Today's man-on-the-scene, who covered Rollins with both an advance feature and a live review, testified that the sax legend's Jazz Fest performance at Jazz Fest 2011 was "[t]ruly remarkable." And a writer from the local daily, The Times-Picayune, concluded: "I don't think I've ever seen a mosh pit in the modern-jazz tent before … Rollins was, when all was said and blown, awesome."
Finally, Britt Robson, a correspondent for The Utne Reader in Minneapolis who is also a long-time Rollins fan, described the moment with remarkable eloquence.
"'Carnival' was unforgettable," Robson reported, "as Rollins entered another zone, a wayback machine to his vintage potency -- phrases tumbled out in scintillating, geometrically perfect shapes, as theoretically implausible as movie special effects and yet utterly organic in the way they land in your soul -- and they kept streaming until you had to dance and tears started coming out of your eyes. [By then,] most of the capacity crowd was on its feet, and more than few were crying.
"Rollins knew that he had entered the golden palace of his muse: He uncharacteristically started mugging for the crowd; swaying one way and then pivoting the other way … [finally] going straight on at the cell-phone photographers and professional, picture-takers down front; and prowling from side to side. It was long past the seven p.m. closing of the festival when he finally finished the tune, but the ovation was so long and vociferous that he added a brief coda for an encore, a two- minute return to reality. Then the performers and the audience levitated from the scene."
Rollins' Legacy: A New Paradigm for Jazz?
Machu Picchu, the "Lost City of the Incas," was honored in 2011 on the 100th anniversary of its discovery by Yale University historian and explorer Hiram Bingham.
When Sonny Rollins' 100th birthday comes around, he will either still be here to celebrate it with us, or he will be honored not having been discovered, or for having discovered any one thing in particular, but for engaging in a life-long voyage of discovery, journeying in search of both a fuller understanding of the human condition and the very real possibility inherent in music for creating the human equivalent of a genuinely universal language.
When I had a chance to think back over his career, our extended phone conversation, and his most-recent Jazz Fest performance, what strikes me most vividly is the unceasing impulse in one of America's truly great musicians to continue to explore the possibilities of his musical art, experiment with new approaches in hopes of a new "breakthrough" that may be lying just around the corner, and expand his understanding of, and response to, his role as an interpreter of the human condition and standard-bearer for an African-American art universally regarded as one of the greatest cultural achievements of American democracy.
Imagine, for example, having the "audacity" of a reigning jazz legend opening the first concert in a year-long world concert tour with a brand new composition apparently committed to paper not long before its performance, a composition fresh enough that bandleader Rollins required a bit of time onstage, working with his band members, to get the precise feel and unified groove he'd envisioned for the tune.
That takes both a certain amount of guts, but it also implies a dedication beyond courage and determination beyond ordinary reason. Then toss in the fact that following his Jazz Fest performance, he's off to a Newark, New Jersey, concert before heading out to Australia for a couple of gigs and after to New Zealand, a country he'd never before visited -- all prior to a summer of festivals in Europe, a brief U.S. return in September for yet another CD release and series of concerts, then back to Europe for a string of concert-hall performances.
And just to put all this in its proper perspective, we're talking about an 80-year-old musician who by the age of 44 had already been honored by the jazz establishment by his induction into the Downbeat Hall of Fame for both his and his peers' unprecedented achievements in sinking the piers on which the foundation of modern jazz sits. And even now, he continues seek out the innovative, challenging the accepted model of modern jazz musicians buildings their careers through a series of critically acclaimed studio albums by suggesting, with his new label, that perhaps the world of jazz should value more highly the art of live improvisation and that it may be possible to construct a new paradigm, one in which jazz becomes primarily a live-performance art.
Despite a recent spate of profound losses and dramatic industry changes, despite, even, advancing old age, Rollins remains a vibrant, innovative, and masterful explorer deeply committed to essence of improvisation, in both his life and his art. "I am convinced," Rollins said in a recent magazine interview, "that all art has the desire to leave the ordinary. All art has this in common. But jazz, the world of improvisation, is perhaps the highest [calling], because we do not have the opportunity to make changes. It's as if we were painting [live] before the public, and the following morning we cannot go back and correct the blue color, or change that red. We have to have the blues and reds very well placed before going out to play. So for me, jazz is probably the most demanding of all modern arts." And Sonny Rollins remains that art's most devoted practitioner.


Recommended Listening
Abbey Lincoln, Abbey Sings Abbey (Verve)
CD and MP3s released 2007.




Recorded in her mid-70s, this career encapsulation features this iconic figure's best-known compositions (including her signature "Throw It Away") and classic interpretations. Like all great singers whose vocal prowess is limited by age, Lincoln has the opportunity here to reveal the essential nature of her artistic talent. Critic Matt Colar, in a review on All Music.com, called it "beautifully raw and intimate."
Sonny Rollins, Saxophone Colossus (Prestige)
Originally released in 1956; Rudy Van Gelder remastered CD and MP3s released 2006, various 180g vinyl reissues including the double 45rpm edition from Analogue Productions that's sold out.
A 40-minute introduction to the beauty of modern jazz, truly a concise lesson and every minute rewarding, with original version of "St. Thomas" and a grooving version of "Moritat" (aka "Mack the Knife") sounding like the inspiration for Bobby Darin hit. Masterful both in its range and musical cohesion, Saxophone Colossus stands out for its understated swing and unparalleled melodic beauty.
Sonny Rollins, Falling In Love with Jazz (Milestone)




Originally released on CD and vinyl in 1990; MP3s released 2006.
The opening track, "For All We Know," is irrestible, with Rollins and Branford Marsalis (Rollins' most accomplished and best-known acolyte) chasing each other in a series of brief improvisatory phrases like butterflies dancing in mid-air. That charming introduction is followed by a gorgeous, mid-tempo treatment of "Tennessee Waltz," which is classic Sonny Rollins.
Recorded when he was 59, the album as a whole is a perfect encapsulation of Rollin's late-career swinging and soulful jazz/funk sound.
Site Map / Direct Links
| | | | | | | | | | | |
| --- | --- | --- | --- | --- | --- | --- | --- | --- | --- | --- |
| MusicAngle | | Equipment Reviews | | Equipment Reviews | | Analog Tips | | News | | Columns |