Win a Blu-ray Copy of "Paul Simon Live In New York City" (Contest Cancelled)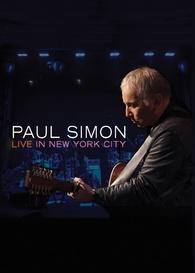 I have just been informed that I am not legally allowed to run contests requiring answers to questions. Only "sweepstakes" type contests are allowed, where a winner is drawn from a pool. I apologize for this error but I'm leaving the post up for another day for those who saw it and were considering entering. I don't want you thinking you were hallucinating!
—ed.
We have a copy to give away of Paul Simon's new concert Blu-ray disc "Live in New York City," courtesy Concord Music. WARNING: It will not play on your turntable!
The concert was recorded live at famed Webster Hall—site of many of RCA's most famous recordings from the label's "Living Stereo" golden age—on June 6th, 2011. Backing Simon are top musicians, many of whom have worked with him before on some of his greatest performances.
More details when it gets a full review shortly, but Simon covers some of his greatest songs from "The Obvious Child," "Mother and Child Reunion," "The Only Living Boy in New York" and "Diamonds on the Soles of Her Shoes" to a stellar encore list that includes "The Sound of Silence" and "Kodachrome" among others.
Interestingly, the mix by Andy Smith and the legendary Phil Ramone is two channel and 48K PCM and that's the only option. There's no lossless Dolby Digital or DTS two channel or surround mix.
The first person to answer all questions correctly wins the disc: 1) Where was Paul Simon born?
2) What group was he in before Simon and Garfunkel?
3) In what style house did Paul Simon live as a child?
4) What song on "Bridge Over Troubled Water" features a glaring mixing error near the end?
5) What animal did Paul Simon dress as on Saturday Night Live?
6) What song did Simon co-write with a member of The Seekers that became a hit for another Columbia Records act?
7) What was the name of the act?
8) What are the first names of Paul Simon's first three wives?
9) What did Paul Simon wear around his neck in "Annie Hall?"
10) Name Paul Simon's Broadway flop (not that the music wasn't good!).
That's it! First person to get all ten questions correct wins the Blu-ray concert disc!
Site Map / Direct Links
| | | | | | | | | | | |
| --- | --- | --- | --- | --- | --- | --- | --- | --- | --- | --- |
| MusicAngle | | Equipment Reviews | | Equipment Reviews | | Analog Tips | | News | | Columns |