A Turnbuckle In Time Saves Your Stylus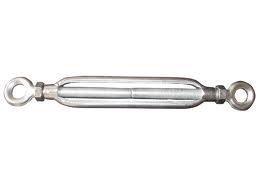 I once lived on the second floor of an old farmhouse with a springy floor. How it got in my pants, I'll never know! I had a VPI TNT turntable at the time, on a VPI stand that had been filled with leadshot and sand. It was
heavy
! But the stand still shook and the 'table's suspension couldn't deal with it so the stylus jumped around in the groove, which was not good for it or for the speakers that had to endure intense "pops."
The large horizontal mass of the Eminent Technology II air bearing tonearm only intensified the problem. It was not a good playback environment for any stylus. Nothing I tried worked to limit the floor shaking, particularly at one location between the couch and turntable stand.
Then someone told me to try a turnbuckle or two and that solved the problem—as long as your stand is within a turnbuckle's distance from the wall behind it. Just wedge one turnbuckle between your stand's top shelf and the wall behind it, by turning the screws outward until you achieve a tight fit. Try a second on the other side of the stand but be careful not to wedge the second one in too tightly or the first one will fall down.
Getting both turnbuckles equally tensioned may take a few tries but it will be worth the effort because then you'll find the turnbuckles have mechanically grounded the stand to the wall behind it and the shaking and groove skipping will stop—at least until eventually the micro shaking will cause the turnbuckles to both slip and fall.
Site Map / Direct Links
| | | | | | | | | | | |
| --- | --- | --- | --- | --- | --- | --- | --- | --- | --- | --- |
| MusicAngle | | Equipment Reviews | | Equipment Reviews | | Analog Tips | | News | | Columns |