All-Analog Remaster of Legendary 1957 Sessions Comprising Craft Recordings' New 180 1LP Edition of Thelonious Monk With John Coltrane Ushers in a Much Welcome Return of Original Jazz Classics Imprint
Good news! Craft Recordings — the boutique vinyl arm of Concord Music, who control the catalogs of Fantasy, Riverside, Milestone, and many other related labels — has duly revived the Original Jazz Classics series as a brand imprint for the now times. One of the first titles being reissued by Craft under the vaunted OJC umbrella is out today, May 26, in a new, 180g 1LP all-analog remastered edition: Thelonious Monk With John Coltrane.
Now, reviewing a record like Thelonious Monk With John Coltraneis in some ways a bit daunting, seeing how it is such a classic meeting of the minds between two of the great musicians and voices in jazz history. Accordingly, I won't be spending a lot of time dwelling on why these recordings are important, as a great deal has been written by many others about this collaboration elsewhere in album liner notes and on the interwebs.
However, for those who may not be familiar with this landmark album, some topline insights might be helpful. For numerous reasons, these groundbreaking jazz musicians — pianist/composer Thelonious Monk and saxophone/composer John Coltrane — only worked together over a six-month window of time in the late 1950s. By then, Monk was an established force in jazz and a star ascending, while Coltrane was about to release his first album as a leader. The pair performed live at New York's Five Spot Café and they only laid down a relative handful of studio recordings together, but what they left behind is timeless music for the ages.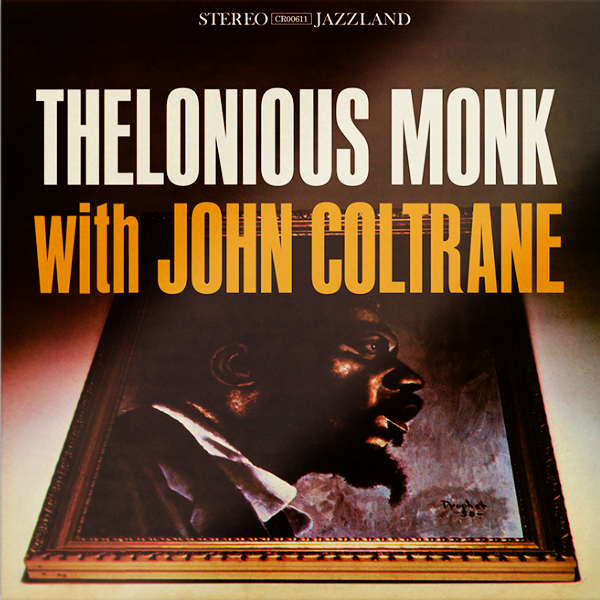 Recorded in 1957 at pivotal points in both artists' careers and in many ways considered as a masterclass session, even the outtakes from this collaboration are highly revered. Thelonious Monk With John Coltrane is actually part of a series from Riverside Records in which the duo's sessions were spread out over several albums, including 1957's Thelonious Himself and 1958's Monk's Music.
By the time of the 1961 release of Thelonious Monk With John Coltrane, Coltrane had exploded on the scene with his own masterworks like February 1960's acclaimed Giant Steps (on Atlantic), so it makes sense that the Riverside label would want to capitalize on that momentum by giving Coltrane near-parity status with Monk in the title of an album that more or less mined the remainder of the sessions that were, as of then, not issued. So high was the caliber of these recordings that Thelonious Monk With John Coltrane features several alternate takes and the three lone early recordings made with Monk's original quartet from the period ("Ruby, My Dear," "Trinkle, Trinkle," and "Nutty").
From Craft Recordings' official press release supporting this reissue, one paragraph not only underscored the impact this music had on the public but on Coltrane specifically, who would in very short order emerge as a powerhouse superstar in his own right: "After the Five Spot residency ended, Coltrane and Monk went their separate ways — each reaching new creative heights and international acclaim in the process. But Coltrane never forgot those influential months with the pianist. As he later reflected, 'working with Monk brought me close to a musical architect of the highest order. I learned from him in every way.'"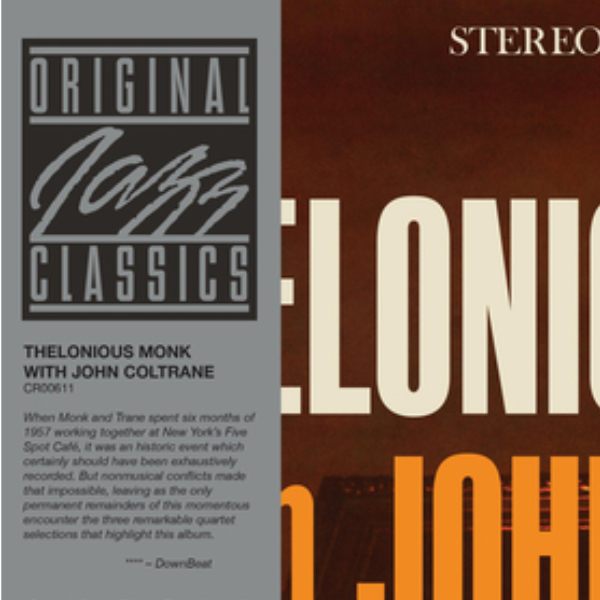 Before I dig in to the further nuts and bolts behind Craft's OJC edition of Thelonious Monk With John Coltrane, here are some of the core stats of note. Originally produced by Riverside Records co-founder Orrin Keepnews in three sessions recorded at the label's New York-based Reeves Sound Studios in 1957, the mono sessions were captured by Jack Higgins, and the stereo tapes were run by Ray Fowler. (More on that mono/stereo split in a bit.) This new Craft Recordings OJC reissue was cut in an all-analog mastering process from the original tapes by Kevin Gray at Cohearent Audio. The 180g vinyl was pressed at RTI, and the covers are designed in a tip-on style similar to the originals, crafted with sturdy cardboard construction. The album itself comes housed in an audiophile-grade plastic inner-sleeve, and the SRP is $38.99.
As for the need for a reissue like this one, it seems pretty clear this edition will fill an important gap in the vinyl-collecting marketplace. First, consider that there are new generations of jazz-loving vinyl enthusiasts, many of whom are in particular fans of Monk and Coltrane. Also, at least in part, we have already seen how some newer enthusiasts don't necessarily like buying used albums like we do — remember, they've grown up listening to basically noise-free CDs and/or streaming services — so, unless said LPs are in utterly pristine condition, certain folks would rather just go directly for the reissue. (I've heard this story from several used record store owners, in fact.) This purchasing practice may assist in explaining some of the ever-skyrocketing prices these days for mint-condition vintage titles.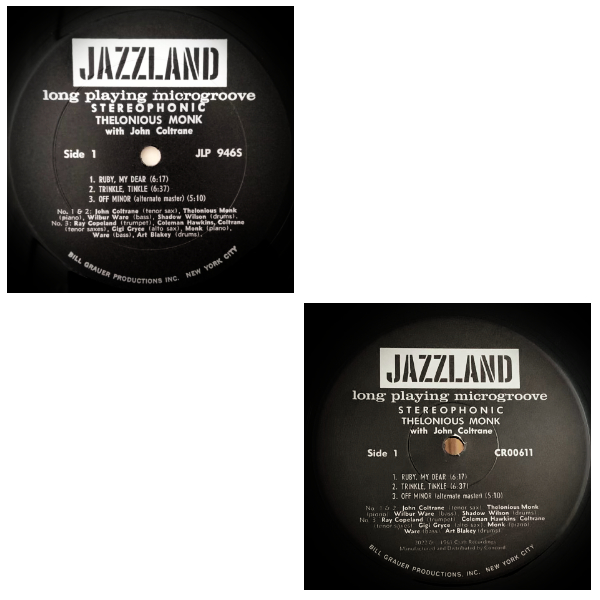 As with many of-era jazz, rock, and soul titles, finding them in great condition on vinyl can be a challenge. For example, a current look at Discogs shows just nine originals of Thelonious Monk With John Coltrane in mostly VG condition, with asking prices ranging between $40 to $100. Most of them are in mono, as only two stereo copies were listed as being available at the time of this posting.
Thankfully, there have been reissues of this album along the way over the years, including a fairly comprehensive 2LP mid-'70s collection assembling most of the sessions. A 2006 2CD edition compiles all the known sessions recordings, including those with false starts. It also appears Analogue Productions reissued Thelonious Monk With John Coltrane in 1997, and the test pressings are selling for upwards of $150 each. The album was also issued as part of the Original Jazz Classics series that came out around 1982, and there is even a fine 2003 SACD version available that I happen to own as well.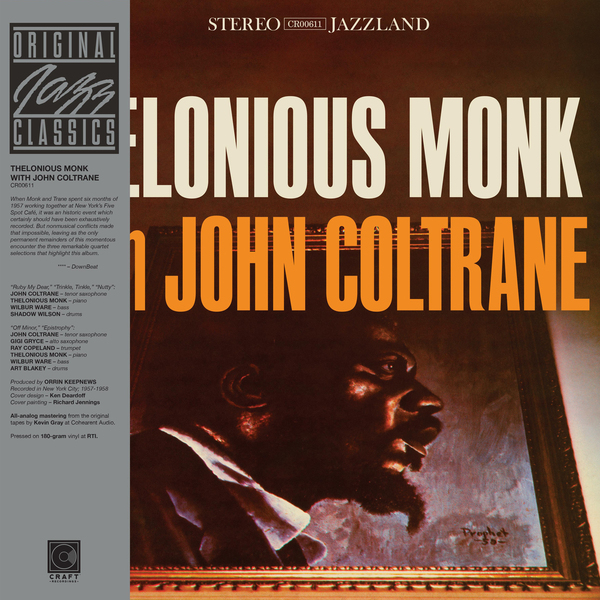 The revived OJC reissue series is exciting to consider because, back in the day, it was a welcome breath of fresh air returning many vintage titles to their rightful place on the shelves. These were well-mastered discs pressed on good-quality, standard-weight vinyl, yet priced very fairly. Fact is, those original '80s OJCs generally sound great. The cover art sometimes left something to be desired since it was usually printed on thin oaktag-type card stock, and the image quality was periodically iffy. However, the OJC releases did typically recreate period-accurate labels, at least.
Given the OJC price level at the time — typically selling for $10, or less — complaints about the packaging were relatively minimal. But when you fast-forward to the here and now, many of those OJC editions from the 1980s are actually somewhat collectible in their own right, with many of them selling for $30-50 a pop, depending on the title.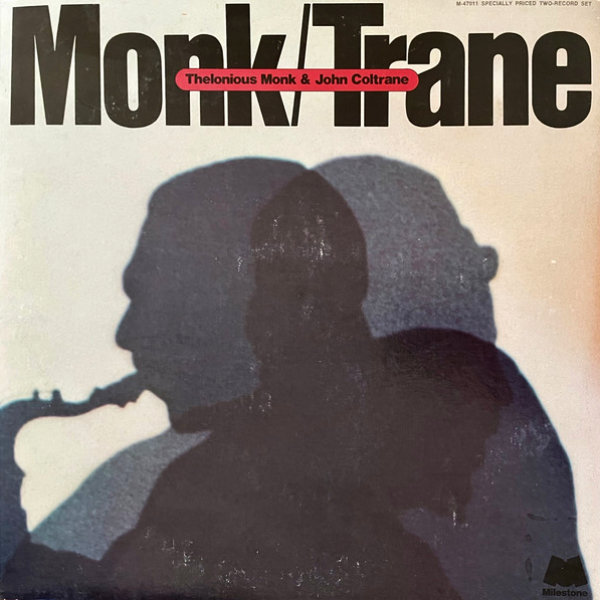 To prepare for this review, I enjoyed several refresher listens to the versions of Thelonious Monk With John Coltrane I have in my collection, including the 2003 SACD, the 1973 budget-priced two-fer 2LP sessions compilation, and an original 1961 monaural pressing on the Jazzland Records label. I also listened to 2006's Thelonious Monk With John Coltrane: The Complete Riverside Recordings 2CD set for additional background preparation.
In general, I am very pleased with this new edition of Thelonious Monk With John Coltrane. The sound quality feels much fuller, rounder, and richer than that of the SACD version — which is comparatively a wee bit brighter. There is some tape flutter apparent on both versions, but it does not feel quite as intrusive and/or apparent as on the SACD, most notably on Side 2's "Epistrophy." The overall flavor of the new vinyl mastering by Kevin Gray felt just right, and in keeping with the original intent of the recordings. My copy of this new Craft Records OJC LP is dead-quiet in terms of disc surface noise. The vinyl is thick, dark, and, most importantly, well-centered.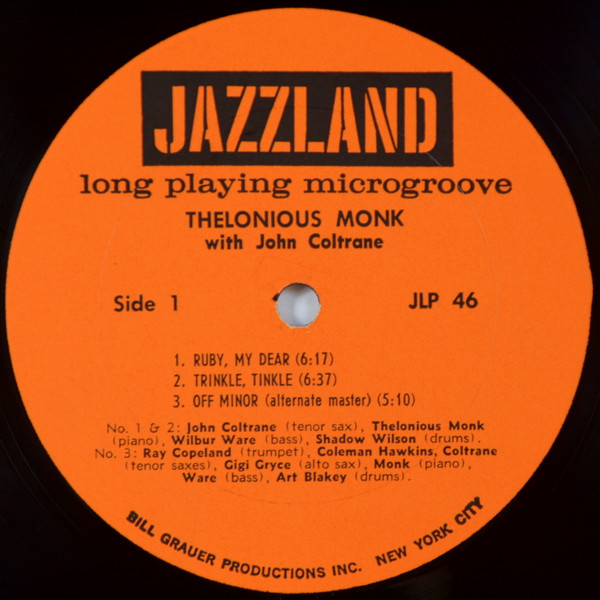 All that said, I must point out a key detail that is not immediately clear about this new edition. Thelonious Monk With John Coltrane is not presented entirely in stereo — despite the labeling to the contrary on the front cover and label. Digging through the liner notes for the Thelonious Monk With John Coltrane: The Complete Riverside Recordings 2CD set, I found — in teensy tiny type that was printed black on red stock for extra unreadability (why do designers do things like this?) — written affirmation that several tracks on this album were only recorded in monaural. Thus, don't be surprised when you hit that first sonic burst as the stereo tracks kick in here.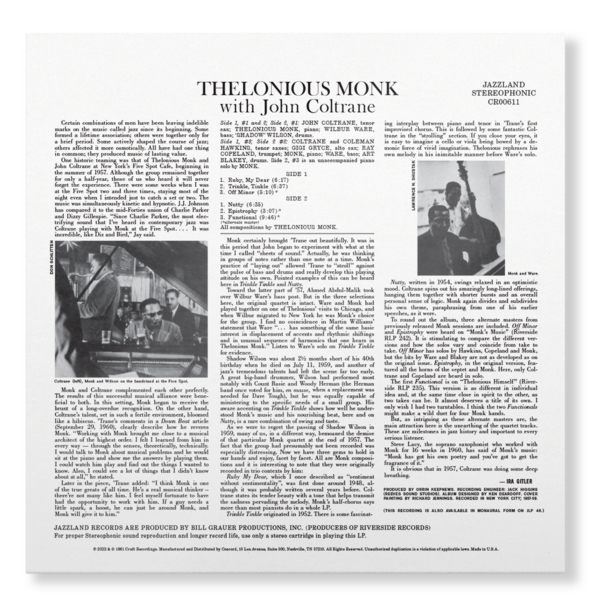 Overall, the new edition certainly sounds more focused and natural than the 1973 sessions LP, one that seems to be presented mostly in mono, and I do very much like the sense of studio presence that comes through nicely on this new edition. The bottom line is this: Thelonious Monk With John Coltrane is essential listening. If you are a fan of either of these artists — or jazz in general, for that matter — then get yourself a copy of this new Craft Recordings OJC 180g 1LP edition today.
(Mark Smotroff is an avid vinyl collector who has also worked in marketing communications for decades. He has reviewed music for AudiophileReview.com, among others, and you can see more of his impressive C.V. at LinkedIn.)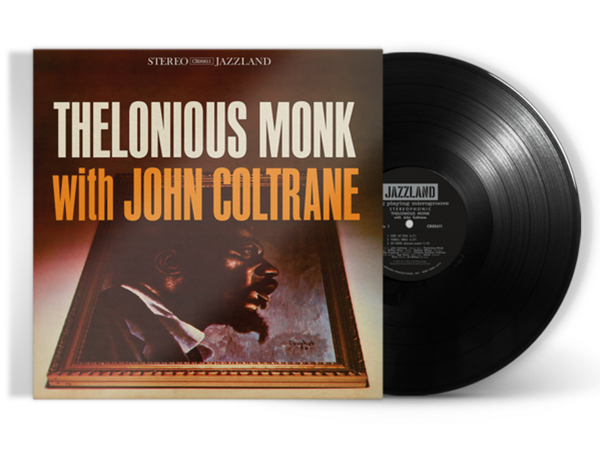 THELONIOUS MONK WITH JOHN COLTRANE
180g 1LP (Craft Recordings)
Side 1
1. Ruby, My Dear
2. Trinkle, Tinkle
3. Off Minor
Side 2
1. Nutty
2. Epistrophy
3. Functional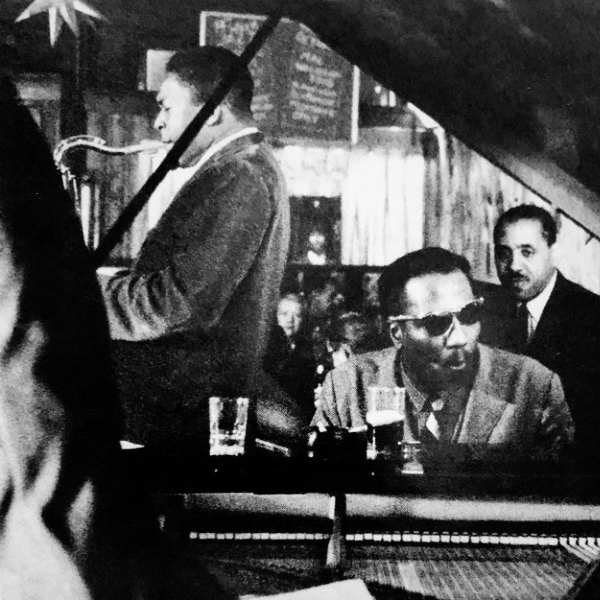 <!- ------------------------------------>