Bach Starker Suites For Unaccompanied Cello Complete Is The Perfect Self-Quarantining Companion
What better time than during a period of self-isolation and social distancing could there be to explore Bach's "Suites For Unaccompanied Cello"? Arguably, there's no finer recorded performances than the ones Janos Starker performed for Mercury Records April 15 and 17, 1963, September 7-8, 1965 and December 21-22, 1965 (though some may prefer other performances by Casals, Rostropovich, Yo-Yo-Ma, etc.). I'm not here to argue with you. The finest version of
these
historic recordings, is without a doubt, this latest one from Analogue Productions and the sound is unassailable.
When Janos Starker passed away in Bloomington, Indiana, April 28th, 2013 at age 88, he left behind a rich legacy of live and recorded performances as well as a lifelong dedication to teaching. He wasn't in Bloomington visiting John Mellencamp. Starker made Bloomington his home to teach at the Jacobs School of Music at Indiana University, beginning in 1958 and continuing until shortly before his death.
He told the Chicago Tribune in 1993 "I personally cannot perform without teaching, and I cannot teach without performing. When you have to explain what you are doing, you discover what you are really doing."
Jewish-born in Hungary in 1924, Starker gave his first cello recital at age 11. At 14 he performed the Dvorak concerto with a symphony orchestra with but a few hours' notice. He later became the principal cellist of both the Budapest Opera and the the Budapest Philharmonic. Towards the end of WW II the Nazis interred him and his parents in a camp. All survived but his two brothers disappeared.
Perhaps that history in part explains Starker's approach to both his playing and how he lived his life (while the Hungarian pronunciation of his name was "Shtarker", upon moving to America he begin pronouncing it as written).
Starker was Kurt Cobain-like: outspoken, unsentimental, and (relatively) hard-living. His playing was uneffusive and his stage mannerisms undramatic. In an interview he once said, "I'm not an actor, I don't want to be one of those musicians who appears to be making love to himself onstage." He avoided excessive vibrato and other "schmaltz-inducing" musical mannerisms, which some critics confused with a lack of passion.
His orderly, "spit'n'shine" tone and almost mathematical phrasing were perfectly suited for these Bach suites and for an audience of rock-attuned listeners interested in exploring new musical vistas, though his more romantic side shone through on his interpretation of the Dvorak Cello concerto.
Starker was also an unapologetic chain smoker (up to 60 a day), scotch consumer and highly opinionated individual who wouldn't hold back, regardless of who might be offended. Excess vibrato, he averred "was like a woman smearing her whole face with lipstick." Of the effusive, highly regarded performer Jacqueline du Pre, who was felled by multiple sclerosis, Starker said "She was an incredibly gifted cellist and a beautiful artist, but I believe she accelerated her own destruction because she expended so much energy in her performances." Starker once walked out of a performance when he was not permitted his pre-concert backstage cigarette.
Perhaps in part because after the war he worked for a time as an electrician, Starker was keenly aware of recorded sound quality and of the differing responsibilities of an artist performing live in concert and in the recording studio. He held in high regard Mercury Living Presence producer Wilma Cozart Fine and engineer Robert Fine, calling Robert Fine in annotation accompanying Speakers Corner's 2004 box set reissue of this recording "…the innovator genius with the microphones." In that fascinating annotation he also salutes this recording's producer Harold Lawrence as "the man with the infallible ear and taste."
I give you all of this fascinating background because I feel if you are going to sit down with Mr. Starker and his cello and spend an evening listening to these records, here spread out at 45rpm over 12 sides, you should, if you're unfamiliar, have at least some of his fascinating background, which I cannot leave without adding two anecdotes. Starker was so insistent on his students' commitment to their art that it impressed Indiana's crazed, chair throwing basketball coach Bobby Knight who invited Starker to address the team. Finally, I don't know if it was taped but if so, I'd love to see it, in an effort to counter his reputation for on-stage aloofness, producer/impresario Joseph Papp created a special touring show for Starker called "An Evening With Janos Starker" in which in between playing his cello, he told classical music "war stories" (Starker famously butted heads with many famous conductors, who he called "the most overrated people in music"), while sipping scotch and smoking cigarettes.
Four Versions
Original pressings of this justly iconic recording were at one point super-costly and perhaps still are for people wanting the original, which was mastered by the legendary George Piros directly from the original 3 track master tapes. Wilma Cozart Fine and Robert Fine's son Tom who supervised the remastering for this set, visited last year (or maybe two years ago?) with the original set and rejected test pressings from this set.
The test pressings and indeed, the entire first mastering, had to be rejected due to noisy Apollo lacquers, which necessitated a complete and costly re-do. Nonetheless, the comparison between the original set and this reissue demonstrated that better mastering, pressing and mixing produced a far superior sounding final product. Not even close.
Producing this set required Mr. Fine to go through all of the original master tapes and clean and repair many old splices, among other prep work. The 3 track tapes were hand-carried to Ryan K. Smiths' Sterling Sound, Nashville mastering suite, where the two went about the process of live mixing to 2 channels the 3 track tape played back on an Ampex ATR100, and without a preview head, manually controlling the lathe's groove pitch, rather than relying on the VMS-80's computer driven system. As with the original, no equalization or dynamic compression were applied but unlike the original, here the set was cut at 45rpm and spread over six 200g LPs and pressed at Quality Record Pressing. Even the clean original Fine brought over was noisy compared to QRP's absolutely silent backgrounds (discounting the defective lacquer "whoosh", corrected on the second go-round).
Two other reissues are out there with many readers who are fans of this set asking if this new issue is really worth getting. Those two sets, one issued in 1978 by Mercury Golden Imports (SRI 3-77002) and pressed in The Netherlands and the other in 2004 by Speakers Corner (SR-3-9016). Both of these reissues were cut sourced from 2 channel mixdowns. It so happens I was at Universal's Emil Berliner Studios in Hanover, Germany in 2003 around the time Willem Makkee was cutting lacquers for the Speakers Corner reissue. Here's a photo of those tapes: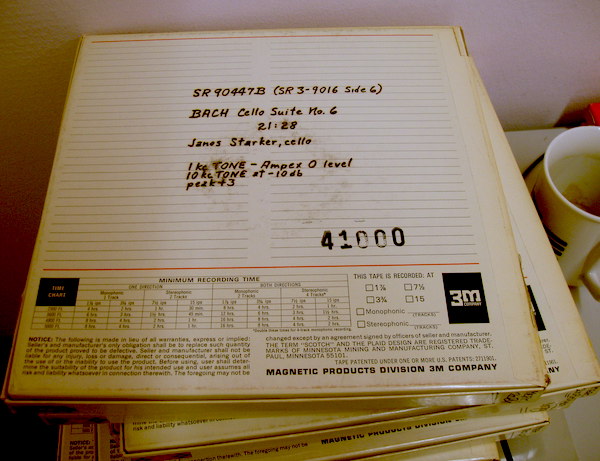 The Golden Import box is still being sold on Discogs for upwards of $200! The Speakers Corner set sells for less on Discogs—around $80. Neither can remotely compare to this new reissue. Both of the sets sourced from the two track mixdown have an odd and annoying "hooded" quality as if the mixdown engineer added mid-bass and the overall sound is somewhat distant and veiled, with obscured textures and overly warm timbre. Also, the Speakers Corner version was cut too "hot" by the late Mr. Makkee, giving the cello a "grinding" annoying quality.
The original sessions were recorded at Fine Recording's Ballroom Studio A in New York City, produced by Harold Lawrence and engineered by Robert "Red" Eberenz. Three Schoeps M201 microphones set in omni pattern were hung across the large reverberant space, with Starker positioned nearest to the center microphone. The microphone outputs were fed directly to the 3 track recorder. You will hear at the beginning of side 1, a bit of "image wander" after which there's perfect focus. You are right there in the room to enjoy the performance as well as the instrument's glorious textural and timbral beauty.
Here are the 3 versions, unidentified, of Suite 3's "Bourrées", which as Peter G. Davis's liner notes indicate are "genial". You be the judge of which sounds best.
I won't identify the turntable or cartridge but I will tell you the phono preamp is the new super quiet iFi Micro iPhono 3 ($999.99) used here with the standard power supply (there's an upgradded one, both of which will shortly be reviewed). The turntable and cartridge cost around $3200 and will soon be reviewed as well.
Analogue Productions' 6 200g LPs in 3 double "Tip on" jackets, packaged in a deluxe slip case box is of the highest quality, making the $179 cost more than reasonable considering the effort that went into its production, especially in light of the prices on the inferior sounding and packaged alternatives. The only thing missing here is the fascinating annotation Starker wrote for the Speakers Corner reissue, for which that label most likely holds the copyright. You can't have everything.
For more information on the production of this reissue, watch the embedded video with Tom Fine:

<!- ------------------------------------>