"Bob Dylan 1965-1966 The Best of The Cutting Edge—The Bootleg Series Volume 12
Recorded music comes to us pressed in plastic and frozen in time. The work leading up to the master often gets lost, tossed or erased and recorded over without a thought that it might be of interest to anyone. That's most often true. Alternate takes, when they do surface, usually make clear why they were passed over in favor of the one programmed into your brain, though there are exceptions.
Bob Dylan is one of the few "song and dance men" (as Dylan once famously described himself in a 1965 interview broadcast on San Francisco station KQED when asked if he considered himself primarily a singer or a poet) where interest is high for every unearthed scrap of tape, scratchy acetate, or piece of paper containing a lyric. The popularity of the previous 11 "Bootleg" volumes attests to that.
For the 12th collection in the series, the producers Jeff Rosen and Steve Berkowitz chose a more challenging task than any they'd previously attempted, which was to collect, catalog and curate every snippet of available music and sound produced by Bob Dylan in the astonishingly productive and creative period between January, 1965 and February, 1966.
Dylan himself probably can't account for how, during those fourteen months, he recorded three albums that changed the course not only of his musical career, but that of popular music itself for decades to come if not forever. Those were Bringing It All Back Home, Highway 61 Revisited and the double elpee Blonde on Blonde.
Of course that's not all he did before a motorcycle accident put a temporary stop to it all (an asphalt collision that at the time conspiracy theorists were certain was faked).
In addition, in the spring of '65 Dylan toured the UK, which resulted in the black and white classic "Don't Look Back". Mid-summer 1965 at the Newport Folk Festival he "went electric", where, to a torrent of boos he changed the course of popular music. That fall he toured America backed by The Hawks (soon to be The Band) to more boos and walk-outs from alienated folkie fans.
He took that tour worldwide in the spring of 1966 to a more receptive audience, which eventually resulted in the double album Live 1966-The Royal Albert Hall Concert and a pair of documentaries.
There were a few other tunes recorded during that period including "Positively 4th Street" and "Can You Please Crawl Out Your Window". The three albums could have been joined by a fourth had Dylan been so inclined.
In their attempt to net it all, Berkowitz told me the word went out worldwide to Dylan collectors and archivists, to bootleggers and hoarders—the fanatics record labels once considered criminal worthy of prosecution for copyright violations. Whatever they ended up collecting from the outside, ultimately, they chose to release only studio-sourced material, most of which was originally found in Sony/BMG's Iron Mountain, PA storage facility, where, over recent years, reels of unmixed three and four track tapes had been removed to Sony's Battery Studios (the former Record Plant) and carefully digitized at high resolution by Mark Wilder, with the resulting files sent to Dylan's west coast headquarters.
In preparation for the production of this "completist" feat, voluminous numbers of rough mixes were sent east, produced by Damian Rodriguez, an engineer at Dylan's facility, who, in his "spare" time had taken on the task. The unmixed files were sent east for the final mixes with Rodriguez's rough mixes used as guides.
Fortunately for music historians and Dylan fanatics, Columbia Records early on understood the importance and significance of this magnetic litter and so kept whole the work tapes, rehearsals, broken and alternate takes, discards and studio chatter preceding and following the music making.
It probably took longer now to assemble, mix and catalog Dylan's prodigious output than it did for him to write and perform it between January of 1965 and February of 1966.
For those who feel they must have it all, it's available in a special collector's edition limited to 5000 copies that includes "every single note recorded by Bob Dylan in the studio in 1965/1966", which means you get every outtake, rehearsal and alternative take, for a total of 379 tracks on 18 CDs as well as a code to download high resolution versions of everything.
It also includes 9 mono 45rpm singles, a leopard skin printed spindle, a 180 page 11"x11" hardcover book and even a piece of original celluloid from a "Don't Look Back" print.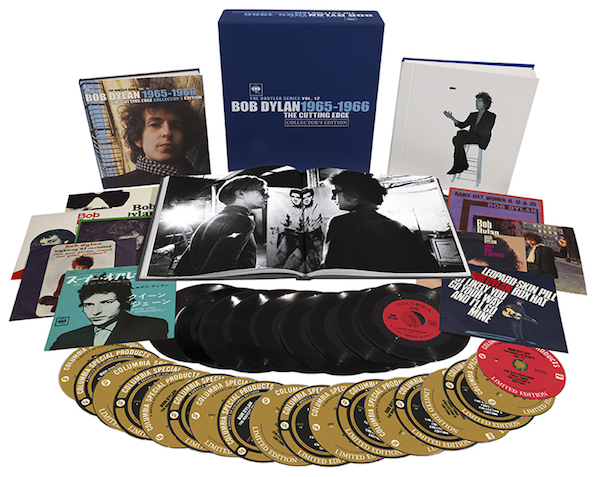 If that's too much for you, consider the "Deluxe Edition" six CD set that features more than a hundred tracks including the complete "Like A Rolling Stone" session, all well-presented in a one hundred and twenty page book-like format.
And if that is too much for you, there's a thirty six track, two CD or three 180g vinyl set (that also includes the two CDs).
The vinyl set's presentation is obviously best, featuring a full-sized book packed with visual "ephemera", easy to read essays and complete track credits. Even the two included CDs have been given full color outer jackets that provide a better visual presentation than do the CDs in the CD set, which come in a blah double jewel case. Nothing here is "on the cheap" and each set has unique visuals demonstrating careful attention to detail. Berkowitz points to Art Director and Package Designer Geoff Gans for the look and feel of all of the various editions.
The vinyl box presentation is absolutely stunning from the high quality hard slip case packaging to the unique individual record jackets and inner sleeve presentation. Which do you think sounds better: Ryan K. Smith-mastered LPs cut from high resolution files or the CDs? Right! Now keep in mind that most of this material was not intended for release and the producers did not attempt to create finished product-like sound. However, everything was carefully mixed from the multi-track files to produce master-like sonic coherence, so don't expect "bootleg-like" sound. It's much better than that. I thought the producer's note about the less than master-take sound was overly defensive. The sound is quite good as if, as the notes say, you are in the control room listening to live playback.
I was given the six CD, two CD and vinyl box for review. I transferred the six CD set to my iPhone and played almost all of it, flying recently to and from the west coast. It kept me fully engaged throughout as it snaked its way through the sessions.
As a musicological journey it was more coherent and seamless than was the three LP/2 CD set, but as listenable entertainment the latter is the winner. No doubt assembling the complete set was a formidable task but probably more difficult was what to edit out to produce the final thirty four tracks in the "best of" set.
Going into the listening, what I most wanted to hear was how Dylan's voice evolved from the spare gravely "Okie" sound to what I call "the surprised Bob" found on Blonde on Blonde that the annotation calls his "elongated purr." No one before or since has sounded like that! Listening to the 6 CD set gives you the best evolutionary transition, though the double CD/3 LP set illuminates it almost as well.
There are so many small, yet exceptional moments here, like when Bob tells producer Tom Wilson (a Harvard educated, black man from Texas who also produced Frank Zappa's debut as well as albums by Cecil Taylor and Sun Ra)—a seemingly unlikely but ideal choice made by Albert Grossman during the making of Freewheelin'after John Hammond fell ill) to slate what became "I'll Keep It With Mine" as "Bank Account Blues", or where he berates himself for a busted take saying (something like) "If I can't get that now, forget it", or when he gets ticked at Mike Bloomfield and give it to him. We never do find out why Wilson cracks up at the beginning of "Bob Dylan's 115th Dream"—a false start that made it to the Bringing It All Back Home because no one remembers.
But those eavesdrops are secondary to hearing how evolving tunes sounded in early iterations. How lyrics changed and became better, how Dylan worked through phrasing and melodic accents. In key places more of the person who is Bob Dylan comes through than does who is the performer that is Bob Dylan and for fans, those moments are revelatory.
There are some finished, perfectly good takes rejected in favor of the now familiar ones, like one of "Visions of Johanna". When I expressed to Berkowitz my fervent preference for the one on Blonde on Blonde, he took strong exception, though he did say opinions wildly varied among those involved in this box set's production. No more "spoiler" details from me. Discover for yourself. If you're a fan, you'll enjoy yourself. If you're not, well, you've probably not read this far.
Vinyl quality is very good but not the best. Memphis Record Pressing produced domestically. Optimal pressed for Europe and I've been told those are somewhat quieter but honestly I have no complaints about the domestic press in terms of both fit'n'finish and noise.
As the liner notes point out, Dylan's "going electric" shouldn't have shocked or upset us. Like most of his generation, Dylan grew up with the rock'n'roll of Chuck, Elvis and Little Richard. Only later did he become a "folkie" and like the rest of us, he inevitably went back! In retrospect then, his "going electric" should not have been all that surprising.

<!- ------------------------------------>