Brad Mehldau Meets The Beatles on Your Mother Should Know, a Live 140g 1LP of Fine Fab Four Reinterpretations (And One David Bowie Cover Too)
Jazz pianist Brad Mehldau launched onto the jazz scene in the 1990s, and he quickly made his mark as one of the more important modern-day jazz pianists of our times. With one foot in the future delivering fresh, innovative ideas and another steeped in the great traditions of the giants before him, Mehldau continues to intrigue and inspire me as a listener.
I first got hipped to the music of Brad Mehldau just before the turn of the 21st Century when a friend told me about his amazing cover versions of songs by Radiohead. Intrigued, my first formal toe in Mehldau's musical waters was in fact a promo sampler CD I found at a used record shop called Deregulating Jazz. This seven-song disc (which I still have in my collection) includes a non-album live version of Radiohead's "Paranoid Android" (from their May 1997 masterpiece, OK Computer). This mini album opened up with a cover of a song by The Beatles — a beautiful version of Paul McCartney's White Album classic, "Blackbird." I was intrigued — and hooked.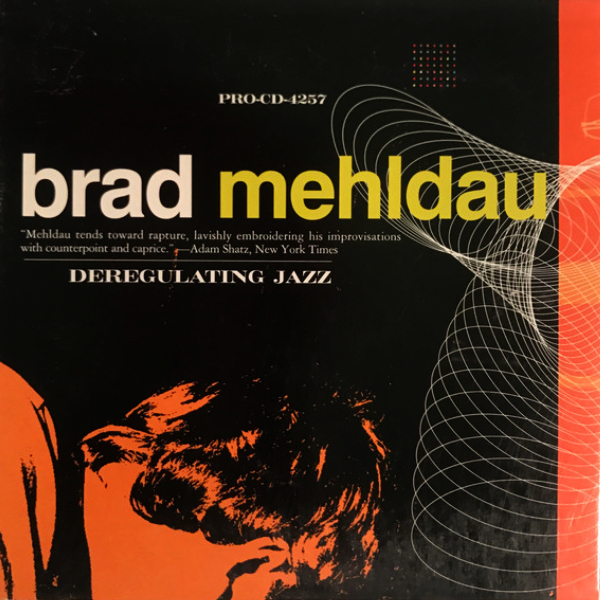 Before too long, I had acquired quite a number of Mehldau's albums, which were only available on CD at that time. Along the way, in addition to his own fine original material, I found yet more interesting interpretations of other artist's music, including several others by Radiohead — "Knives Out," "Everything in Its Right Place," and "Exit Music (For a Film)" — not to mention Nick Drake's "River Man" and many more by The Beatles, such as Sgt. Pepper's "She's Leaving Home."
I found it both exciting and encouraging that a fresh young artist was embracing a tradition established by music legends of the past by reinterpreting popular, present-day music for the jazz universe — and not just exploring the so-called "Great American Songbook" of now-classic standards by the likes of Cole Porter, George Gershwin, Harold Arlen, and others from the past. (And I say this with all due respect to those great composers, who were indeed "present day" entities themselves back in the 1930s, on through to the 1950s).
I can't help but think Bill Evans and Oscar Peterson would totally dig what Mehldau has been doing — and probably Chick Corea and Keith Jarrett would too, for that matter. In fact, it is that lineage that makes me appreciate Mehldau's accomplishments. He has carved out a successful career in a crowded field of top-flight jazz pianists while also moving the artform forward a bit.
When AP editor Mike Mettler told me Mehldau had a new album on Nonesuch featuring Beatles covers called Your Mother Should Know: Brad Mehldau Plays The Beatles, I jumped at the opportunity to review it, and I bought a copy of the LP as soon as I could.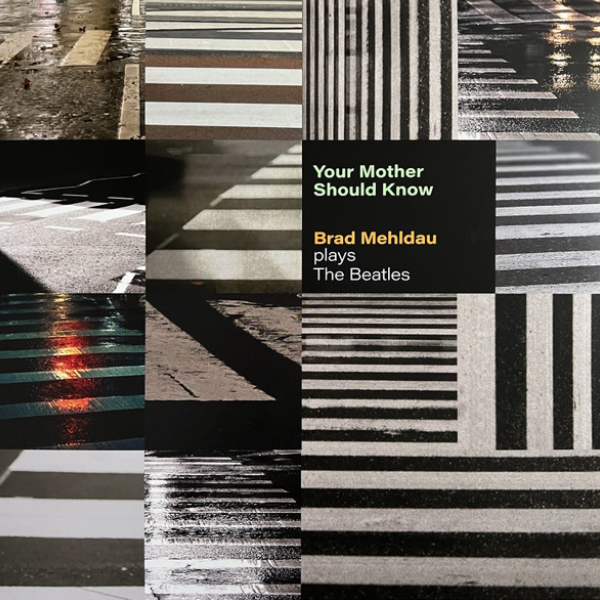 The tech stats are these. Your Mother Should Know: Brad Mehldau Plays The Beatles was mastered by Greg Calibi and Steve Fallone at Sterling Sound. The lacquer was cut at Sterling Sound by JN-H (a.k.a. Joe Nino-Hernes). The album was produced by Samuel Thibault, and it was recorded live at Philharmonie de Paris in September 2020. The SRP for this single LP, which was pressed in The Netherlands, is $24.99.
Before moving forward into the actual review itself, I feel it is important to note this is not by any stretch of the imagination the first time a jazz artist has tackled interpreting Beatles music. There are many, many collections out there. One of my favorites — and arguably the most notable as being one of the first — was recorded remarkably just a month after The Beatles' White Album was released in November 1968. The Charles Stepney-produced (and masterminded) album by Ramsey Lewis called Mother Nature's Son is a fantastic spin. If you haven't heard this album, I recommend it highly as essential listening.
Back to Mehldau. In general, I'm quite happy with the Your Mother Should Know LP, which seems pressed on what feels like standard but high-quality 140g vinyl, which is well-centered and sounds pretty nice overall. Unfortunately, my copy had some passing non-fill issues on Side 2, so be aware of that potential demerit. (I have had issues in the past with other releases on Nonesuch, truth be told, so this is not entirely surprising.) That is the only reason I've given this vinyl pressing a bit of a ding in the numerical Sound rating. Overall, the actual underlying recording sounds quite nice.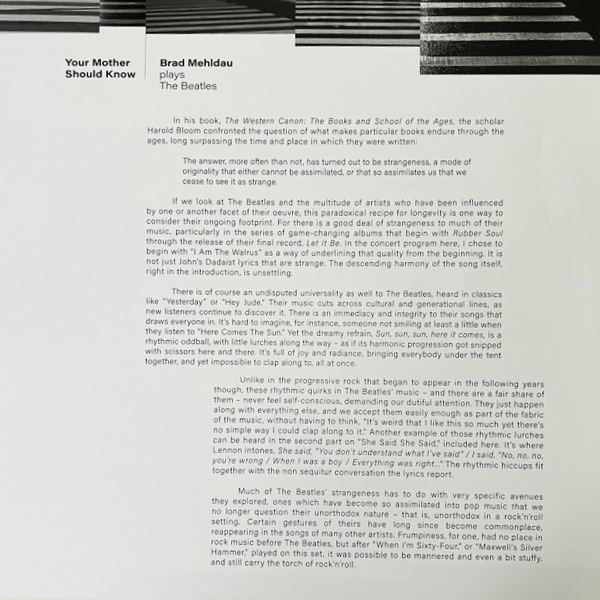 Your Mother Should Know comes with a helpful, album-size liner notes insert sheet with an essay from Mehldau himself, explaining his intent with this music. Here, he talks about not only about The Beatles' music, but that magic connectivity that many artists in the 1960s seemed to have had, inspiring one another to greater heights of composition and production. In essence, it is that special connection between groups like The Beatles, The Beach Boys, and The Zombies (to name but a few) that allows Mehldau to explore their rich compositional nuances in greater detail in an instrumental form.
Writes Mehldau in those liners, "Did The Zombies in turn internalize key tracks from Sgt. Pepper's in a remarkably short time before going into the studio to record Odyssey [sic] and Oracle? I wouldn't dare surmise with any certainty, but I tend to think, no: this was a moment in pop music where something was in the air, mysteriously, and they all caught it." [Mehldau may have inadvertently corrected it in his essay, but the word Odyssey is actually misspelled as "Odessey" in the actual Zombies album title—MM]
Another point in appreciating Mehldau's connection to The Beatles is his reveal of how he discovered them in the first place. Born in August 1970 — four months after The Fabs had split up — Mehldau essentially discovered Beatles music from the artists they influenced. In this case, Billy Joel and Supertramp were his entry points into the Beatleverse, and he worked backwards from there to immerse himself in their catalog.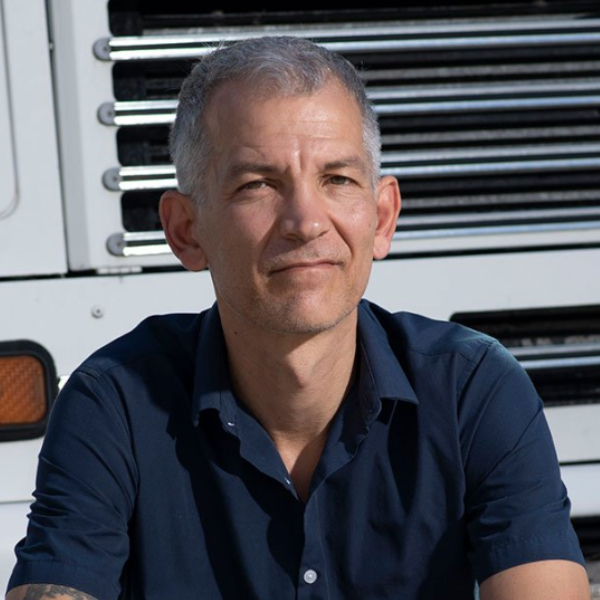 The live recordings on Your Mother Should Know are genuinely enjoyable. This is the kind of album that, although it makes for ideal background listening, displays much more substance for it to hold up under closer scrutiny for more attentive spins.
Mehldau's Beatles interpretations are heartfelt, warm, and passionate. Among the tracks that work the best for me include Mehldau's expansive wonderment exploration of "For No One" (originally from August 1966's Revolver). I love how he takes the swing and sway of "Baby's in Black" (originally on December 1964's Beatles For Sale) and transforms it into a gospel-like hymn. George Harrison's "If I Needed Someone" (from December 1965's Rubber Soul) is morphed into a meditation, which at times had me feeling like I was listening to somehow near-Bach-like music.
For what it's worth, not everything here worked for me 100 percent. While I dig how Mehldau dissects "Maxwell's Silver Hammer" (from September 1969's Abbey Road) down to its stride-like roots and starts to take it towards a Monk-like deconstruction, for some reason, it felt like he could have taken it further out still. Nonetheless, "Maxwell's" still has beautiful portions, especially towards the end. Perhaps Mehldau wisely put that song right before the Abbey Road mini-epic, "Golden Slumbers."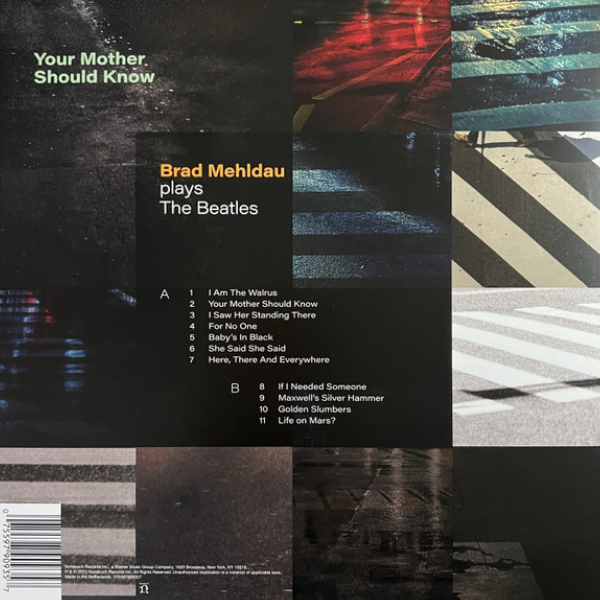 The only thing about this album I find a bit odd is how Mehldau didn't include the prior Beatles tracks he has covered over the years like "Blackbird," "She's Leaving Home," "Mother Nature's Son," "Dear Prudence," "And I Love Her," and "Martha My Dear." Doing so would have enabled this collection to be presented as a very nice 2LP set. Maybe someday, Mehldau will issue a special expanded edition compiling all those Beatles tracks for, say, a Record Store Day release.
Instead, Your Mother Should Know ends with a non-Beatles track! In his liner notes, Mehldau explains the logic of including David Bowie's "Life On Mars?" (originally from December 1971's Hunky Dory) — which itself was an encore to these live performances — as an example of "a new kind of melodrama in pop music" that became possible due to The Beatles. This next-gen music was delivered to audiences via artists like Queen and David Bowie — and, subsequently, the aforementioned Billy Joel and Supertramp, among others.
Earlier in the liners, Mehldau makes the point of how the swirling diversity of The Beatles' White Album opened the possibilities of what artists could do with a rock album, pointing to Pink Floyd's March 1973 benchmark The Dark Side of the Moon as one example of that promise fulfilled. In that context, then, this Bowie cover does indeed make more sense.
(That said, I do have to wonder if Mehldau — who, in the liners, offers kudos to Rick Wakeman, who played piano on Bowie's original studio recording of the track — has also heard Wakeman's loving tribute to the artist in a wonderful solo piano rendition of this very song, following Bowie's 2016 passing.)
One of the side benefits of tackling a review like this one is I've realized there is so much more of Brad Mehldau's music I have yet to hear and must catch up on. While many of our respective worlds have been spinning madly and seemingly out of control these past several years, Mehldau has instead been pushing forward at an incredibly prolific pace. Just looking at his discography, I see many more albums I know I must dive into soon. Having done that, I'm also reminded of a line from John Lennon's "Beautiful Boy," a touching tribute to his then-young son Sean from November 1980's Double Fantasy: "Life is what happens to you / While you're busy making other plans." Hence, it is high time for me to make more time for Brad Mehldau's music in my own listening universe — and perhaps you should too.
(Mark Smotroff is an avid vinyl collector who has also worked in marketing communications for decades. He has reviewed music for AudiophileReview.com, among others, and you can see more of his impressive C.V. at LinkedIn.)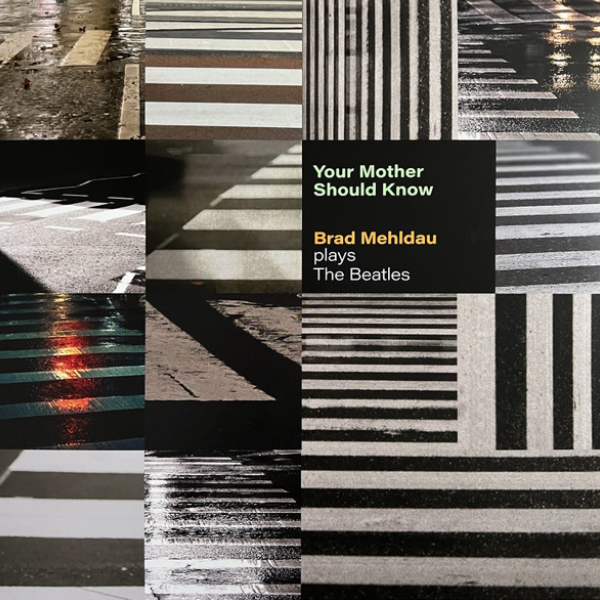 BRAD MEHLDAU
YOUR MOTHER SHOULD KNOW: BRAD MEHLDAU PLAYS THE BEATLES
140g 1LP (Nonesuch)
Side A
1. I Am the Walrus
2. Your Mother Should Know
3. I Saw Her Standing There
4. For No One
5. Baby's in Black
6. She Said She Said
7. Here, There and Everywhere
Side B
1. If I Needed Someone
2. Maxwell's Silver Hammer
3. Golden Slumbers
4. Life on Mars?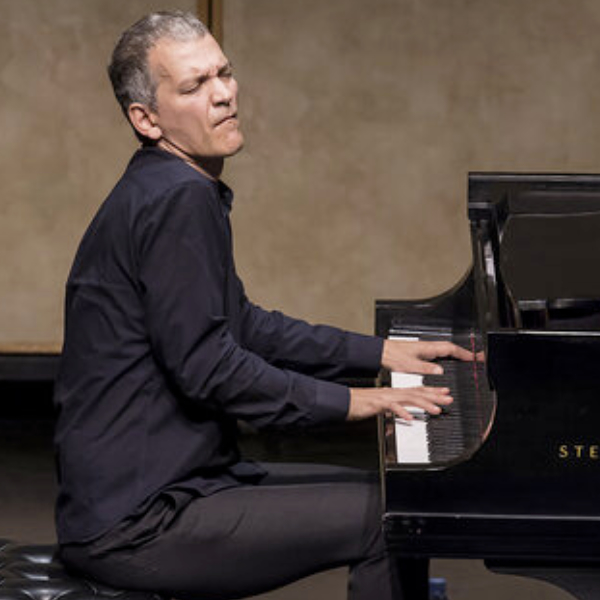 <!- ------------------------------------>