Brian Wilson's And Van Dyke Parks' Orange Crate Art Makes Vinyl Debut
This year, Brian Wilson and Van Dyke Parks' 1994 project,
Orange Crate Art
, turns 25 years old. To celebrate, Omnivore Records has reissued and remastered the album and brought attention and care to a somewhat disremembered historical artifact created by two musical luminaries. Of note, Omnivore's campaign is the first time this album has been released on vinyl.
Orange Crate Art is more than just a good album. It's a wide-screen cinematic experience shot in 70mm Panavision. It's big and bold; ambitious and American. Seated in the director's chair is Van Dyke Parks. Of course, an epic like this must cast a legendary and bankable star with enough mythos to support the weight of such a blockbusting endeavor: enter Brian Wilson.
Flashback to 1992: Parks composed an ode to turn-of-the-century California and knew it was Wilson's voice that would bring it to life. Their relationship began in the late 60s when Wilson asked Parks to work on the Beach Boys' fabled SMiLE sessions. By the early 90s, the tables had turned: Parks approached Wilson and found him in a rather dark place as Wilson had just recently become untethered from his controversial psychotherapy treatment with Dr. Eugene Landy. Yet, Wilson was able to overcome his personal challenges and jump into singing Parks' intricate compositions, harmonies and arrangements with precision and energy.
Orange Crate Art's title track offers rolling vistas of the Golden State: "Orange crate art was a place to start / Orange crate art was a world apart / Home for two with view of Sonoma / Where there's aroma and heart / Memories of her orange crate art." These lyrics, coupled with breezy, nearly baroque, music recall a West Coast dusk. Parks' lens captures detail, there is a "rocking chair" and "barnyard gates" which need "repair." Of course, a winsome "lonesome locomotion roar" can be heard in the distance; Steinbeck's Grapes of Wrath even gets a mention. These almost imagistic lyrics are propelled by Wilson's unique voice—in several-part harmony—lending authenticity and that warm California Beach Boys' heart.
Thematically, the album relishes nostalgia and sunshiny escapism; California is the main subject, but a strong equatorial element also pervades. "Sail Away" imagines fading away on a tropical island breeze. "Wings of a Dove" embraces the restorative qualities that a rainstorm of biblical proportions can bring. Existential starlight gazing in an Asian mode imbues "Palm Tree and Moon". Longing and sentimentality of days gone by permeate the bouncy evening strut of "Summer in Monterey": "Monterey / I would love the crazy world to always stay that way / Ocean breeze breaking seas / Out on the rocks around the widely curving bay / Summer in Monterey."
The film analogies reach their pinnacle with "Movies is Magic". Parks has the compositional and arranging chops to support this silver screen fantasy, even nicking a bar or two from Strauss' Thus Spoke Zarathustra perhaps with a winking nod to Kubrick. Utilizing a 50 piece orchestra doesn't hurt either in what Parks describes in the liner notes as, "conceivably the most expensive minute I've ever spent...and I've had surgery in Beverly Hills." Parks references the comforting illusion that film provides while Wilson's voice authenticates the magical illusion with those smiley, sunlit harmonies. Yet, a cold reality lurks in the periphery, "Movies is magic / Real life is tragic / Fundamental though it seems / When you're living in your dreams / And you wake up / It's over."
Sure, some of the 90s keyboards stand out, but they kind of work: even back in '94 there was a right way to utilize digital keyboard technology and a wrong way. Parks knew what he was doing, he used the keyboards in the right way. No one listens to "Good Vibrations" and says, "sheesh, cool song, but that Theremin sounds so dated." The keys don't take the listener out of the moment. Rather, they add an era-appropriate artifact that lends a degree of coziness to the production.
Recorded in the early 90s, many of the original tracks were recorded in analog. Parks explains, "In all, I prepared each piece digitally, in sequences" which were then, "pre-programmed to audition the keys of each for Brian. This was pre-Protools technology." After it was decided what would work best for Wilson's vocals, Parks then, "bounced each to 24 track 30 ips master tapes for all further analogue recording of instrumental and vocal sessions. The mix itself was on to two track 30 IPS tapes and from thence to digital."
The original release was mastered by Wally Traugott. For Omnivore's reissue, Grammy award winning mastering engineer and restoration ace, Michael Graves, was given the remastering task. Graves detailed the sources that he worked from, "192 kHz / 24bit, digitized from the 1/2" master tape running at 30 IPS, played back on an Ampex ATR-104." He further explains his experience working on the digital/analog hybrid of a project, "The 1/2" tape source is a little deceiving since the original recording was a mix of early digital and analog. One might think that since the files I had to work with came off of tape that they would have a nice analog glow to them. They actually sounded a little thin. Don't get me wrong, everything about this recording is amazing, it just needed a little TLC. My job was just to warm it up and keep all that beautiful dynamic range." If that was his aim, then Graves hit the mark.
Just because a film was shot in 70mm Panavision doesn't mean you can watch it that way in your living room. No, to get the full effect, you'd have to view it in a theater supporting such technology. The same is true of Orange Crate Art: digital fans can enjoy the CD because it sounds very good. Currently, no hi-res files are commercially available. But, if you really want the expansive Orange Crate Art experience, get your hands on the brand-new vinyl release. Wilson's vocals sound more relaxed. In fact, on record, the entire production takes on a more laid back approach. It's a looser, slightly jammier amalgamation of the album's precise production and taut arrangements. Simply put, having music of this caliber mastered so well and so marvelously pressed onto vinyl is a luxurious treat.
Omnivore released 300 orange and green vinyl variants that quickly sold out. This reviewer heard a clean, flat and quiet black pressing with "J Powell" in the deadwax (OVLP-373). Graves sheds light on the vinyl transfer, "I supplied Jeff Powell at Take Out Vinyl in Memphis with my 96/24 masters to cut the lacquers with." While the project contains new liner notes by Parks and Wilson, there is no lyric sheet which is disappointing as one of the reasons Parks' connected with Wilson in the first place was because of his lyrical abilities.
This reissue reveals three "previously unissued extra oranges": a truncated vocal harmony take on Gershwin's Rhapsody in Blue, a rendition of George and Ira Gershwin's "Love is Here to Stay" recorded for then departing Warner Bros. Records chairman, Mo Ostin, and a version of "What a Wonderful World". CD Disc two contains previously unissued instrumental versions of the entire album. Sorry, vinyl fans, while the extra songs are included, you'll have to add the CD to your shopping cart to hear the instrumentals. Michael Graves explains why you'll want to hear the "extra oranges", "I had a guest visiting the studio when I was working on this. He asked if he could hear some, so I played a little bit of Rhapsody In Blue. After a bit I stopped the track, turned around to see what he thought. He had tears and was wiping his eyes. He kinda laughed it off and said, 'Sorry man, that just took me right back to my childhood.'"
When Brian Wilson's voice is recorded it is a matter of historical significance. Here, notably, Mr. Wilson was in a transitional period of his life and working with Van Dyke Parks was an important nod to his musical legacy. One could argue that this project may have inspired Wilson to revisit in 2011 the abandoned SMiLE sessions with Parks. It may have also prompted Wilson to begin a journey of triumphing over years of stage fright to return to the stage and perform his classic music in front of audiences.
Much of the lyrical content of the album taps into a sort of misty, glowing memory anchored in a pseudo-tropical American escapism. Such reminiscing threatens to stir up mixed emotions relating to our collective national identities; the good old days weren't always good. But Orange Crate Art doesn't profess to be a warts-and-all history lesson. On the contrary, its goal is to recall a certain bespoke vision of idyllic America, like one that you might find painted on the side of one of those old orange crates - or, perhaps painted on the side of an old "Peaches Records and Tapes" crate. By that measure, the album succeeds. As Wilson explains in the new liner notes, the songs are, "about the old times, getting out of the modern world to the old California." With all of these mythical characters, locations and such a masterful musical soundtrack, the filmic quality of the project becomes apparent even though some of our disbeliefs may no longer be suspended. A quote from the conclusion of John Ford's, The Man Who Shot Liberty Valance (1962) comes to mind: "When the legend becomes fact, print the legend."
Words aren't necessary on the album's proper closing song: a wonderfully rich and beautiful rendition of George Gershwin's, Lullaby. Its inclusion could insinuate that Parks was the whole time aware of the dualistic nature of his piece. On one hand, Orange Crate Art is a rosy depiction of salad days gone by, on the other, it's obvious that those days could have never been so carefree; there is a hint of dark self-delusion. Lullaby serves to put the album to bed on a beautifully wistful note, but it also signals the inevitable dark that comes with any conclusion. The sun has slipped just below the horizon, and Gershwin adds a dreamlike, twilight quality to the entire production and hints that the time has come to quiet the sentimental trip down memory lane and drift into nothingness. After all, just like the movies, it's just muslin backdrops, makeup and lighting.—Evan Toth
Evan Toth is a songwriter, professional musician, educator, avid record collector and hi-fi aficionado. He also hosts and produces The Sharp Notes on WFDU, 89.1 FM each Saturday evening at 6pm. Follow him at the usual social media places and learn more on his website.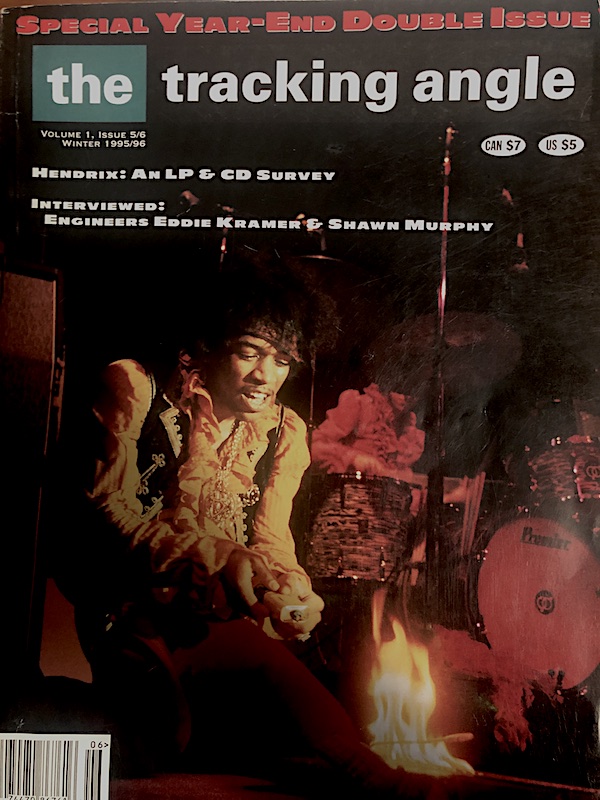 The Tracking Angle Vol.1, issue 5/6, Winter 1995/96 included Michael Fremer's original review of the Orange Crate Art CD. Here's that review to accompany Evan Toth's excellent coverage of the vinyl reissue:
When I was a child, I had a middle aged second cousin Sophie who lives in faraway California. She came to visit one cold New York winter in the late 1950s, bearing crates of tissue wrapped oranges, and jellies and jams from a place with a magical name: Knotts Berry Farm. The Golden California sun has somehow made the oranges more orange than the ones we get from Florida, I noted.
Even cousin Sophie seemed transformed by her time in California: while most of my first generation immigrant relatives had that austere, crabby Eastern European disposition (you'd be "short" too if half your family had been wiped out in the Holocaust) cousin Sophie seemed, well, sunny.
Then there were the television images of California: the Mouseketeers, Disneyland, Hollywood and Vine, the Rose Bowl "Tournament of Roses Parade", the Academy Awards–even the Hollywood Ranch Market, which Steve Allen used to use as a prop on his television show, reinforced the images of abundance. In the early 60s, the Beach Boys tied the images into a neat, bright package and rode the California wave around the world.
By the time I got to L.A. in the late 70s, most of that world was already gone, though a sleepy, funky corner outpost remained on the ocean in Venice where I settled (that is, when the search light equipped police helicopters weren't nightly circling overhead).
When I hightailed it back east in 1986, whatever remained of that world had all but disappeared, smothered by suburbs, sewage, prop 13, automobiles, air pollution, too many people, and on every corner, those pastel towered minimarts.
This Brian Wilson/ Van Dyke Parks' project "Hold(s)) Back Time", as one song is called, returning the listener to those magical, clear skied, sun-soaked days, in a misty eyed, warmhearted song cycle of California nostalgia.
It's the California of a pristine Anaheim; of rolling orange groves surrounded by snow-covered mountains—the California Van Dyke Parks briefly touched on in his 1968 classic Song Cycle,(Warner Bros. WS 1727) in tunes like "Palm Desert" and "Vine Street", written by Randy Newman— a California Parks never knew either. He grew up elsewhere. It may never have really existed except in the hearts of outsiders, but it's sure fun to relive again in these songs.
The music is pure Parks-ian, with ingenius, sliding minor key cascading melodies set off by swaying palm trees and tropical sounding orchestrations. Grand in scope, but warmhearted and comforting in demeanor, the musical field is pre-rock and roll, with sweeping, curvaceous tango gestures and a childlike innocence.
Wilson handles all of the vocals, sounding gratifying supple-voiced, especially in the upper registers, where, amazingly, he's given nothing away to time, or his years of devastating personal problems. His self-harmonizing positively soars, giving Parks' songs the authentic, warm sunny readings they demand.
While this is no audiophile spectacular, with crunchy drums and a rather flat, airless and un --involving digital sounding soundscape, there is good focus, plenty of deep space, and sparkling highs. It's too bad the overall sonic feel is DIGITAL with a capital "D"—anything but warm and inviting. And if it ain't DIGITAL it sure sounds it!
The last track, an instrumental, is a rare Gershwin tunes found in a cardboard box in 1965 when Warner Music took over the Gershwin musical estate. It's lushly orchestrated and provides a nice capper to a magical set, which only a dick-head won't like.
Far better sounding, is the warm, warm, warm soundtrack to the documentary "I Just Wasn't Made For These Times", produced by Don was and Brian Wilson (MCAD 11270), which features remakes of Wilson classics like "The Whole World", "Caroline No", "Do It Again" with Carney and Wendy Wilson, and the cosmic "'til I Die".
And worth searching for in the used bins: 1970's Sunflower ( Brother/Reprise RS 6382), which includes the following technical note on the back cover: "The songs on this record were recorded in true stereophonic sound; they are not 16 monophonic signals placed somewhere between right and left speakers blended together with echo, but rather total stereo capturing the ambience of the room and the sound in perspective as her naturally by the ear. Although more difficult to perfect, this type of recording is far more satisfying to hear, as will be demonstrated upon playing this album." Right arm! (original ratings music:9, sound:8).

<!- ------------------------------------>