Buffalo Springfield "What's That Sound?" Box Set —A Reissue Done 100% Right!
The Buffalo Springfield box set reissue fans have long awaited is finally here and it was well worth waiting for. Neil Young points out in the enclosed heavy paper full color "one sheet" that all five records were cut directly from the
original
master tapes, not tape copies. Each record has a Neil-created "SPARS code".
The five records are the original mono and stereo mixes of Buffalo Springfield and Again plus the group's finale Last Time Around, which was never mixed or issued in mono. As Neil acknowledges: "By this release, the band was broken up and most of the songs were finished by their writers working without other band members." That didn't make it an any less worthwhile Buffalo Springfield album just as was The Beatles (The "White Album"), also done mostly as "solo projects" with other Beatles pitching in.
The set comes in a sturdy foil/paper covered box with paper on cardboard "Tip On" jackets that are indistinguishable from the originals (except for the catalog numbers and the "SPARS" code) as are the Atco labels. Chris Bellman cut lacquers at Bernie Grundman mastering. Neil claims for each record that it's "superior to any pre-existing version, including the first edition. The sonic landscape is as it was in the beginning especially on the vinyl version. That version is superior. The CD version is good too, better than any previous edition." It's easy to read between those lines. For Again he adds "This is the best-sounding Buffalo Springfield album". I agree.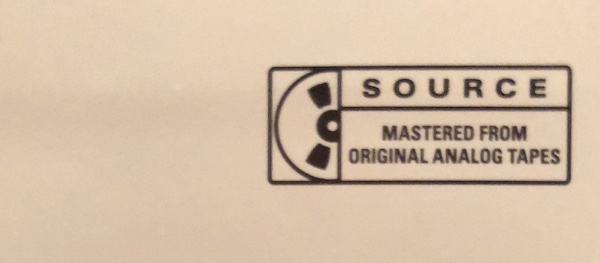 Neil's "SPARS" code every label should use!
I have originals of all of these. As Neil writes about the debut "The bass, which was low in the first releases is now back the way it was in the studio." The eponymous debut album, mono and stereo, and Last Time Around sound so far superior to the originals, if you're acclimated to those, these will be revelatory. Ditto Last Time Around.
There are two "original pressing" versions of Again: one cut at Atlantic and one cut at Columbia with Columbia type numbering stamps (I have a 1A). Even though both versions have the original labels and are probably sold as "original" on the used market, the Columbia mastering is awful. If that's what you've got, you really haven't heard this record. However, while the stereo reissue is excellent, there are aspects of the original Atlantic mastering, particularly the top end, that I prefer on the original. That said, the reissue is superb, with greater low level detail, better bass, greater dynamics and a rich, full midrange (on some systems that Atlantic original will sound overly bright).
About the debut Neil writes "Our managers were producing us. We did not know much about making records and neither did they. The recording has flaws, but the songs were good." The mono mixes of the first two album are superior, particularly of the debut, which sounds as if "stereo" was an afterthought produced, much like early Beatles albums by arbitrarily assigning individual tracks (probably from 4-track) left and right.
As many of you are aware, after the release and success of the single "For What It's Worth", the first album was reissued to include it. The box handles that by issuing the mono version with 13 songs opening with "Go and Say Goodbye" and closing with "For What It's Worth". The original mono contained 12 songs. Here "For What It's Worth" is tacked on as the final tune. The stereo reissue mirrors the second version of the original, which omits Stephen Stills' "Baby Don't Scold Me".
Both Stills and Young demonstrate considerable and tuneful songwriting skills on the debut, with both bringing folk, jug band and country elements. Plus of course you had three great guitarists, each of whom could also sing. Young's enigmatic song titles immediately stood out back in 1966: "Nowadays Clancy Can't Even Sing" (a waltz!) and "Flying on the Ground is Wrong" in particular and his singular style, while not fully formed was sufficiently well-developed to stand out though Richie Furay handled the vocals on both of those. "Flying on the Ground is Wrong" is a lesson in sophisticated Brill Building Top 40 melody making with glints of Bacharach/David that still fascinates. Neil was listening and absorbing. His earnest vocal on "Leave" is a highlight. The album also echoes the spirit of the early "60's "folk revival" gone by the second album. And of course "For What It's Worth" is the song of rebellion and paranoia that never dates. Now's a good time for it!
Again of course is the group's masterpiece and it's been fun over the years to go back every so often to the long list of people thanked on the back cover to see who's newly familiar, many of whom were unknown to me in 1967 and some of whom seemed like odd ones to include (George Romney?, Lester B. Pearson?). But there's Roy Orbison, Bert Jansh (sic), The Monkees (individually named not the group—Stills had auditioned for the group but was rejected), Clapton, Hendrix, Pete Seeger, The Kingston Trio & John (Stewart), plus, The Byrds, The Dillards, Ray Brown and John Coltrane (etc.). Drummer Dewey Martin had played with the Dillards and Patsy Cline among others.
"Mr. Soul", "Broken Arrow" and of course "Expecting to Fly" announce Neil Young's emergence as a major artist as do "Bluebird", "Everydays" and "Hung Upside Down" for Stills who wears on his musical sleeves his jazz influences—especially on "Leave", which also quotes "Day Tripper" directly and Roger McGuinn somewhat more obliquely.
Furay's contributions, "A Child's Claim to Fame", "Good Time Boy" and especially the striking ballad "Sad Memory" are equally strong. An album of great tunes and no duds or filler. This is an atmospheric, superbly produced late night album I've been playing often since it was first released and never tire of listening. "Expecting to Fly", with Jack Nitzsche's Spectorish arrangement and Bruce Botnick's atmospheric engineering is the album's show stopper. It opens with the song's fade-out tacked onto the beginning playing backwards. What were they ingesting when they thought of that? (It's probably answered somewhere on the Internet but I'm not looking). Again, the mono mix, which must be pretty rare because I've never seen a copy, is arguably more "in the pocket" than the flashier stereo mix. Fans of this album need to hear it in mono!
Young was mostly gone by Last Time Around, with bassist/recording engineer Jim Messina producing (you can find online the soap opera of a story, which involved drug busts, disturbing the peace arrests, deportations and interesting musical substitutes). Nonetheless, Young's two contributions, the haunting "On the Way Home" and the tender "I Am a Child" are standouts. Stills contributes more strong, sometimes jazz-tinged tunes plus the salsa-hot "Uno Mundo", Messina adds a Spoonful-ish "Carefree Country Day", while Furay steps up with the moody "The Hour of Not Quite Rain" and the countrified closer "Kind Woman". Last Time Around may not have been a legitimate group effort but it sure holds up well over time.
This beautifully produced box set is also very reasonably priced (I bought my copy) and well-pressed, I believe at Pallas. Highly recommended! (Note: "10" for sound is based on the reissue sound quality, not necessarily outright sound quality).

<!- ------------------------------------>