Buzzcocks a different kind of tension Reissued by Domino
Domino has just re-issued two of The Buzzcocks' four albums with the sticker on the masterful classic
a different kind of tension
reading "Sourcing the original ¼" tapes for the first time since the original 1979 release."
Sound familiar after the Birth of the Cool sonic disaster? Yes, again we don't know if that means cut from tape or cut from digital. However, in this case whatever mastering engineer Tim Debney did (cut lacquer from tape? did digital transfer used by anonymous lacquer cutter?) he or they did it correctly because I compared my original U.K. George Peckham "Porky Prime Cut" version (United Artists UAG 30160) with this reissue and with the original Japanese pressing (UA GP 776) and with the American original (IRS SP 009) and, as the sticker also says "…at last (it) sounds like it was always meant to"….(and originally did!). This is a 100% successful reissue in terms of sound quality as well as packaging.
I'm no Buzzcocks newbie. I've got all four of their albums, the first three on original U.K. United Artists pressings and the supercharged American singles going steady (IRS SP001) compilation, which was the first Buzzcocks album released in America. That's the other new Buzzcocks reissue from Domino.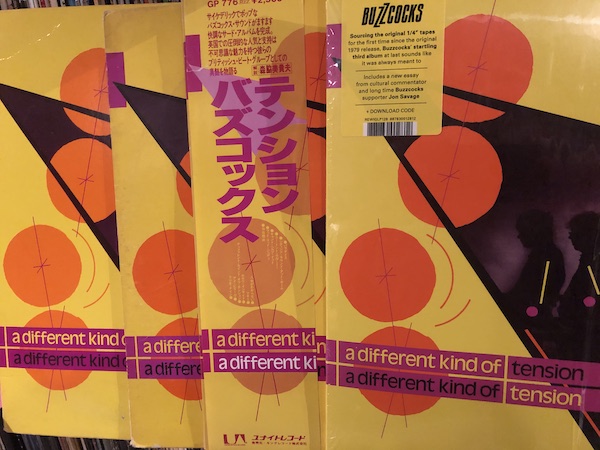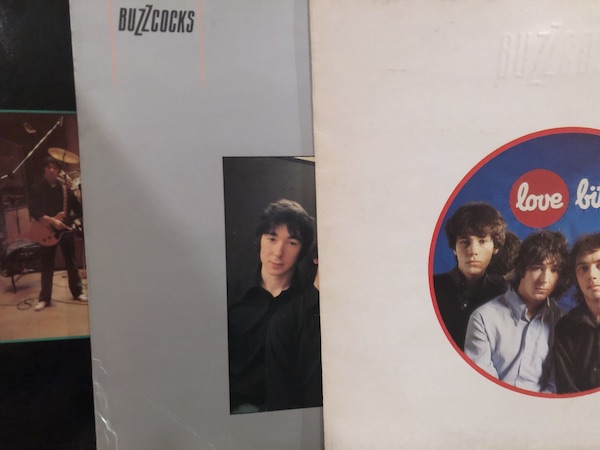 So, yes, big long time fan here.
Band leader Pete Shelley died of a heart attack last December 6th, age 63. If you don't know the band, there's almost a direct line between The Buzzcocks and Green Day. Like Green Day's Billie Joe Armstrong, The Buzzcocks' Pete Shelley wrote melodic, sometimes sweet, most times vulnerable supercharged punk songs about, among other things, romance gone wrong and of course alienation. In Shelley's case, that was partly driven by his bisexuality, which he wore more matter of factly in some of the lyrics than held up like an advert as some other rockers chose to display it— though on the title tune of Shelley's 1981 solo album Homosapien he was rather out front about it. The tune, which was a hit in Australia and Canada was banned by the BBC because of the lyric "Homo superior/In my interior". Not even Bowie went that far!
It's only in retrospect that Shelley's eschewing gender specific pronouns in his lyrics makes obvious where he was then sexually, and what might have motivated some of those lyrics. The title of the song "Ever Fallen In Love (With Someone You Shouldn't've?)" as it turns out, was from a line of dialog in the movie version of "Guys And Dolls". Shelley later said it was about a guy he had lived with for more than half a decade.
a different kind of tension is the perfect Buzzcocks intro album. With the great Martin Rushent producing and engineering, the band went for a new recording technique putting down just bass and drums instead of the usual full backing track approach and then they'd splice things together cutting and pasting while leaving room in between for interesting guitar breaks and the like.
The album's lyrical themes go from alienation and a dissociative state to rejection to emptiness and finally to a complete breakdown and loss of control. Side one's highlights include "You Say You Don't Love Me", a forlorn, puppy dog of a song about rejection with a heartbreaker of a minor key bridge backed with flanging: "I don't want to live in a dream, I want something real, And I think I understand now The Way That You Feel".
Steve Diggle, the band's other guitarist gets in a few tunes including the positively hetero "You Know You Can't Help It" ("You know you can't help what's between her thighs") but Shelley ends the side with "Raison D'Etre" with lines like "You're Always on my side boy When it comes to playing games of who we are We never find out why though That our own raison d'etre we can't see…You're my number one But if you're not late Then I guess you never come."
If side one's about love-tension, side two is all about Shelley's intense self-awareness and coming apart mentally, in part due to (I only recently learned) some acid trips. "I Don't Know What To Do With My Life" and "Hollow Inside" spell it out. The epic anthemic closer, which is both affirmative ("I believe in my Mum and my Dad") and bleak "There is no love in this word anymore" sums up where Shelley was at the time. He repeats until the fadeout "There is no love in this world anymore" and if you were alone or broken back in 1979 shouting along was cathartic! What a great record! Shelley went on to marry and have a son.
Shelly and Diggle reformed the band after Fine Young Cannibals had a 1987 hit with "Ever Fallen In Love?" How influential was/were The Buzzcocks? Nirvana chose them to open what turned out to be their final European stadium tour and after British tastemaker DJ John Peel died in 2005 Shelley, joined by among others Elton John, Roger Daltrey, David Gilmour and Robert Plant recorded as a tribute to Peel a cover of The Buzzcocks' "Ever Fallen in Love (With Someone You Shouldn't've?)".
I've yet to compare the American IRS original of singles going steady with this reissue but the album is a burst of 16 short, powerful two minute or so supercharged singles sure to excite in an era of boring, shoegazing white guys (Jack White excepted!). The original American pressing is a U.K. mastering by George "Porky" Peckham cut almost to the label, but this reissue is sourced from the original masters of the 8 singles and B sides and has a good chance of beating "Porky"'s compilation at best strung together from second generation dupes. I'll let you know soon. Meanwhile, this is a highly recommended reissue for punk rockers of all ages that includes an excellent full sized multi-paged insert with essay and photos (Domino has previously reissued Love Bites and Another Music in a Different Kitchen also recommended if this one catches you). As the new notes conclude and I agree "forty years later, these songs have stood the test of time".

<!- ------------------------------------>