Chet Baker's New 180g 2LP Record Store Day 2023 Release, Blue Room: The 1979 VARA Studio Sessions in Holland, Shows Just How Good the Jazz Detective Label Is at Tracking Down Top-Shelf Archival Material
I was both pleased and more than a bit nervous that the good folks at the fine new archival Jazz Detective record label — helmed by the award-winning, Grammy-nominated producer and music sleuth, Zev Feldman — sent me an advance copy of Chet Baker's Blue Room: The 1979 VARA Studio Sessions in Holland, a live-in-the-studio 180g 2LP set that's slated for release tomorrow, April 22, on Record Store Day 2023.
Why was I nervous? Well, while I certainly like some of Chet Baker's albums, he has historically not been my favorite trumpet player for numerous reasons, so I wondered if I would connect with this new release. Some of his most acclaimed albums from the '50s have often left me wanting a bit more, shall we say, earthiness (if you will) than the silky shimmer he often delivered back then. Secondly, some later-period Baker music I've heard has kind of underwhelmed me, perhaps since it was from a time when he was not at peak form or in complete control of his career, and/or at the mercy of less-than-sympathetic producers.
Thirdly, Blue Room is pulled from Baker's time overseas, and sometimes — not all the time, of course — the prospect of hearing an established artist performing with a backing band comprised of "pickup" musicians has often proven less than inspiring for me over the years for a multitude of artists.
Still, I went into this listening session for Blue Room: The 1979 VARA Studio Sessions in Holland with as much of an open mind and open ears as possible. If Zev Feldman, the jazz detective himself, was hearing something in these recordings to warrant a special RSD 2023 release on his new label, chances are there might well be something special going on here.
And indeed, there is! Happily, these sessions from The Netherlands, which for some reason went unreleased after they were first broadcast in 1979, fall into not one of those musical potholes I just discussed above.
Before I get more into the actual stellar performances here on Blue Room, let's explore the technical background of these recordings. According to the official press release, "These two sessions by Chet Baker were both recorded in 1979 in brilliant stereo for the radio program 'Nine O'Clock Jazz.' As if this wasn't enough, the music was recorded in the fantastic VARA studio 2 by the brilliant technician Jim Rip and, moreover, all of this music is of high artistic quality and has never been released before!"
Here are the key pressing stats for Blue Room: The 1979 VARA Studio Sessions in Holland. A hi-res 24-bit/96kHz transfer was made off the original analog KRO tape reels to digital files for remastering by Dutch audio engineer Marc Broer. The remastered files were then sent to Bernie Grundman at Bernie Grundman Mastering for physical disc mastering and lacquer cutting. The combined effort of these two engineering pros was to ensure the final vinyl sounds analog-warm and pleasing. The 180g vinyl was then pressed at GZ. Finally, the SRP for this 2LP set is $49.98.
The thick black 180g vinyl pressing on this limited edition run (I was sent No. 3339 out of 5000, btw) is excellent. The discs are well-centered, perfectly quiet, and ultimately musically invisible. Each disc comes wrapped in an audiophile-grade plastic-lined inner sleeve.
Kudos to GZ for their fine work on Blue Room: The 1979 VARA Studio Sessions in Holland, especially for making sure the discs are indeed well-centered — an issue that has come up increasingly in recent years from even some major plants that are no doubt pushed to their manufacturing limits these days. Well-centered vinyl is essential for a recording like this — one that often features hushed, long-held notes from piano and trumpet that could otherwise waver in and out of tune on poorly crafted discs.
Beyond the technical audio specs, one of the key factors making Blue Room such a strong and enjoyable listening experience is the musical backing is provided by two different but sympathetic trios. These fine players were clearly deeply immersed in the sensibilities of jazz, and they understood how to give Baker the subtle swinging lift he needed to soar. I especially like the April 10, 1979 session group on Sides A, B, and C that features Phil Markowitz on piano, Jean-Louis Rassinfosse on bass, and Charles Rice on drums.
Baker's playing and singing are in fine fettle on those first three sides. Actually, he is in terrific form on all of Blue Room, delivering much of that same heartbreaking, breathy trumpet tone that Elvis Costello later captured on the brilliant anti-war ballad "Shipbuilding" (the track that's at the end of Side 1 on his August 1983 Clive Langer and Alan Winstanley-produced LP, Punch the Clock).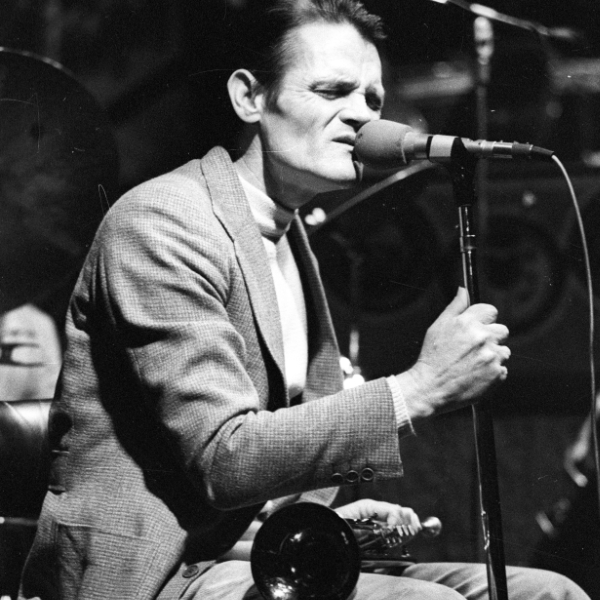 Perhaps part of that vibe has to do with Baker being at a very different stage of his life in 1979 than, say, his more youthful 1950s ascension. There are no doubt many factors involved here — and you can easily read up on Chet's rough 'n' tumble life on the interwebs to get an idea — but I suspect, at least in part, the general school-of-hard-knocks grit gave him a unique perspective to channel through his music later in his career, resulting in this album's heart-stopping, blues-rich presence.
The best compliment I can offer is that Blue Room: The 1979 VARA Studio Sessions in Holland feels as significant as the João Gilberto/Stan Getz performance that Zev Feldman unearthed some years back on the 2016 Resonance Records release, Getz/Gilberto '76. I can foresee myself breaking out Blue Room to play for friends whenever they ask to hear some Chet Baker (as I often do with that particular Getz/Gilberto album, in fact).
Blue Room is one of those recordings that sounds great when you turn up the volume on your amp, close your eyes, and visualize yourself in the studio with the band. The tone of the instrumentation is rich, round, and well-balanced, with an especially lovely presence of the acoustic piano and bass.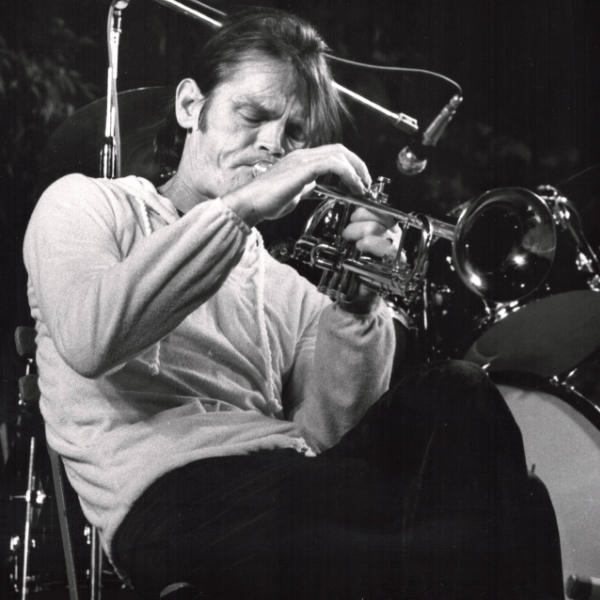 There are lots of neat little recording details on Blue Room. Listen closely to the November 8, 1979 session on Side D for those sexy, subtle sizzles of the crash cymbal while drummer Eric Ineke is playing with brushes on Track 1, "Candy." It is just a beautiful performance and recording touch that the original engineer and producer were able to capture in such fine detail, especially for what was at the time a mere one-off radio broadcast. Someone cared about these recordings being made. Baker's remarkably clear and upbeat scat singing on "Candy" is wonderful as well.
That said, Side C of Blue Room may be my favorite thus far in the collection. Baker's solo trumpet opening sequence to the side-opening "Blue Gilles" is haunting, presenting a lovely sense of the studio the group is playing in, his round tone gently reverberating in the hushed space. The version of Miles Davis' "Nardis" that closes the side is equally gorgeous.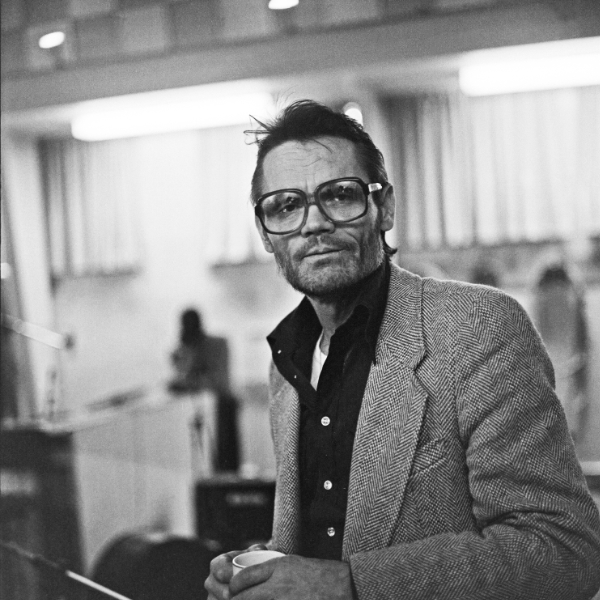 This 2LP set also comes with a fine booklet that includes photos from the session and the time period, as well as essays from some of the players on the album plus reflections from trumpet legend Randy Brecker.
An essential release for Chet Baker fans and jazz-loving audiophiles alike, Blue Room: The 1979 VARA Studio Sessions in Holland is something I'll be listening to a lot in the weeks, months, and years ahead. In short, Blue Room is indeed a gem of a 180g 2LP release that's wholly worthy of your own Record Store Day 2023 attention — and beyond.
(Mark Smotroff is an avid vinyl collector who has also worked in marketing communications for decades. He has reviewed music for AudiophileReview.com, among others, and you can see more of his impressive C.V. at LinkedIn.)
If you want to join in on all the RSD fun this upcoming weekend, go here for all the Record Store Day 2023 offerings — which includes this top-shelf 180g 2LP Chet Baker release — and then follow the adjacent prompts to find out which indie record shops near you will be carrying them.
CHET BAKER
BLUE ROOM
THE 1979 VARA STUDIO SESSIONS IN HOLLAND
180g 2LP (Jazz Detective)
Side A
1. Beautiful Black Eyes
2. Oh, You Crazy Moon
3. The Best Thing For You
Side B
1. Blue Room
2. Down
Side C
1. Blue Gilles
2. Nardis
Side D
1. Candy
2. Luscious Lou
3. My Ideal
4. Old Devil Moon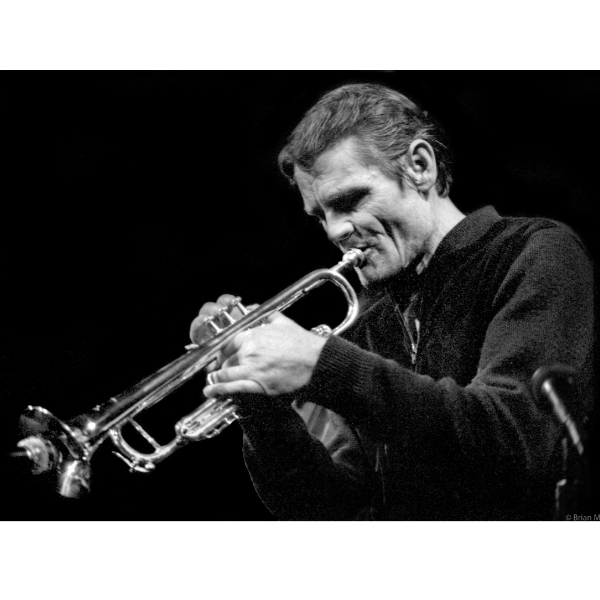 <!- ------------------------------------>