Chick Corea's New Montreux Years 2LP Set Shines Via Remarkably Consistent Sounding MQA-Mastered 180g Vinyl
The latest album in Claude Nobs' amazing series of official private-collection releases features none other than the late, great keyboard master, Chick Corea. Culled from the archives of The Montreux Jazz Festival, Chick Corea: The Montreux Years 2LP 180g set via BMG sounds remarkably fine and consistent across the years that span the multiple eras of these recordings.
For those not familiar, Claude Nobs (who passed away at age 76 in 2013) was the founder of The Montreux Jazz Festival — now in its 55th year! — which attracts some 250,000 music fans annually from around the world. If that wasn't enough, his contributions to the world of recorded live music is, frankly, a bit mind-numbing, when you stop to think about it. From the foundation website run in his name, we learn the following, which appears here in italics:
The Claude Nobs Foundation oversees the curation and conservation of Claude Nobs' audio & visual archives, which is one of the World's largest private collection of "live" music recordings — all of which was recorded at the Montreux Jazz Festival (Switzerland) since 1967. Having started with jazz in the early days, over the next 55 years, the collection has grown and enriched itself with new genres of music ranging from blues and rock, to rap, soul, Latin and many more… Today the library has become one of the largest testimonies of live music in the World, with over 5,000 individual performances. The collection is unequaled and has a universal significance for current and future generations.
You can probably imagine the diversity of recording formats used over all those years, and thus the massive undertaking involved in preserving, maintaining — and in some instances, likely restoring — archival recordings of this nature. While perusing the "Facts & Figures" section of the website, some amazing Montreux Jazz Festival stats popped up (following in italics): 11,000+ hours of video, of which 5,000 in High Definition… 6,000+ hours of audio of which 2/3 [are] in multitrack format… 20 million records sold by the Records Companies… 20,000 musicians played Montreux… Over 5 million spectators since '67…. The list goes on and on. Talk about accomplishments!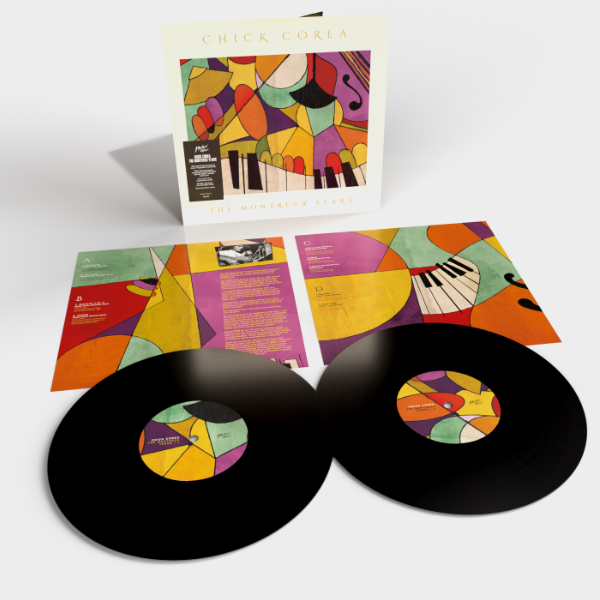 Circling back to the new Chick Corea: The Montreux Years 2LP set, the challenges of simply making this a fine-sounding modern release — one that does justice to the music within, while offering listeners an exciting and consistent sonic experience — adds up to some significant hurdles for the producers to clear.
Something you'll likely find of keen interest in exploring this concert series is the method the producers used for mastering the music. From the official press release, we learn (again, following in italics): Mastering has been performed by Tony Cousins at London's iconic Metropolis Studios, incorporating MQA to capture the original sound of the special live performances.
I have reviewed a number of these Montreux archive releases elsewhere, so I won't recount all the related information here — but in short from, prior inquiries into the reasoning behind using MQA software have resulted in the conveyance of this quite simple objective: consistency in the transfer process. The MQA encoder is said to "de-blur" the recording of artifacts that can be introduced in the transfer process, such as "time smear." Then, the MQA decoding and rendering in the DAC is said to provide a clean pathway to bringing the music back into the analog realm, without new artifacts being reintroduced during conversion.
Having really pristine transfers to work with, one of the things that has impressed me with this series of releases overall is the track-to-track consistency. Consider, for example, that there are nine performances on Chick Corea: The Montreux Years, dating as far back as 1981, and going up through 2006. I reached out to the folks at MQA and also Fraser Kennedy, the producer of The Montreux Years, who explained via email the album was indeed made from diverse sources including, quote, "1/4-inch analog tape and then to hard drives as technology improved." Given these recordings were mixed live on the fly, direct to stereo — alas, not multitrack, leaving no real room for "remixing" — and they were recorded by four different engineers over the years, this track-to-track consistency makes Chick Corea: The Montreux Years all the more remarkable.
Kudos to Kennedy and mastering engineer Tony Cousins for rising to this challenge of pulling together 30 years' worth of recordings to make such an enjoyable listening experience. They have created a fine album with terrific sequencing and pacing. You would be hard-pressed to discern between the analog and digital recordings used in making this album. The Montreaux Years sounds rich and warm, with none of that harsh, crunchy edge that can occur from poor transfers and sloppy digital processing. This was no doubt a handle-with-care project.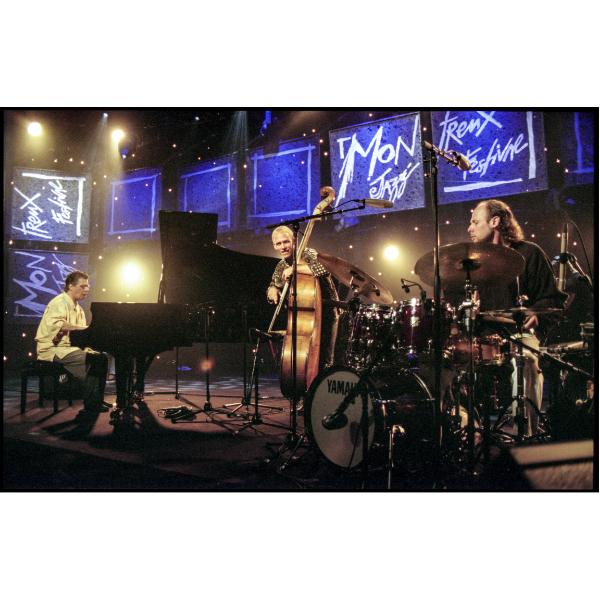 Of course, as to be expected from Chick Corea (who passed away at age 79 in 2021), the performances here are exemplary. Consider some of the players accompanying Corea on this album, including bassists Gary Peacock John Patitucci, Avashai Cohen, and Christian McBride; drummers Roy Haynes and Dave Weckl; and saxophonists Joe Henderson, Kenny Garrett, Eric Marienthal, and Bob Berg — oh, and there is also a track with the Bavarian Chamber Philharmonic Orchestra for good measure.
Some of my favorites on Chick Corea: The Montreux Years include Chick's wonderful 1981 cover of Thelonious Monk's "Trinkle Trinkle." No doubt paying homage to the classic Jazzland Records version Monk recorded with John Coltrane, this performance with Joe Henderson on sax somehow keeps Monk's feel, yet sounds decidedly like Chick Corea. It includes a pretty epic bass solo from Gary Peacock, and is overall a wonder of freewheeling fun and mad-swinging whimsy.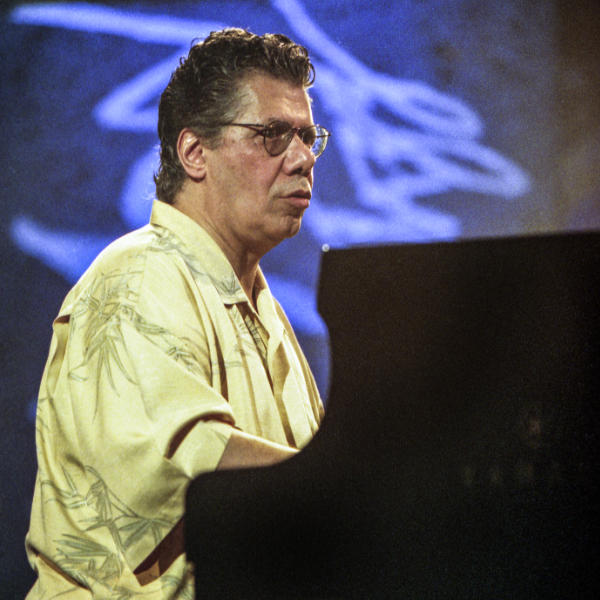 While we're speaking of things whimsical, "Interlude" (from a 2004 performance by Chick's Elektric Band) is a fun call-and-response segment of the concert where Chick engages the audience to follow his lead, and actually sing back the melodic lines he throws at them. Clearly, a Montreux Jazz Festival audience is more musically inclined than others, and I bet a fair percentage of them are musicians themselves. It is still wonderful — at times, even amazing! — to hear a concert hall singing Chick's quirky melodies, and with a fair amount of precision. In a word, Chick Corea: The Montreux Years is fun — and how often do you get to say that about a jazz recording?
"Bud Powell" is a Corea classic, and this version from 2010 smokes. Actually, all of Chick Corea: The Montreux Years pretty much smokes — so, overall, I'm quite pleased with the song choices here that are not the usual fare (i.e., don't expect to hear hits like "Spain," for example). I also really enjoyed The Chick Corea Akoustic Band's version of "Quartet No. 2 (Part 1)," recorded in 1988.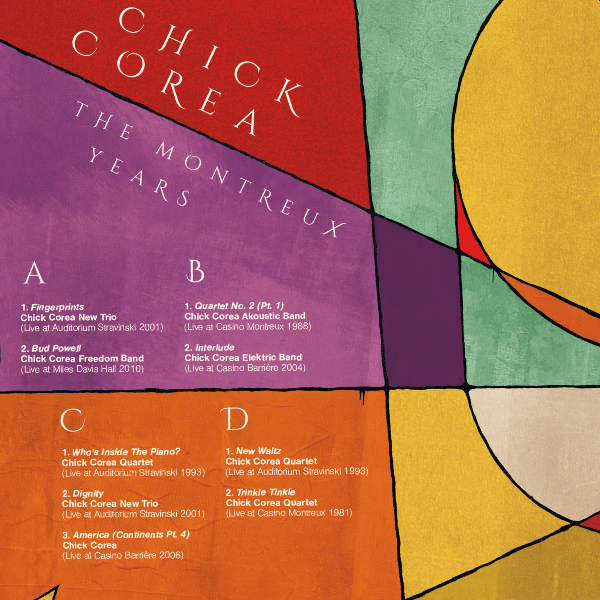 Consistent with other album entries in this series I have reviewed, the thick, dark black 180g vinyl of Chick Corea: The Montreux Years (which was manufactured in Germany, at Optimal) is quiet and well-centered. Each of the 2LPs comes housed in an inner sleeve with full-color custom artwork and liner notes. The cover art is so pretty, it is almost suitable for framing.
At this point, you probably get the idea that, if you are a Chick Corea fan, you'll probably want this new Chick Corea retrospective from his many Montreux Jazz Festival performances. Today, September 23, is the official release date for this album, in fact, so you'll readily find Chick Corea: The Montreux Years available for $39.99 via the link provided below, and/or at your favorite well-stocked vinyl store. Have at it!
(Mark Smotroff is an avid vinyl collector who has also worked in marketing communications for decades. He has reviewed music for AudiophileReview.com, among others, and you can see more of his impressive C.V. at LinkedIn.)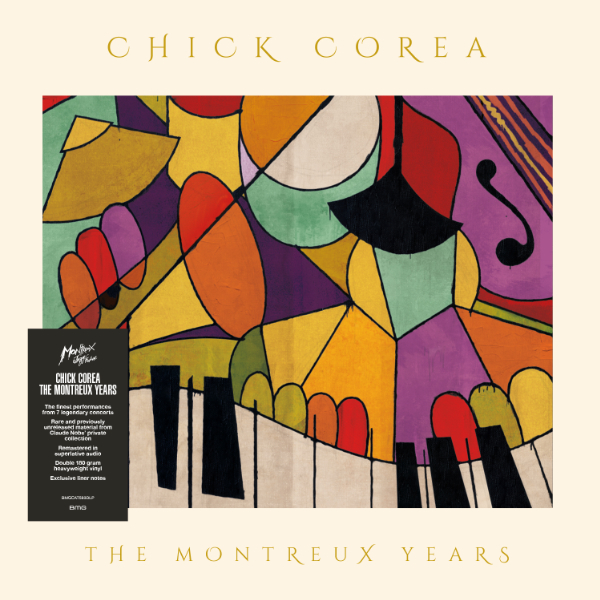 CHICK COREA
THE MONTREUX YEARS
180g 2LP (Montreaux Sounds/BMG)
Side A
1. Fingerprints (Live – Montreux Jazz Festival 2001)
2. Bud Powell (Live – Montreux Jazz Festival 2010)
Side B
1. Quartet No. 2 (Pt.1) (Live – Montreux Jazz Festival 1988)
2. Interlude (Live - Montreux Jazz Festival 2004)
Side C
1. Who's Inside The Piano (Live – Montreux Jazz Festival 1993)
2. Dignity (Live – Montreux Jazz Festival 2001)
3. America (Continents Pt. 4) (Live - Montreux Jazz Festival 2006)
Side D
1. New Waltz (Live – Montreux Jazz Festival 1993)
2. Trinkle Tinkle (Live – Montreux Jazz Festival 1981)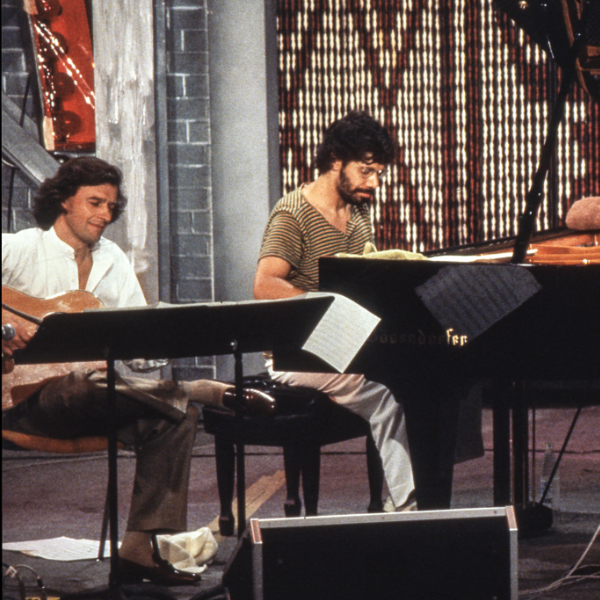 <!- ------------------------------------>