GALLERIES
You are here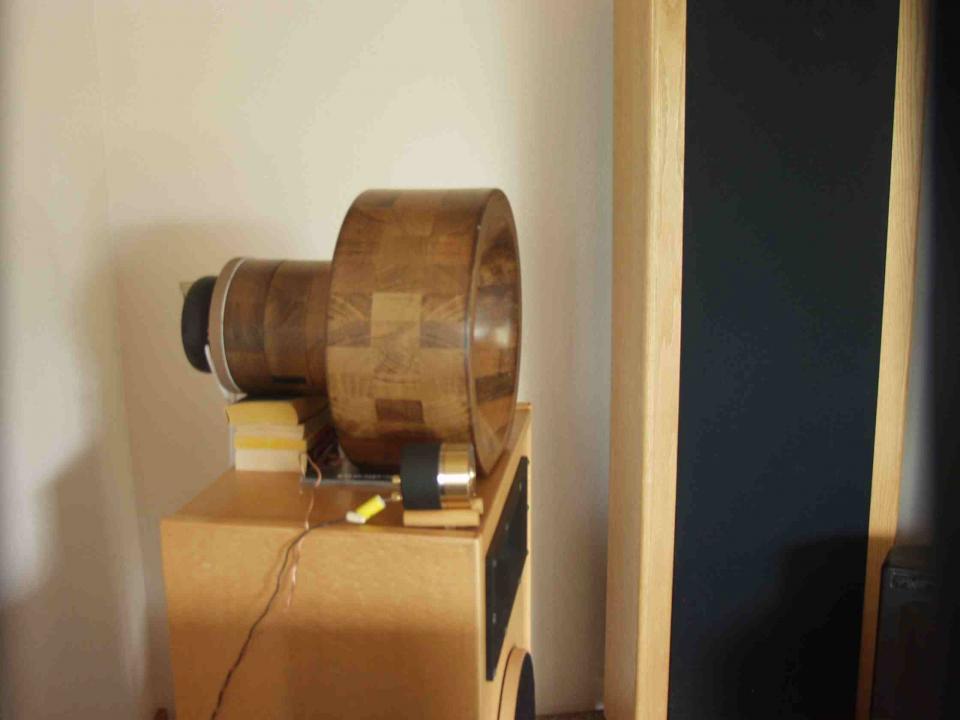 A friend built some copies of the Klipsch Cornwall bass bin using finished plywood. JBL 2370 tweeter horn TAD TD-2001's (1" compression tweeters) sits above 15-inch Lambda Acoustics TD-15M woofers.
On top sits a 16" Kevin Brooks-milled tractrix "salad bowl" with a brand new (in 2006) Community M200 2-inch midrange compression driver.
From spec sheets Bob Crites built a 1st-order 3-way crossover (700Hz, 4kHz crossover points) which uses autotransformer to cut the sensitivity of the tweets and mids down to the woofer's 98dB/1m/2.83V.
The midhorn is a nice open, uncolored horn - not at all "horny" sounding and the most expensive component - "only" $1150 delivered for well-loved demos.
The TD-2001 tweets would be the most costly, except we found (2) with blown diaphagms and (1) spare used one. Replace the diaphragms for a cost of $300/each (currently about $1,000 "retail").
All-in cheap-and-cheerful for less then $3700 the pair.
Boogie factor in spades with audiophile-approved mids and highs.

Custom Cornwall Copy w-Tractrix midhorn on top
Views: 2043
Dimensions: 2240x1680
Size: 69kb
Filed Under: