David Bowie's Groundbreaking 1973 Covers LP Pin Ups Gets New 180g 1LP 50th Anniversary Half-Speed-Mastered Treatment
David Bowie's October 1973 covers album, Pin Ups, was actually somewhat of a placeholder, made with the intention to fulfill contractual requirements for his then-label, RCA Records. In the aftermath of Bowie's groundbreaking and exhaustive Ziggy Stardust tour that ended in mid-1973 — as well as following on the heels of April 1973's quite successful Aladdin Sane — he needed to pull something together fairly quickly. In doing so, created one of the first great tribute retrospectives of vintage 1960s British rock — an even-dozen songs reinterpreted for a new generation to discover. The result: Pin Ups was a smash hit, released at arguably the peak of Ziggymania.
From Bowie's official site, we learn a bit more about all of that. "October 2023 marks the 50th anniversary of the release of David Bowie's classic collection of cover songs, Pin Ups, originally released October 19, 1973 — a mere six months after the legendary Aladdin Sane and three months after the infamous final Ziggy Stardust show at Hammersmith Odeon, where he put the Ziggy person to rest along with The Spiders From Mars. Recorded at Château d'Hérouville in France — where Bowie would later return to record [his January 1977] masterpiece, Low — Pin Ups was a collection of cover songs paying tribute to bands and artists that had inspired him and that he had seen at clubs such as The Marquee in London in the mid to late '60s. Artists he covered for the album included The Yardbirds, The Kinks, Pink Floyd, The Who, Pretty Things, The Easybeats, and more."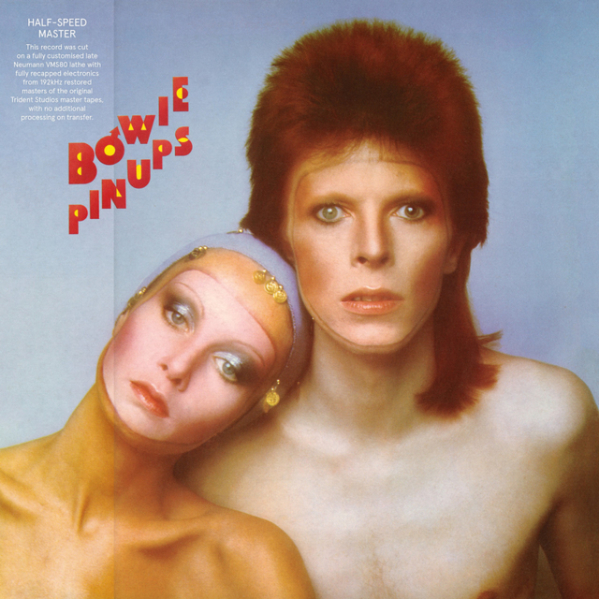 As far as the album's key stats go, the DNA underlying this new, 50th anniversary, 180g 1LP Parlophone edition of Pin Ups certainly appears impressive. The album was cut at half-speed by John Webber at AIR Studios in London on a customized Neumann VMS80 lathe (reportedly featuring "fully recapped electronics") working from 192kHz (and, we assume, likely 24-bit or 32-bit) restored masters of the original master tapes, with no additional processing on the transfer. With the 180g vinyl pressed in Germany (probably at Optimal), the prospect of this new edition certainly sounds promising.
Each album comes housed in an audiophile-grade plastic-lined inner sleeve, and a reproduction of an original insert that graced the album's UK pressings back in the day — used for custom inner sleeve art in some countries, including the U.S. — is also included. The SRP for this new edition from Parlophone — which will be officially released this Friday, October 20 — is $24.98, which you can pre-order either from Rhino here, or on Bowie's own site here.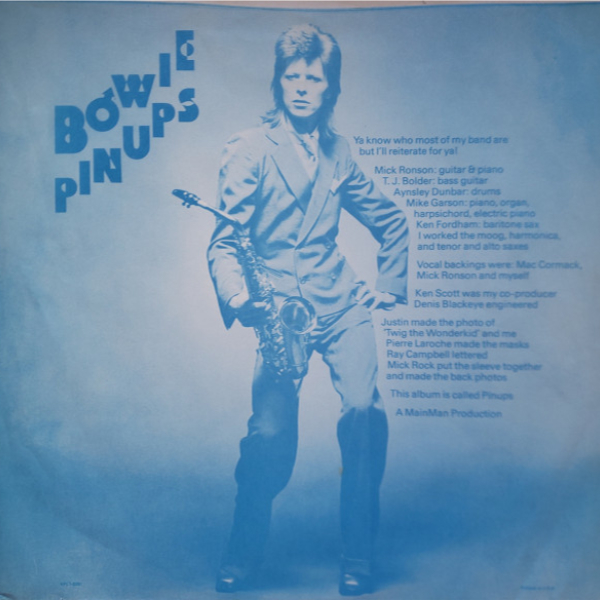 This is a good time to acknowledge that the original Pin Ups album was never a sonic marvel — but it wasn't bad either. A somewhat raw, rough 'n' ready recording, the album has a curious edge to it — not quite proto-punk, not quite garage, and not quite glam. Given that Pin Ups was recorded at the aforementioned, legendary Château d'Hérouville in Hérouville, France — ground zero for many other classic rock albums including ones by Elton John, Chris Bell, Jethro Tull, T. Rex, and Iggy Pop — this album should sound pretty good, despite it being a rushed project.
Now, while I do not own an original UK pressing of this album, I do have a very clean, nice 1978-era promotional copy, with a gold stamp on the back cover. For those who care about these sorts of details, my promo is on the black RCA label, not the orange or beige one found on many mid-'70s pressings.
That said, in comparison, the new half-speed master of Pin Ups sounds really fine, if a teensy bit less dynamic than my original U.S. edition. I also have no problem with a good hi-res digital transfer, and this vinyl reissue, taken on its own without comparison, is just ducky. The 180g 1LP pressing is quiet and the disc is well-centered, so all those important production details check out with no problems.
However, when I did spin the two versions of Pin Ups I have in hand back-to-back, I noticed a somewhat more "open" feeling on my earlier U.S. edition, something that is hard to pin down when writing about Pin Ups (pardon the avoidable bad pun). This is admittedly probably an instance of splitting hairs, be they digital or analog, so please take this at face value. For example, Bowie's cover of The Easybeats' "Friday on My Mind" (Side 2, Track 1) features a number of fabulous cymbal splashes from Aynsley Dunbar with a nice long decay. On the new half-speed master version, those flourishes certainly resonate, but somehow don't feel quite as airy and impactful. Mick Ronson's guitars don't rip quite as much, and Dunbar's drums — while distinct — feel just a little more thuddy, if that is even possible, given the originals are pretty thuddy sounding to begin with! At any rate, I think you get the idea, and I don't want to split any more sonic hairs here.
The fact is, Pin Ups is a great rock & roll record, any way you listen. And I'll say this — the new half-speed master LP, which is mastered a wee bit quieter than my U.S. pressing, opens up nicely when you turn up the volume on your amp.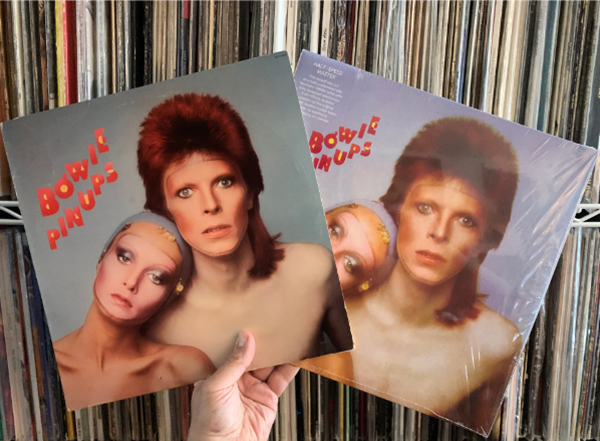 The cover design is a little bit different on the U.S. promo versus the UK edition, with the Pin Ups logo appearing larger on the American copy. Surprisingly, the cover graphics look a little washed out compared to my original copy, which makes me wonder if the powers that be had gone back to the original sources for recreating this cover art, or whether this was made from a clean copy of another version. You can see from my photos above and below that there is a difference in terms of the vitality of the artwork.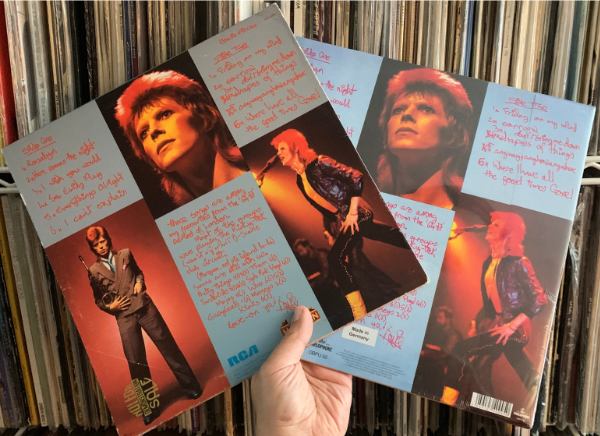 An aside for those not in the know — the Pin Ups cover features an immediately iconic image of Bowie alongside the infamous model/personality Twiggy — a.k.a. "Twig the wonder kid" who was mentioned on the earlier-noted Aladdin Sane, (You'll find the reference on that album's No. 3 UK hit, "Drive-In Saturday" [Side 1, Track 3].)
As far as whether you need this new half-speed-mastered reissue of Pin Ups in your collection, that really depends on how much of a Bowie completist you are. It is not a bad release, but it also perhaps doesn't reveal the sort of dramatic differences one might hope for from something that is labeled as a half-speed-master edition.
If you have a vintage Pin Ups original that you like, you're probably in good shape. But if you want a fresh Pin Ups LP with the latest mastering and absolutely need to have a clean, shiny new copy, then this new Parlophone version might just be your sweet thing.
(Mark Smotroff is an avid vinyl collector who has also worked in marketing communications for decades. He has reviewed music for AudiophileReview.com, among others, and you can see more of his impressive C.V. at LinkedIn.)
DAVID BOWIE
PIN UPS
180g 1LP (Parlophone)
Side 1
1. Rosalyn
2. Here Comes The Night
3. I Wish You Would
4. See Emily Play
5. Everything's Alright
6. I Can't Explain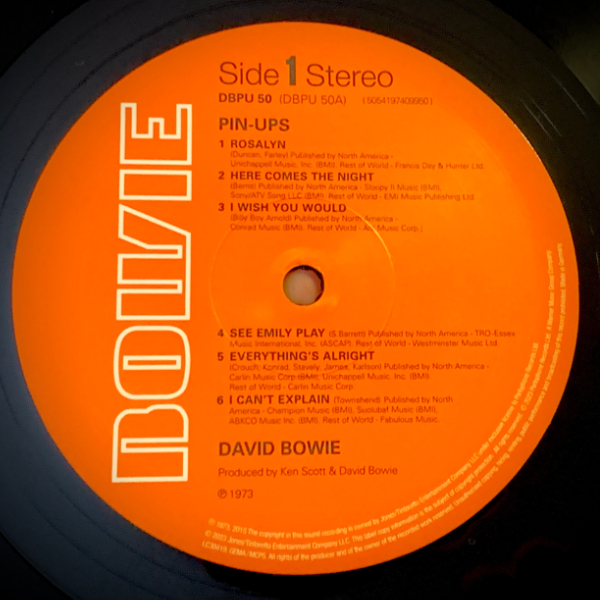 Side 2
1. Friday On My Mind
2. Sorrow
3. Don't Bring Me Down
4. Shapes Of Things
5. Anyway, Anyhow, Anywhere
6. Where Have All The Good Times Gone
<!- ------------------------------------>