Eddie "Lockjaw" Davis & Shirley Scott Serve Up a Tasty Soul Jazz Recipe For a New Historical All-Analog Grundman-Remastered 180g 4LP Stereo Box Set, Cookin' With Jaws and the Queen: The Legendary Prestige Cookbook Albums
Cookin' With Jaws and the Queen: The Legendary Prestige Cookbook Albums is a wonderful new 4LP box set collection from Craft Recordings that offers cause for rejoicing among fans of soul jazz, and most specifically fans of saxophonist Eddie "Lockjaw" Davis in particular. Culled from three classic 1958 Cookbook session recordings, the albums in this box are some of the backbone entries of a musical artform that would explode in popularity over the next 20 years, and ultimately onward into the 21st century with acclaimed organ-based groups like The Delvon Lamarr Organ Trio.
Fact is, I have been actively exploring albums by Eddie "Lockjaw" Davis for upwards of at least 15 years now (and in no particular order), mostly as I find them out in the wilds of record collecting. Generally, I have been looking for original pressings that don't always show up in the stores very often. That said, over the years, I have found many of Lockjaw's LPs — including some great ones featuring organist Shirley Scott, the fabulous Hammond B3 player who came out of Philadelphia in the 1950s.
Actually, one of the interesting things I've learned in writing and researching this review is that quite a number of soul jazz-oriented artists came out of Pennsylvania, including the likes of Jimmy Smith, Jimmy McGriff, Charles Earland, Ray Bryant, and Stanley Turrentine (the latter of whom married Scott, and eventually worked with Smith as well). The vibes of soul jazz surely must have been spiking the waters of Pennsylvania back in the day.
According to the interwebs, Davis was one of the first artists to combine the Hammond B3 organ sound with saxophone in his collaborations with Scott, via his first albums as a featured artist with Prestige Records (as per the box set's liner notes). The Cookbook-themed recordings in this collection emerged from three 1958 sessions, and were issued across four albums over the next several years on the Prestige Records label. Recorded in Rudy Van Gelder's legendary intimate studio in Hackensack, New Jersey, all the takes heard herein have a great feel and overall sound to them.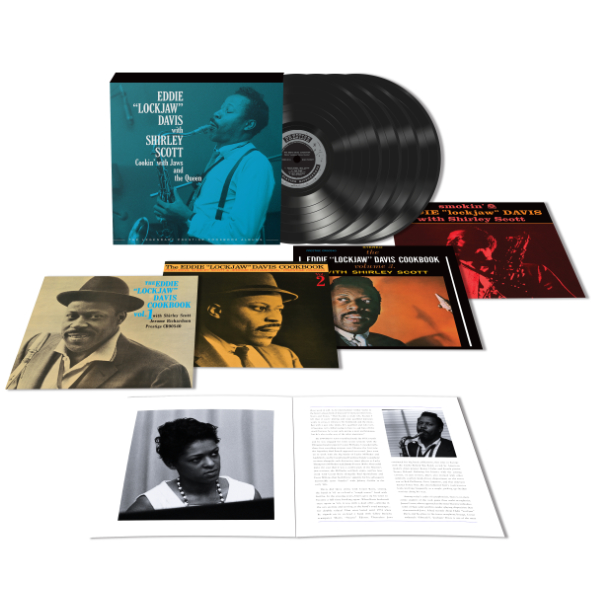 Before I go any further, here are the core ingredients that went into the making of this new multidisc collection. Produced by Nick Phillips, Cookin' With Jaws and the Queen has been freshly remastered from the original analog tapes by Grammy-winning engineer Bernie Grundman of Bernie Grundman Mastering. Pressed on 180g vinyl at RTI, each LP in this box set comes housed a tip-on style cardboard jacket featuring original artwork elements. The included album-size booklet features session photos and new liner notes by jazz journalist Willard Jenkins. Finally, the SRP for this 4LP box set is $124.99.
To give you some idea of why there is a clear need for a set like this one (and the value therein), I did some online sleuthing across some record collecting marketplace sites such as Discogs and Popsike. For one thing, I found stereo copies of all four of these albums are somewhat elusive these days. Looking at my own collection, exactly none of the copies I have found over the years — including some that came from record stores — are in stereo! This is not entirely surprising, really, if you stop and think about the trajectory circa 1958 of the then-brand-new two-channel listening format that broke wide that very same year these albums were cut.
Stereo was an early-adopter platform and likely skewed more towards upscale listeners who could afford the then-cutting-edge stereophonic playback equipment. This was a smaller market at first, compared to the mono marketplace that essentially lasted until around 1968. Many average consumer playback systems back in the day were not all that good — i.e., the portables and console systems typically featuring automatic changers. And since the Cookbook albums were no doubt popular to play during parties and other gatherings of the day, finding clean copies of the originals today is a tougher task than one might (or might not) imagine.
As of this posting, only one stereo copy of one of the albums in this set is available on Discogs, going for about $55. All the others seem to be in mono, or else they're later reissues. Clearly, a good and reasonably priced reissue of the stereo Cookbook recordings was warranted — and very much desirable!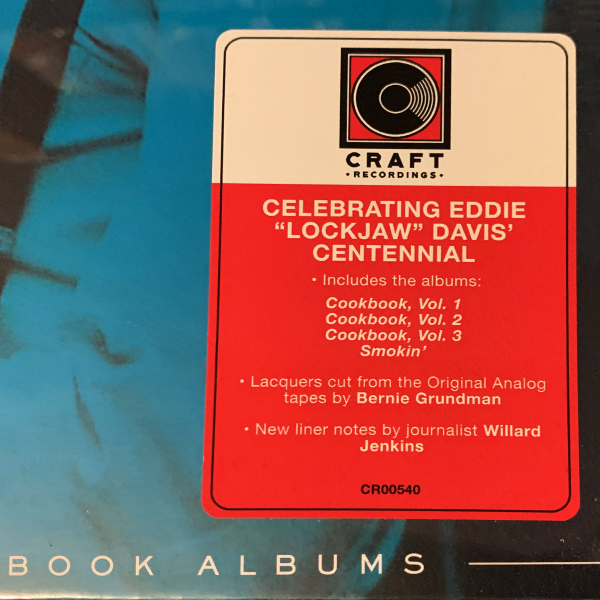 All four of the LPs in my copy of the Cookin' With Jaws and the Queen box set are pretty much excellent — thick, dark, well-centered, and dead-quiet. Hence, that all-important centering detail checks out great. And the music sounds terrific too, with a notably warm-sounding feel typical of albums from that late-1950s period, something that sounds especially great when you turn up the volume on your amp to really push some air through your speakers. The early stereo soundstage is very enjoyable here, and the music comes to life with drums, bass, and flute typically skewed more to one channel, and the featured soloists Scott and Davis happening in the other.
Overall, the Cookbook recordings present the group — which includes George Duvivier on bass, Arthur Edgehill on drums, and Jerome Richardson on flute, tenor sax, and baritone sax — in a welcoming and fairly widescreen perspective. Plus, Van Gelder captures the heart and soul of Shirley Scott's lush Hammond B3 as well as Davis' rich and, at times, raw tenor sax stylings.
Across these 26 tracks in total, we get a good sense of the ensemble's ability to cook up a storm (pun intended). Many of the song titles accordingly reflect the culinary theme — "The Chef," "In the Kitchen," "Skillet," "The Broilers," "Heat 'N Serve," "Simmerin'," "High Fry," and "Pots and Pans" among them.
Incidentally, if you are not familiar with the "blowing sessions" style as championed by producer Norman Granz during his legendary Jazz at The Philharmonic concert series recordings of the 1940s and '50s — wherein musicians take turns soloing over often simple chord changes, typically challenging one another to propulsive musical heights — these Cookbook sessions take that concept into some new territory. The driving drum and bass rhythm section rocks as much as it swings, and it's part of the secret sauce that differentiates soul jazz from other forms.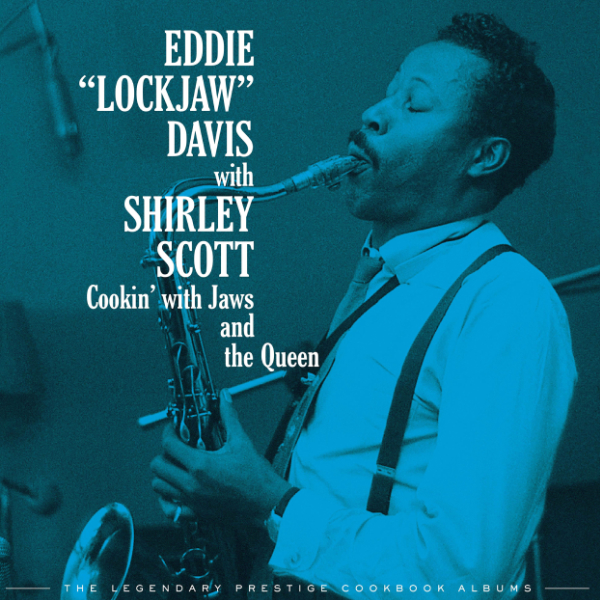 That said, as much as I like the blowing session-flavored jams here, many of my favorites are the slower, bluesier tracks like "The Rev" on Side A and "I Surrender, Dear" on Side B of Cookbook, Vol. 2, both of which really let you feel the instruments and the air of the studio. I especially like the sound capture of flautist Jerome Richardson's playing on the former, which is very fat, airy, and rich-toned. Davis' own sax tone on the latter is rich and buttery and almost Lester Young-like, which is very different from the harder honk on some of the faster-paced pieces.
George Duvivier's bass opening to "I'm Just a Lucky So and So" is a fabulous bluesy opener to Side A of LP3, Cookbook, Vol. 3. Some of the faster jams admittedly can start to sound the same if you listen to this whole collection uninterrupted in its entirety. When enjoyed as individual LPs over time, however, you can better appreciate what the group accomplished here. In that light, I can understand why the original producers decided to break up the sessions into multiple albums released over about a five-year period.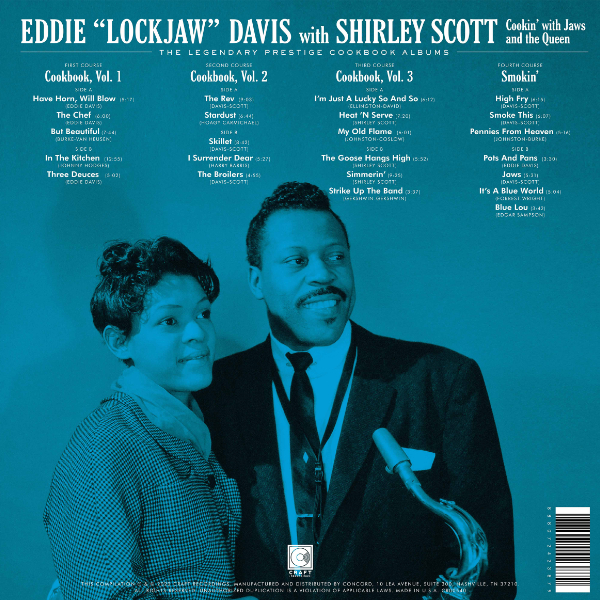 Of course, the big question is, do you need to own Cookin' With Jaws and the Queen? If you are a fan of soul jazz, and if you like either of these artists — or both, as I do — then it probably makes sense for you to get a copy. The $124.99 SRP is actually a very fair deal for four all-analog albums remastered by one of the world's best mastering engineers, as pressed at one of the best facilities in the country. Add to that the reality of the challenge of finding pristine original stereo copies of these recordings. Additionally, the creators of this box set have reproduced the original artwork quite faithfully for the most part, including period-accurate silver-and-black Prestige Records' fireworks stereo label design.
My nitpicks are thus quite minor. I only have heard one short-lived bit of distortion on one track on one of the albums here, which may have been a non-fill issue — but it was so brief and ultimately non-invasive that I don't consider it a deal-breaker. Hopefully, this was just a one-off anomaly.
Also, you should know that the cover designs, while accurate — and crafted with high-quality cardboard tip-on style construction — are not laminated like the original pressings I have are. Also, it is curious the producers didn't acknowledge the original cover design for Vol. 1 of the series (as seen below) — though I suspect that, back in the day when Prestige Records decided the Cookbook albums would become a multidisc series, the original producers decided to recast the artwork with that in mind.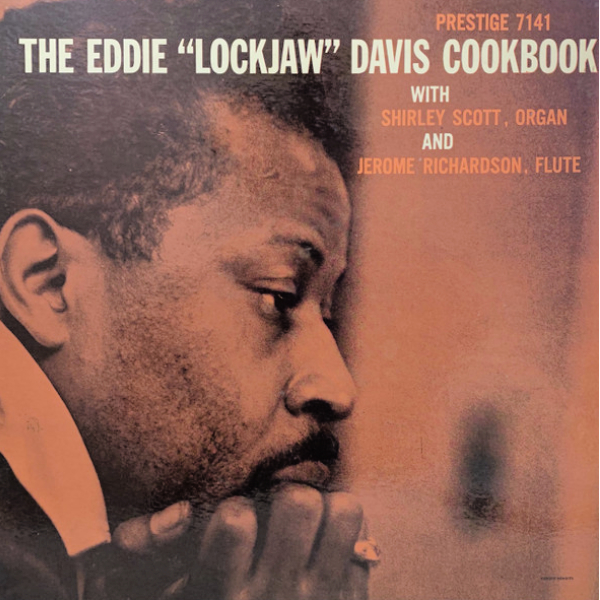 Finally — and this isn't a complaint, mind you — it is a bit curious that the recreated labels on these releases say "high fidelity" when original pressings seem to have marked them more clearly as "stereo." My only thought on that distinction is perhaps first pressings, which I don't own, may have issued them labeled as both ways. You can see in the photo collage below the difference from a label I found on a Discogs post, for example. Again, it is a minor nit that might not even be a nit at all, if there were variants between different pressing plants back in the day, something that indeed often happened. On the plus side, you can see how close to the original designs Craft Recordings got it — though no "deep groove," alas!
I am enjoying listening to this collection so much that I am now seriously considering purging most of my original mono pressings — though I would hold on to the alternate cover version of Vol. 1 — because I question whether I'll be listening to them again. Regardless, the Eddie "Lockjaw" Davis With Shirley Scott Cookin' With Jaws and the Queen: The Legendary Prestige Cookbook Albums collection is a fun box set to listen to, and ultimately a solid value. If you've been seeking stereo editions of any or all of this Cookbook music most especially, you'll probably want to grab a copy of the box set for yourself, post-haste.
(Mark Smotroff is an avid vinyl collector who has also worked in marketing communications for decades. He has reviewed music for AudiophileReview.com, among others, and you can see more of his impressive C.V. at LinkedIn.)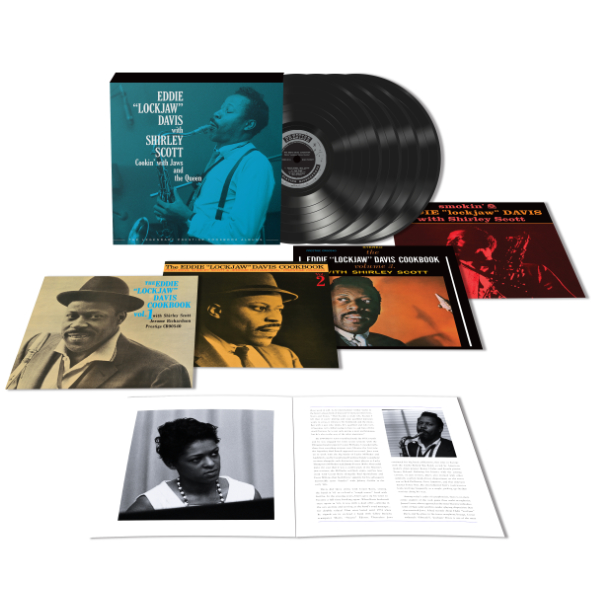 EDDIE "LOCKJAW" DAVIS WITH SHIRLEY SCOTT
COOKIN' WITH JAWS AND THE QUEEN:
THE LEGENDARY PRESTIGE COOKBOOK ALBUMS
180g 4LP (Prestige Records/Craft Recordings)
LP1, First Course: Cookbook, Vol. 1
Side A
1. Have Horn, Will Blow
2. The Chef
3. But Beautiful
Side B
1. In The Kitchen
2. Three Deuces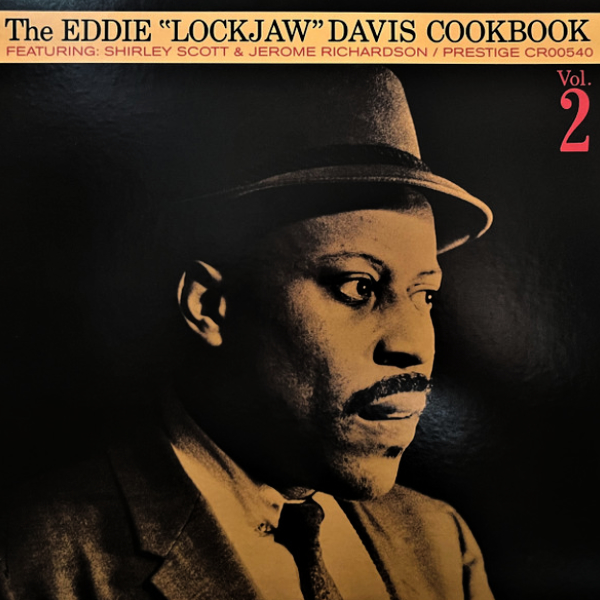 LP2, Second Course: Cookbook, Vol. 2
Side A
1. The Rev
2. Stardust
Side B
1. Skillet
2. I Surrender, Dear
3. The Broilers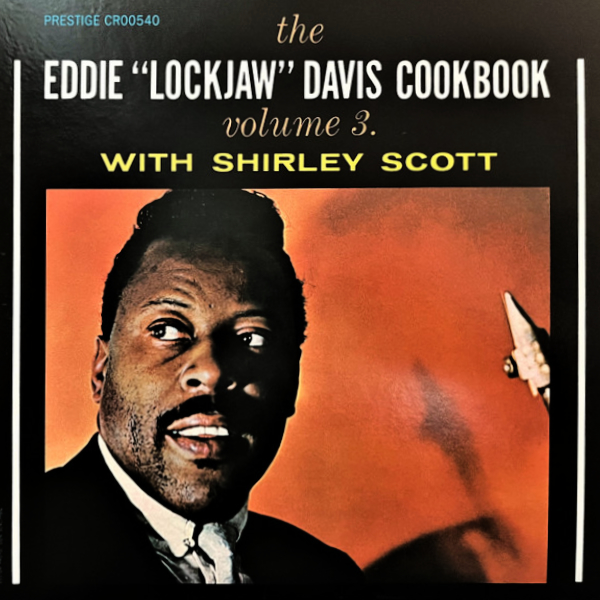 LP3, Third Course: Cookbook, Vol. 3
Side A
1. I'm Just A Lucky So And So
2. Heat 'N Serve
3. My Old Flame
Side B
1. The Goose Hangs High
2. Simmerin'
3. Strike Up The Band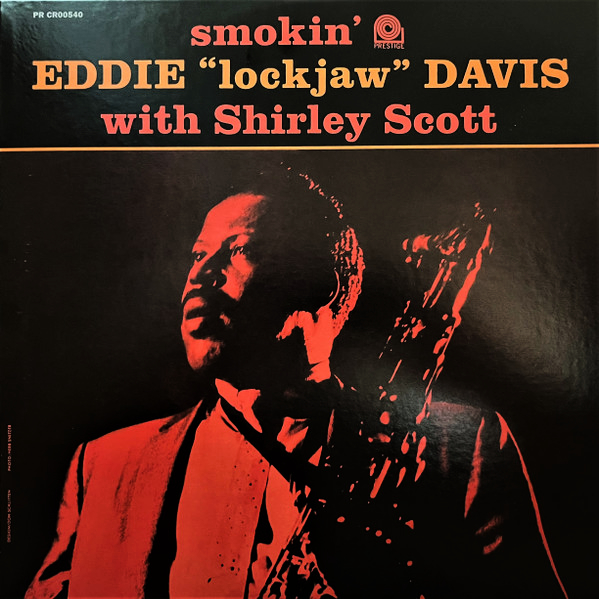 LP4, Fourth Course: Smokin'
Side A
1. High Fry
2. Smoke This
3. Pennies From Heaven
Side B
1. Pots And Pans
2. Jaws
3. It's A Blue World
4. Blue Lou
<!- ------------------------------------>