Elton John's Honky Château Books 50th Anniversary Expanded Edition 180g 2LP Set Featuring Bob Ludwig Master and Previously Unreleased Session Demos
I'd like to assume most of you know who Elton John is, and certainly a fair amount of you are familiar with his mega hit single "Rocket Man" and the album that spawned it, January 1972's Honky Château. Still, it is worth revisiting some key points about Elton's career that some of you may not fully realize. From an official press release about the new 180g 2LP reissue of the album I'll be reviewing here today, we learn:
"Following the release of Honky Château, by June 1972, "Rocket Man" was in the UK pop charts at No 2. In the US, the single reached No 6. Honky Château became the first of six consecutive Billboard Hot 100 No. 1 albums. It remains a firm fixture in the setlist of this record-breaking Farewell Yellow Brick Road tour. "Honky Cat" showcased the extraordinary swagger that was to define all of Elton's work for the following half-decade. His first up-tempo number to make the US Top 10, the track helped cement Elton's reputation in America."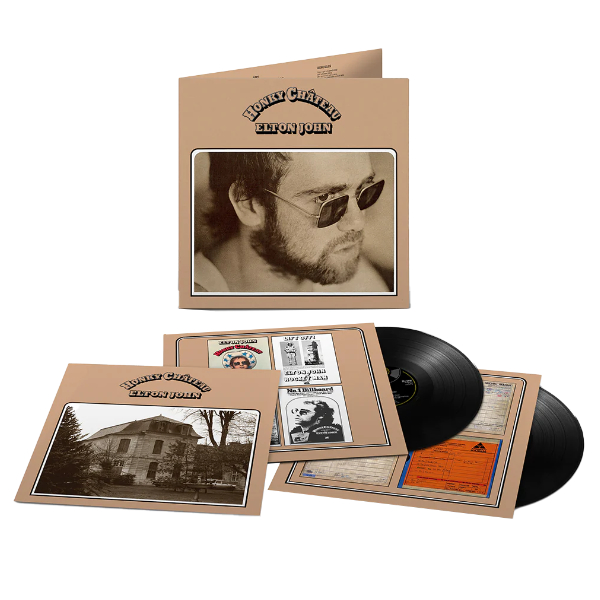 All told, the album spent 5 weeks at the top of the Billboard 200, and, indeed, Honky Château was the start of Elton's jump into the superstar arena. But for some of us here in America, it was simply a continuum of the stunning streak of recordings that began with his eponymously titled April 1970 debut U.S. release (actually his second release in the UK, after June 1969's Empty Sky). followed by October 1970's Tumbleweed Connection, November 1971's Madman Across The Water, and the still-stunning live album, April 1971's 11-17-70 (titled 17-11-70 in the UK).
After those palpable successes, the big change-up here is Honky Château marked the first time Elton John's own band got to record on his albums, and not session players picked by the producer. Accordingly, there is a subtle tightness here that can only come from musicians who have played with one another live onstage as his original trio had been doing for several years. It is also Elton's first album that did not feature those then near-trademark orchestral strings, as arranged by the brilliant Paul Buckmaster. In that sense, Honky Château was more of a pure rock album, one just right for the times.
Growing up, I had all of Elton's releases, and they remain very near and dear to my heart. At the time, and in many ways, Elton helped fill the heavy void left in the music world when The Beatles split up in 1970. As if on cue, new artists appeared carrying on that torch of exemplary songwriting and outstanding production including Elton John, Badfinger, and Emitt Rhodes. (Brief sidenote: seriously, I had Emitt's classic self-titled 1970 Dunhill album back then, which had been sent to me as a free consolation gift from Record Club Of America when they were out of stock of the album I had ordered, Let It Be.)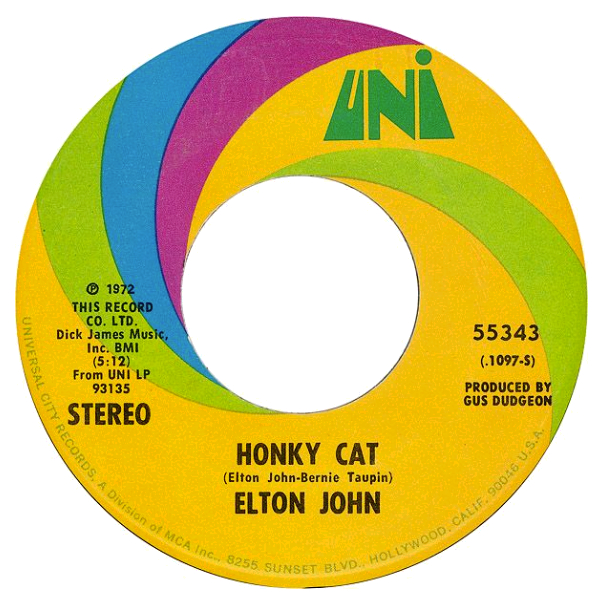 Curiously, Honky Château was the first Elton John album where I bought the singles first — hey, I was about 10 at the time, so that was all I could afford! My dad had bought me the Madman and Tumbleweed LPs, but, by this point, I was on my own. So, "Rocket Man" and "Honky Cat" got a lot of play at home until I eventually got the full album.
Anyhow, here we are, 51 years on, and Elton and Rocket/Mercury/UMC have given us a nice expanded edition of Honky Château to enjoy. In preparing for this review, I enjoyed a refresher listen to my original UK pressing of Honky Château on DJM Records (which sounds much better than the original U.S. pressings on UNI Records).
The new Honky Château 2LP pressing stats are these, according to the label. Bob Ludwig's 2017 master was used for the original album that appears here as LP One. Reuben Cohen mastered the new LP Two at Lurssen Mastering, and the lacquer was cut at Abbey Road by Geoff Pesche. The vinyl was pressed at Optimal in West Germany. The SRP for this 2LP set is $37.99.
This new reissue does indeed sound excellent. Actually, it sounds very much like my UK pressing, which is probably the best compliment I can offer. I didn't even have to adjust volume levels when switching between the discs on my turntable.
The black vinyl edition is dead-quiet, flat, and well-centered. The discs come packaged in a nice oaktag inner sleeve with sweet reproductions of the 45rpm single picture sleeves from this period, as well as promotional ads and posters. UMC has reproduced the design of the original DJM Records labels here as well. The cover doesn't feature the "envelope" style package that graced some editions of the album back in 1972, nor does it reproduce the leather-like grain of the original UK covers. It still looks very high quality, however!
Honky Château marked the first time Elton recorded at the now legendary Château d'Hérouville, a residential recording studio outside of Paris equipped with a 16-channel multitrack recorder that lent a different sonic texture to the recordings than on his earlier albums. Perhaps following Elton's successes there, many artists recorded there including Pink Floyd (Obscured by Clouds), T-Rex (The Slider), Chris Bell (I Am The Cosmos), The Grateful Dead (a free live gig!), David Bowie (Low), and many others. After this success of Honky Château, Elton recorded his next three albums at this studio including the October 1973 2LP masterwork, Goodbye Yellow Brick Road.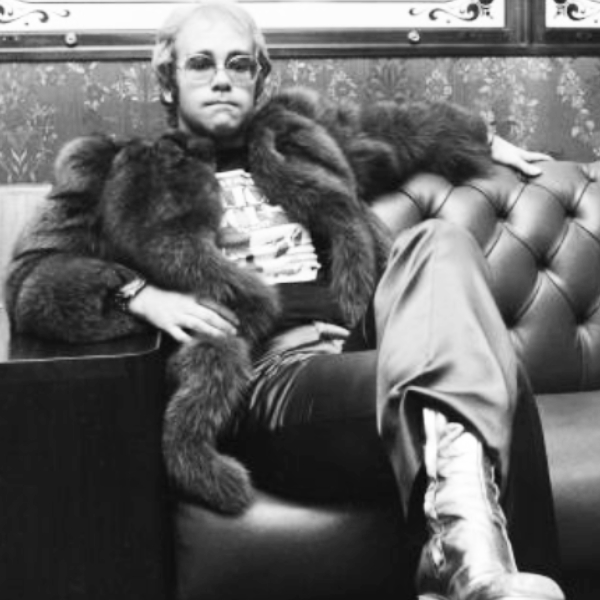 As great as Honky Château is and how nice this reissue sounds, the big bonus treat for serious Elton fans and audiophiles alike can be found on the second disc of studio sessions, which is subtitled Honky at the Château (Session Demos). These tracks sound especially great — not entirely surprising, as they are stripped-back takes before the additional production layers were added on. With such raw simplicity, these tracks are fun, and actually quite sonically wonderful to the point that some audiophiles might even want to use certain songs here for demo'ing their systems.
Nigel Olsson's drums are super-upfront, so those tom-tom fills all throughout are extra punchy. On the work-through of "Honky Cat," the banjo is extra prominent, and this longer take on the song is a whole lot of fun, as Elton goes high-camp and madcap silly toward the end, effecting different character voicings not far removed from the mad wonderment of something you might see and hear on Monty Python's Flying Circus. Also, Jean-Luc Ponty's violin playing on the session tapes come through really sweetly on these session tapes.
"Slave" is presented in an alternate fast-rock version that is very curious. From the session chatter, you can sense Elton is not happy with it — and, ultimately, we hear why this version was left behind for the more heartfelt version on the main LP.
Given his stage name Elton John was still a relatively new thing in 1972, it is fun to hear the studio talkback moment at the start of "I Think I'm Going to Kill Myself," where either producer Gus Dudgeon or engineer Ken Scott refers to him by his birth name, "Reg." (His full given name is Reginald Kenneth Dwight.) That's a pretty neat reality-check moment.
At the end of the day, the decision as to whether you need this new 2LP reissue of Honky Château shouldn't be that difficult. If you love the album and have played out your old U.S. copy — on either UNI or those later, inferior pressings on MCA — this new UMC edition will no doubt be a major improvement.
Even if you have an original UK copy of Honky Château, chances are you will want this version for the bonus session outtakes alone. Either way, the $37.99 SRP seems like a very fair deal to me — and a great way to celebrate such a wonderful, career-making album.
(Mark Smotroff is an avid vinyl collector who has also worked in marketing communications for decades. He has reviewed music for AudiophileReview.com, among others, and you can see more of his impressive C.V. at LinkedIn.)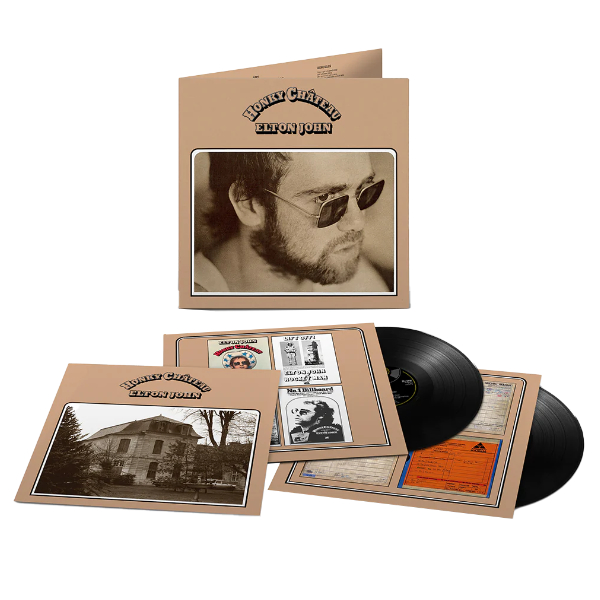 ELTON JOHN
HONKY CHÂTEAU
180g 2LP (Rocket/Mercury/UMC)
Original Album (LP One)
Side 1
1. Honky Cat
2. Mellow
3. I Think I'm Going To Kill Myself
4. Susie (Dramas)
5. Rocket Man (I Think It's Going To Be A Long, Long Time)
Side 2
1. Salvation
2. Slave
3. Amy
4. Mona Lisas And Mad Hatters
5. Hercules
Honky At The Château – Session Demos (LP Two)
Side 3
1. Salvation
2. Susie (Dramas)
3. Rocket Man (It's Think It's Going To Be A Long, Long Time)
4. Mellow
5. Slave – Alternate "Fast" Version
Side 4
1. Honky Cat
2. I Think I'm Going To Kill Myself
3. Hercules
4. Slave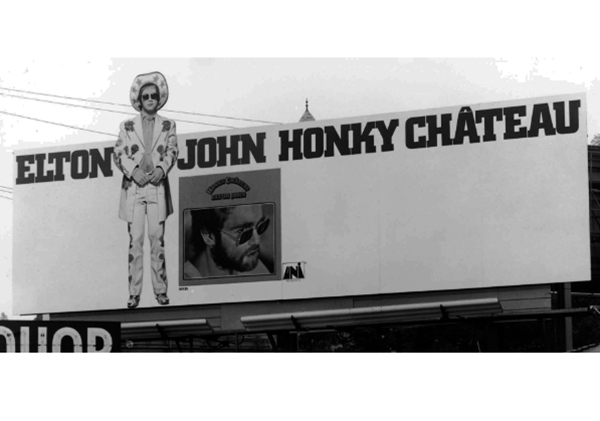 <!- ------------------------------------>