Funky Nothingness, Frank Zappa's New 180g 2LP Set of Unreleased Studio Sessions, Traces His 1970 Sound Shift From the Jazz Fusion Core of Hot Rats to the Bluesy Rocking Undercurrents of Chunga's Revenge
The more I consider the contents of Frank Zappa's new 2LP set Funky Nothingness, the more I realize these once-buried archival recordings are not just the components of a lost album, but really are an insightful transitional link into Zappa's compositional mindset. Made in the aftermath of FZ's October 1969 landmark jazz fusion masterpiece Hot Rats, this new album also connects many musical dots from there to October 1970's Chunga's Revenge — and beyond.
Before we deep-dive into this fascinating new release, let's run down the key specs for Funky Nothingness, which was produced for this release by Ahmet Zappa and Zappa Vaultmeister, Joe Travers. This 2LP set was compiled from many diverse original analog tape sources (more on all that later) into a hi-res digital master used by Chris Bellman of Bernie Grundman Mastering to cut the new lacquers. The album is pressed on 180g vinyl, and was manufactured at Optimal in Germany. Each of the two discs are dark black, well-centered, and quiet, so all these key factors check out well on this new release. The 2LPs come housed in nice audiophile-grade plastic-lined inner sleeves.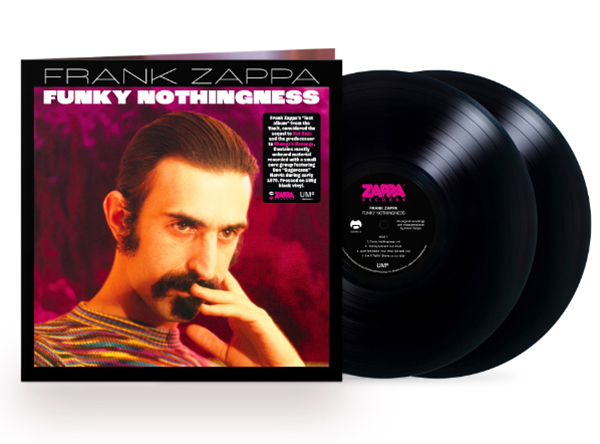 This classy-looking album features a beautiful silver-foil cover design and sports a classic, 1970-era image of Frank in his Hot Rats heyday. The SRP is $37.99 for the black-vinyl edition, while a clear violet 180g 2LP edition is available from zappa.com for an SRP of $46.
Relative to all that, please check out this insightful video with Chris Bellman of Bernie Grundman Mastering and Vaultmeister Joe Travers talking about how the lacquers were cut for the vinyl edition of Funky Nothingness, along with some of the history behind the lathe Bellman uses to do so.
And now, back to the LPs! This wondrous recording is an essential listen for all serious Zappa fans. It features a cross-section of core band members who recorded many iconic tracks on the Hot Rats sessions as well as on some tracks found on Chunga's Revenge, including Wrecking Crew jazz legend Max Bennett on bass; Don "Sugarcane" Harris on violin, organ and vocals; and early Mothers of Invention bandmember Ian Underwood on saxophone, keyboards, and rhythm guitar.
Arguably, it is the appearance of British blues-rock drumming icon Aynsley Dunbar that gives this music its distinctive, more rocking twist separate from the swing of Hot Rats, ultimately leading to the creation of a novel new Zappa sound. This is not entirely surprising, as many musicians will tell you a great drummer is the heart and soul of a band's sound. Don't believe me? Go listen to pre-Ringo Beatles, post-Moon Who, and even Elton John recordings without Nigel Olssen onboard to hear why a great drummer brings a certain magic to the table others do not.
And Frank, being a drummer himself, probably knew that. One need go no further than the two new Funky Nothingness tracks dubbed "Tommy/Vincent Duo I" (Track 2, Side 1) and "Tommy/Vincent Duo II" (Track 2, Side 3), which are novel, early drum-and-guitar duets between FZ and Dunbar. From the official press release, Travers comments, "By 1970, Frank had worked with some great drummers between The Mothers and the L.A. studio scene. . . [but] Aynsley took things to another level. It's easy to understand how Frank would be excited to see where their chemistry would take them musically. Here is audio proof."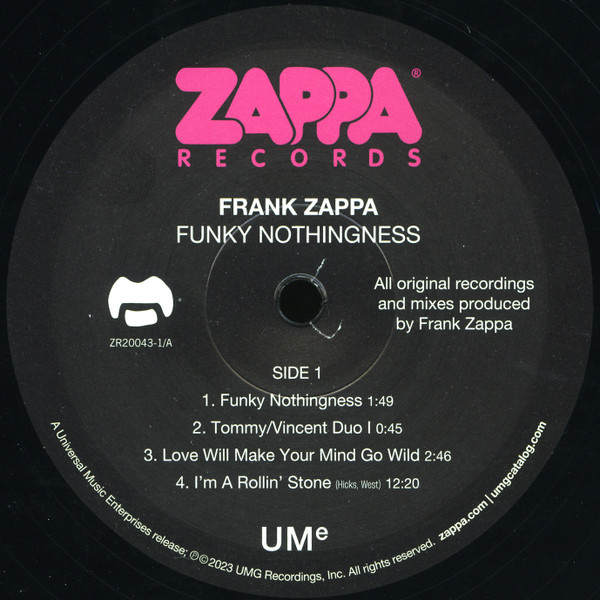 Funky Nothingness includes numerous extended jams and workouts in the spirit of Hot Rats, but with a different production aesthetic and a feel leaning more towards vintage R&B at times. All that ultimately makes this Funky music lean more toward the underlying vibe that would emerge on Chunga's Revenge.
Setting realistic expectations, it is thus important to go into any Funky listening session not expecting it to sound like Return of the Son of Hot Rats. In fact, Funky Nothingness is its own thing betwixt and between, as Zappa was exploring new sounds for what would ultimately lead to the next incarnation of The Mothers of Invention.
Listen closely to these recordings, and you can hear the sound evolving before your very ears, going right from that Hot Rats fusiony vibe to the Chunga feel. Actually, if you listen really closely, you can also feel the embryonic compositional palette Zappa fine-tuned further when Mark Volman and Howard Kaylan of The Turtles (a.k.a. Flo & Eddie) joined the band some months later.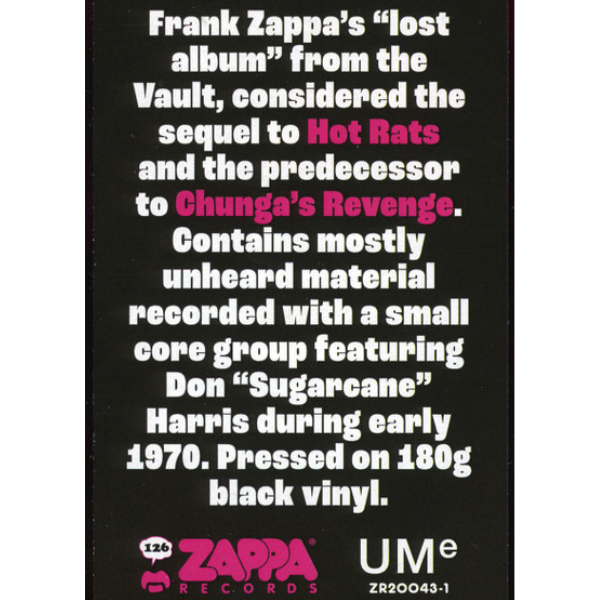 From the official press release, we can gain some important perspective on the significance of these recordings in the grand scheme of all things Zappa: "Working with the tracks that Zappa had produced, mixed, and worked on over the years, they compiled an 11-track album, naming it Funky Nothingness after a bluesy, stripped-down piece that the artist had recorded in 1967 at the end of one of the sessions for Uncle Meat. Originally intended to open an early version of Chunga's Revenge, the short, unreleased track 'sets the tone for the album,' explains Travers. Although the track was recorded a few years before most of the music presented here, Zappa eventually connected it to a build reel, signaling he was planning a release. 'Funky Nothingness, as an album, is special in that it features at least three written compositions, two cover versions and multiple instrumental jam-oriented segments, all previously unreleased,' Travers explains. 'It's very rare to find that amount of music from one set of sessions that has gone unheard for such a long period of time.'"
It is worth noting there are very high-quality recordings on Funky Nothingness, not tossed aside cutting room floor scraps or lo-fi rehearsal tapes. Multitrack master tapes for these recordings were found to have been captured on several different formats, including a 1in 8-track recorder, a 2in 16-track recorder that was then state of the art, and even a remarkably bleeding-edge early 2in 24-track recorder.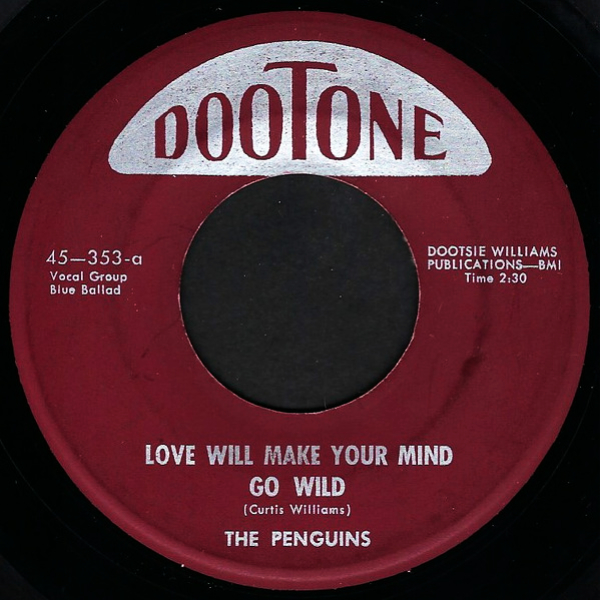 On Funky Nothingness, Zappa breaks out a fun doo-wop cover of The Penguins' 1954 single "Love Will Make Your Mind Go Wild" (Track 3, Side 1). [Sidenote for FZ newbies and non-fanatics alike: one of Zappa's first recorded compositions before The Mothers of Invention was The Penguins' 1963 single version of FZ and Ray Collins' "Memories Of El Monte."]
A fabulous jam on a classic Lightnin' Slim tune — "I'm a Rolling Stone" (Track 4, Side 1) — reveals the root source for the iconic last track on Side 2 of Zappa's March 1974 Top 10-charting, gold-selling Apostrophe(') LP, "Stink-Foot." I noticed this similarity immediately during the first time I heard the track. Apparently, the Zappa-made mixes here are all that remain today. Several years following the jam, FZ took those multitrack reels into the studio to record mostly new vocals and music, save for Dunbar's original drums. This is a good, early example of the compositional/recording technique Zappa eventually dubbed "Xenocrony."
This song is also, in many ways, a template for a completely different song that came later on Chunga's Revenge, "Road Ladies" — a ripping electric blues with some comical, sexually charged lyrics not all that far removed from Slim's original as played here, when you stop to think about it.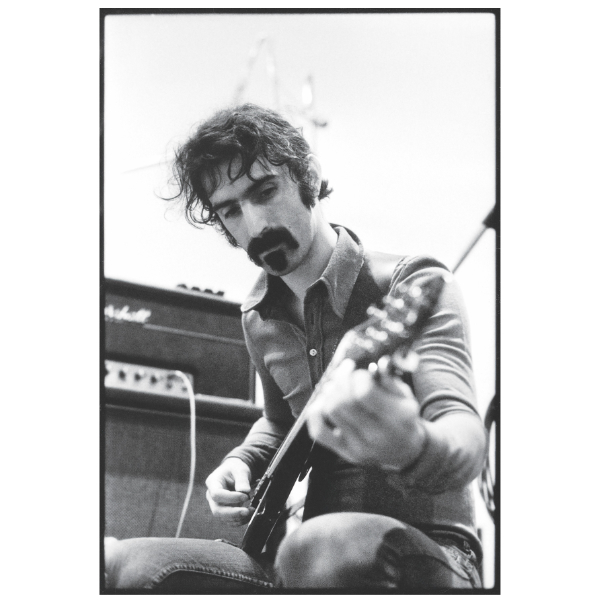 One of the most epic tracks on Funky Nothingness "Sharleena" (Track 3, Side 3), was actually released on the 1996 Rykodisc CD compilation The Lost Episodes. This 12-minute 1970 mix from The Record Plant marks the first time, as far as I know, that "Sharleena" has appeared on vinyl in context with the other recordings from this period. For those of you familiar with the Chunga's Revenge version, this new, earlier take is much longer, and it features an extended jam session in the middle with some scorching soloing from both Sugarcane Harris and Zappa.
Side 4 of Funky Nothingness contains two of my favorite tracks on the entire album, both of which are newly remixed by Craig Parker Adams from the original multitracks. The first tune is a swinging sort of soul-jazz composition called "Khaki Sack" (track 1), which features Ian Underwood on super groovy organ! Zappa had apparently occasionally played this song on tour with The Mothers of Invention — live versions have previously been released, including one on the June 1992 Beat the Boots! II box set under the title "w̃hät" on the box's Electric Aunt Jemima album entry — but the Funky version is the only known studio take of the tune.
"Twinkle Tits" (Track 2) is another track that had been played on concert stages, but here on Side 4 of Funky Nothingness, we get to hear as close as Zappa got to finishing the work, of which he recorded nine full takes. Clearly, Zappa had plans for this recording as he dedicated a lot of time to its making with overdubs and intercuts to achieve his desired arrangement. This contains some absolutely beautiful melodies and chord sequences, book-ending soaring Zappa guitar, and electric violin soloing from Sugarcane Harris.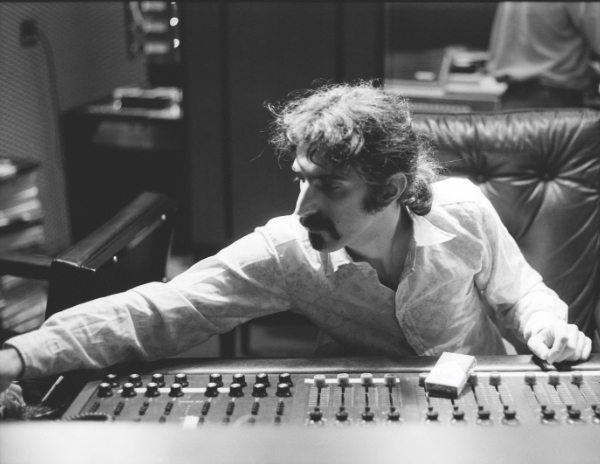 I could go on into much more Zappa minutiae, but I think you get the idea that Funky Nothingness is a pretty significant release. I'll wrap this review up with another quote from Vaultmeister Joe Travers, who sums things up pretty succinctly: "With archival releases from the vault, it is normal to find different arrangements of past tunes featured in live concerts and studio settings with other bands, but actual NEW compositions are few and far between, especially from within Zappa's golden years of the '60s and '70s. Funky Nothingness delivers on all fronts, showcasing Zappa's love for rhythm and blues, picking up where Hot Rats left off with extended instrumental work-outs fusing rock, jazz, and classical elements into music that can only be described as ZAPPA. The guitar work and virtuoso musicianship are in full effect."
If you love Frank Zappa's music and his work around the time of Hot Rats and Chunga's Revenge, then Funky Nothingness is an absolutely essential spin for you. 'Nuff said.
(Mark Smotroff is an avid vinyl collector who has also worked in marketing communications for decades. He has reviewed music for AudiophileReview.com, among others, and you can see more of his impressive C.V. at LinkedIn.)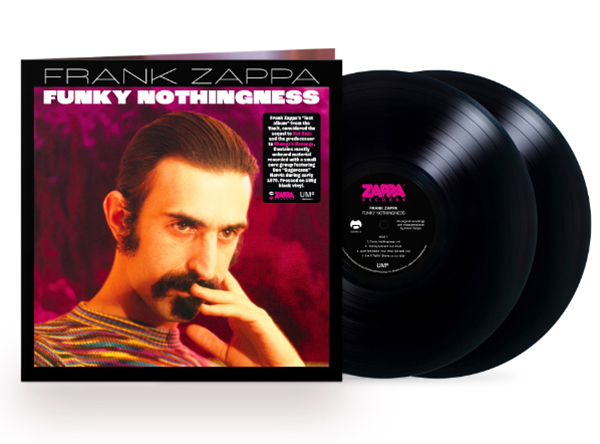 FRANK ZAPPA
FUNKY NOTHINGNESS
180g 2LP (Zappa Records/UMe)
Side 1
1. Funky Nothingness
2. Tommy/Vincent Duo I
3. Love Will Make Your Mind Go Wild
4. I'm A Rollin' Stone
Side 2
1. Chunga's Revenge (Basement Version)
2. Basement Jam
Side 3
1. Work With Me Annie / Annie Had A Baby
2. Tommy/Vincent Duo II
3. Sharleena (1970 Record Plant Mix)
Side 4
1. Khaki Sack
2. Twinkle Tits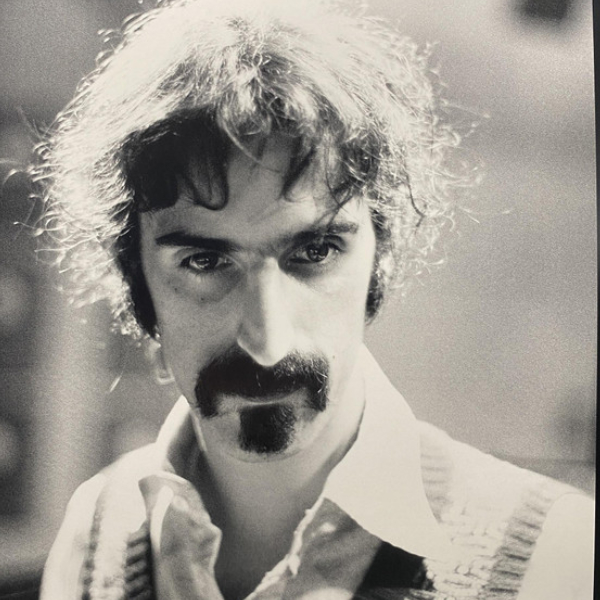 <!- ------------------------------------>