Gene Clark Album That Wasn't, Finally Is
Gene Clark owed A&M an album in 1972 and so to fulfill his contract he did what most artists do in such circumstances: he decided to make one for himself.
Graham Parker kissed off his label with an album called Mercury Poisoning. Van Morrison owed one to Bert Berns' Bang label. Berns had died but Van, who had had a volatile relationship with Bert and was anxious to go to Warner Brothers and record Astral Weeks, handed his grieving widow Eileen an unreleasable album containing the ten songs and the publishing rights thereto. The songs—actually a series of short ridiculous and nonsensical jams— had titles like "Blow In Your Nose," "Nose in Your Blow," and "Ringworm."
When Lyle Lovett left Lost Highway, his longtime label, he called the record Release Me and pictured himself on the cover bound in rope. Gene Clark instead chose to gather the best country-rock musicians he knew—including guitarist Clarence White, bassist Chris Ethridge (both now sadly gone), original Byrds drummer Michael Clarke, pedal steel giant Sneaky Pete Kleinow, fiddler Byron Berline and keyboardist Spooner Oldham.
Though the unpredictable and some would say emotionally fragile Clark walked away from the sessions, he managed to finish or nearly finish eight worthwhile songs, including a few covers and a remake of his Byrds' B-side "She Don't Care About Time."
Jim Dickson, Clark's manager at the time, took those and added three songs: two recorded by the original Byrds ("She's the Kind of Girl" and "One in a Hundred") on May 12th 1970, July 10th 1970 and February and April 1971—in other words well before their eventual reunion album—and one ("Here Tonight") with Clark backed by The Flying Burrito Brothers.
"She's the Kind of Girl" was supposed to be the A-side of single but because of contractual issues with the other Byrds it was never released. Incredibly, neither was the album—at least in America. The Roadmaster album was issued in Europe though in 1973 (A&M 27 897 ET) and lucky American Clark fans could get their fix on the limited distribution import album.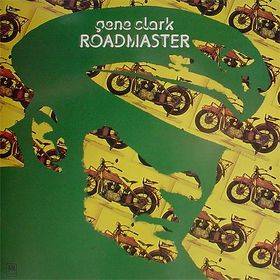 Finally in 2012 the American musical icon Gene Clark gets an American issue of the album thanks to Sundazed, with remastering by Sundazed's Bob Irwin from the original analog tapes, though the uncredited lacquer cut was probably from a high resolution digital file supplied by Irwin.
The songs are thoughtful (some might say sad and/or morose) ballads taken at slow tempi. Clark's melodic sense remained impeccable and the tunes resonate on many levels both as nostalgia for older listeners and surely as simply beautiful for younger listeners.
"Full Circle Song" was later re-recorded by The (reunited) Byrds and Clark reprises his gorgeous "One in a Hundred" originally on the album White Light. Though Clark abandoned this project, the results here demonstrate that doing so was a mistake. Later Clark admitted he was proud of those 1972 tracks he'd abandoned.
For Clark fans the release of this album is a cause for celebration. For others it's an opportunity to become acquainted yet again with a brooding country-rock great whose life ended tragically in 1991 when he was but 46 years old. Clark had a drinking and drug problem that he'd kicked more than once.
Tom Petty recorded "I'll Feel a Whole Lot Better" for his Full Moon Fever album, which someone should reissue (unless the master was destroyed in Tom's terrible house fire) and Clark received a chunk of change in royalties, which he reportedly used to fuel a drug and alcohol binge that accelerated his health issues.
A very sad story but there's nothing sad about this beautiful album that celebrates Gene Clark's brooding brilliance. It sounds very, very good too. I compared it to the European issue of Roadmaster that I've treasured since I found it in a Harvard Square record store back in 1973 and the comparison was interesting. Clearly Irwin had the master, whereas Europe was sent a dupe of somewhat lower quality.
However the tape was forty years younger when the older record was made and clearly it was all analog so the original LP has certain "analog-y" characteristics the reissue does not have—mostly an enveloping sense of flow and smoothness—however, the reissue is far superior in terms of transparency and especially dynamics, where it stomps all over the original. Combine superb sound by any standard and a very quiet high quality pressing (probably Rainbo) and you have a Gene Clark "must have" for those who must have all of Gene Clark's work. Count me among them. Thank you Sundazed!

<!- ------------------------------------>