The Gospel According to Zimmerman: "Trouble No More" The Bootleg Series Vol. 13/1979-1981
What always felt like it would be a nasty bump in the Dylan Bootleg Series road turns out to be a smooth walk on the water thanks to a concept the Dylan boot team perfectly executes by covering the mutable artist's evangelical period with highly charged live performances, outtakes and rehearsals that will turn you into a believer, if not in Christ, then in Dylan's absolute commitment to what he then preached and in the power of the songs and especially the supercharged performances he delivered.
The lifelong atheist and high performance audio-hating Penn Jillette speaks for me in his annotation where he writes that he bought Saved and Shot of Love when they came out, but they sat on the shelf gathering dust. Like Jillette, I couldn't face a "Christian Dylan". Like Jillette the fever finally broke with the release of Infidels and like him, listening to this box produced in me a water-to-wine change of opinion.
Also helping was viewing concert footage from this period presented during a press event at Sony headquarters. It's available on DVD only in the deluxe CD edition of this set. Backed by a Jim Keltner, Tim Drummond anchored band, Dylan has that unmistakable unshakable conversion fire in his eyes and in his volcanic vocal eruptions that I'm convinced are at the root of his currently stripped vocal cords. Also onboard were guitarist Fred Tackett (Little Feat), and a revolving cast or keyboardists that included Spooner Oldham and Al Kooper among others. Plus of course a trio and at times a quartet of background gospel singers.
Between November 1979 and May of 1980 Dylan sang only songs from Slow Train Coming and Saved in what was a gospel review that did not include any of his best known and loved back-catalog. Those who attended these concerts (and stayed for the duration) were treated to what's described in the annotation as an "unforgettable experience"—a claim that's backed by the audio, which documents Dylan's use of gospel themes to craft songs that propelled his journey to and through Jesus. Actually it wasn't so much a journey as it was an epiphany. After a concert in Tucson, Dylan told a reporter "Jesus put his hand on me. It was a physical thing".
Speaking of physical things, this box, like previous bootleg series boxes is a carefully considered, deluxe package starting with a full-sized, perfect-bound book printed on heavy, glossy stock and rich with content, written and visual.
In addition to Jillette's confessional, there's an introduction by Ben Rollins that sets up the box's concept and the programming logic, a concise backgrounder and contextualizer by musicologist Amanda Petrusich, and track-by-track annotation by Bob Bowman author of "Soulsville U.S.A. The Story of Stax Records"—all accompanied throughout by superb photographs.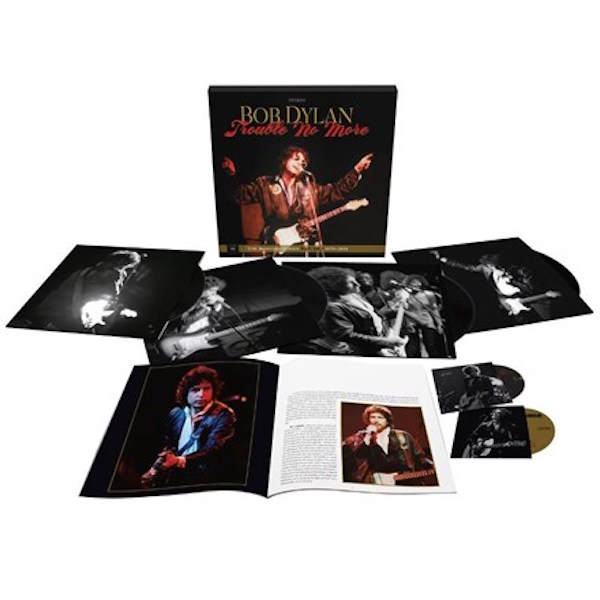 The sound is variable, some from board mix cassettes that sound remarkably good, and some recorded to an 8 track Otari machine but all of it was surprisingly listenable and much of it very "you're there live" quality. You get the entire program on two CDs as well as on four records cut by Ryan K. Smith at Sterling Sound. I listened through on CD using a very high quality DAC and then I played the records, which made me feel as if I was witnessing "live" in ways the CDs can't begin to manage. That drives the digital people crazy but that's how I heard it. The vinyl is definitely more involving and the MPO pressing quality was high. The French pressing plant is producing consistently good records. (The deluxe CD box includes 31 additional performances and the DVD containing the aforementioned movie).
Live performances by a stellar band produce an excitement level the studio recordings can't match, but it's Dylan's near-frenzied, hyper-emotional fervor and commitment to the material and to his then unshakable belief in Jesus that will make you a believer, if not in Jesus than in Dylan's sincerity and his desire to get you on board the slow train.
<!- ------------------------------------>