Idris Muhammad's Lost 1971 Soul Jazz Jam Album, Peace and Rhythm, Spins Fresh, Rippled Gold for a New Generation Via a 180g 1LP VMP Reissue Relatively Unaffected by Its Color-Vinyl Presentation
Unlike household names like John Coltrane, Miles Davis, and Herbie Hancock, respected drummer Idris Muhammad is perhaps not all that well-known to most mainstream jazz music fans. Luckily, the good folks at Vinyl Me Please — working in conjunction with Craft Recordings' Jazz Dispensary series — have just released a quite fine, RTI-pressed, Kevin Gray-remastered-and-lacquer-cut 180g 1LP reissue of Muhammad's rare second solo album made for Prestige Records, 1971's Peace and Rhythm.
Some history for you first. Soul jazz drummer Idris Muhammad (given name: Leo Morris) originally hailed from New Orleans. Notably, he played on Joe Jones' massive 1960 smash pop hit, the No. 3 single "You Talk Too Much" (which was actually written by Fats Domino's brother-in-law). Perhaps even more notable, Muhammad may have actually played on Domino's own "Blueberry Hill," although other sources indicate Wrecking Crew legend Earl Palmer played on that legendary track.
Muhammad (who sadly passed away at age 74 in 2014) apparently also worked with soul stars Jerry Butler and Curtis Mayfield, and, for several years, he was in the orchestra of Broadway's smash hit Hair — and he is the credited drummer on the Original Cast Recording to boot. He even toured with the likes of Lou Donaldson and Sam Cooke.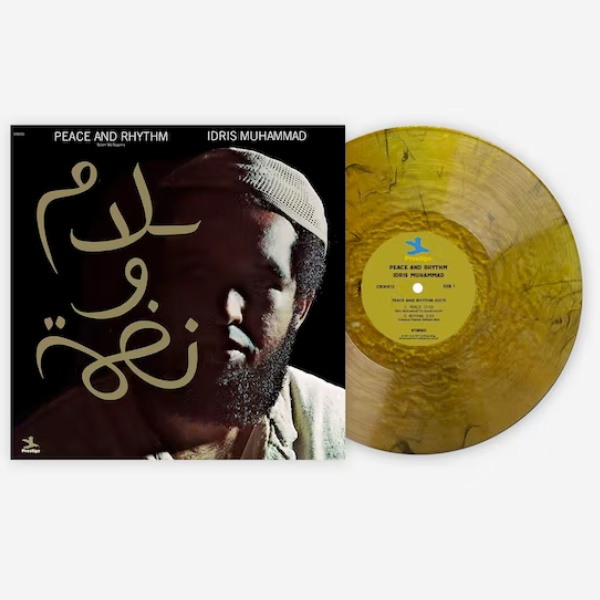 Muhammad's work runs deep in the New York jazz scene of the time as well, playing with no less than Kenny Dorham, Horace Silver, and Betty Carter. An in-demand session player, he reportedly worked on more than 150 recordings for labels including Prestige, Blue Note, CTI, and others. And that is really just scratching the surface of what Muhammad was about — quite the pedigree, no?
Those in the know — particularly fans of so-called "soul jazz" from the late-'60s and early-'70s — of course will be familiar with Idris Muhammad for his much in-demand grooves. A quick perusal of the reverse-DNA-music-tracking site whosampled.com reveals many of Muhammad's beats have been sampled over the years by the likes of The Notorious B.I.G., Nas, Beastie Boys, Fatboy Slim, and Drake, to name but a few.
Considering all that sampling goin' on, crate-digging DJs seeking out the man's original grooves have no doubt led to increased demand for Muhammad's vinyl releases. And therein lies the rub, as his albums were probably not pressed in large numbers, nor were they big sellers back in the day. Thus, of the relative handful of original copies of Peace and Rhythm available as of this writing on Discogs, only two are available in the United States — and with an asking price upwards of $200 each!
Can we talk scarce? It's not surprising an album like this one has become a sampler's dream, either. On the Vinyl Me Please site, Peace and Rhythm is described as a blend of, quote, "Eastern influences with opulent funk, resulting in a listening experience that is equal parts smooth, heady and uplifting."
Well, happily, Vinyl Me Please, working in conjunction with Craft Recordings, have created a lovely exclusive reissue of this funky-soulful groove jazz gem as part of their wonderful Jazz Dispensary series of soul jazz-oriented releases. Limited to 1,000 copies, this new 180g 1LP edition of Peace and Rhythm was mastered by Kevin Gray at Cohearent Audio, and Gray also cut his lacquers from the original master tapes. Also, the album was pressed at RTI. The SRP for Peace and Rhythm listed on VMP's site as $50 for nonmembers, or $45 for VMP Club members. You can get yours here. Also, if you want to become a Club member, you can see all that it entails here.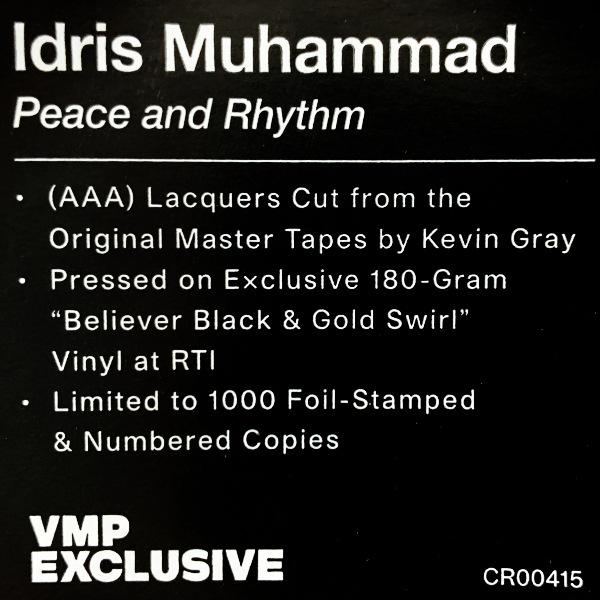 Vinyl Me Please kindly sent me a copy of the Peace and Rhythm reissue for this review — and I'm generally impressed with it overall, as I have been with most VMP releases I've heard so far. It offers high-quality production values inside and out — among them, period-accurate original cover art and labels, as well as quality pressings that are well-centered.
The music itself, of course, is pretty fantastic — and I'll get to more on that in a bit. But first, I have to alert you of one consideration here, as the album is pressed on highly patterned color vinyl. Now, I happen to think this pressing of Peace and Rhythm is jaw-droppingly gorgeous, if you will allow me the space to embrace my not-so-inner record geek. This is one of the prettiest gold-ripple-type pressings I've ever seen, in fact. It is also a very thick album — at least 180g, but maybe even more. This would help to address the generally great sound on the disc — better than any I've heard to date using this sort of gold or silver metallic vinyl formulation, I might add.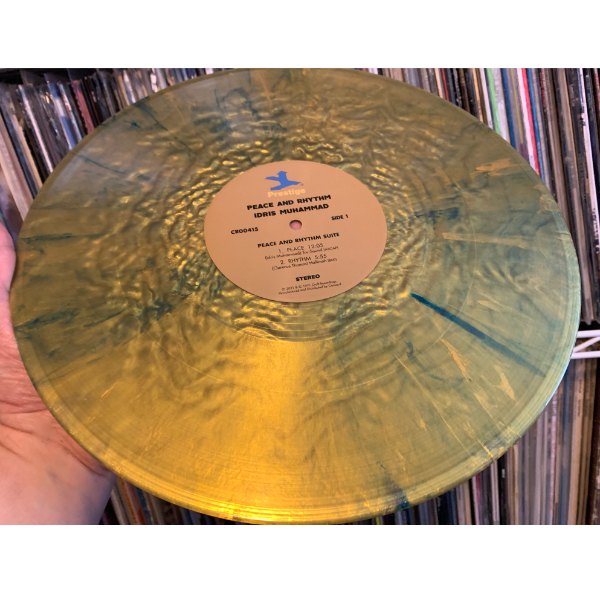 But I did qualify my statement above with the phrase "generally great sound," because the reality is, this sort of heavily patterned color vinyl can bring with it some surface noise. And while it is very slight, I have to be transparent in letting you know you may hear some lightly fluttering background noise — mostly noticeable in the silence between tracks — as well as if you are playing the album at a fairly loud volume. (And who doesn't like to pump up the volume on their funky soul jazz albums anyway?)
Fortunately, the music on Peace and Rhythm is mostly upbeat, vibrant, and alive with drums and horns and badass funkin' soul jazz grooves, so it is very easy to forgive and forget about this issue inherent in certain color-vinyl pressings.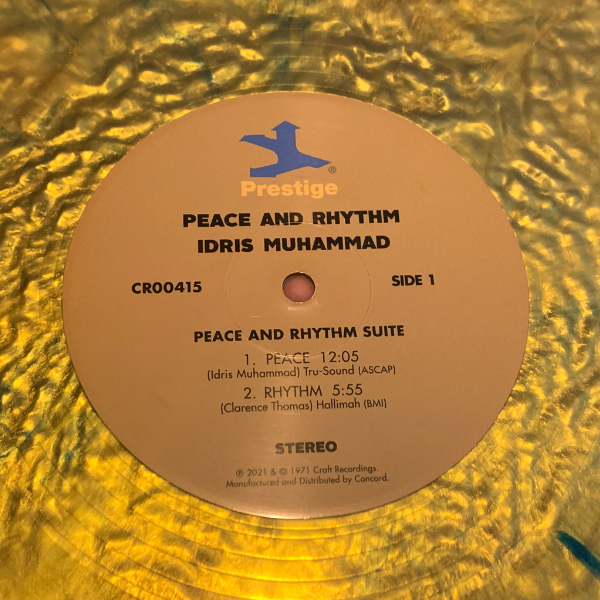 Peace and Rhythm does not consist entirely of all-instrumental music, by the way. Two songs, "Brother You Know You're Doing Wrong" and "I'm A Believer," feature the vocals of the drummer's wife, Sakinah Muhammad. A quick journey through the Interwebs reveals a significant, great historical detail — Sakinah Muhammad was the converted name taken by Dolores "LaLa" Brooks. Brooks was the second lead singer of the notable '60s girl group The Crystals, and also a Broadway actress. She is perhaps best known as the lead vocalist on two of The Crystals' biggest hits, April 1963's "Da Doo Ron Ron" (No. 3) and July 1963's "Then He Kissed Me" (No. 6). Hence, she has got some serious vocal chops!
So, yes, there are a couple soulful swinging grooving songs here, as the final track on Side 2, "I'm A Believer," definitely leans toward the spiritual, though not too preachy, side of things. The airy, samba-like music is lovely, providing a lofty featherbed for Sakinah's vocals to float upon and soar up to the clouds — most especially on that final track in particular, "I'm A Believer."
Let's now talk about the band, as it is a smoking assemblage that includes Melvin Sparks and Alan Fontaine on guitar, Ron Carter and Jimmy Lewis on bass, and Kenny Baron on piano. Together with some congas support from Buddy Caldwell, the grooves on Peace and Rhythm are rich and soulful, giving plenty of room for the musicians to improvise around Muhammad's own melodies and arrangements.
My favorites thus far no doubt leans toward the Side 1, titular two-part "Peace and Rhythm Suite," especially the second part ("Rhythm") that starts out moody with gongs and splashes of cymbals before exploding into a rollicking Latin-jazz excursion. Meanwhile, Side 2's "Don't Knock My Love" is an instrumental take on Wilson Pickett's same-named Top 20 hit from April 1971 — clearly, Muhammad was on top of the vibe of the moment, as this album was recorded in September of that same year.
This album is one sweet spin. If you like your soul jazz grooves deep and rich, Idris Muhammad's Peace and Rhythm may well be a jam for you. And, if that's indeed the case, you might want to pick one up sooner rather than later, as this VMP and Jazz Dispensary special limited edition caps out at the aforementioned 1,000 copies. Grab one while you can!
(Mark Smotroff is an avid vinyl collector who has also worked in marketing communications for decades. He has reviewed music for AudiophileReview.com, among others, and you can see more of his impressive C.V. at LinkedIn.)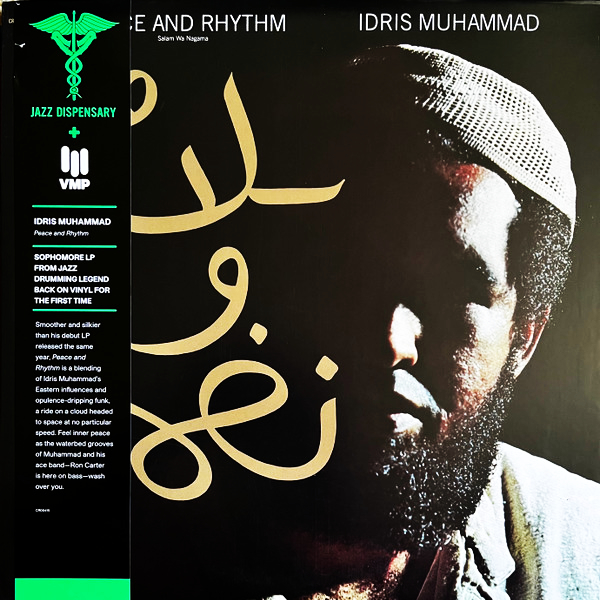 IDRIS MUHAMMAD
PEACE AND RHYTHM
180g 1LP (Vinyl Me Please/Craft Recordings/Jazz Dispensary)
Side 1
Peace and Rhythm Suite
1. Peace
2. Rhythm
Side 2
1. Brother You Know You're Doing Wrong
2. Don't Knock My Love
3. I'm A Believer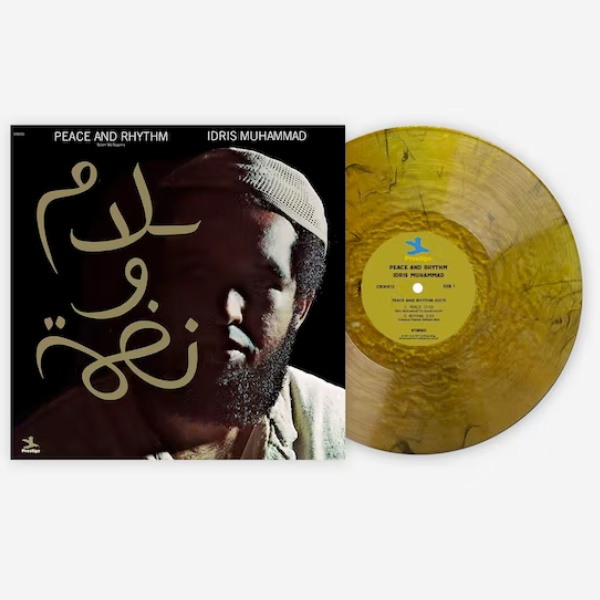 <!- ------------------------------------>