Jimi Hendrix Mono Mixes Focus The Action
Phil "back to mono" Spector would be happy. Not about his upcoming HBO biopic starring Al Pacino but about the mono craze sweeping the record business if not the country. True its a single bristle sweep, but it's better than no brush at all.
Sony/Legacy released those Miles albums last Record Store Day and now we have Jimi Hendrix's first two albums (three if you count the mono U.K. version) and by Christmastime we'll have The Beatles mono LPs.
If you're old enough to have experienced Are You Experienced? when it was first issued in America your mind is probably still blown from your first listen and if not, why not? The back cover photo alone was enough to do it though it looks tame now. The music retains its power.
May of 1967 saw the release of The U.K. edition on the new Track Records label distributed by Polydor. As was typical of the time, the album did not include the singles that had been hits there for Hendrix: "Purple Haze" "Hey Joe" and "The Wind Cries Mary."
Not that most of us in America knew about any of this—at least not until Hendrix created a sensation at The Monterrey Pop Festival that summer. Then Reprise Records got plenty busy. The label had released "Hey Joe" in May of 1967 but it didn't create a ripple. In the U.K. it reached #6 on the charts, proving yet again that the Brits do have better taste.
Reprise issued the American Are You Experienced? in August of 1967 and for those of us who bought it, that fall and the ones that followed would never be the same! Reprise ordered a stereo remix and changed the tracks to include the hits, while omitting "Red House" much to Jimi's chagrin. He'd helped formulate the new order but didn't want "Red House" out.
The album was an instant hit. Its influence on popular music was profound but beyond that it oozed into a generation's mental ether and was probably more responsible than was Sgt. Pepper's Lonely Hearts Club Band for the profound cultural shift that turned a large part of a generation from straight to stoned, both literally and figuratively.
The first few thundering bars of "Purple Haze" softened the brain, making it easier for the rest to march in and scatter the musical shrapnel. "Manic Depression?" Common phrase now but not then. For those accustomed to Arthur Lee's rapid-fire "Hey Joe," this one was positively disorienting and so it went on a first side filled with confusion, disorientation, doubt and fear. For Hendrix it wasn't a game or at least that's what it sounded like at the time, confirmed by later events.
Reprise issued both the remixed stereo version and the mono mix but by then stereo was king and mono copies were scarce. I've never even seen one. I have the original stereo pink/green/yellow "steamboat" release that never quite sounded right to me even back then. It's 'stereo' is odd and sometimes hokey but what did Eddie Kramer have to work with? A four track master featuring mixed and bounced tracks to make room for more of them? "Purple Haze" sounds mono save for Jimi's voice marooned on the right channel with lotsa echo on it. The "help me" and assorted "walla" bounces hard left and right. What's the point? Scared the shit out of you if you were listening for the first time on your Koss Pro4A headphones, that's for sure!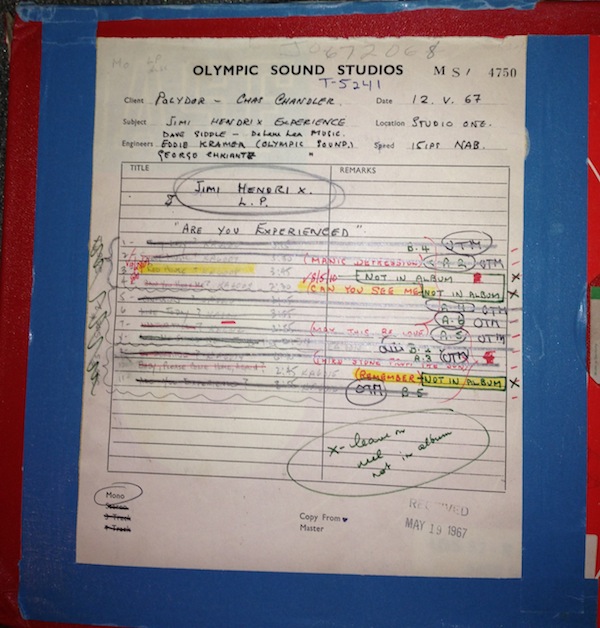 So after all of these years, a proper 200g edition of the mono mix cut AAA from the original master tapes by Bernie Grundman and pressed at Quality Record Pressing (erroneously referred to on the sticker as "Quality Record Manufacturing") is most welcome!
It's coherent, powerful and not as "reverb-y" as the stereo mix that sounds suspiciously like a combination of re-processed for stereo mono with odd tracks taken from the original 4 track tape splattered left and right. That could be a wrong assessment but that's what it sounds like. Mitch Mitchell's drumming mostly centered in a wide diffuse messy image sounds like its a different recording from the guitars and vocals mostly spread left and right.
The mono mix puts it all together nicely and Grundman's cut is wide band, ultra-clean and dynamic. It's the American Are You Experienced? to have in my experience and believe me at this point I am experienced! The drumming on "May This Be Love" is so much more powerful and effective on the mono mix. In fact everything is better, but especially the drumming. The mono mix is cohesive. The stereo mix is fractured.
I did not get the mono reissue of the U.K. version but I do have an original (Track 612 001). It's got a different cover and of course different track order and different tracks minus the singles. Yes the singles are missed and an album starting with "Foxy Lady" simply can't compete with one that begins with "Purple Haze." The U.K. original has "Red House," a Hendrix blues original, "Can You See Me" and "Remember." "Remember" is amazing in that in retrospect it was Jimi creating the sound and format for the band Free (unbeknownst to him of course!).
The original U.K. mono mix (or at least the LP mastering of it) is literally devoid of bass. But more interestingly, it's an unusually clean, literal mix that removes most of the mystery and power found on the U.S. edition. It's as if Eddie Kramer, swept up in the times (it was the time of Sgt. Pepper's..., re-thought the whole thing for the American mono and pumped up the production to better reflect the musical intent. Unfortunately, I did not get the U.K. mono reissue so all of that is conjecture!
Confusing the matter was an early '90s mono reissue from U.K. Polydor (847 234-1) that featured the original U.K. front and back covers but the American track listing and order! It also sounds like a different mix or the U.K. mono mix but with the bass restored and an annoying amount of added echo and treble that some misguided souls think is the best version of the album. Really?
John McDermott's liner notes for Are You Experienced? say that Eddie Kramer created both mono and stereo editions of the Track U.K. version but I've never seen a stereo version.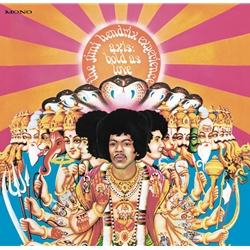 Arguing for the superiority of the mono edition of Axis: Bold As Love is a heavier lift that I'm not going to make, but I will argue that it is at least as good as the stereo mix and well worth having. Again, there's power in the mono focus, and the drums in particular are well served. Cynics would argue that much of that power is due to the fact that when the album was originally mixed to mono it was through a single speaker but now it's being played back through two of them for double the bass! Think about it. It's true.
It's also true that I'm not about to slide a Wilson XLF to the center of the room and shut off the other one to listen in mono!
Some readers have asked how the new Axis.... compares to the the one from Classic Records issued last decade also mastered by Bernie Grundman. For one thing Classic's packaging is superior. That's my one complaint about this series: second rate jackets. We've come a long with with packaging. These are a step back. That said, I'd rather have first class mastering and pressing. Speaking of which, the QRP pressings are dead quiet and physically perfect.
Classic's thick, laminated paper on cardboard jacket is beautiful and you get the original Track Record label. Here you get the Experience Hendrix label and thin jackets with dull, less than vibrant reproduction of the cover art. It's not a big deal on the first album but the cover art on Axis: Bold As Love is positively Lysergic.
Sonically there's actually a big difference between Bernie Grundman's two masterings even though the new one like Classic's is said to have been cut using a monophonic tape head on a Studer running through tubed Ampex 350 electronics.
Classic's is definitely a hotter cut. The top and bottom are more pronounced—not the way Mobile Fidelity ruined The Beatles albums in the 1980s with pumped top and bottom that carved a valley in the midrange—but just a bit on both sides.
This new master is less pumped top and bottom and not quite as "hot". I like it better. I suspect Classic's was done before Bernie upgraded his mastering chain because the new one is more linear and less bright intrinsically and not just a matter of EQ. It's also somewhat more detailed and resolved in the midrange and I think that's independent of the equalization choices.
I'm not saying the new one is a "must" if you have Classic's but if you don't it is. At least if you're a Hendrix fan.
Both of these mono reissues are easy to recommend. The mono Are You Experienced? is definitive. (The sound ratings are relative to what can be expected from these recordings. Are You Experienced? is not a "9" in absolute terms).

<!- ------------------------------------>