John Lee Hooker's 1962 Blues Classic Burnin' Heats Up Turntables Again With New Kevin Gray-Remastered All-Analog 180g LP From Craft Recordings
Even if you have only been moderately exposed to the universe of blues music, the name John Lee Hooker is among the great artists who belongs alongside other major names like B.B. King, Howlin' Wolf, Willie Dixon, and Leadbelly (for starters). And while there are certainly no shortage of recordings by John Lee Hooker — whose career stretched from the 1940s on into the early 2000s — finding good-sounding original pressings and/or high-quality reissues of his early material can sometimes present a bit of a challenge for audiophiles and collectors alike.
Take the case of Hooker's March 1962 release on Vee Jay Records, Burnin'. This record has been reissued an endless amount of times — and some of them by perhaps dubious entities, at that — to the point where it is hard to know what you might be buying with regards to pressing quality and sources used to make those records.
Finding original pressings of this rare album can be a costly undertaking "out in the wilds" (as many a crate digger says these days). At the time of this posting, there were seven original pressings of Burnin' available in the United States on Discogs, starting at $75 and going on up to over $300! Only four of those seven pressings are in stereo, by the way. (More on that in a moment.)
If you dig deeper on Discogs (i.e., via search by date), you will see there are many reissues of unknown origin from different entities, many ranging in price from a minimum of about $20 on up through $40 each.
It is important to understand the notion of international copyrights and the fact that, in certain markets, the rights to some older recordings like this one may have expired. What this means is, essentially, anyone could press up copies of the album and sell it without giving anything back to the artist's estate, nor pay any attention to quality control. I won't name names, but many of these off-label brands are renowned for truly inferior sound quality. One of the options I found online even cobbled together a version of the Burnin' cover using a different campfire scene than on the original (note lower left of the collage below).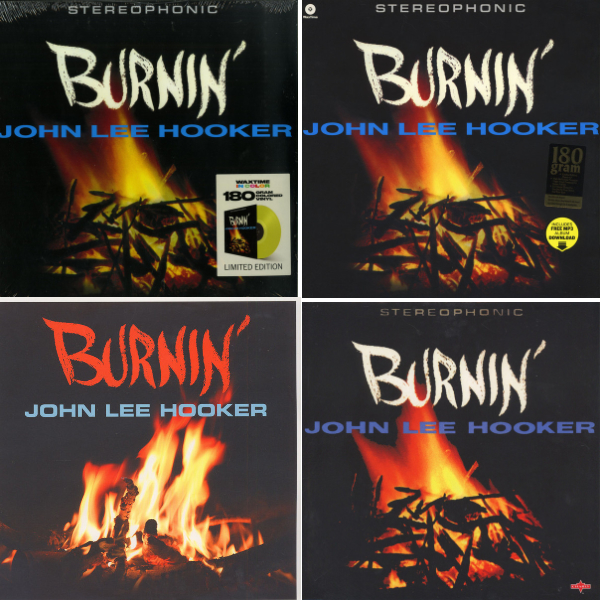 All this background makes the new 60th Anniversary edition of John Lee Hooker's Burnin' from Craft Recordings all the more appealing. As many of you likely know, Craft is the boutique record label owned by Concord Music Group, which now also own the archives of Vee Jay Records along with many other labels such as Fantasy, Prestige, Fania, and Milestone, to name a few.
The Burnin' stats are these: This new 180g 1LP Craft Recordings edition of is newly remastered from the original analog tapes by vinyl disc mastering engineer Kevin Gray of Cohearant Audio. Said 180g LP was manufactured at Memphis Records Pressing. It comes in a tip-on style jacket that replicates the construction of the original editions as issued on Vee Jay Records in 1962. You can pre-order the Craft edition now if you so choose, as this LP's official release date is February 24, and its SRP is $29.99.
I don't know about you, but when I buy a reissue, I like it to be as close to the original editions as possible. In that light, Craft Recordings has done an ace job on this reissue. But just how classic is this recording, you may wonder?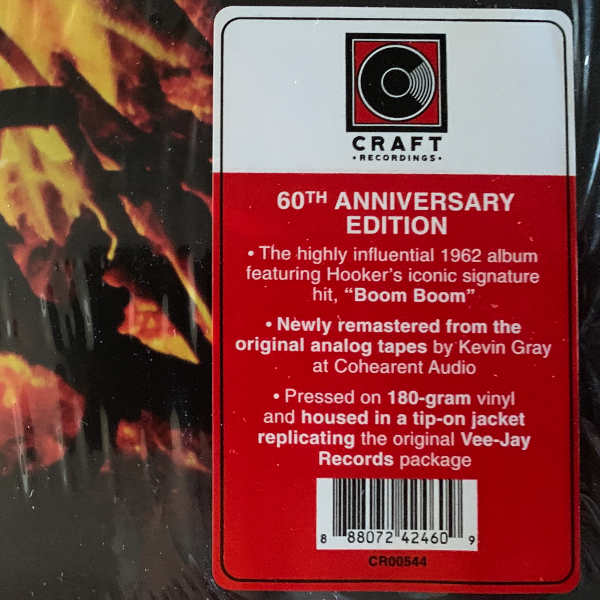 Well, consider that Burnin' opens up with Hooker's truly iconic "Boom Boom," which just two years later became a big smash hit for The Animals, featuring Eric Burdon's indelible lead vocals. Over the years, many other name artists have covered it, and "Boom Boom" is also included in the Rock and Roll Hall of Fame's list of "500 Songs That Shaped Rock and Roll." Additionally, "Boom Boom" spent eight weeks on Billboard's R&B chart and peaked at No. 16, crossing over to the Billboard Hot 100 at No. 60 — which was a big deal for a blues artist in 1962. That all feels pretty classic to me.
Burnin' was initially released in both stereo and mono in 1962, and it was a big departure from Hooker's prior releases. According to official press materials (here in quotes):
"Burnin' paired Hooker with a full, electric band for the first time on record, with six of the most talented musicians of the era — all of whom served as members of Motown Records' house players. Joining Hooker was keyboardist Joe Hunter, bassist James Jamerson, guitarist Larry Veeder, and drummer Benny Benjamin. A horn section, featuring saxophonist Hank Crosby and baritone saxophonist Andrew "Mike" Terry, added additional textures to the songs. These men, who soon came to be known as the Funk Brothers, would appear on the biggest hits of the decade, backing sessions by the Supremes, Marvin Gaye and Tammi Terrell, the Temptations, and Stevie Wonder."
Again, that all sounds pretty darn classic to me!
Before I broke this new Craft Recordings Burnin' reissue out of its sleeve, I played the closest thing I have in my collection for a reference listen — an old Vee Jay Records pressing of The Best of John Lee Hooker. Admittedly, it's not exactly the same (my copy is mono), but it does have at least a couple of the songs in common with Burnin' that I could compare and contrast ("Boom Boom," "Drug Store Woman"). It was enough to give me an idea of the general feel of the album via an old vinyl edition.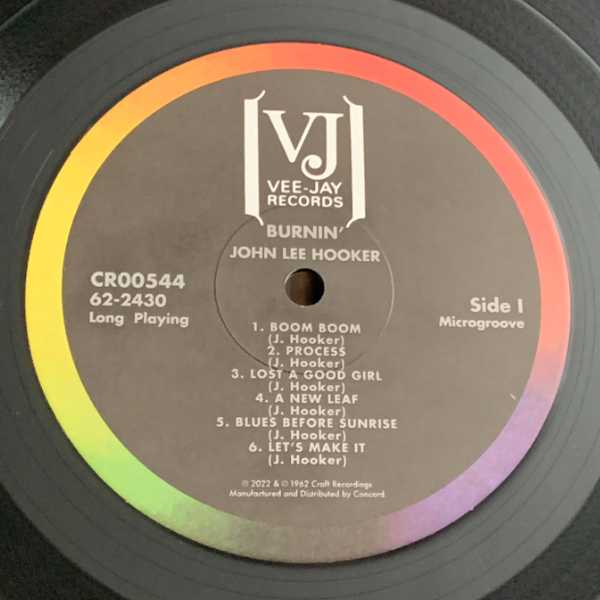 As for the Craft Recordings version, from the opening notes of Side One's "Boom Boom," I let out a loud "ohhhhhh yeahhh!" This feels like a Vee Jay album, but with more depth and resonance than the somewhat more compressed original. The drums and bass are particularly full, and I would venture to say the album overall delivers a wider range than one might hear if you had a mint original pressing.
The stereo mix is quite enjoyable even though it is an old-school, early-style mix that places the drums and bass more to a one-channel balanced by a room-filling reverb bounce (if you will) into the other channel. Piano, guitar, and vocals appear on the other side — but, again, there is this ricochet reverb that makes the whole affair work for me.
One of the amazing things in listening to this 60-year-old album is howtimeless it sounds. Honestly, between the high-quality, earthy recording and excellent mastering, this is the kind of album you could play blindly for someone who might think it was made in recent times. Yet it has all that lovely analog warmth and no harsh sonic edges, so when you turn up your amp, you'll really feel the room in which the band was recording.
Hooker's voice is especially resonant on Side One's "Blues Before Sunrise." There are some great electric guitar tones coming through in this edition too. And, by gosh, "Keep Your Hands To Yourself" on Side Two has such a killer groove — it's like The Champs' "Tequila," albeit after a few shots and played way more soulfully. (Just dig those super-fast fills!)
The 180g black vinyl pressing of Burnin' is generally excellent. My copy is quite quiet, and very well-centered. There was a teensy bit of audible surface noise apparent toward the end of Side One, but it was only noticeable as I had the volume on my amp pumped up fairly loudly. That said, I didn't consider it any sort of big issue.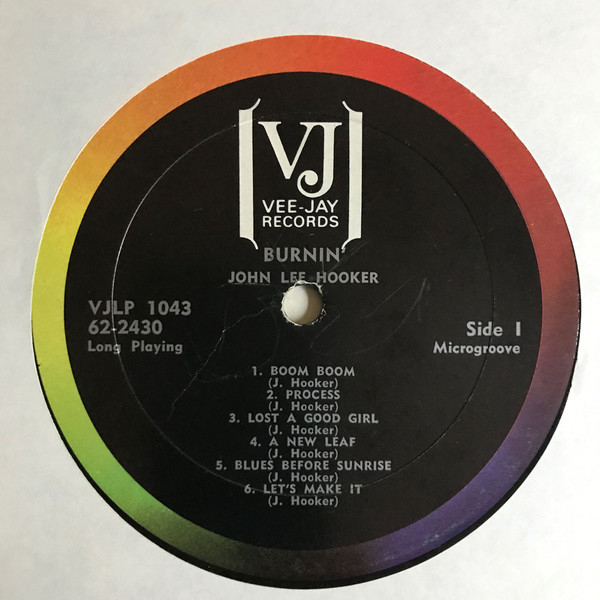 The cover on this Burnin' reissue feels very authentic, like a record from the early 1960s. Craft Recordings even reproduced the appropriate Vee Jay Records label for it. While it is not printed on glossy paper stock — the Vee Jay rainbow labels I have seen have always been on shiny dark black stock — they did recreate the "brackets"-style label that seems to have been used on the stereo editions shown on Discogs (whereas the mono editions use the oval Vee Jay logo).
Incidentally, in addition to the black vinyl edition, Craft Recordings is offering nifty — albeit probably noisier — color vinyl variants including Fuego Blend (available exclusively via Hooker's official site), Flame Orange (via Barnes & Noble), and translucent red (available at independent record stores).
For the Hooker completists amongst us, there is also a CD version that includes mono mixes as well as one previously unreleased track and a booklet with new liner notes by Bill Dahl. However, I suspect that, for most of us, just getting this fine 180g vinyl reissue is going to be more than enough. John Lee Hooker's Burnin' is essential listening, and this new Craft Recordings reissue is probably the best way to enjoy it without breaking the bank for a rare mint original copy — if you could even find one. Boom boom boom boom!
(Mark Smotroff is an avid vinyl collector who has also worked in marketing communications for decades. He has reviewed music for AudiophileReview.com, among others, and you can see more of his impressive C.V. at LinkedIn.)

JOHN LEE HOOKER
Burnin'
180g 1LP (Vee Jay/Craft Recordings)
Side One
1. Boom Boom
2. Process
3. Lost A Good Girl
4. A New Leaf
5. Blues Before Sunrise
6. Let's Make It
Side Two
1. I Got A Letter
2. Thelma
3. Drug Store Woman
4. Keep Your Hands To Yourself
5. What Do You Say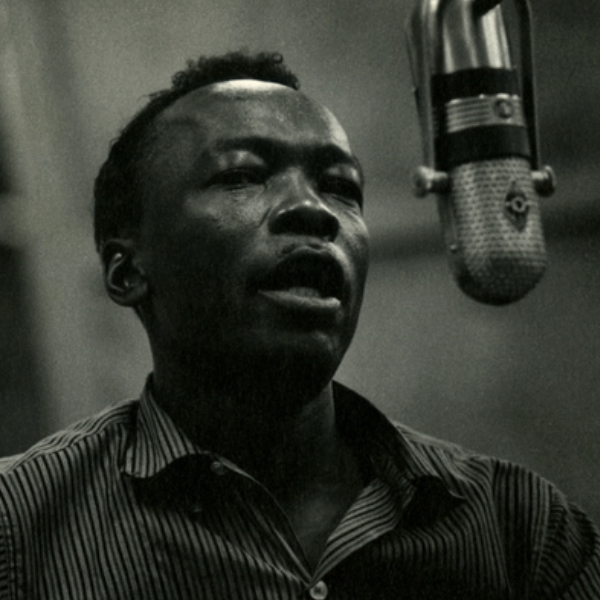 <!- ------------------------------------>