Lifeline Quartet's Music of the Underground Railroad
There's no better time than now to release a live performance of Civil War era "lifeline" spirituals dedicated to Harriet Tubman, an escaped slave herself, who is best known as an "Underground Railroad" organizer personally responsible for smuggling to freedom hundreds of slaves, first to the North and then after the passage of the Fugitive Slave Act in 1850 that allowed the recapture of freed slaves in non-slave states, to Canada.
Unaccompanied spiritual like the ones performed here were once the musical soundtrack of America's black churches but early in the 20th century they gave way to Gospel Music a more celebratory boisterous music that at first met resistance from more conservative congregations, but eventually replaced the more somber spirituals heard here.
Some of the spirituals here will be familiar to most listeners, including "Wade in the Water", originally an Exodus song, and adapted as a "code" song for the Underground Railroad to tell escapees where to walk in rivers and streams to trip up the scent hounds on their trail. Later of course it became a jazz hit for The Ramsey Lewis Trio, and then for Herb Alpert and the Tijuana Brass. No syncopation here though.
Other familiar spirituals here, many of which were regularly sung at 1950's era "socialist summer camps" under the sway of Peter Seeger include "Nobody Knows the Trouble I've seen", "Motherless Child", the celebratory "Down By the Riverside" and of course "Saints' Medley".
The songs were arranged for the Lifeline Quartet by Michelle Mayne-Graves who also with great passion lead sings, backed by Quinton Fitzgerald, Michael Fitzgerald and Walter Penniman II. In addition to performing with veterans' singing groups she supervises a team and works as the RN Case Manager for Housing Homeless Veterans at the Los Angeles VA.
Many of these spirituals, rarely sung in church services today, were adopted by the Underground Railroad not that many years ago to provide inspiration and guidance to escapees. They again can provide inspiration and escape from our pretty putrid times.
Aiding in the "at home escape" is an intensely transparent and three-dimensional recording produced live in front of an audience in the 500 seat Samueli Theater at Segerstrom Center for the Arts in Costa Mesa, California.
What you see is what you hear: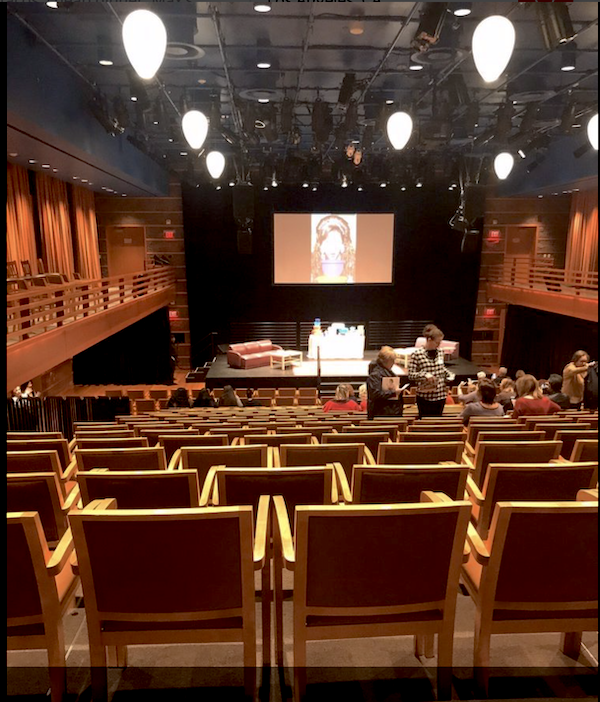 The sound is intensely three-dimensional, especially the sensation of being in the audience when the deserved applause come after each performance. The singers appear before you convincingly effectively spread across the stage, bathed but not buried in the deep narrow room's natural reverberant field but only if you correctly adjust the level. Too loud and the illusion gets destroyed in glare and over-reverberance (if there is such a word). You'll know when the SPLs are correctly set, especially if your system achieves anything close to phase or time domain coherency.
Yarlung's recording engineer Arian Jensen and producer and label owner Bob Attiyeh used Agfa 468 tape on a SonoruS ATR12 recorder employing SonoruS Holographic Imaging technology. Whatever that is, works. An AKG C24 stereo microphone captured it all using an Eliot Midwood designed microphone preamplifier.
According to the liner notes Steve Hoffman "mastered" and Bernie Grundman cut lacquers. That usually means it was digitized first but that's not the case. I emailed Mr. Attiyeh who responded that Hoffman helped with microphone placement and EQ and for that got a "mastering" credit, which is not how the term is usually used. No matter, tape playback bypassed Bernie's excellent board and went directly into the lathe so you are directly hearing what the microphone picked up.
The opening track, "If I Can Help Somebody" sung from a slave's POV and dedicated here to Harriet Tubman's "ingenuity and generosity" will break your heart. The rest will put it back together.
Harriet Tubman was scheduled to replace Andrew Jackson on the $20 bill this year timed for the 19th amendment's centennial (the amendment that gave women the right to vote). Secretary of the Treasury Steve Mnuchin indicated that it can't be done "for technical reasons" until 2028. In 2016 then candidate Donald Trump told NBC that stripping his favorite president, the populist slave holder Jackson from the $20 was "pure political correctness". He suggested that Tubman be bumped to the $2 bill, which is no longer printed.
Wade in the water, children and please vote as if your life depended on it because it does! And BLM.
(Available through Elusive Disc (the record, not your vote).
<!- ------------------------------------>