Meet The New LP Boss, a.k.a. the Abbey Road Half-Speed-Mastered, Plangent Processes-Restored 180g 1LP Edition of The Who's Seminal 1971 Masterpiece, Who's Next
The backstory on Who's Next, the groundbreaking classic hard rock August 1971 album by The Who, is well documented extensively around the world and all across the interwebs, so I am not going to waste any of our respective time recapping that legendary tale here — nor will I explore the wondrous-but-aborted album concept that it emerged from, Lifehouse (a separate amazing journey in its own right). Instead, we're going to explore a brand new 50th anniversary Abbey Road Studios half-speed-mastered vinyl edition of one of rock's most important albums.
This particular 180g 1LP UMC release of Who's Next also has some secret sauce built into it, as it was restored using Plangent Processes technology in addition to the remastering by longtime Who producer/engineer Jon Astley. Together, these elements conspire to shine new light on an album that is one of chief songwriter Pete Townshend's and The Who's masterworks.
Before we dig deeper, let's recap some of the key stats about this fine new Who's Next release. The new half-speed-mastered lacquers were cut by Miles Showell at Abbey Road Studios. The album was remastered at Close To The Edge by producer/engineer Jon Astley, the man who has led the charge on all of The Who's generally excellent reissues for many years now. The Plangent Processes restoration was handled by Jamie Howarth (more on that in a bit).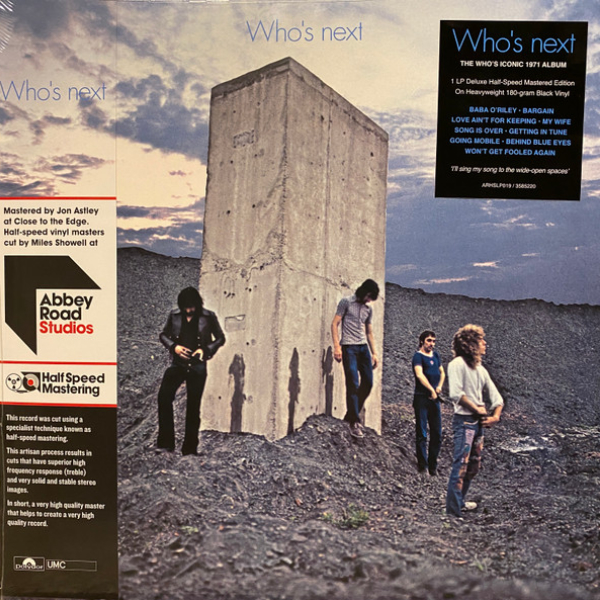 The album is pressed on 180g black vinyl that is well-centered, and generally pretty quiet. (I only started to notice a wee bit of low-level surface noise when I was really cranking up the volume.) The vinyl discs were manufactured in the Czech Republic (and likely at GZ), per the sticker attached to the back cover shrink wrap on my copy.
The LP itself — which features period-accurate Track Record labels (we'll show one side of it a bit later in the review) — comes housed in an audiophile-grade, plastic lined inner sleeve. The packaging also includes a reproduction of the original graphic-designed inner sleeve as originally issued in the 1971 era UK editions. (We'll show that later on as well.) The SRP for this new 180g 1LP of Who's Next edition is $35.99. (There is also a 180g 4LP Who's Next deluxe box set that includes an additional 3LPs of live of-era Who music titled Live At The Civic Auditorium San Francisco Monday 13th December 1971, and that collection has an SRP of $99.99.)
For those not familiar with Plangent Processes' technology, Plangent is a fascinating, innovative — and now, time-tested — restoration technology that corrects for tape and motor-speed fluctuations and other stability-oriented anomalies inherent in the original recording without altering the original music. The net result can reveal a recording that sounds tighter, more focused, and even more in tune, closer to the way the music was actually performed in the studio.
Some of the recordings I have heard and reviewed that have employed Plangent's technology include major releases from Bruce Springsteen, David Crosby, Erroll Garner, and the Grateful Dead, and they generally sound quite outstanding. (You can glean more insights into the inner workings of Plangent Processes right here, in an earlier review I did of the Grateful Dead's Boston Garden 5.7.77 180g 5LP box set that consists of a performance that was restored by using the technology.)
Speaking of the Dead live and Plangent — from the Plangent Processes site, Grateful Dead mastering engineer Jeffery Norman comments, "I've used Plangent Processes on a variety of projects for the Grateful Dead on older 16-track tapes as well as 2-track 7.5ips material. The benefits of using the Plangent Process were added imaging, and outstanding clarity of the audio and pitch solidification. . . while keeping the original analog warmth."
That warmth Norman mentions above is something that should not be glossed over. When you first put on this new edition of Who's Next, you will hear that it does sound like the album should sound. It is analog-warm, but also even more ballsy and rich-sounding — yet this is not a remix. Who's Next has always been a quintessential album to play at full volume — and now, when you do turn your volume up, that factor is even more satisfying.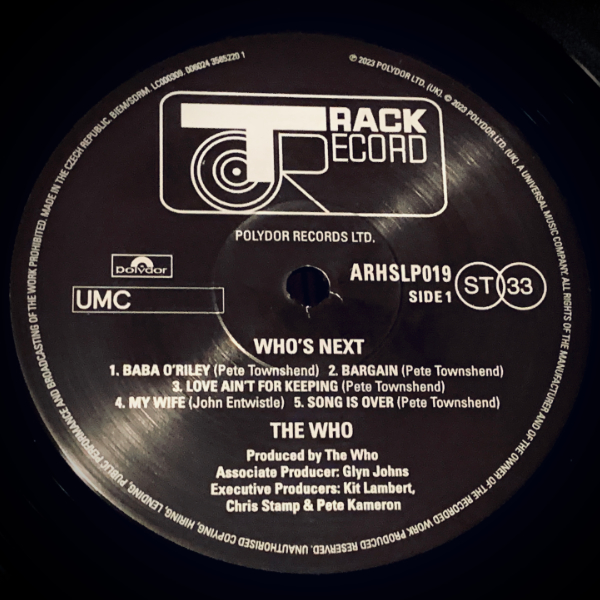 In preparation for this review, I first listened to my own U.S. Decca Records 1971 original pressing, and then followed it with one of the quite nice reissues Universal released several years back on the Track Record label. Immediately, I foresaw a "good, better, best" scenario emerging before me. Indeed, when I put on the new premium edition of this timeless recording, I was smitten by the incredible sense of additional detailing I was hearing, well beyond those earlier versions.
The ultra-rich, realistic-sounding acoustic guitars chime and sparkle now. The decay of Keith Moon's cymbal crashes are much more natural and elongated, and his attacks on the drum kit are more distinct than ever. Here, you can also hear a truer resonance of special guest Nicky Hopkins' sumptuous piano contributions.
Listening to this Abbey Road half-speed mastered, Plangent Processes-restored 50th anniversary edition of Who's Next, important production details started popping out at me that I never noticed before. For example, at several points, there is kind of a slap/echo of certain instrumental elements panning across the stereo soundstage. All those details were there previously, but effectively buried due to a variety of factors. Now we can hear them much more clearly.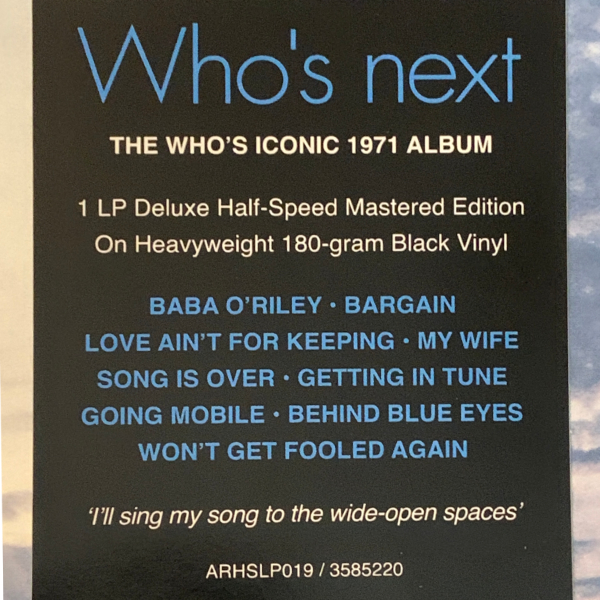 I reached out to Jamie Howarth, inventor of the Plangent Processes technology, to reaffirm if I was correct in what I was perceiving. He concurred, adding other details of note as follows: "The sense that notes sustain and the ability to perceive reverb and slap effects is definitely part of Plangent — temporal masking (a.k.a. "blur") is tremendously reduced. [All] the points you mention. . . and the constancy of the pitch of 'Won't Get Fooled Again.' And, all the songs are for the first time exactly at the pitch and tempo they [were originally] played."
Longtime Who producer/engineer Jon Astley (of the aforementioned Close To The Edge mastering) offered us some fascinating insights as well: "I A and B'd my mastering before and after Plangent, and the image was so stable. They also corrected 'Won't Get Fooled Again,' which drops over a quarter tone over the mix, and the first note of 'Behind Blue Eyes' used to have a wobble on it — now gone."
Indeed, "Won't Get Fooled Again" sounds amazing, tighter, and arguably more rocking than ever. Roger Daltrey's lead vocals on "Behind Blue Eyes" are especially beautiful-sounding, as are the more vivid harmonies. This is especially distinct against the backdrop of Pete Townshend's fat, folky acoustic guitar picking and strumming on the first half of the song — yet they rip madly in the second portion of it. When the back-half rocking section kicks in, listen for Moon's drum rolls, fills, and swells, all of which are more intense than ever.
Also listen for the snap on Moon's snare drum during "Getting in Tune," and bathe in the splash of his crash cymbals throughout "Going Mobile." Soak up John Entwistle's bass lines, which seem more distinct and bottom-end filling. I could go on with the gushing, but I think you get the idea,
Of course, the next big question is whether you feel you need this version of the album or not. If you are a deep fan of The Who, it seems like a no-brainer to pick this one up, especially given the $35.99 SRP that's just a bit more than the regular 180g 1LP edition that goes for $32.99. The detailing is exemplary — and, in many ways, it's like hearing a new recording. I know this will sound like an audiophile cliche at this point, but indeed, it sounds like a layer of gauze has been removed here, revealing a truer portrait of masterpiece beneath.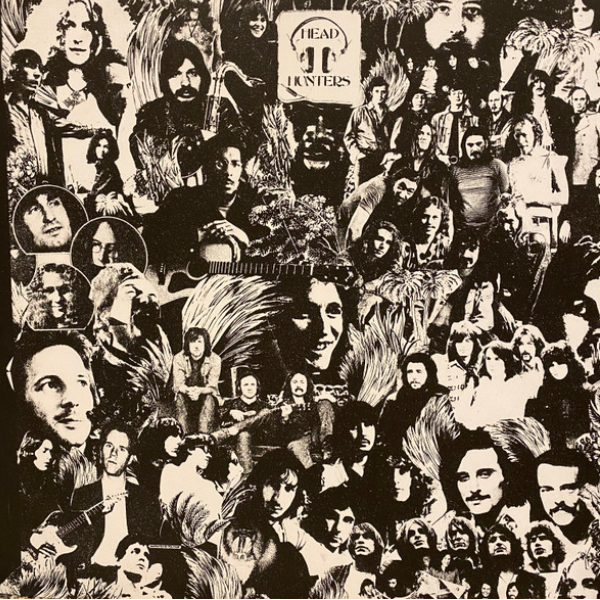 This new edition of Who's Next also includes a reproduction of what I suspect is the original inner sleeve issued with UK pressings of the album in 1971. It's a neat little bonus that features a nifty psychedelic collage of different artists on one side (as shown above), and a list of related albums that were out at that time on the other. American fans might find this confusing to some degree since many of the artists shown there were on competing labels to what The Who were on in the States at the time (i.e., Decca). These artists include The Velvet Underground and The Mothers of Invention, who were then both Verve artists over here, and even Yes, who were on Atlantic. (It's a pretty sweet thing.)
All in all, I'm very happy with this new half-speed-mastered version of Who's Next. The combination of a great original recording captured and mixed by Glyn Johns, bringing Pete Townshend's musical visions to life, coupled with sympathetic remastering from Close To The Edge's Jon Astley, plus an exacting half-speed lacquer cut by Abbey Road Studios' Miles Showell (whom we know tends to work from hi-res digital sources, but even so!) combined with Jamie Howarth's Plangent Processes restoration technology have made an already fabulous recording sound even better.
In fact, I like this new edition so much that think I might get rid of my original U.S. Decca pressing once and for all. After all, I have no need to listen to it ever again, now that I have this 180g 1LP masterpiece edition of Who's Next in my collection. Time now to get yours.
(Mark Smotroff is an avid vinyl collector who has also worked in marketing communications for decades. He has reviewed music for AudiophileReview.com, among others, and you can see more of his impressive C.V. at LinkedIn.)

THE WHO
WHO'S NEXT
180g 1LP (Polydor/Track/UMC)
Side 1
1. Baba O'Riley
2. Bargain
3. Love Ain't For Keeping
4. My Wife
5. Song Is Over
Side 2
1. Getting In Tune
2. Going Mobile
3. Behind Blue Eyes
4. Won't Get Fooled Again
<!- ------------------------------------>