Mike Oldfield's Seminal Tubular Bells Album Celebrates 50th Anniversary With New Abbey Road Half-Speed-Mastered 180g 2LP Expanded Edition Directly Overseen by Its Visionary Creator
These days, it must be hard for some people to fully comprehend what was going on in the early 1970s with popular music. It was a crossroads time where almost anything was fair game for open-minded listeners — post-psychedelia, back-to-the-roots Americana, glam, bubble-gum pop, horn-based jazz fusion, acoustic-leaning singer/songwriter odes, proto-metal, and wildly progressive rock epics were all on the table.
Just as FM became a powerful influencing radio format, longer-form and higher-fidelity music productions from expansive artists like Pink Floyd, Yes, and Led Zeppelin started to infiltrate and stimulate new and open-minded listening audiences. These more progressive sounds even began to hit the Top 40. That a song like "Roundabout," the broadstroke opening track of Yes's November 1971 LP Fragile, could become a Top 20 international smash hit single in the following years says quite a lot.
Amidst all this free-form activity, in May 1973, the then-twentysomething entrepreneur Richard Branson took a chance by making the very first release on his then-new Virgin Records label a truly longform epic by 19-year-old Mike Oldfield — then a new, young, unknown musician — and his first composition, Tubular Bells.
This album sounded like nothing else before or, really, since.
Let's run down some of the key stats you'll want to know when considering whether to obtain a copy of the subject of our review here today, Tubular Bells – 50th Anniversary Edition, for yourself. The new 180g 2LP edition was half-speed-mastered by Miles Showell at Abbey Road Studios from hi-res digital transfers of Oldfield's original studio recordings. And, as we've learned over the years, Showell's mastering efforts typically sound wonderful, so listeners should not be automatically be deterred by the fact that a digital stage has been employed here. For one thing, I've been particularly impressed comparing this edition to my 1970s UK pressing, hearing lots of details and fine separation that is not present on even that edition. The SRP for the new 2LP set is $39.98, and you can order your copy here.
The pressing quality on this new Tubular Bells reissue is generally excellent, having been manufactured in Germany (probably at Optimal), and its discs arrived packed in audiophile-grade plastic-lined inner-sleeves. My copy was well-centered and virtually perfect with only one small, strange glitch on an otherwise pristine pressing, resulting in an audible tick on the last five-or-so super-hushed seconds of Side 1 of Record One. (Hopefully, my copy is just a one-off anomaly.)
The only thing sadly missing from the new edition is the original Virgin Records label that was designed by the great Roger Dean, a label that some of us — well, at least I did, at age 13! — initially thought was a custom label for Oldfield's album back in the day.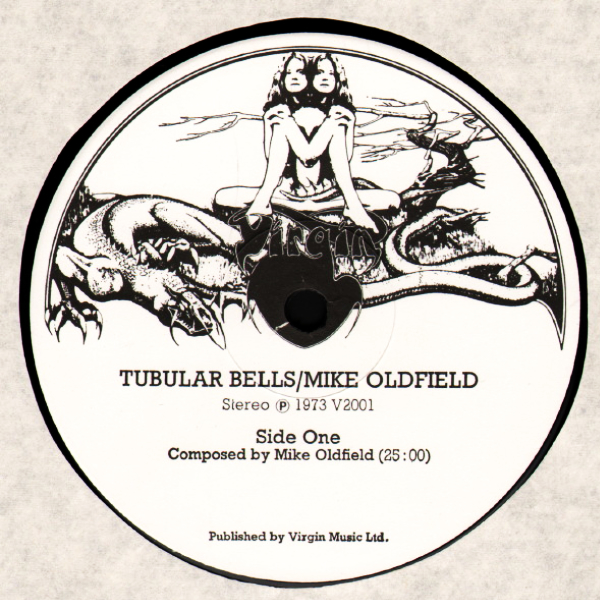 It was initially a slow-building process for the album's take off until the opening strains of "Tubular Bells – Part 1" were used in the seminal December 1973 hit horror film, The Exorcist. A single edit of the song itself was released featuring those mesmerizing opening-movement melodies, and then the album started building steam, eventually winning a Grammy Award, topping the UK charts, reaching No. 3 in the U.S., and eventually selling more than 16 million copies worldwide.
Reflecting back on his remarkable ascent, Oldfield is quoted in the official press release for this 50th Anniversary Tubular Bells reissue by saying, "Listening again to the musical outpourings of an angst-ridden teenager, it is hard to believe that was actually me, 50 years ago. The music doesn't sound that angst-ridden, but only I know the years of work and stress that produced Tubular Bells. This was all live, first-take performances with no second chances or studio trickery as we have become so used to today. Little did I think when I was making Tubular Bells that anyone would ever hear it, let alone be celebrating it five decades later! Thank you to everyone who has listened over the years."
While growing up in the early '70s, Tubular Bells seemed to be almost everywhere you turned. The recording also became an audiophile-favorite demo disc, often heard in then-emerging hi-fi equipment stores to showcase new amps, turntables, and speakers; you name it. Of course, many people who owned the album subsequently used it to show off their own new home hi-fi systems for family and friends alike. Mix-and-match component systems were becoming increasingly popular at that time in mainstream culture, coinciding with the popularity of progressive music like Tubular Bells.
I remember some radio stations playing Tubular Bells start to finish during late-night shifts. It was a great album for deep listening sessions with friends, and it is also one of the absolute classic LPs to enjoy on headphones. At the time, Tubular Bells was practically as ubiquitous as Pink Floyd's March 1973 benchmark The Dark Side Of The Moon and Yes' September 1972 masterpiece, Close to the Edge.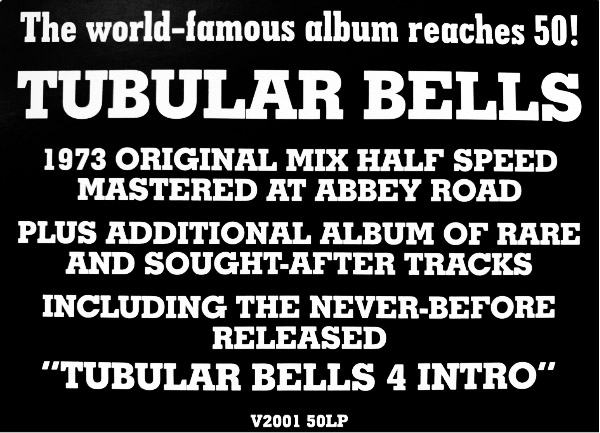 On this new 50th anniversary half-speed master of Tubular Bells, we get a very clear snapshot of what Oldfield's original recording sounded like back in the day. As popular as this album was, it is surprising how difficult it is to find a really good-sounding clean copy original on vinyl. It's not a particularly heavy collector's item per se, so price isn't quite the issue here. But most used 1973 pressings I've come across have been enjoyed, shall we say, a lot by their original owners — not beat up, necessarily, but just played a whole bunch! Hence, hearing a high-quality remaster is appealing for fans of this timeless music.
Tubular Bells, with all its layers of organic and electronic instrumentation — mostly played by Oldfield himself, using overdubbing techniques – was always a great listen at high volume. It is especially gratifying to hear those super-low organ notes at the end of Side 1 rattling the rafters, and this Abbey Road edition is quite good for recapturing that room-shaking essence!
Over the years, Oldfield built an esteemed career upon the success of Tubular Bells, initially with more album-side-length progressive epics such as September 1974's Hergest Ridge and November 1975's Ommadawn. I particularly liked October 1980's shorter-song-oriented QE2 — and Oldfield even had a UK Top 10 hit with March 1982's Five Miles Out, an album featuring the original version of "Family Man," a song that later became a Top 10 U.S. smash for Hall & Oates a year later when it was released as a single from their double-platinum October 1982 release, H2O.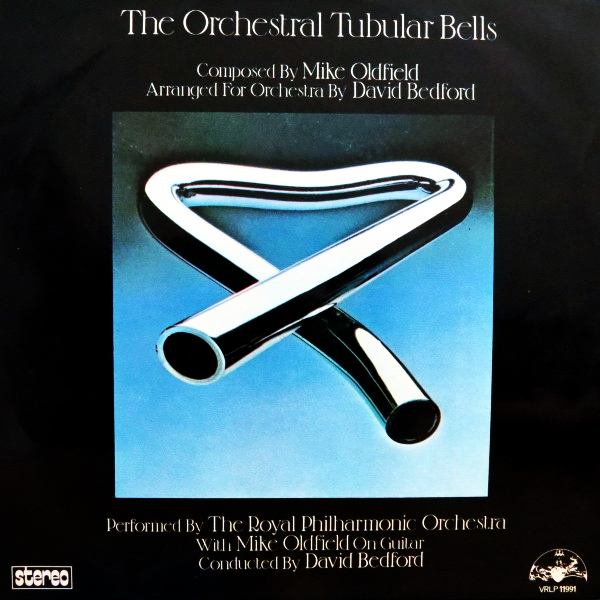 While there are many other fine Oldfield recordings to explore, over the years, he has revisited Tubular Bells in new variations on the concept, including an orchestral version (see the above album cover) and several sequels, as well as quadrophonic and surround-sound remixes.
The bonus disc on the 50th Anniversary edition of Tubular Bells, a.k.a. Record Two, is a fun listen for deeper fans. I got a particular kick out of hearing "Tubular X" (Track 1, Side 2), which is Oldfield's twist on the theme to The X-Files infused with the essence of Tubular Bells, making its first-time debut on vinyl. (It was originally issued on 1998's still-CD-only release, The X-Files: The Album.) I also enjoyed Oldfield's 2017 demo for the unfortunately aborted and thus previously unreleased Tubular Bells 4 (Track 1, Side 1).
There is much progressive musical joy here to immerse listeners old and new, If you love Tubular Bells, this new 50th Anniversary edition is probably a logical one for you to pick up.
(Mark Smotroff is an avid vinyl collector who has also worked in marketing communications for decades. He has reviewed music for AudiophileReview.com, among others, and you can see more of his impressive C.V. at LinkedIn.)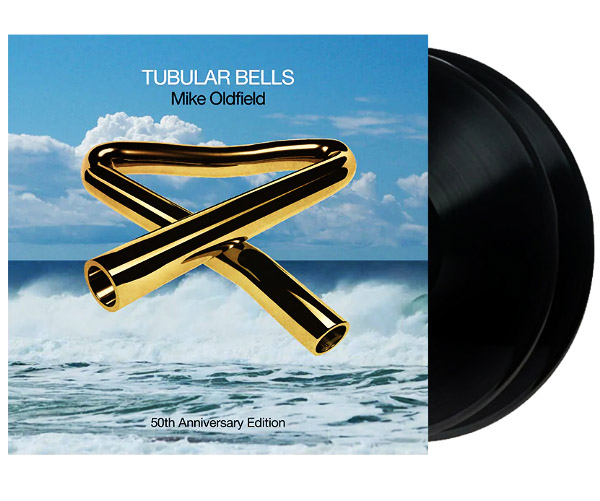 MIKE OLDFIELD
TUBULAR BELLS – 50TH ANNIVERSARY EDITION
180g 2LP (EMI/Mercury/Universal Music Recordings)
Record One
Side 1
1. Tubular Bells – Part One
Side 2
1. Tubular Bells – Part Two
Record Two
Side 1
1. Tubular Bells 4 Intro – 2017 Demo
2. Tubular Bells / In Dulci Jubilo – Music For The Opening Ceremony Of The London 2012 Olympic Games
Side 2
1. Tubular X
2. Tubular Bells – Mike Oldfield & YORK Remix
3. Mike Oldfield's Single – Theme From Tubular Bells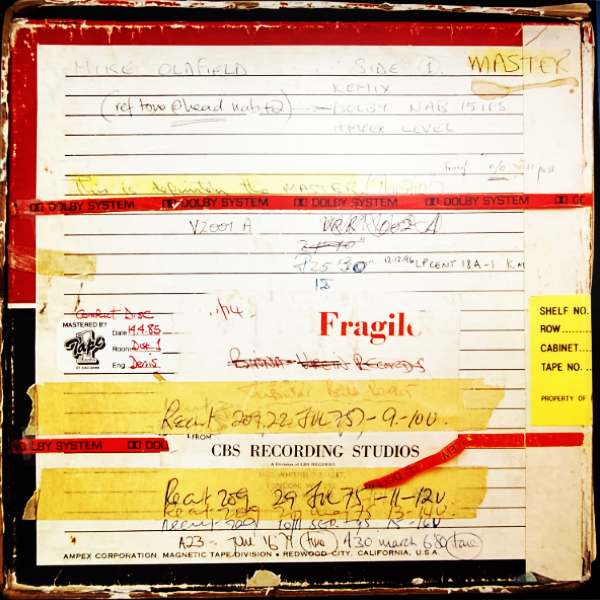 <!- ------------------------------------>